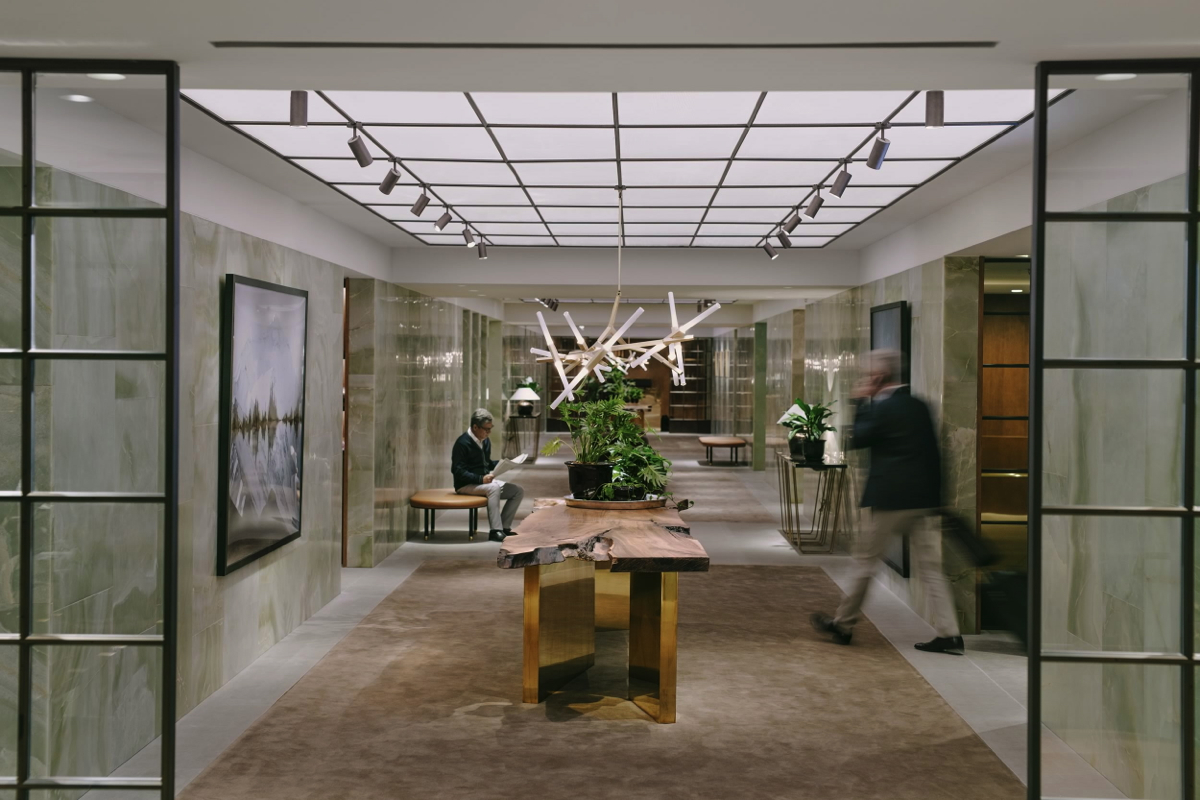 What are the best first class lounges that provide access when connecting onward to a business class flight? While some lounges such as the Emirates First Class Lounge in Dubai restrict access to those departing in Emirates First Class or Qantas First Class, and similarly the Singapore Airlines Private Room in Singapore grants access only if departing in Singapore Suites or Singapore First Class, there are several excellent first class airline lounges that you can access as an arriving first class passenger, as long as you're in transit and connecting onward, even if in business class or economy. Note that I've omitted the Air France La Premiere First Class Lounge in Paris, since it's only possible to fly Air France La Premiere as a paid ticket or if you're a Flying Blue elite redeeming an ungodly number of miles.
Also note that in all cases you must be connecting onwards; you won't have access to these first class lounges as an arriving passenger without an onward connection.
Here are my picks:
1. Lufthansa First Class Terminal, Frankfurt
Most top international airlines have first class lounges, or in the case of Emirates, an entire terminal floor. Lufthansa has a completely separate First Class Terminal in Frankfurt, where you can leave your winter coat (November to April; assumes a return to Frankfurt), be assigned a personal assistant during your visit, and even take a bath, complete with Lufthansa branded rubber duckies.
If you need to catch up on sleep, there are quiet rooms with daybeds. Dining features a la carte menu service, complemented with fine wines and cocktails. And finally, when it's time to board, you enjoy a Mercedes or Porsche car transfer directly to the plane.
2. Cathay Pacific The Pier First Class Lounge, Hong Kong and Cathay Pacific The Wing First Class Lounge
The Pier Location: Level 6, Terminal 1, near Gate 63
The Wing Location: Level 7, Terminal 1 near Gates 1-4
Cathay Pacific renovated its The Pier First Class Lounge in a residential style and reopened it in June 2015. Now Cathay's first class passengers have a choice of first class lounges, since they are also welcome at Cathay Pacific's The Wing First Class Lounge, which has 5 private cabanas for bathing and relaxing (and would still be my choice for a bath and glass of champagne at the champagne bar, before heading to The Pier).
The nice thing is that even if you've built in a long layover in Hong Kong, you can return that day and show your first class boarding passes from your arriving Cathay Pacific First Class flight to access The Wing or The Pier First Class lounges, even if departing on a business class flight.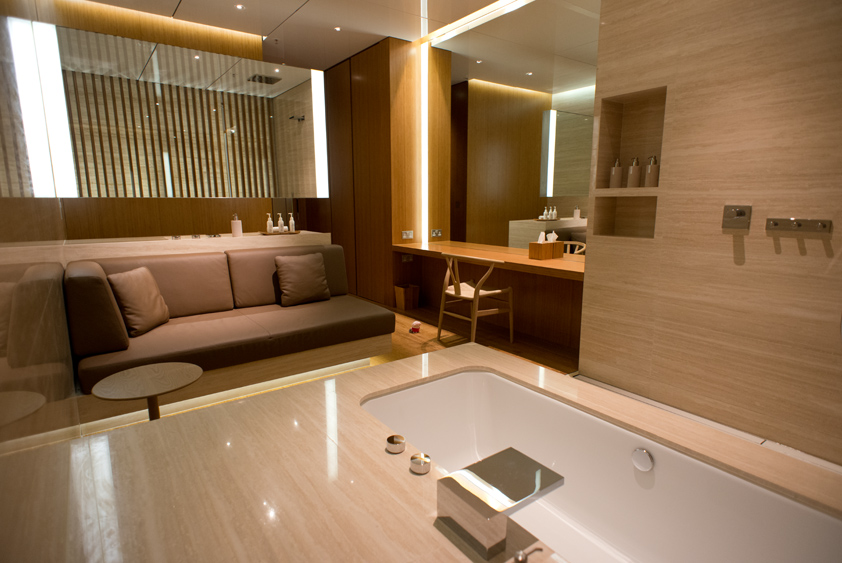 The Pier, meanwhile, offers comfy daybeds with a view of the runway; a la carte dining service with signature Asian noodle and other international dishes, and relaxing complimentary foot massages in the Spa. Or head to the convivial bar area for a signature cocktail.
3. Lufthansa First Class Lounge, Munich
While Lufthansa's First Class Lounge in Munich is of course small compared to the Lufthansa First Class Terminal and lacks the amenities of a personal assistant, bathtubs, coat check during winter and drive to the plane, it was still an excellent experience, particularly the a la carte dining with excellent service and a fresh rose on each table. The shower room was one of the most spacious I've seen. And for those who are cigar aficionados, there's a cigar room here as well.
Note that you must be flying Lufthansa First Class on the same day to access the lounge (United or other Star Alliance first class doesn't get you access) but you can be arriving in Lufthansa First Class and connecting to an intra-Europe Business Class flight, or even departing Munich in business class to Frankfurt as long as you're connecting later that day to a Lufthansa international first class flight.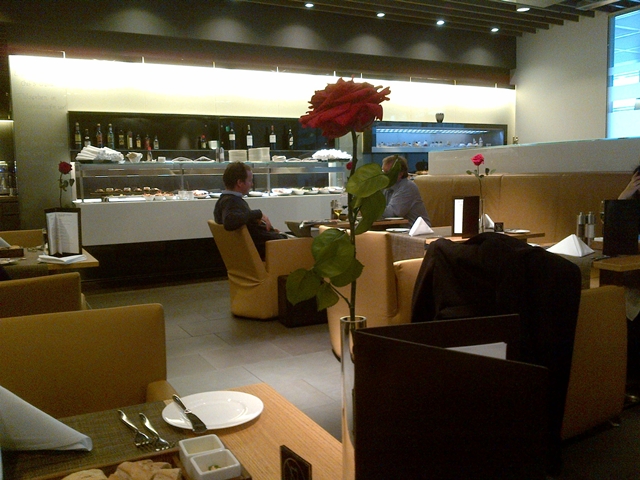 4. Qantas First Class Lounge Sydney
My husband's lukewarm review notwithstanding, generally lunch and dinner meals at the Qantas First Class Lounge in Sydney get good reviews, with menus by Australian Chef Neil Perry. There are a variety of seating areas, with a favorite one for plane spotters and aviation buffs being near the floor to ceiling windows overlooking the tarmac. Make sure to have a phone number the lounge can reach you at so that you can book a spa session in advance, otherwise it's on a firs come, first served basis. The complimentary spa treatment is 20 minutes, and there is a choice of massages, facials, hand and foot treatments.
Note that in order to use this lounge as an arriving first class passenger connecting to an international business class flight, the next onward flight must be oneworld operated and marketed.
5. Thai Airways Royal First Class Lounge and Spa, Bangkok
Thai Airways Royal First Class Lounge in Bangkok in and of itself is not so impressive, although I did prefer my Thai food in the lounge to the food served onboard, and I also enjoyed a freshly squeezed watermelon juice. The private shower suites do come with L'Occitane bath products, a nice touch.
But what makes the experience unique, is the full hour massage that Thai First Class passengers enjoy at the Thai Royal Orchid Spa. I recommend the "Touch of Silk" oil massage, although another option is the Royal Thai Massage that uses traditional Thai acupressure.
Note that while you can enjoy access to the Thai Royal First Class Lounge as an arriving First Class passenger connecting onwards in Thai business class, the length of massage you enjoy is determined by your next flight. So if arriving in Thai First Class and connecting to Thai Business Class you wil receive a 30 minute complimentary spa treatment, whereas if you're departing in Thai First Class you'll receive a 1 hour complimentary spa treatment.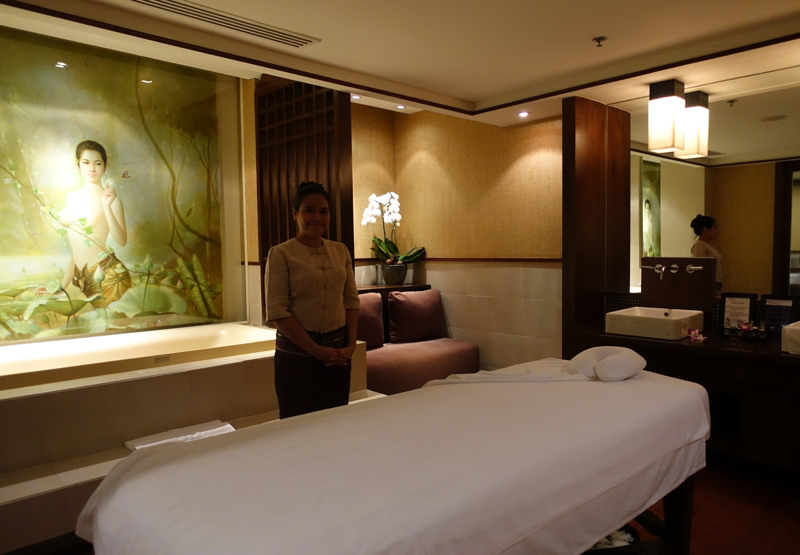 6. JAL First Class Lounge Tokyo Narita
It's not every day that you can enjoy sushi at an airport lounge, even a first class lounge, so the JAL First Class Lounge gets points there for having a sushi bar, even if the actual fish selection is limited to the basics: maguro, tamago, and ebi.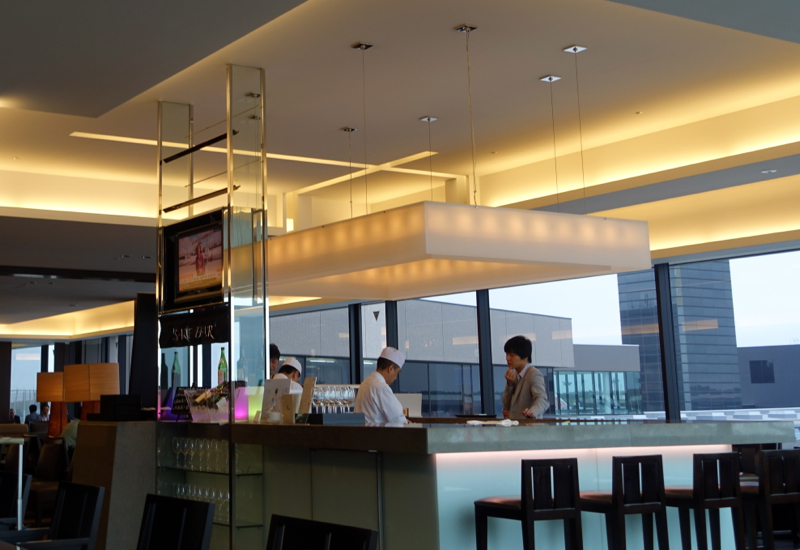 I also applaud the JAL Lounges for sourcing Maison Kayser bread–much better quality than most airline lounge bread.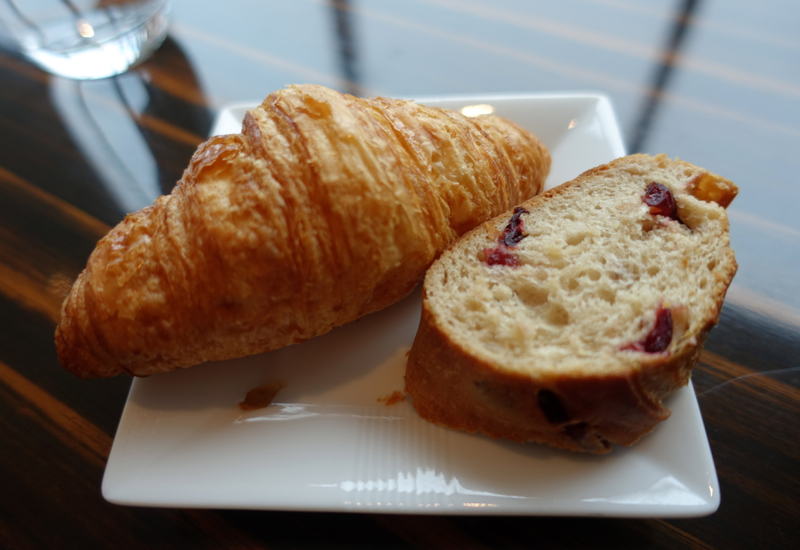 The massage is just 10 minutes and is acupressure, so not nearly as relaxing as the Thai First Class massage, but it was therapeutic and helped with some of the knots in my neck.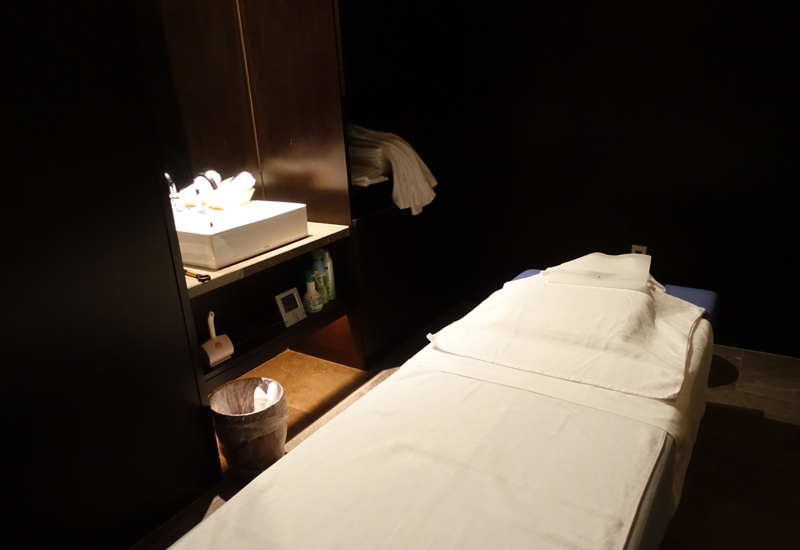 You can enjoy access to the JAL First Class Lounge as an arriving passenger connecting to an international JAL Business Class flight, just show your boarding passes.
What are your favorite airline first class lounges that are available as an arriving first class passenger connecting to a business class flight?
Related Posts
Best Seats in Cathay Pacific First Class?
Review: Qantas First Class A380 Sydney to Los Angeles
Review: Qantas First Class A380 London to Dubai
Flying First Class with Kids: Which Airlines and Seats?
Review: Japan Airlines First Class 777-300ER
Need Award Booking Help? Our fee is as low as $75 per ticket if you book your hotel through us.
If you enjoyed this, join 200,000+ readers: please follow TravelSort on Twitter or like us on Facebook to be alerted to new posts.
Become a TravelSort Client and Book 5-star hotels with Virtuoso Perks and Preferred Partner Benefits!