2011 has been a crazy year of travel for me. I've had some of my most amazing and at the same time some of my most underwhelming travel experiences this year. Given the economy we've continued to see some loyalty programs, hotels, and airlines, cut back in order to save money, while others have invested in their customers to ensure their continued loyalty.
Anyway, I figured I'd recap by 2011 travel year. Rather than focus on industry changes as a whole, I'll instead focus on the best and worst of my travel experiences and changes in the industry as they impact me. None of these judgments are absolute, but rather relative to my expectations. I always try to start an experience with an open mind and realistic expectations, so those that exceeded my expectations the most are considered the best, while those that underwhelmed me are considered the worst.
So here we go, in no particular order:
Best Hotel Stay: InterContinental Berchtesgaden
I first saw pictures of this hotel about five years ago, and have wanted to visit ever since. In pictures it looked like the closest thing I've ever seen to heaven, and unlike other hotels that have good photographers to make a place look nice, I'm actually fairly certain that this place is heaven.
I lucked out in every way with this hotel. Because I was staying during summer when the hotel was full, I got upgraded to a Penthouse Suite. The weather was beautiful each day of my stay, and the hotel itself was probably the most beautiful I've ever seen, nestled atop a mountain with a very modern design. I can't wait to return to this hotel as often as I possibly can. I'm not much of a beach person, so I think I've finally figured out that the mountains are where I relax the best.
Worst Hotel Stay: Schloss Fuschl Salzburg
The Schloss Fuschl Salzburg is a Starwood Luxury Collection hotel located in Austria, only about an hour from the InterContinental stay I rated as my best. I had high expectations on my award stay (which I earned from Starwood's free resort night promotion) given that the revenue rate for the hotel was 550 Euros per night. Unfortunately I was sorely disappointed. Not only did I feel rather uncomfortable at the hotel due to how "uppity" the crowd was (both employees and guests), but I was also flat out told by the front desk that because I was on an award stay they weren't obligated to upgrade me as a Platinum member, even if premium rooms were available, which is a direct contradiction to the terms and conditions of the Starwood program.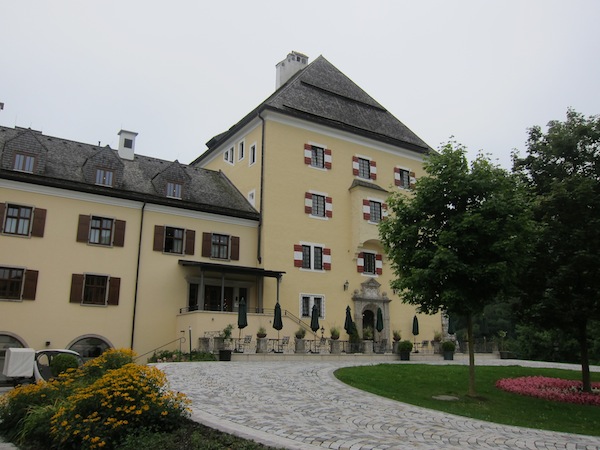 Fortunately with the help of @SPGInsider on Twitter I did eventually get the upgrade, though it was still an uncomfortable situation. See my previous post about how to complain and get compensated by airlines and hotels for tips on situations like this.
Best Flight: Qantas Airbus 380 First Class from Melbourne to London
Most people dread long flights, let alone a flight like Melbourne to London via Singapore, which is 23 hours. I loved every minute of it back in May, thanks to being able to snag a first class award seat on the Qantas Airbus 380. There's still quite a bit of novelty for me in flying the Airbus 380, so being able to secure a first class award seat on such an awesome plane for such a long flight was easily one of my best award redemptions ever.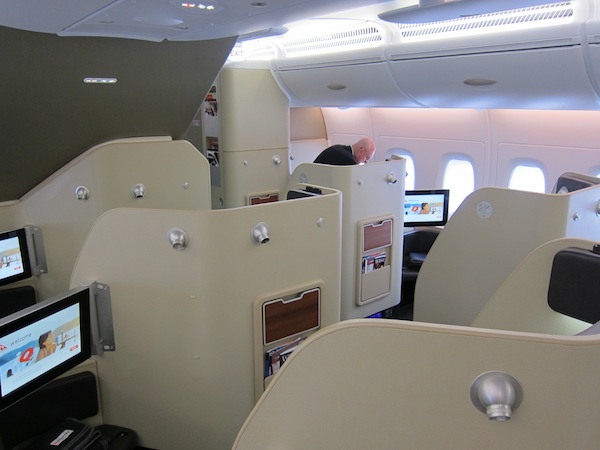 And the food, seat, entertainment, and service didn't disappoint either – it was all among the best I've experienced in the sky.
Worst Flight: Singapore Airlines First Class from New York to Frankfurt
Again, keep in mind that I rank this worst based solely on comparing my expectations with the actual experience. Singapore has long been one of my favorite airlines, so I was excited when I had the opportunity to expose my friend to Singapore, given that he had never flown with them before.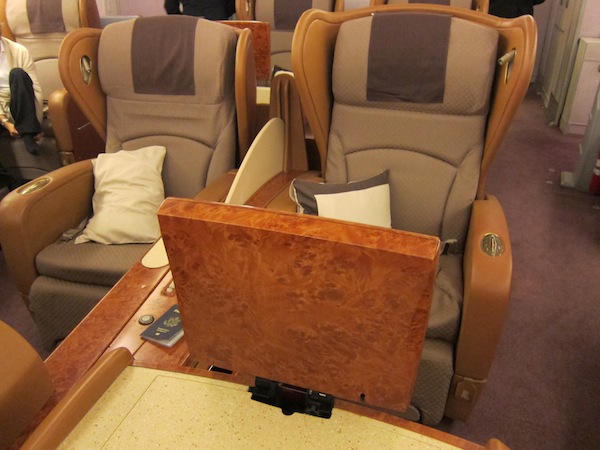 Unfortunately the flight was exponentially worse than any flight I've taken with them before, all of which have been like well rehearsed performances. Not only were two of our seats broken (we had to switch around as a result), but the crew was genuinely apathetic about the situation. That's certainly not what you expect from Singapore!
Best Lounge: Virgin Atlantic Clubhouse London

Again, this is all a function of relative expectations. I also visited the Lufthansa First Class Terminal and Thai First Class Lounge & Spa this year, both of which rank above the Virgin Clubhouse and I featured in The Airlines With the Best First Class Ground Experiences, but keep in mind that the Clubhouse is a business class lounge, while the others are first class lounges.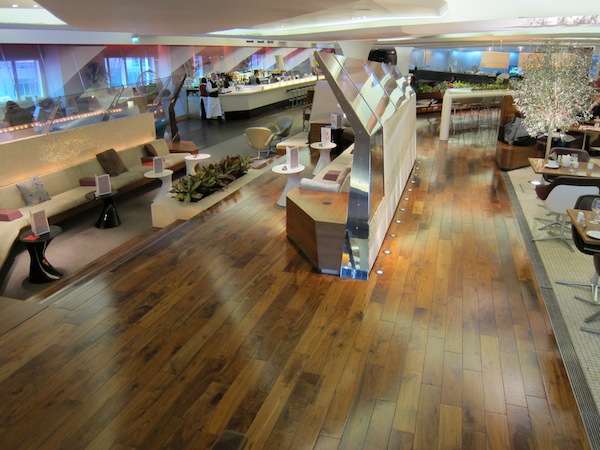 But the services offered in the lounge, from massages to pedicures to full meals to an amazing bar to a great relaxation area, are all among the best of any airline out there.
Worst Lounge: American Airlines Flagship Lounge London
One of the generous things that the OneWorld alliance does is let their top tier elites into first class lounges when flying internationally, even in coach. This means that OneWorld first class lounges are typically a lot more crowded than Star Alliance first class lounges, and there's no place that shows more than London Heathrow.
Not only is the lounge often so overcrowded to the point that it feels like the gate area, but the food selection isn't all that much better than the Admirals Club. Beyond that, the wifi was so slow when I was there that it was practically useless. So the lounge lacks the two things I look for most in a first class lounge – a relaxing area to work and fast WiFi.
Worst Frequent Flyer Program Change: Aeroplan
This is one (very) near and dear to my heart, since prior to this year I took an annual "Aeroplan first class round the world" award ticket. The cost for a first class award from the US to Asia via Europe was 120,000 miles, and that included two stopovers in addition to the destination.
Unfortunately they've had three major devaluations this year. This, they just about gutted their redemption levels for Star Alliance awards. For example, the above award now costs 175,000 miles.
Second, they added fuel surcharges to award tickets on most of their partner airlines, meaning in addition to paying more miles, you also have to pay roughly $1,000 in fuel surcharges for such a ticket.
Lastly, they no longer allow domestic first class on international business class award tickets.
Best Frequent Flyer Program Change: United MileagePlus
I have to be honest, there's not much competition for "best" frequent flyer program change, given that we don't see all that many positive changes nowadays. But United did make some changes to their award routing rules earlier in the year that were really useful for the savvy traveler. On international awards they added the ability to have a stopover in addition to an open jaw on an award ticket, as opposed to one or the other, which was previously the rule.
Furthermore, they started allowing those on award tickets to go over the maximum permitted mileage for a city pair by 15%. This allows some very creative routings, like going from the US to Asia via Europe, from the US to Australia via Asia, etc. See How to Book a Crazy Award Routing for some tips.
There you have it, those are some of my best/worst travel experiences and travel industry changes. What have been the highs and lows of your travel experiences this year?
If you enjoyed this, please follow TravelSort on Twitter or like us on Facebook to be alerted to new posts.
Become a Member to find your perfect luxury or boutique hotel at up to 50% off: TravelSort Hotels