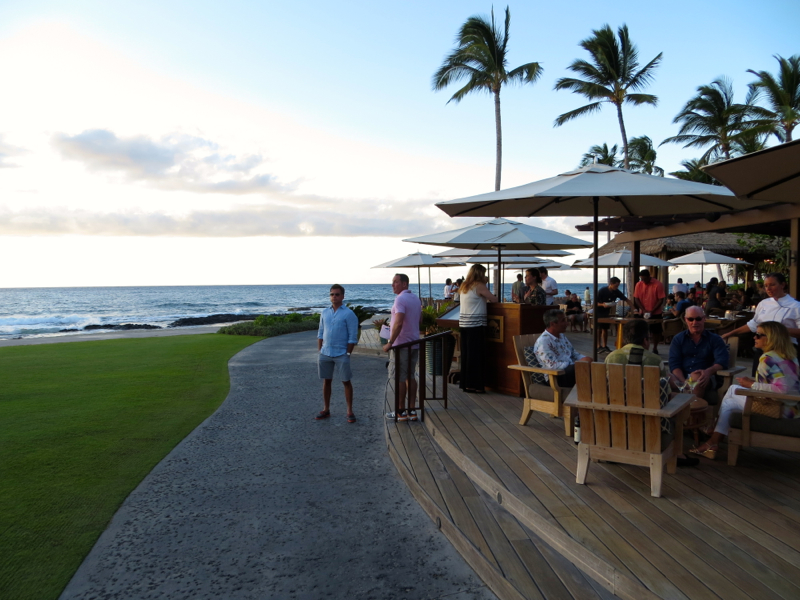 This Beach Tree Hualalai menu and review is from a stay at the Four Seasons Hualalai. You can enjoy up to $100 complimentary food and drink at Beach Tree if booking the Four Seasons Hualalai as a TravelSort Client with Four Seasons Preferred Partner (FSPP) benefits. I always recommend that when booking a Four Seasons property, you book with preferred partner amenities, since FSPP upgrades are prioritized ahead of all other upgrades, such as Virtuoso, AMEX Fine Hotels and Resorts, etc.
Upgrade of one category, based on availability at time of check-in (excluding signature suites and villas)
Daily full American breakfast for two people per bedroom, served through In-Room Dining or in the hotel restaurant (including buffets)
Food and beverage credit of USD100
Complimentary basic Internet access for up to two devices
Visiting Hawaii? This post is part of a trip report on the Big Island of Hawaii and Maui, including stays at the Four Seasons Hualalai and Four Seasons Maui at Wailea.
For prior posts in this trip report, please see:
Alaska Airlines First Class Review
Alaska Airlines Board Room Seattle Lounge Review
Alaska Airlines First Class to Hawaii
Hyatt Place Waikiki Beach Review
Andaz Maui at Wailea Suite Review
Ka'ana Kitchen Review and Andaz Maui at Wailea Dining
Mama's Fish House Review in Paia, Maui
Four Seasons Resort Maui at Wailea Review
Breakfast at DUO at Four Seasons Maui at Wailea
Hawaii Volcano Treehouse Review
Hawaii Volcanoes National Park Review
Kilauea Lodge Restaurant Review
Punalu'u Black Sand Beach Photo Tour
Four Seasons Resort Hualalai Review: Best Luxury Hotel in Hawaii
'ULU Ocean Grill Review and Four Seasons Hualalai Dining
Manta Ray Night Dive with Kona Diving Company
The Scene
Of the various dining experiences at this Four Seasons, Beach Tree is the most casual. There is live Hawaiian music and sometimes Hawaiian hula dancing on a nearby lawn, and throughout the evening kids will dance and frolic on the grass. As with all the restaurants, the restaurant is open and faces the beach, so you have a fantastic view of the sunset and can hear the waves softly washing up along the shore.
Much of the dining area is covered with a wooden canopy, which enhances the rustic Hawaiian ambience, and also provides a nice shade during the daytime or at sunset from direct sun. During the various times we ate at Beach Tree, for one reason or another we wanted to leave our table to walk on the rocks along the beach, or move closer to the music, and due to the more casual feel of the place these departures were not unusual or disruptive to the other diners. Later in the evening, Beach Tree becomes more of a hangout to have a drink and snack, and the music is slightly louder. But the mood is always relaxed and fun.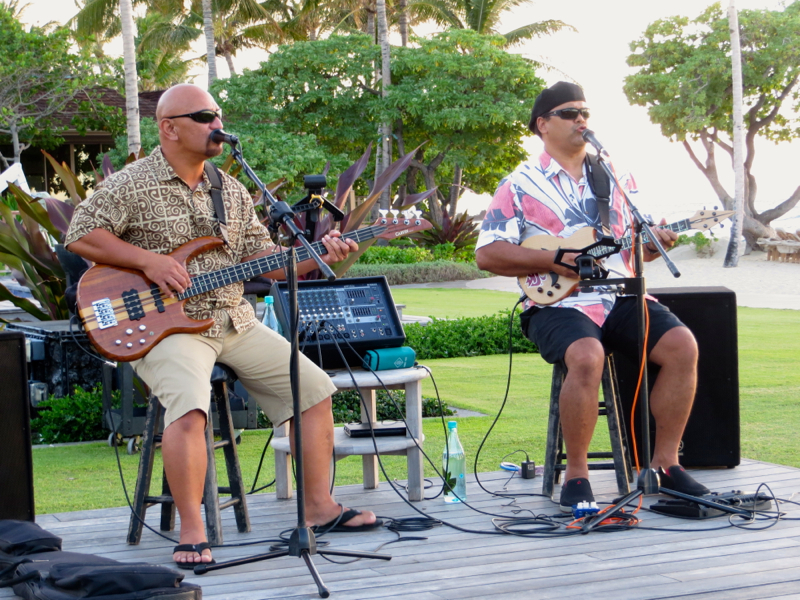 Beach Tree Menu and Food
For our first visit, the munchkin and I were on our own, as Hilary was on a manta ray night dive. The menu at the Beach Tree was filled with basic American comfort food: pizza, burgers, pasta, salad and fish. But each of the dishes seemed to have something a little special, and after a day spent swimming, we were ravenous. In addition to the regular menu, there was a kids' menu.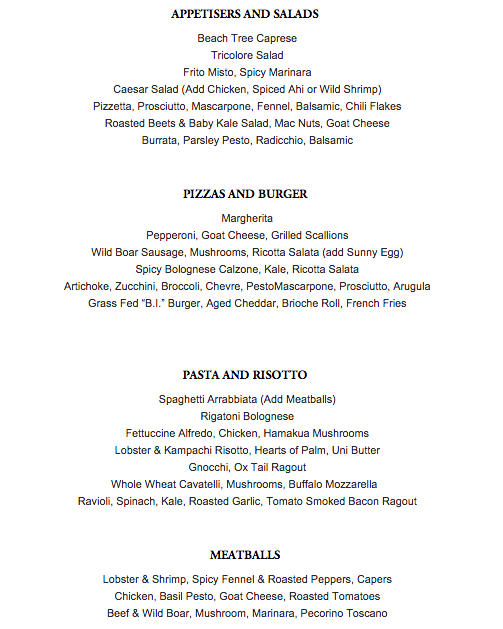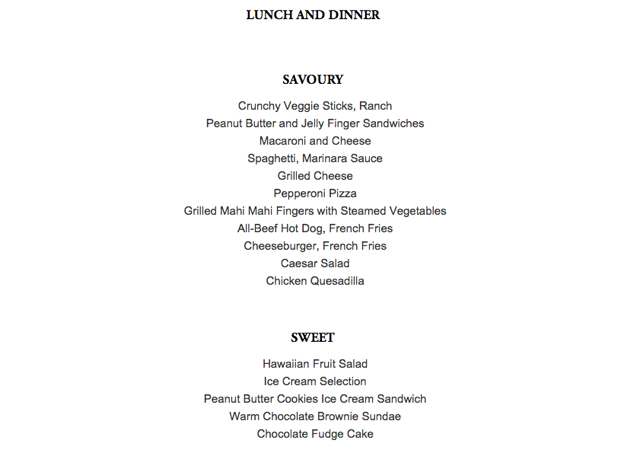 The munchkin ordered his favorite cheese quesadilla, and I ordered a pizza with wild boar sausage, mushrooms, ricotta and egg. The munchkin enjoyed his cheese quesadilla: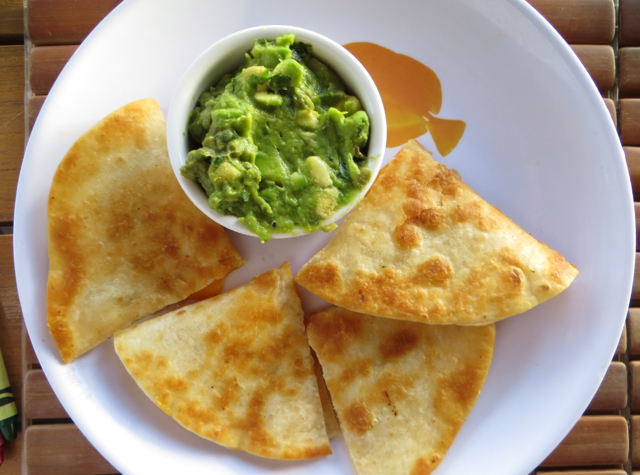 I remembered how the guide at Volcanoes National Park had told us that the wild boars are a terribly destructive force on the local habitat because they damage all the undergrowth and trees by foraging with their tusks, and therefore are routinely hunted; so I felt proud to do my part to help the environment by eating wild boar pizza.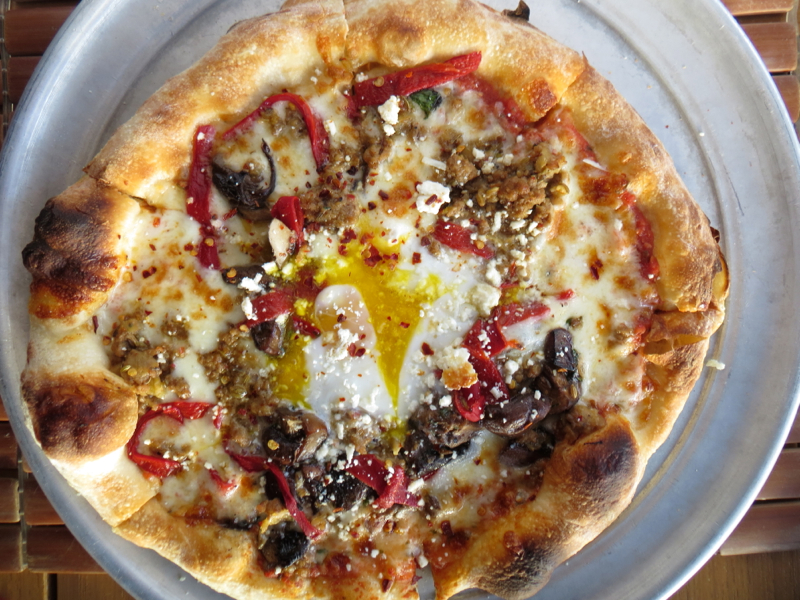 And it was delicious! Not as good as the wonderful pizza at the Jean-Georges offshoot ABC Kitchen in NYC, but not very far off. The crust was thin and slightly crunchy, and the wild boar and other toppings blended together beautifully. After our main courses, we were still hungry, so we chose the banana split. It was yummy, with caramelized bananas, vanilla ice cream, strawberries and chocolate sauce.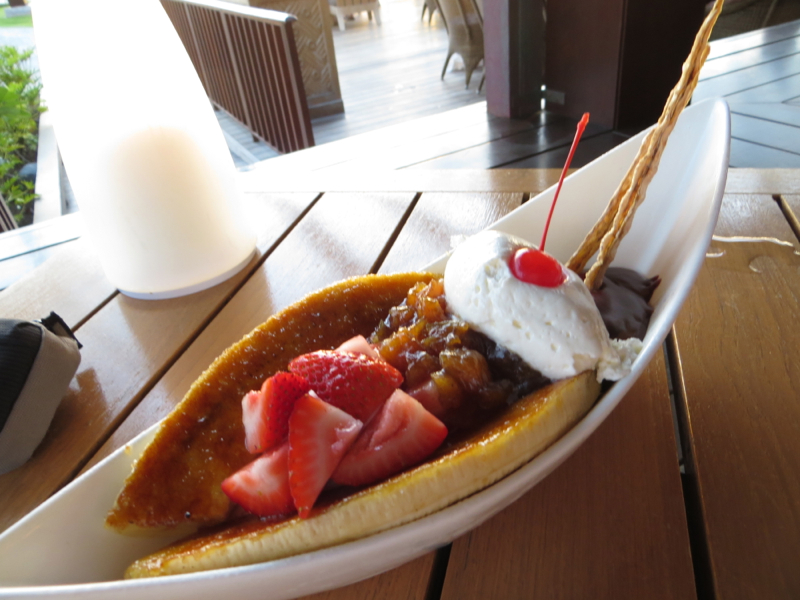 We devoured it, and re-energized, were ready to play on the beach, and do some tree-climbing as the sun set over the Pacific.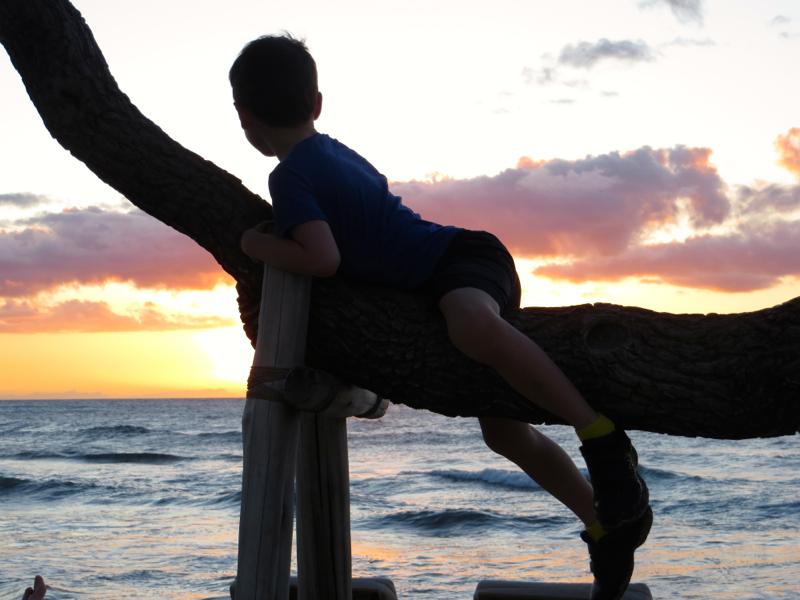 The next night, after a delcious meal at 'ULU, we decided to forego dessert at 'ULU and instead have dessert at Beach Tree. I again ordered the banana split–it was that good–while Hilary, who was craving a dark chocolate dessert, took our server's recommendation for the Double Chocolate Cherry Zuccotto. According to her, it was indeed rich and chocolatey, and nicely complemented by the cherry ice cream. She said it was a much more satisfying dessert than the chocolate souffle we'd had at 'ULU.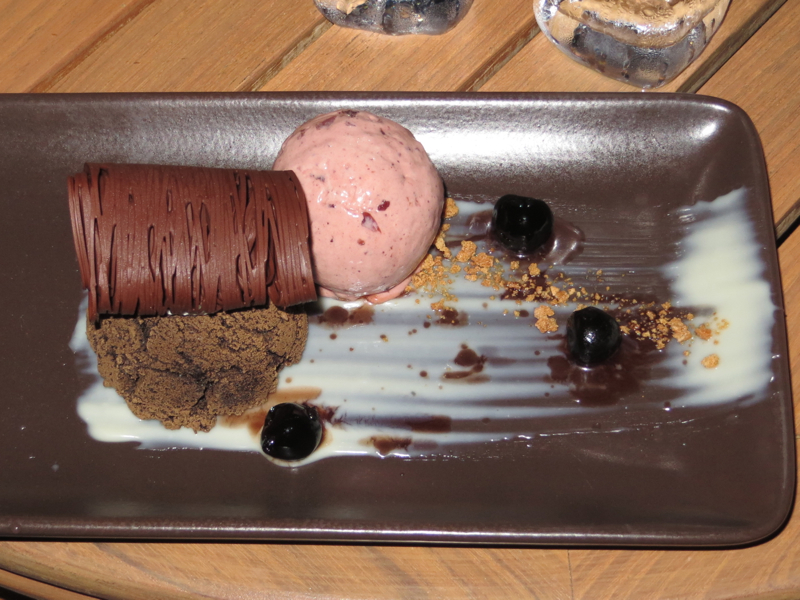 Her brother ordered the Meyer Lemon Ricotta Crostata with Beach Tree Olive Oil Ice Cream, which Hilary tried a bite of and said was her favorite Meyer Lemon dessert that she's tasted, which is saying something as she makes delicious Meyer Lemon desserts herself.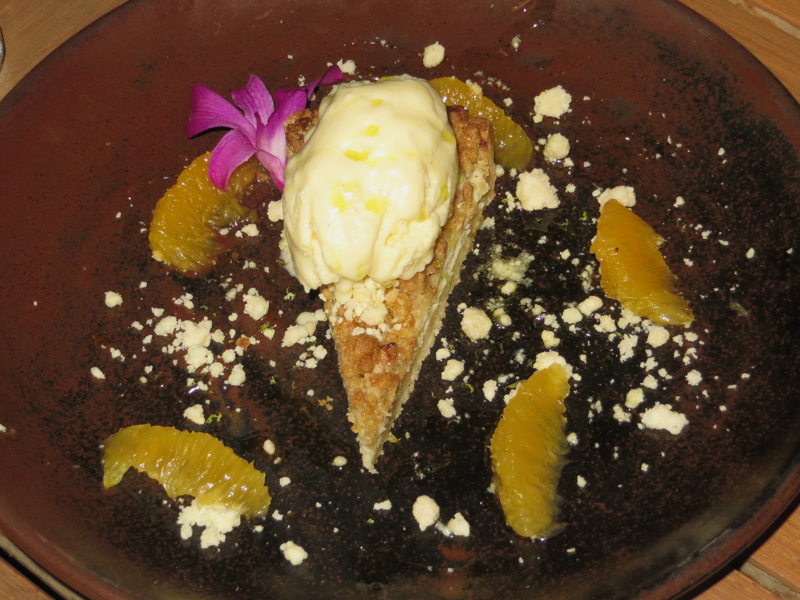 The Service
The servers at Beach Tree were very hard-working. They had to contend with diners changing tables, milling around on the beach, and also those customers who merely wanted a beer or glass of wine. Because Beach Tree is less formal, the servers had to cover more ground and be more flexible as to how to accommodate the different needs of the patrons. But during our several times there, they remained friendly, helpful, and attentive, even if you had to work a little harder to flag one down. As long as you understand that this is not fine dining and have a little patience, your experience will be good.
The Verdict
For what it is, Beach Tree was wonderful. Do not expect haute cuisine, or a quietly meditative culinary experience. But if you want a fun, casual meal, and enjoy traditional Hawaiian music, Beach Tree is a pleasure. For some reason when we were eating there, I was reminded of how the world's laziest actor Adam Sandler always finds an excuse to set his films in Hawaii, and I half-expected to see him at the table next to me.