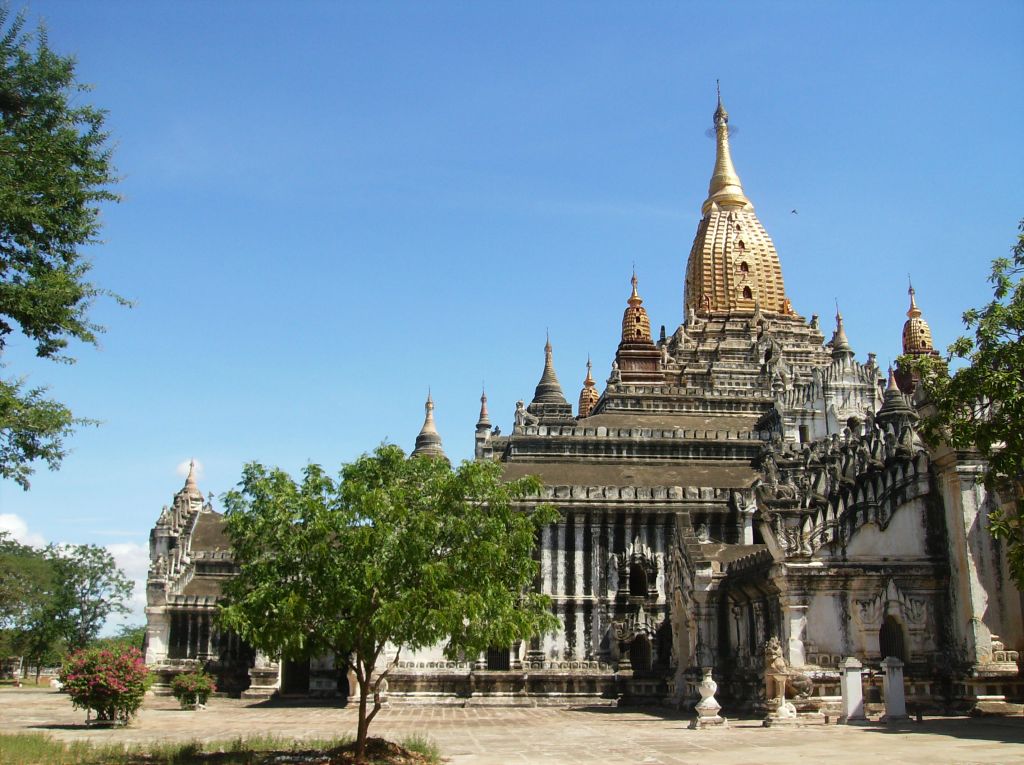 Why Go?
On a sandy plain nestled inside a bend in the Irrawaddy River, there stands one of the greatest monuments to civilization in Southeast Asia. The Bagan Archeological Zone is about the size of the island of Manhattan, and scattered across the plain that it occupies are approximately 4000 pagodas, or Buddhist temple. Some of these monuments are gigantic edifices stretching more than a hundred feet high, others are humble, human-sized temples for those of only modest means. Big or small, the most impressive thing about Bagan is that it has so many different temples packed into one small area.
Imagine yourself leaving your hotel when the summer morning's chill is still cold enough to see your breath. Your bicycle whisks you through the cool air as the first hint of sunlight glows pink on the eastern horizon. Dismounting your bike in the dark, you mount the winding brick stairs of the sun-baked orange pagoda, then sit down on the flat temple top to catch your breath, letting your feet dangle over the edge. The first rays of sunlight splash down on the plain and, suddenly, the whole scene seems to give birth to thousands of temples, some brick-red, some golden, all glittering in the dawn sunlight like jewels scattered randomly by a Burmese god. You sit atop the temple, feet still dangling, alone, pondering what it all means.
And all that before breakfast.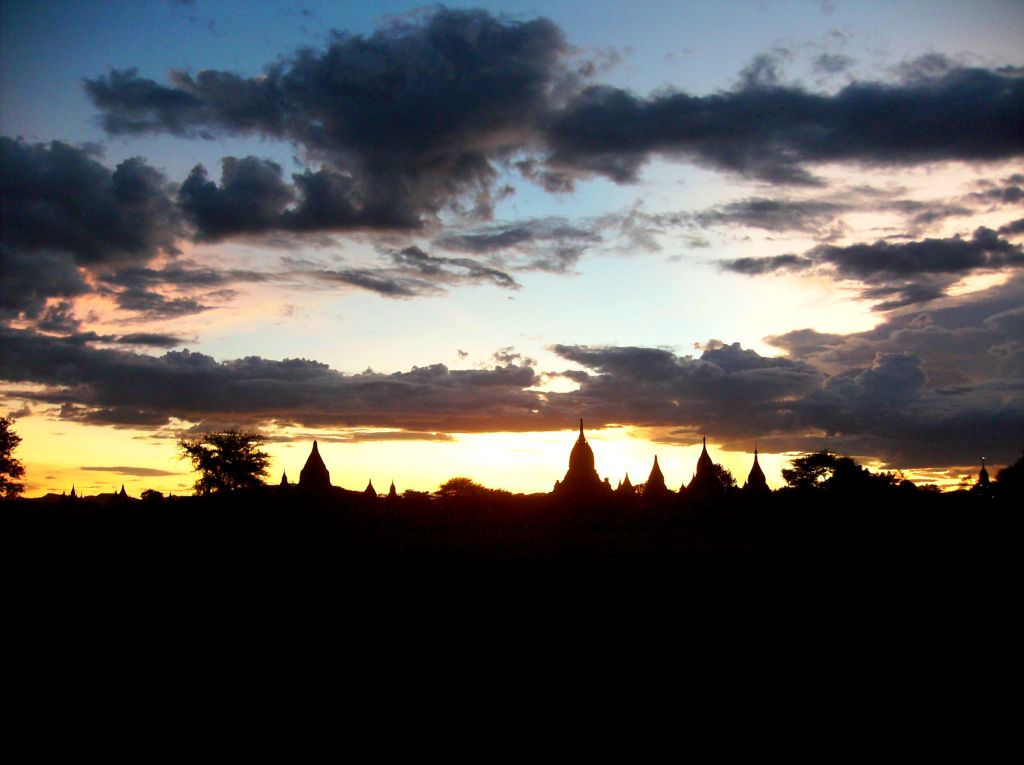 Insider Tips
First off, once you hear about Bagan, you are an Insider. So few people have heard about Bagan that it is really the hidden jewel in Southeast Asia. The epicness of Bagan is often compared to its Cambodian sister, Angkor Wat, but Bagan has a fraction of the tourists that Angkor Wat gets. At sunrise at Angkor, you will be elbow to elbow with tour groups and post card sellers. At Bagan, you will be alone.
You can get to Bagan by plane, train or bus. Plane rides are expensive and you are giving your money straight to the Junta, but it is fast and comfortable. On the other hand, the bus ride is long and cheap. Most bus journeys to Bagan are overnight and the bus's facilities aren't comfortable, particularly for taller westerners crammed into the smaller seats. That said, bus is the cheapest way to get to Bagan, and less of your money is skimmed off and given to the Junta. The train ride is longer than the bus ride and it is expensive. No reason to take the train.
If you take the bus, it will be a long bus ride. The nearest international airport is in Mandalay, which is an eight hour ride during the day. Yangon, where most travelers will be entering the country, is even farther away, 12-14 hours, but thankfully, the ride between Yangon and Bagan is overnight so you can try to get some sleep and waste less time.
Peak season is from November to February when the weather is neither hot nor wet. At this time, hotel prices can jump and the normally empty temples can get relatively crowded.
Monsoons peak in June and October, but, be prepared, because it can rain at any time in the summer. Still, this is one of the drier parts of Myanmar, so, don't let fears of the monsoon put you off of this incredible location. We were there during the wettest part of the monsoon season and we didn't get a drop of rain.
Bikes are the best way to get around. Not only are they cheap ($1-$2 a day), they also allow you to explore all the temples on your own. If you do not want to bike, you can rent a horse-drawn cart, but this is a lot slower and a bit more expensive. The fastest and most expensive option is renting a driver and a private car, though this can cost lots of money. Keep in mind, Bagan is the size of Manhattan, so walking between temples is not really effective.
Day time temperatures are hot, holding well above 100oF for the long afternoons. Beat the heat by getting up before sunrise to see the sun's rays creep over temple walls, returning to your hotel to take a siesta after lunch and then getting back out as the late afternoon cools down and catch the sunset.
If you have money that is burning a hole in your pocket, you can take the three hundred dollar hot air balloon ride above the temples of Bagan.
Sometimes you may be able to get to the top of a temple by simply walking up, or finding the unlocked door to the stairs. If the door to the top is locked, you may be able to find the farmer in charge of the temple and give him some tea money to let you climb onto the temple top.
There is a $10 fee charged for entering the Archeological Zone, but, there is no entrance gate where you can buy your ticket. You may have to work hard to find the office where you can buy your ticket, but do try to find it. It is located along the main road a few hundred yards east of the city walls in Old Bagan and the Hotel Tharabar. You will need to let your hotel or hostel see your ticket before they will let you stay there.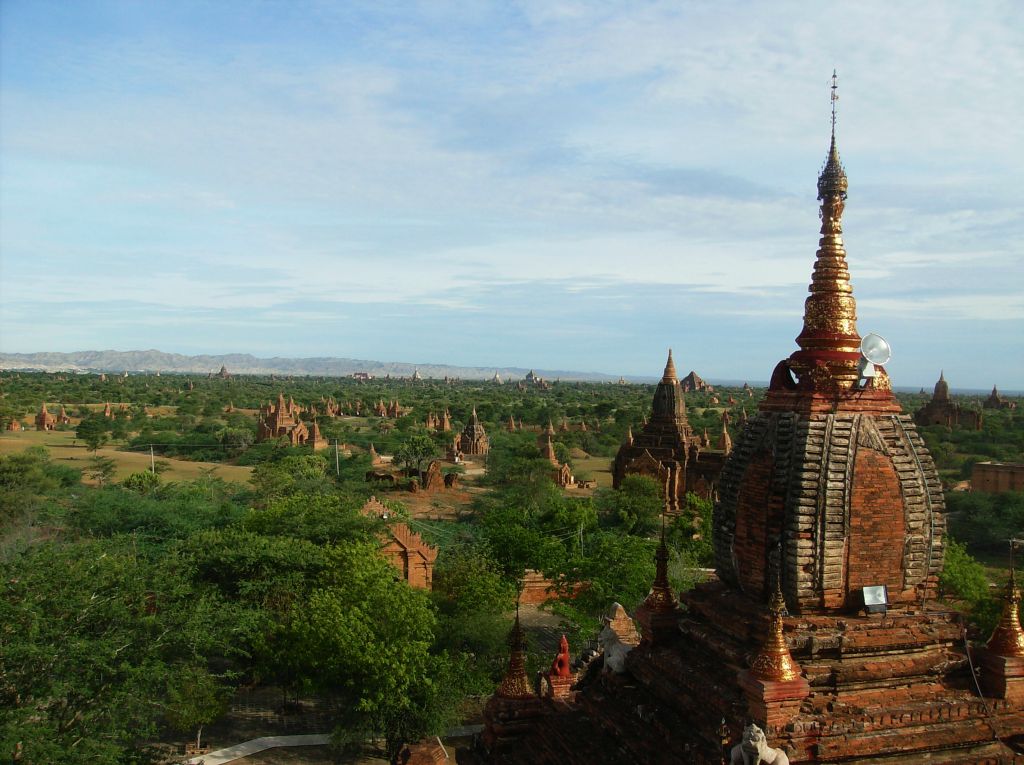 Where to stay
First, you should know that the Bagan Archeological Park, where all the temples are, is fairly large, and it has three towns in the area where tourists can find accommodations. Nyaung U is the largest town and it is where almost all independent travelers stay. As far as convenience, it is where the bus station is, and it is the closest of the three towns to the train station and airport. Unfortunately, it is a little bit farther from here to the main temples, ten to twenty minutes by bike. Nyaung U has lots of budget accommodations, though it seems to be lacking in up-scale options. The other two places you can stay are Old Bagan and New Bagan. Old Bagan is located much closer to many of the temples, and this is where many of the budget-busting hotels are located. New Bagan is has a mix of budget-friendly and upscale options, but is smaller than Nyaung U and has less choice overall.
Shwe Na Di is the budget friendly option in Nyaung U. It generally runs around $3 per person, but it can shoot up to $6 per person if you want AC. Rooms with AC have attached bathrooms, though a few of them share bath rooms. Facilities are clear, though nothing special. If they fill up, check out the Pann Cherry Guest House or some of the others along the road, all of which are fairly similar in style and quality.
Thiripyitsaya Sanctuary Resort is your best choice if you want something more upscale. Located along the Irrawaddy River just outside the old city walls in Old Bagan, this Japanese-Burmese hotel has rooms starting at $90 and suites starting at $250. If you have a need for luxury, you can try the $20 dollar foot massages after a long day of pounding the sand in search of pagodas.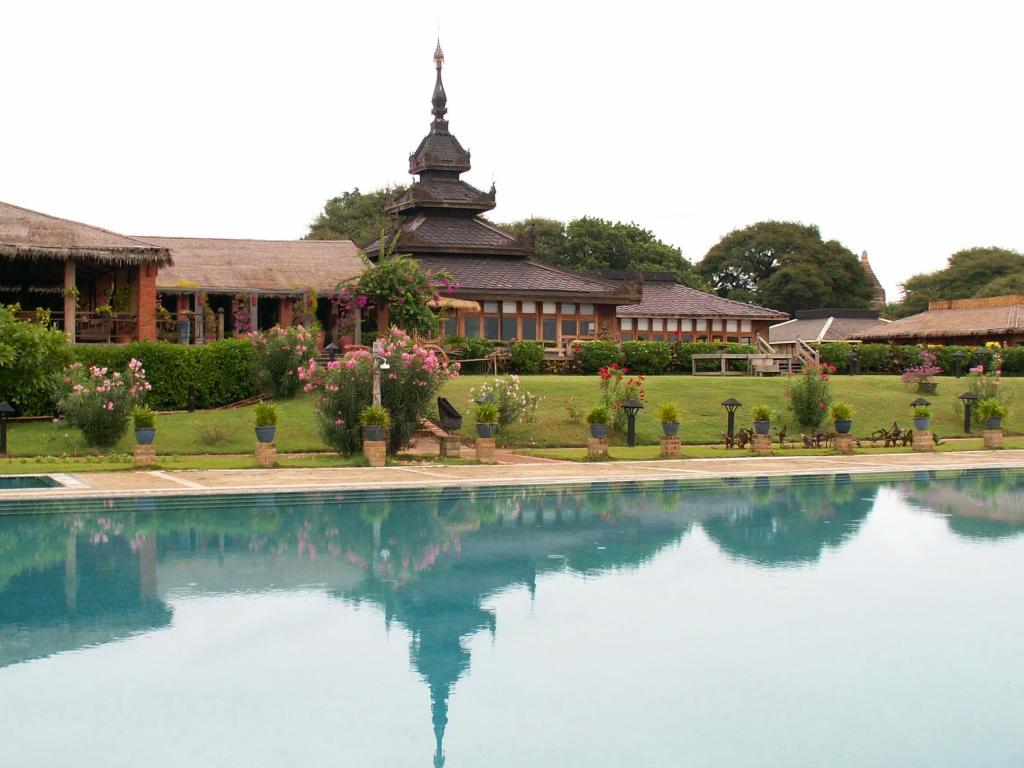 Where to eat
Keep in mind that there aren't that many restaurants among the ruins, so plan your day knowing that you may have to go to one of the towns to get your mid-day meal.
Restaurant Row, Nyaung U – This is not a restaurant, but a collection of eateries aimed at tourists. They have everything here that you would expect along the backpacker trail of Southeast Asia. Banana pancakes, pizza, staple Chinese dishes and Thai curries all make an appearance in this smorgasbord of smorgasbords. They are all okay, not great, and their prices are all a little inflated ($1-2 per p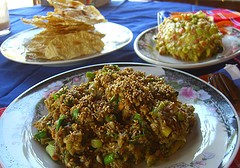 erson), but this is where most of the action is in Nyaung U.
Moon Vegetarian Restaurant – Located next to the Ananda Temple, this is one of the few places to eat if you are out visiting the pagodas. Nice, cheap and delicious vegetarian food.
Thiripyitsaya Sanctuary Resort, Old Bagan – This resort has an excellent restaurant. As with the rooms, meals are not cheap, but they are top notch. Rumor has it that some of Asia's best chefs are brought here to wow the guests.
What to do
There are not so many 'activities' as such in Bagan, but that doesn't mean that there is nothing to do. Most people spend two or three days exploring the temples, climbing to the top of one pagoda only to find three or four new ones that they want to explore. Bike around through the fields strewn with pagodas and explore the nearby villages, getting a real taste for the pace of Burmese life and maybe get caught up in a goat herd traffic jam!
As for outside trips, you can take a bus or van to Mount Popa. Mount Popa is a gold- spired temple on top of a Burmese mesa that juts out of the flat sandy plain nearby. Trips can be arranged easily in Nyaung U, but it is an all-day journey to get there, climb up to the temple and then come back.