This Review of the Ayana Resort and Spa in Jimbaran, Bali is part of a trip report including Cathay Pacific Business Class and First Class to Hong Kong and Bali, plus reviews of luxury hotels and food in Hong Kong and Bali. Prior posts include:
Review of British Airways Galleries Lounge at JFK Airport
Cathay Pacific Business Class Review: 777-300ER NYC to Hong Kong
Cathay Pacific First Class NYC-Hong Kong
Tim Ho Wan Review: Hong Kong's Best Dim Sum and Cheapest Michelin Star?
Mandarin Oriental Hong Kong Review
Cathay Pacific Business Class Review 747-400: Hong Kong to Bali
The Ayana Resort and Spa in Jimbaran, Bali, was formerly the Ritz-Carlton Bali. I stayed there about 10 years ago on the Club Level, so I was curious to see whether it was as good as I remembered, and what, if anything had changed.
Here's the view that greets you upon entering the Ayana: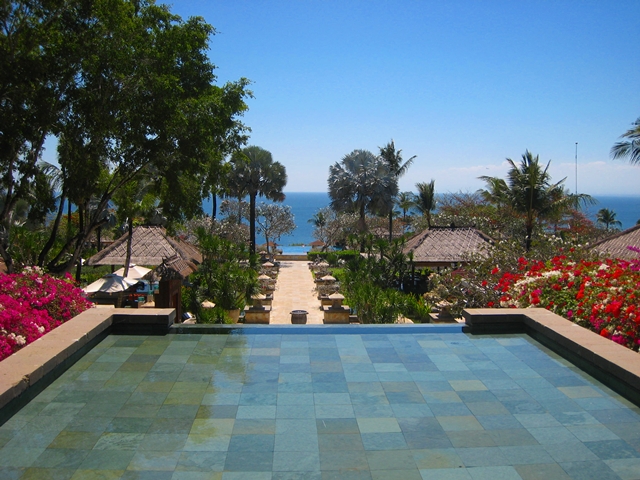 While I knew I wanted to stay in a Club Room, when I was arranging my stay, I was surprised to learn that kids are apparently not normally allowed to stay in Club Rooms, and not allowed in the Club Lounge. This was in contrast to my stay when this property was a Ritz-Carlton, and different from every other Ritz-Carlton Club Lounge I've been to, where there are often families staying on the Club Floor and enjoying Club Lounge privileges. Kids were also allowed at the Four Seasons Executive Lounge at the Four Seasons Hong Kong, which we stayed at just a couple days prior to the Ayana. I pointed this out, and was allowed to stay with my family, including 4-year old son, in a Club Room, but we were still not allowed to bring him into the Club Lounge, so we took turns visiting the lounge. They were kind enough to allow us to bring back food for him, even though normally (as is the case with every Club Lounge I've been to) you're not allowed to bring food outside the Lounge.
The Club Room was similar in style and layout to what I remembered from the Ayana's Ritz-Carlton days, with intricate wood carvings in the bedroom and bathroom, four poster beds, and marble floors and bath. The sitting area included a large round lounge chair that converted perfectly into a bed for our 4-year old.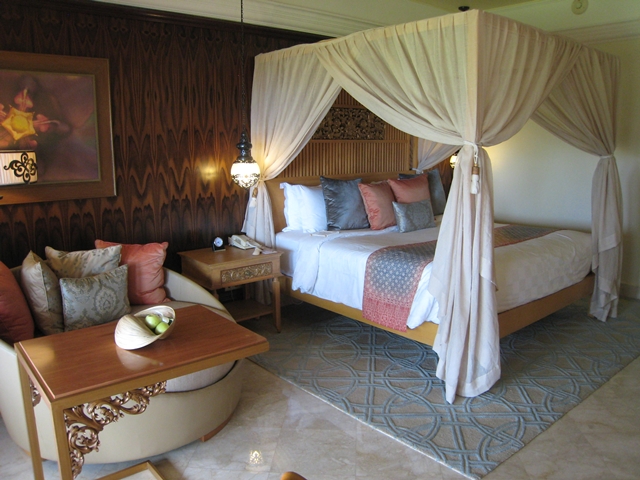 The bathroom is spacious and has a soaking tub and separate glass enclosed shower and WC.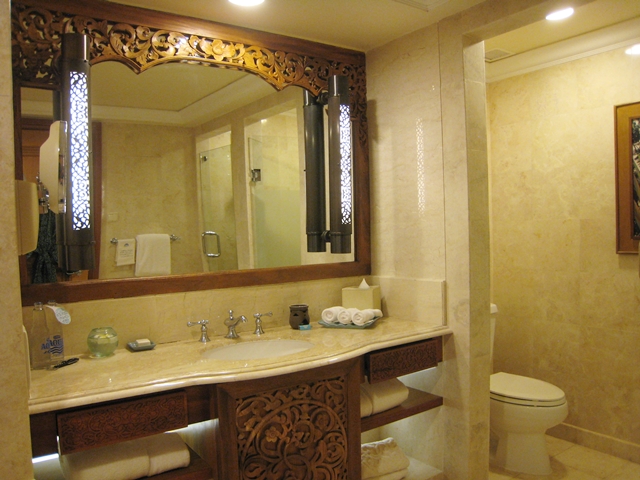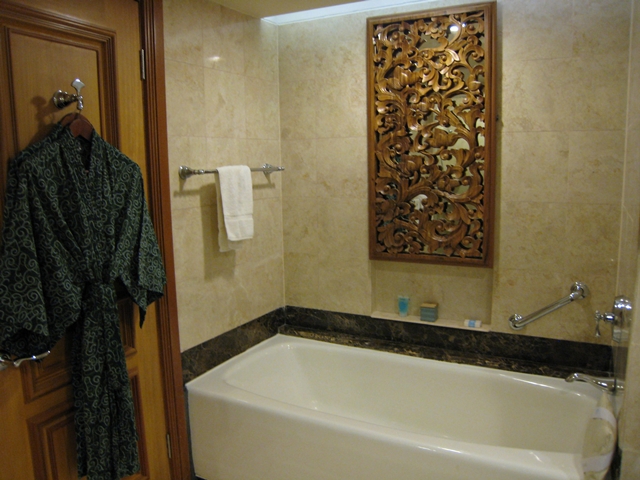 Even though our Club Room was one of the further ones from the ocean, we still had a lovely view of the lush grounds and the sea beyond: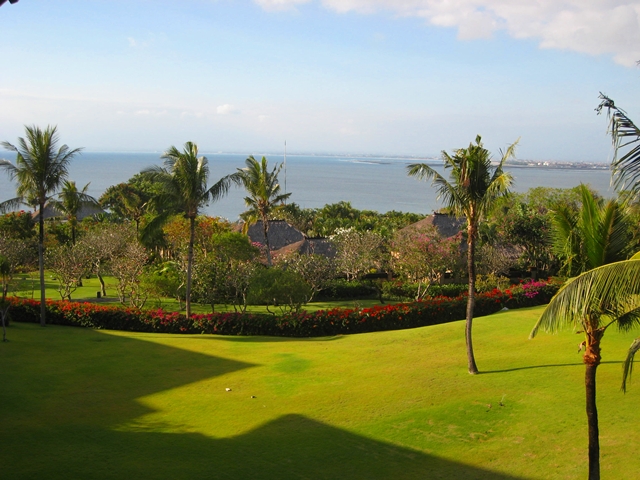 The Club Lounge itself is a bit dark, but does have a nice balcony with a great view of the resort: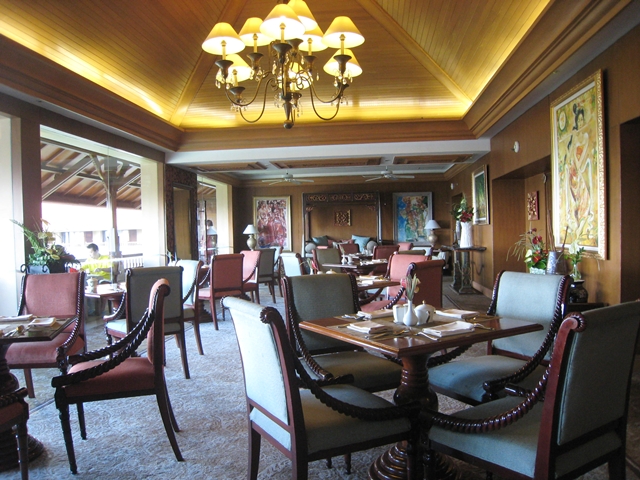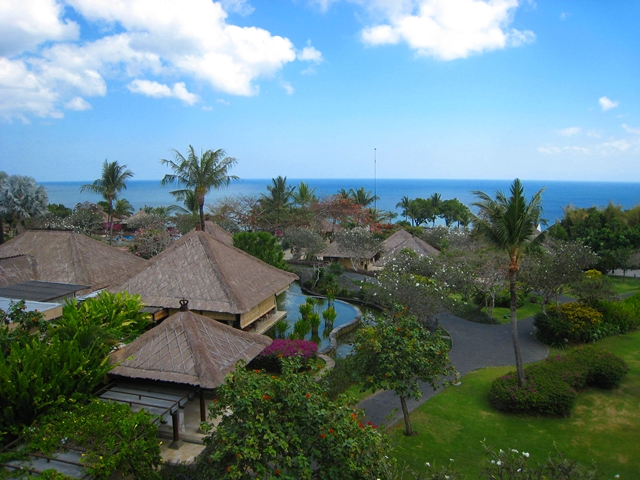 The morning breakfast spread in the Club Lounge included a variety of fruits, yogurt parfaits, cereals, pastries, cheeses, Japanese and Indonesian options. Here are the fruits and parfaits: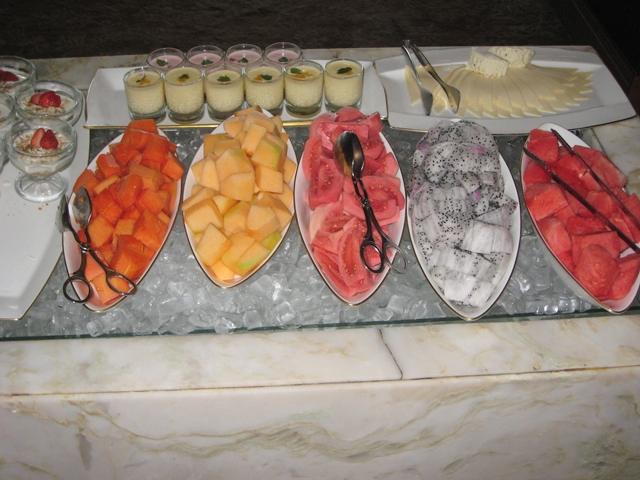 The lunch spread was perhaps the least impressive, with sandwiches, cold cuts, various salads and fruits, although there was usually some kind of hot option, such as quiche and a soup of the day.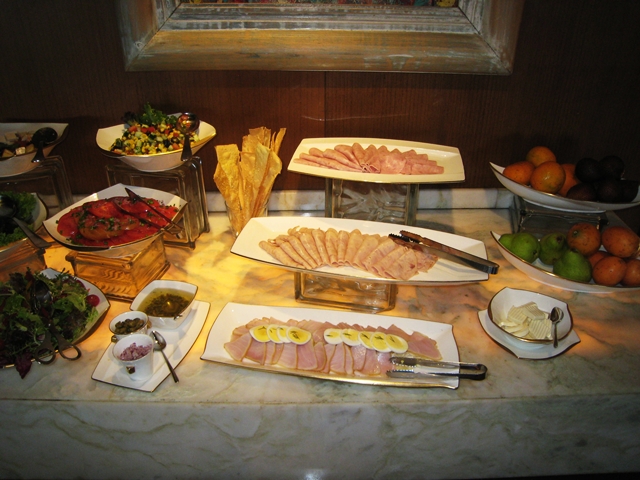 Afternoon tea offered scones with jam and a variety of small pastries and cookies. On the day we arrived there was a quite good apple strudel.
We usually made a meal of the pre-dinner appetizers, which also featured a small hot dish cooked to order, such as fish: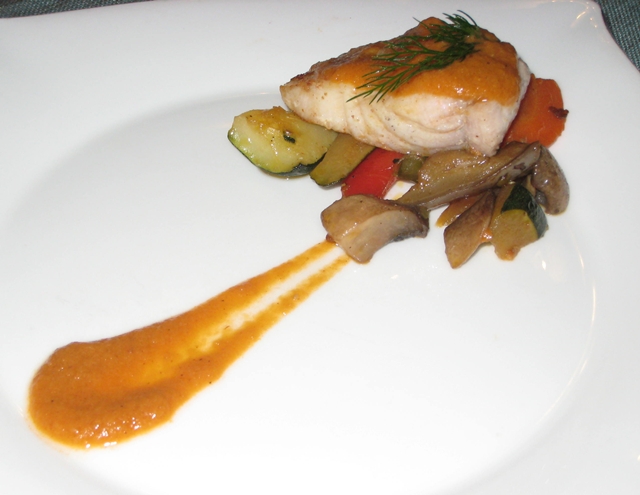 The main infinity swimming pool is large and popular with families, although when we went for an early morning swim there was no one around. Under the right pavillion is a cold plunge pool, and under the left one, a jacuzzi hot tub.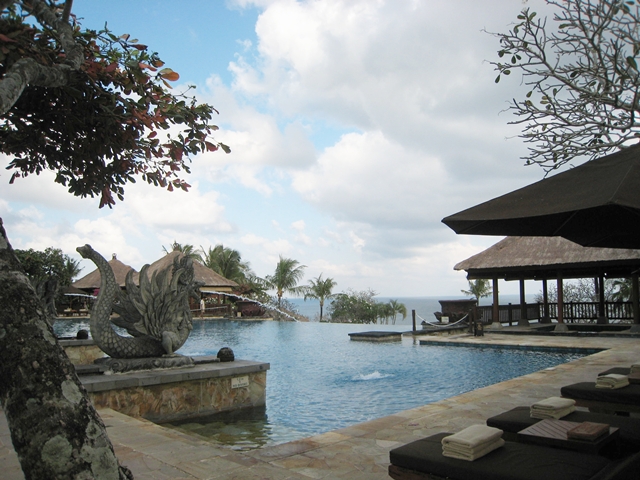 Below the main infinity pool is a quiet adults-only pool: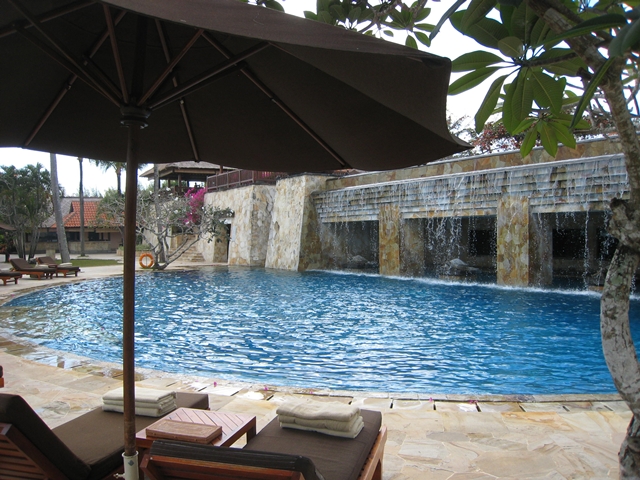 And a short walk away are a couple of small children's pools, with short and long water slides leading down to them. Our son had tons of fun with these, although he didn't go very fast on them. We saw a little girl with in a blow up inner tube go whizzing by on the long slide though, so it's definitely possible to go more quickly!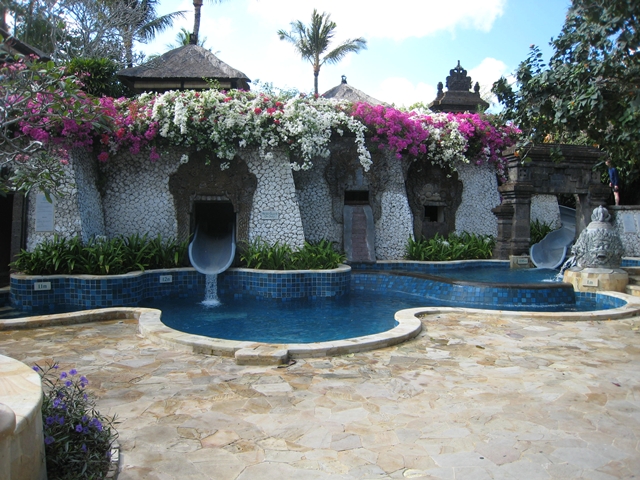 Near the top of the long water slide is the kids' club. There's a reasonable half-day or full-day fee and the staff there seemed very responsible and good with kids, but we simply enjoyed playing ping pong with our son or watching him while he was on the outdoor play equipment, which there was no charge for: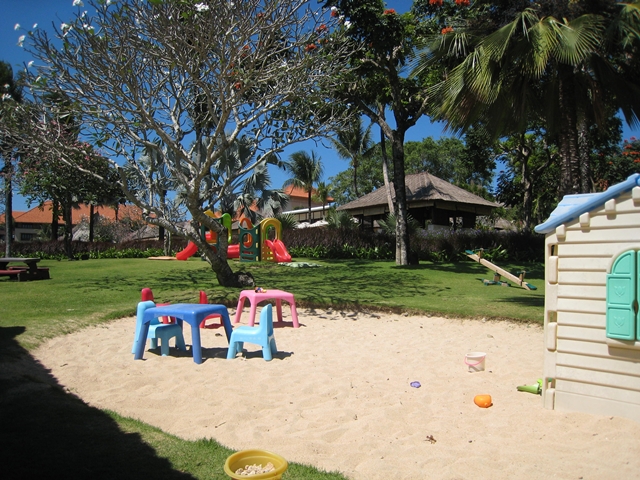 There was also an indoor play room with games such as snakes and ladders, blocks, duplos, a flat screen with kids' DVDs, etc.: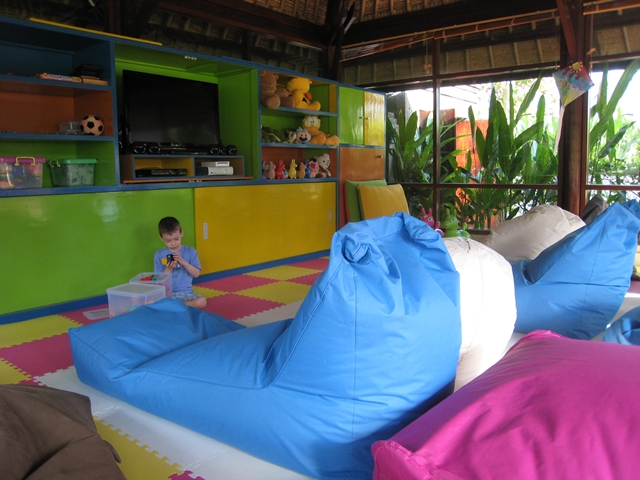 As with several of the other resorts we visited, there were beautiful carp in the decorative pools around the resort restaurants. We asked the staff if we could feed them, and they were happy to provide some bread.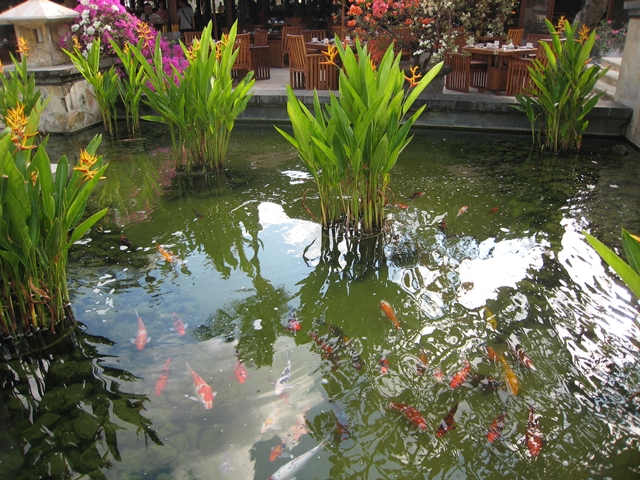 You can walk down a series of steps to reach the small beach. There are some large rocks there, so when the waves are rough, you can't swim there, as indicated by the red flags. Contrary to European beaches, the red flags indicate unsafe swimming conditions due to the rough surf, and not the water, which was clean and clear.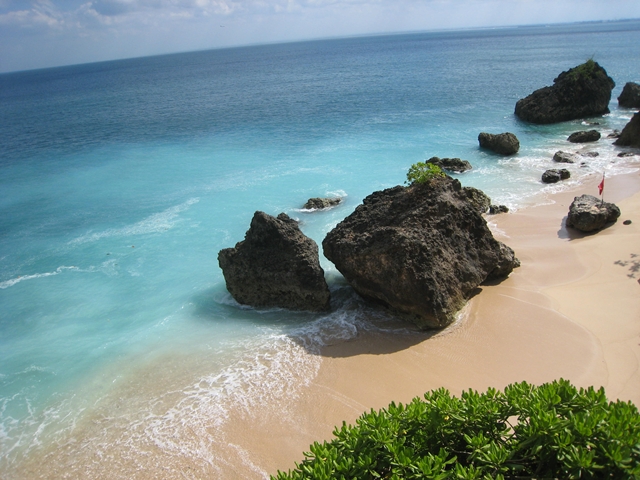 There's also a pier you can wander out on. Again, when we went it was uncrowded–just one other person there. It's near the Ayana's Kisik Restaurant, which is an upscale version of one of the beach warungs where you choose your own seafood and they cook it to order for you. We didn't try it, since we had Club Lounge privileges and took our meals there, but from what I've heard it's a very romantic setting and worth it for a splurge.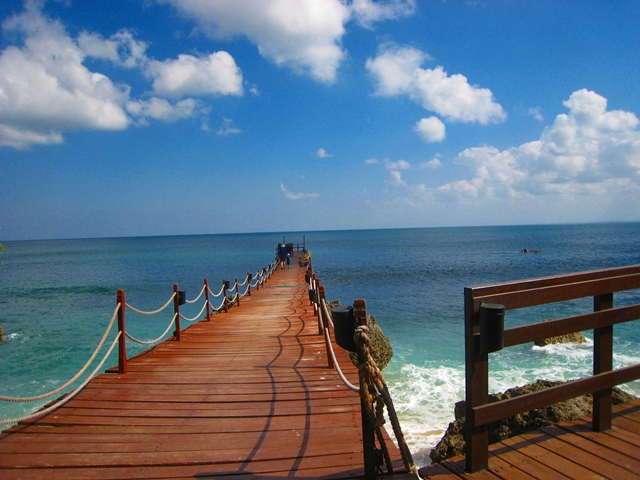 The verdict: Our Club Level Room at the Ayana and the service level exceeded expectations for the general resort facilities, but not for the Club Lounge. My favorite aspects of our stay were the beautiful views, lovely, well-maintained grounds and swimming pools, and nice kids' club facilities. The tiered effect of the pools blending into the blues of the Indian Ocean and the azure sky is truly stunning. And my son had a blast with the kids' club facilities: the water slides, large main pool, and outdoor and indoor kids' club play areas.
My least favorite aspect of the resort was the Club Lounge policy, and the quality of the food and drinks there, which is not as good as I remember it being under the Ritz-Carlton. The wine was just plain bad, so while it's complimentary in the Club Lounge, I can't recommend it. Fresh fruit, dinner appetizers and the made to order dishes were good, but I wasn't impressed by lunch cold cuts, salads, scones, or most of the pastries (except for the apple strudel and the chocolate chip cookies). Then again, we were somewhat spoiled by having stayed so recently at the Four Seasons Hong Kong with Executive Lounge privileges.
The Club Lounge was definitely convenient on one level, since we didn't have to wait around for food at restaurants or worry about additional food-related expenses, and of course it was nice of them to make an exception and let us stay there with our son. But if the Ritz-Carlton and Four Seasons can accommodate children in their lounges, why can't the Ayana? I can only conclude there must have been some very inconsiderate families who let their kids run amok (or some very cranky guests) that caused the resort to institute this policy. Now, of course families are able to stay in regular rooms or the much more expensive villas, but I expect it would be more expensive for most families due to the cost of on-property food and drinks.
Get a great rate: book the Ayana Resort and Spa with TravelSort
Related Posts