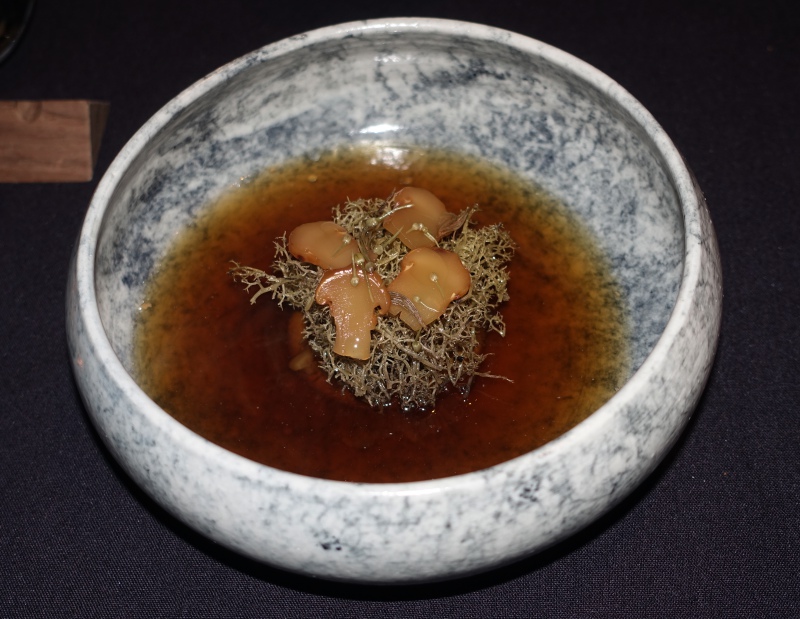 This review of Aska in Brooklyn, NYC is from our recent visit, to celebrate our anniversary. Aska is the newest Michelin two-star restaurant in NYC, and one of only 10 NYC restaurants with two Michelin stars.
Aska Location, Getting There, and Reservations
Aska is located at 47 South 5th Street in Brooklyn, at the southern edge of Williamsburg. We took the L train to Bedford Avenue and walked about 15 minutes south to the restaurant, or you can take the J or M trains to Marcy Avenue, about a 12 minute walk from Aska.
We actually walked right past Aska's front door initially, before realizing our mistake and turning back, confused, since we hadn't seen a sign. And there was Chef Fredrik Berselius himself, smiling and beckoning us inside. I was floored–it doesn't get more personal than that.
For Aska's main dining room, there are just 10 tables, so advance reservations are required, as is prepayment. This is likely to be novel to many, but for a fine dining experience, in such an intimate space, I think prepaying is a great idea. My cousin is a chef, so I have an inkling as to the sheer amount of work that goes into running a restaurant and the often slim margins, given the cost of quality ingredients and retaining a great team. We prepay for tickets to a show, the theater, sporting events, the ballet, and other special events, so why not a Michelin-star restaurant, which is also highly experiential? The current cost at time of writing is $250 per person for a 19 course menu and $175 per person for the 10 course menu, although at the time I made our reservation, the 10 course menu was $145. Note, however, that this cost actually includes all taxes and service, so it's actually very reasonable. For example The Modern, another NYC Michelin 2-star restaurant that includes service in its prices, charges $208 for an 8 course menu, although of course it's also in a far more central and pricier location.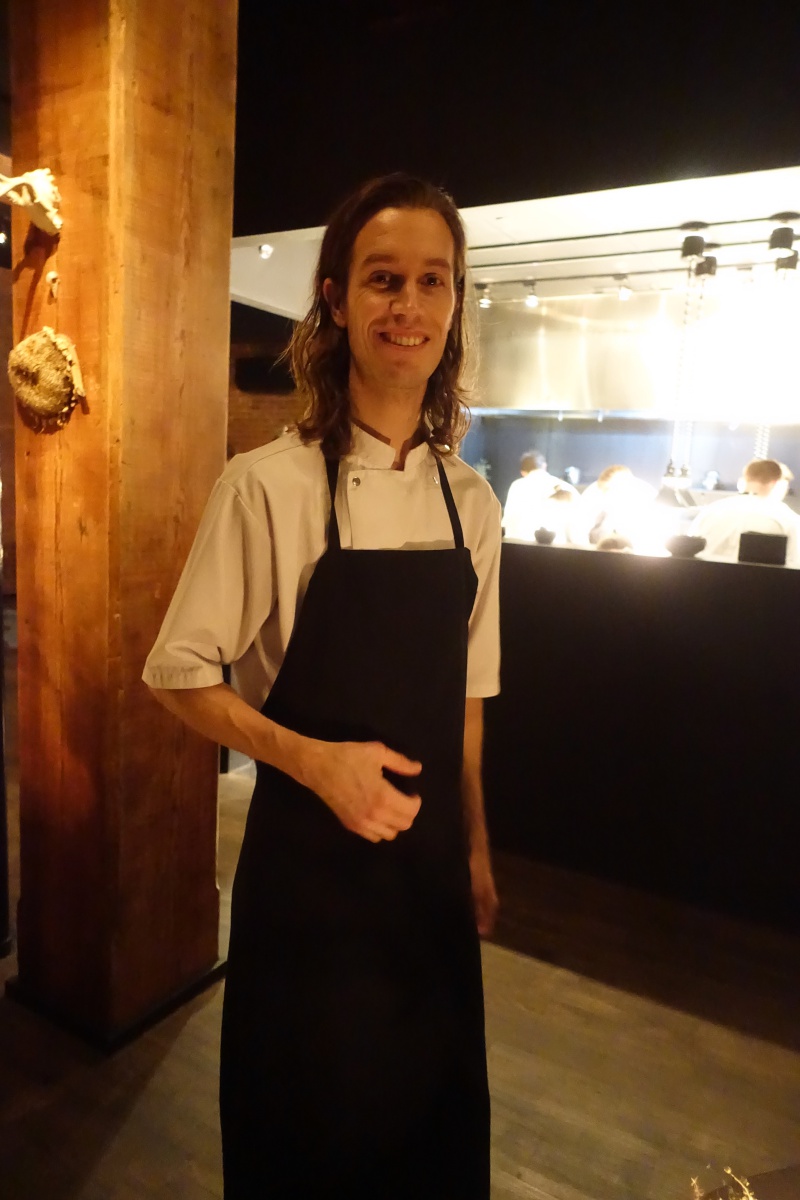 The Vibe
We were only the second table when we arrived a little after our 6:30pm reservation time, but as the evening progressed, all 10 tables filled up, yet happily, it remained easy to talk, with a hip mix of pop and R&B classics as background music. I shy away from places so formal that you can practically hear a pin drop, as well as those where you're talking yourself hoarse over the other diners and music, so Aska has struck a perfect, comfortable balance.
As far as I could see, all the other tables were also couples, although something to note if you're in the neighborhood and haven't made a reservation is that Aska also offers a Cellar Bar and, in the warmer months, an outdoor garden, where no reservations are taken or required.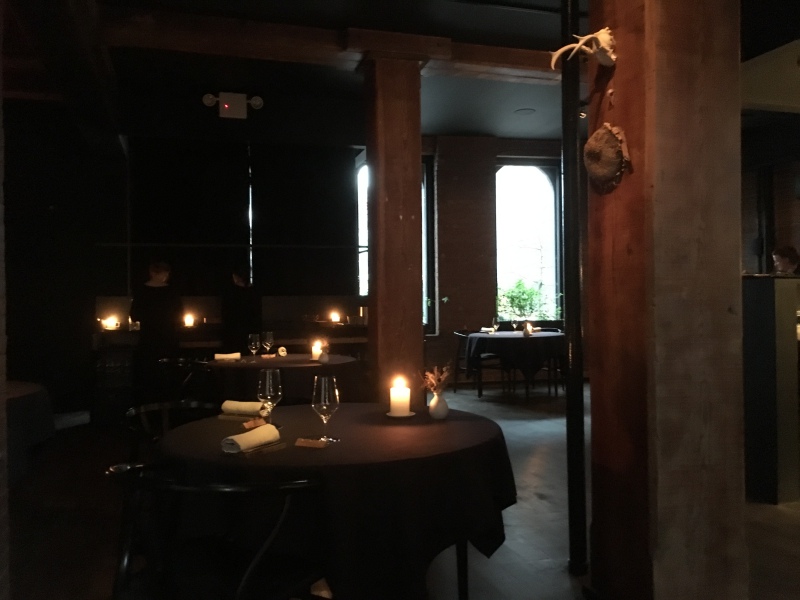 Aska Tasting Menu and Food
We were originally led to a table in the back, which we didn't mind at all, but one of the servers invited us to move to a table close to the semi-open kitchen, mentioning they'd had a last minute cancellation, and this was really appreciated, especially as we were celebrating a special occasion.
The nice thing about a chef's choice tasting menu is that there are no decisions to make. We didn't of course know what our menu would be, and I like surprises, but to put our meal in context, here's a copy of the menu we were given to take home, after our dinner: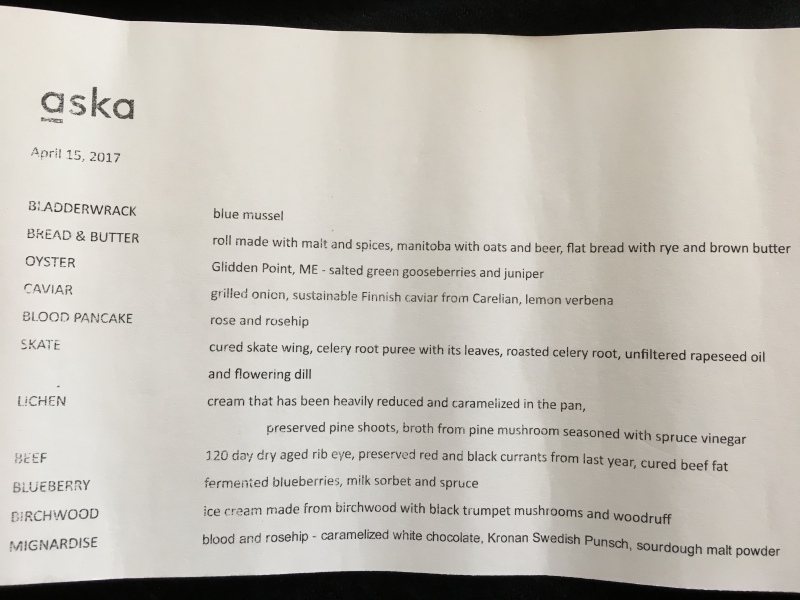 The only choices you need to make are about drinks. I'm pretty picky when it comes to the types of wines I like, so I opted against the wine pairing, but my husband was intrigued, so he did have the wine pairing.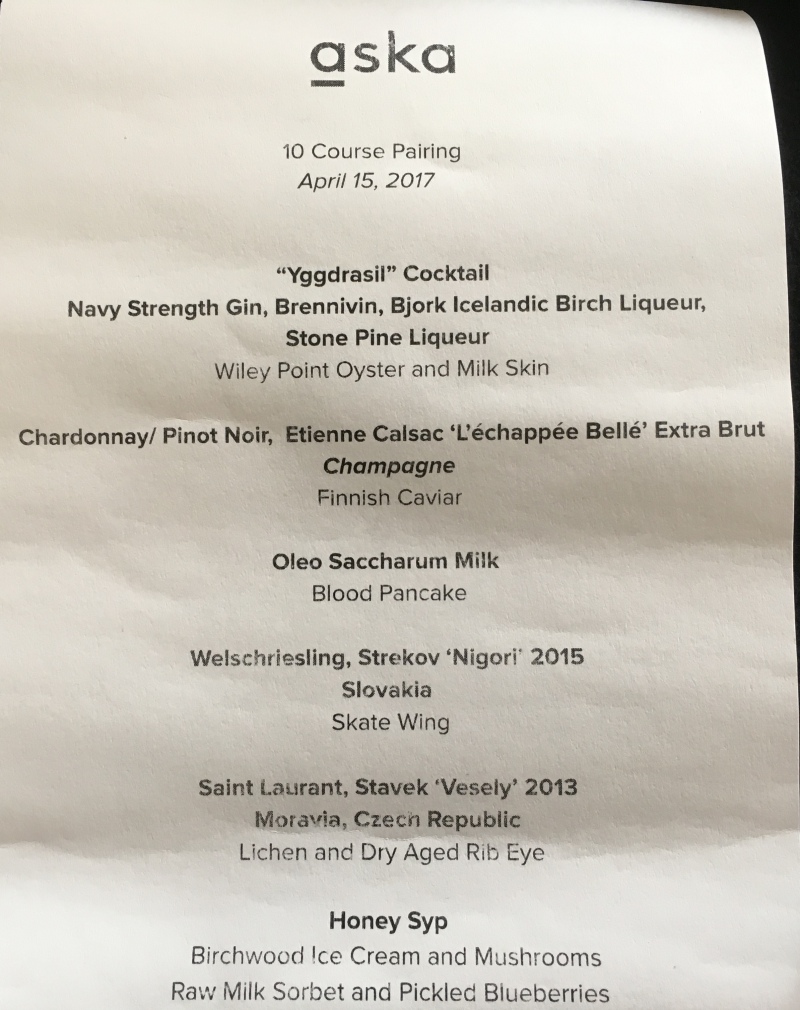 Aska is very down to earth in that the water served is simply filtered water, still or sparkling, so there's none of the bottled water question common to Michelin star restaurants. In addition to water, I chose a pressed apple juice with lemon verbena that was refreshing.
Even before we were brought any bread, our culinary adventure began with Bladderwrack, a kind of seaweed, which had been dried and dotted with a blue mussel cream–talk about exotic. I enjoyed the crispy, sea flavor of it, although I hate to think of all the effort that went into just a couple mouthfulls.
Next we were brought a basket of fresh baked bread, including manitoba with oats and beer, malt and spice rolls (my favorite) and a rye flat bread. Along with the bread there's house churned butter, and whipped pork fat, which we forced ourselves to go easy on, given the richness.
One of our favorite courses of the meal was this one, tiny, plump oysters from Glidden Point, Maine, enlivened with salted green gooseberries and juniper. The flavors really popped, and while I'm normally not such a fan of gooseberries, they worked perfectly in this dish.
A caviar course followed, with the grilled onions artistically arranged up the side of the dish, and the caviar itself a sustainable variety sourced from Finland's Carelian Caviar. We both enjoyed this, and my husband mentioned that the Etienne Calsac Champagne was a beautiful pairing with it. It wasn't as distinctive a dish, but frankly, it's nice to have some courses be more familiar in taste.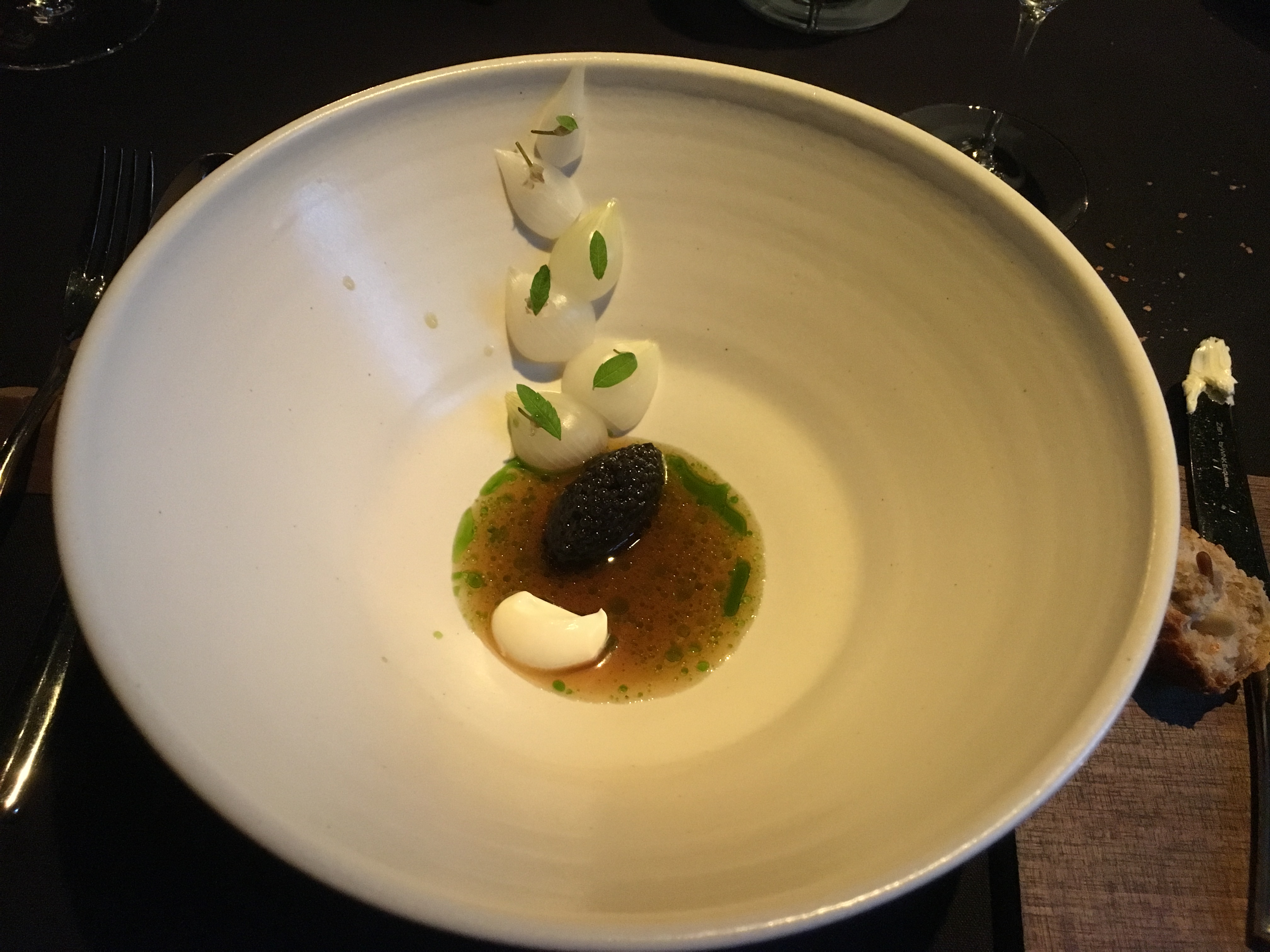 Especially when the next course is definitely not familiar at all for most Americans, at least in writing: Blood Pancakes. And yet for me, the taste was at once comforting and familiar, because I actually like really well prepared blood sausage, which is often part of a full English breakfast, and I've also had such sausages in France. And believe it or not, the taste is a bit reminscent of chocolate, particularly the way Aska serves it, with a sweet rosehip compote (something else rarely seen Stateside, but common in Europe, especially Germany and Scandinavia).
The rose petals on the top were a beautiful and fitting touch given the rosehips, although somehow I was craving a bit more textural contrast, given the soft nature of the blood pancake and the rosehip compote. Something such as super crisp pork skin to add a bit more of a crispy, savory aspect, although it wouldn't of course be as photogenic.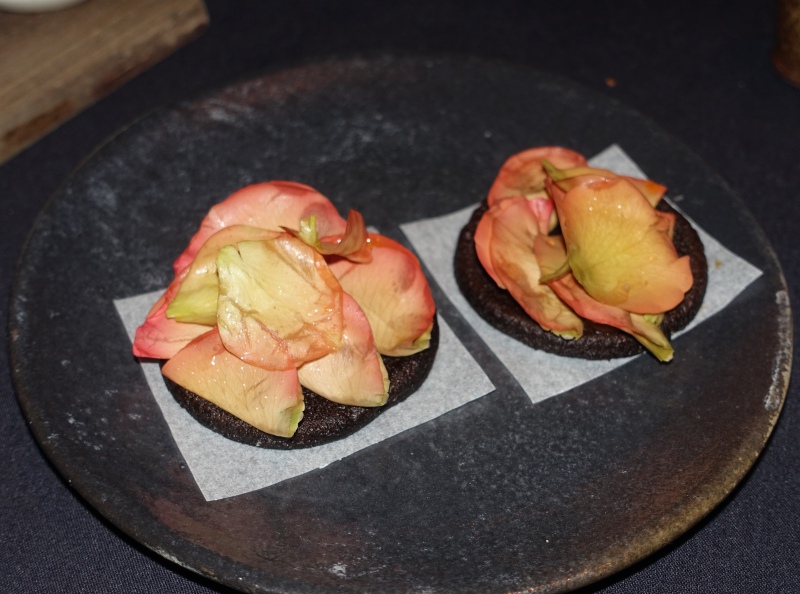 Next was a fish course, with delicate, cured skate wing; celery root puree (green from incorporating the leaves into the puree), and roasted celery root. Not only was the plate well composed in its plating, it was a study in contrasts, given the almost translucent and sweet fleshed skate, the earthiness of the celery root, and the silky smooth celeriac puree.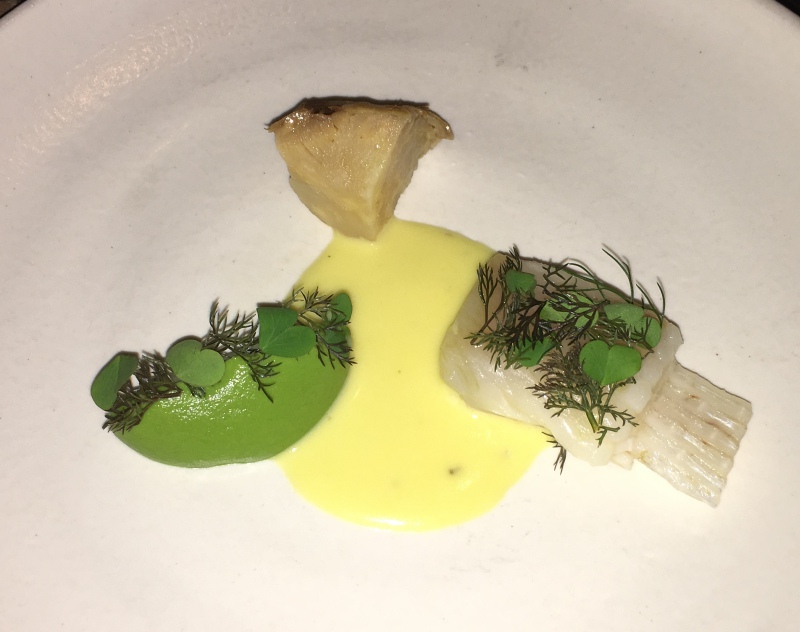 For both of us, I think the absolute favorite course was what followed: crispy lichen and some preserved pine shoots, perched atop a rich and sweet caramelized cream, with a masterful broth of pine mushrooms amped up with spruce vinegar. While there's no question I'm not going to be able to replicate this dish at home, it's sparking ideas over how I can bring some of these flavors and textures together, it was so good.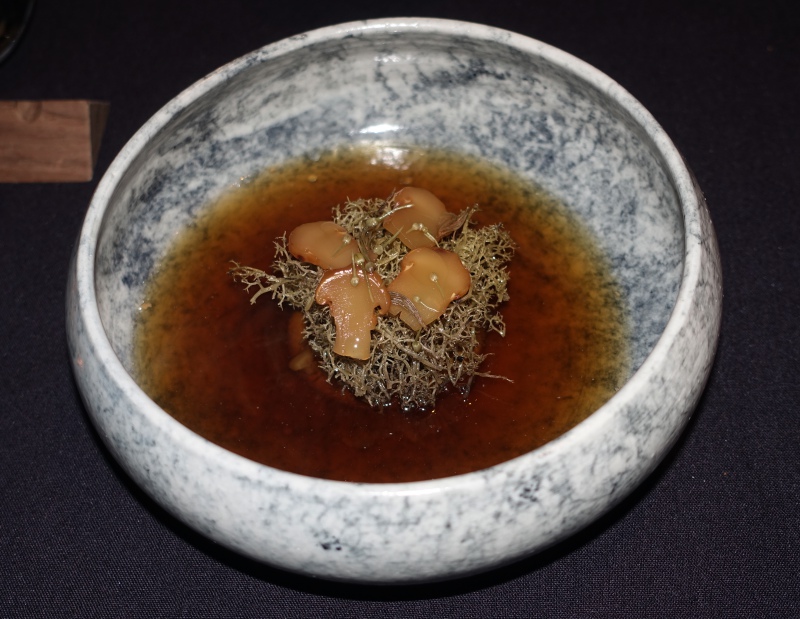 Next was a meat course: 120 day dry aged rib eye. Preserved red and black currants as well as a kind of fresh leaf that reminded me slightly of Japanese shiso worked to nicely cut the richness of the meat. Currants are a favorite of mine, and it's odd to me that they haven't gained more favor in the U.S., given how much they're enjoyed in northern Europe.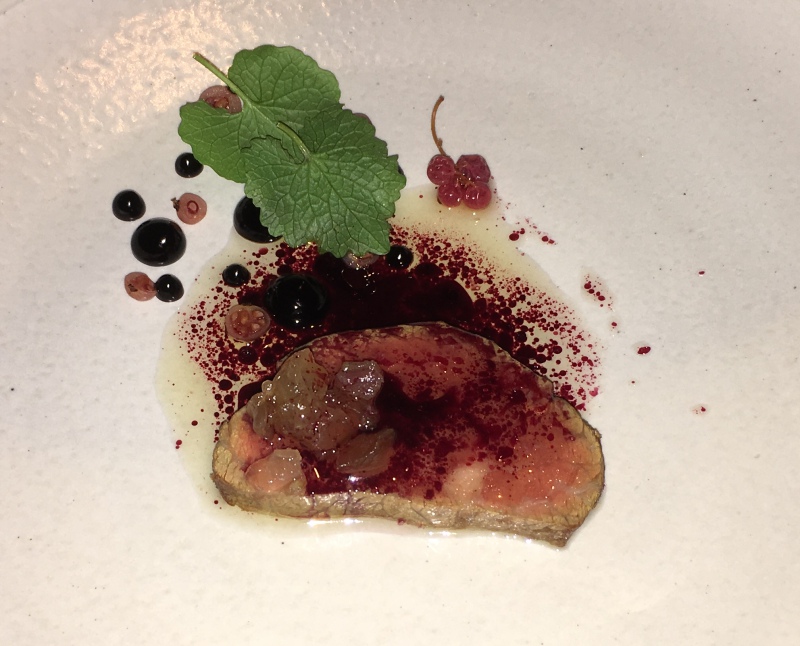 Ordinarily I would be rather disappointed with any Michelin star restaurant that only had dessert courses that both involved a sorbet or ice cream. But I have to say that the raw milk sorbet with pickled blueberries and green spruce sauce was not only delicious but evocative. For my husband, it brought back the smells of New England and the Berkshires, while for me, it reminded me of cross country skiing in the forest in Norway. My husband commented that it was like eating a Christmas tree gilded in snow.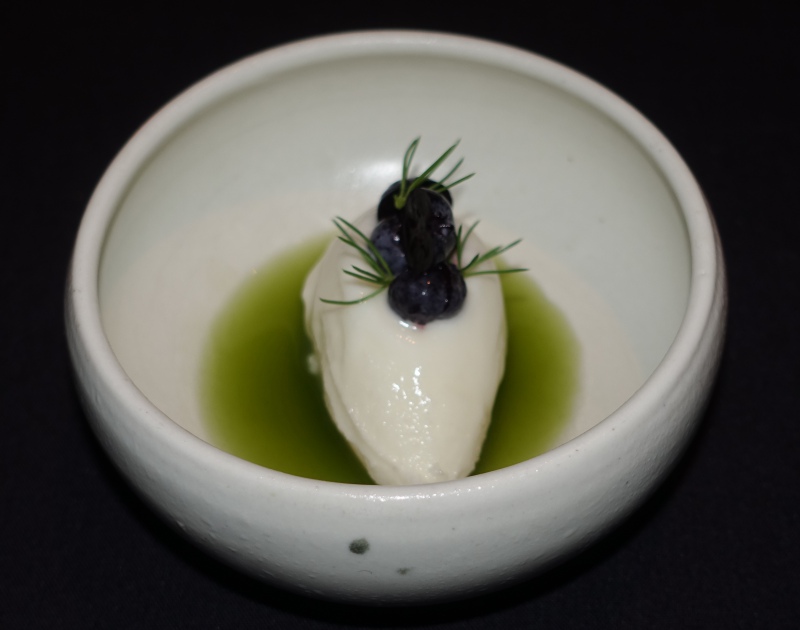 The second dessert course was also tree-related: birchwood ice cream (the flavor brought me back to Russia, and the fresh smell of birch in the banyas) paired with crispy black trumpet mushrooms, maitake mushrooms and woodruff. I haven't thought of mushrooms belonging in desserts, but somehow this combination worked incredibly well.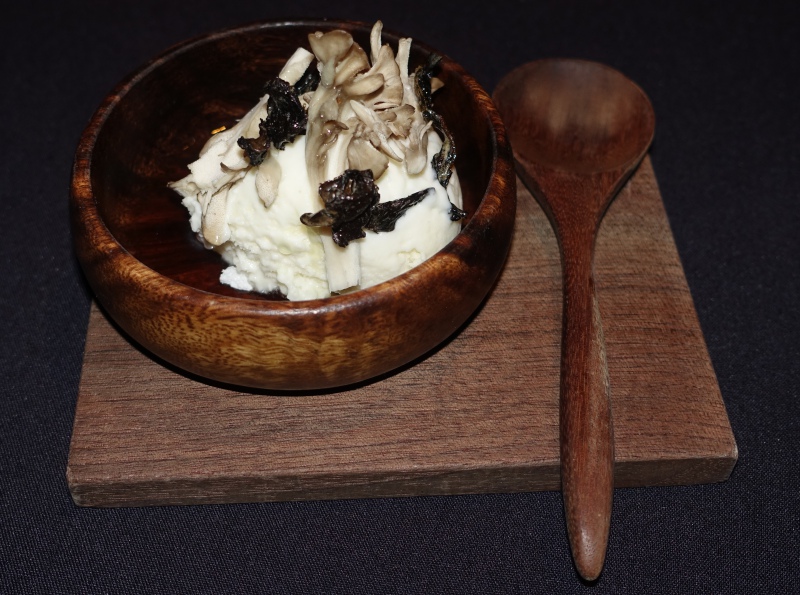 The mignardises presentation, amongst twigs and leaves, reminded me instantly of David Toutain, but I wouldn't be surprised if David Toutain's inspiration is Noma, Aska or another Nordic restaurant. The dark truffle is blood and rosehip (almost a ringer for chocolate again) and the white, a caramelized white chocolate.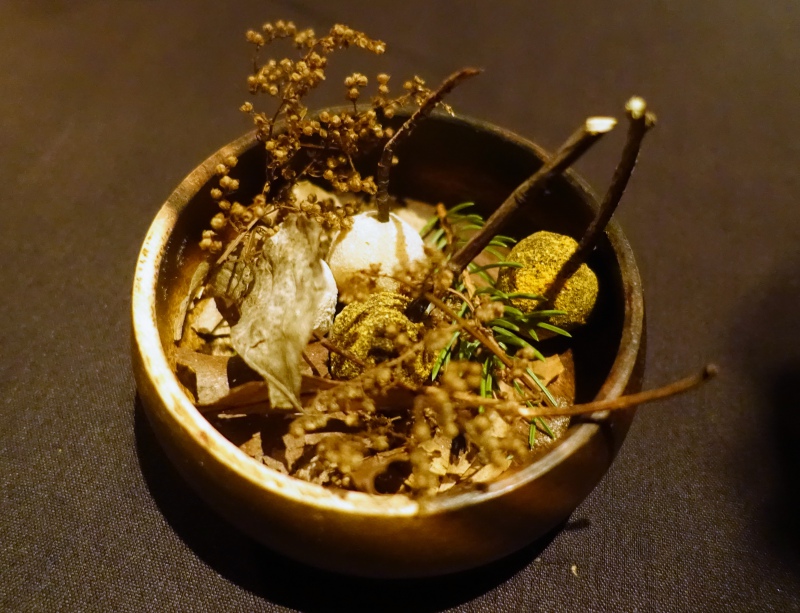 The Verdict
Even early on in our meal, my husband raved about how much he loved what we were tasting. And at the end of the meal he said it was the best meal he'd had in recent memory. There wasn't a course we didn't like, although our favorite dishes were the Maine oysters with gooseberries and juniper, the blood pancake with rosehip, the lichen with caramelized cream and mushroom broth, and the raw milk sorbet with spruce. These were all very distinctive as well as delicious, and definitely not something I could ever imagine replicating at home.
I don't think it's a restaurant for everyone–it's dark, with tables mainly lit by candlelight, and while this took me back to the romance of candlelit cafes in Oslo on dark winter nights, some diners will find it too somber and moody an atmosphere. And of course not everyone is an adventurous eater, with the willingness to eat blood pancakes and lichen. The more unique cuisine also means that I don't plan to take our son here, at least for the tasting menu, since while I'm sure he would enjoy some dishes, he would likely balk at others.
But if the measure of a fine dining restaurant is how soon you want to go back, notwithstanding the expense, Aska is a hit with us. We immediately raved about it to friends of ours the following day, and we hope to revisit it soon with them.
If you've dined recently at Aska, what was your experience?
Related Posts
Gabriel Kreuther NYC Review, 1 Michelin Star
David Toutain Paris Review, 1 Michelin Star
Eleven Madison Park NYC Restaurant Review
Le Cinq Paris Restaurant Review, 3 Michelin Stars
Disclosure: We paid $145 each for our 10 course tasting menu and about $100 for my husband's wine pairing and my non-alcoholic drink.
Need Award Booking Help? Our fee is as low as $75 per ticket if you book your hotel or cruise through us.
If you enjoyed this, join 200,000+ readers: please follow TravelSort on Twitter or  like us on Facebook to be alerted to new posts. 
Become a TravelSort Client and Book Your Hotel with Virtuoso or Four Seasons Preferred Partner Benefits