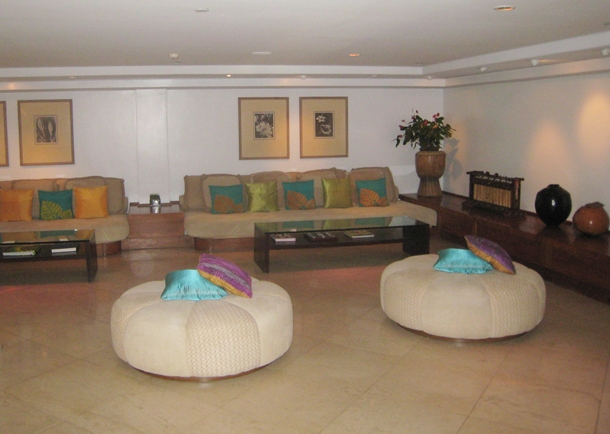 We chose the
Aqua Lotus
for our final night in Honolulu, after staying a few nights with relatives. The Royal Hawaiian is an iconic 5-star luxury property and The Modern Honolulu is a hip, modern 4-star hotel, while the Aqua Lotus is best described as a 3.5 star boutique, and a very nice one for its class. We chose it both to try a different class and style of hotel, and because we knew we'd be right nearby that morning and it would be convenient to check into.
We arrived a bit after noon, after spending the morning next door at the Outrigger Canoe Club, where one of my relatives is a member, and fortunately the front desk was able to check us in early to our room, a standard Diamond Head View room. Although these standard rooms are well under $200 including tax, I was pleasantly surprised.
I knew from the hotel's history as the former W Honolulu that rooms were a good size, and with an active 4-year old and the need for an extra bed, it was good to have that extra space. The king size bed turned out to be very comfortable, although I wasn't a huge fan of the brown bedspread (a practical choice, to hide stains?)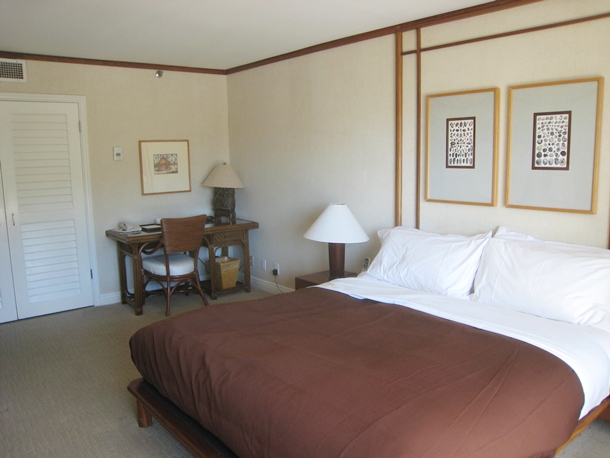 There was a regular TV (not flat screen) in the TV cabinet, although as usual we didn't care since we don't watch TV anyway. I was glad to have the empty mini fridge to keep some of our fruit and yogurt cold.
Standard rooms rarely come with any kind of view, and even with the name "Diamond Head View" I wasn't surprised to mostly have a view of a parking structure. That said, you could see the ocean in the distance: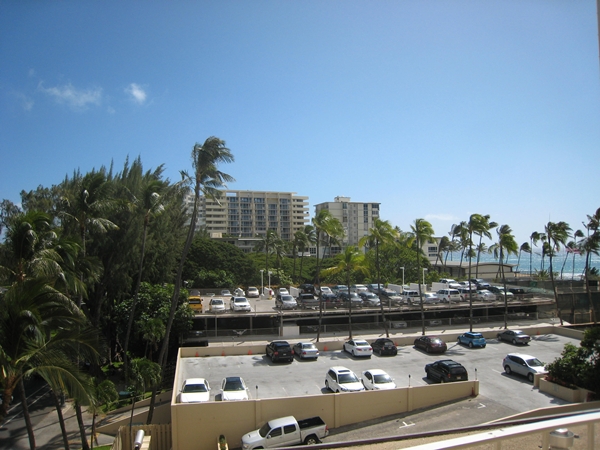 And on the balcony, looking to our left, there was indeed a decent view of Diamond Head: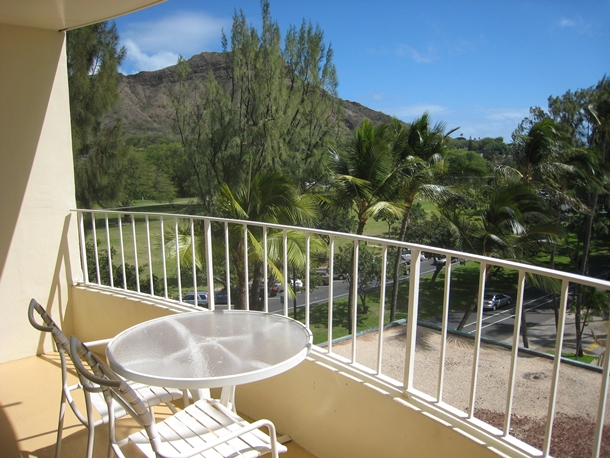 The bathroom was standard but quite nice for a 3.5 star: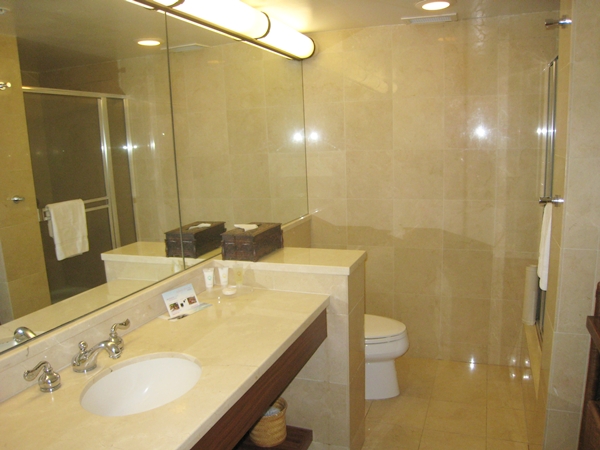 There was only a large shower combined with a small tub. This was actually perfect for our son, who had been missing having a bath since our bathroom at our relatives' place and at The Modern only had a shower.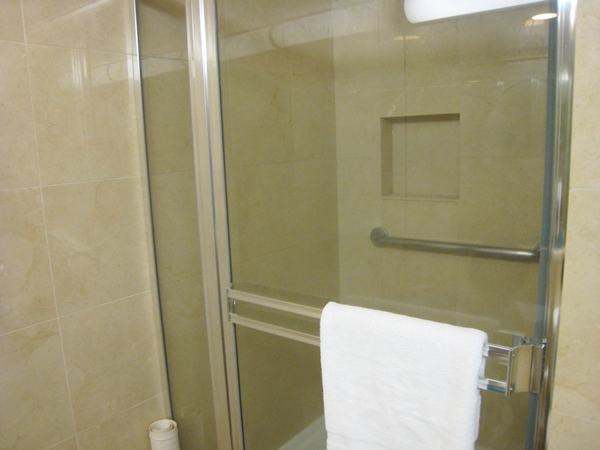 Bath amenities were just hotel brand (Aqua) but I didn't use them anyway, having brought my own with me.
The real adventure started when I absent mindedly latched the bathroom door after me to take a shower while my son was having a nap and while my husband returned our rental car. When I tried to unlatch it, I couldn't, no matter how hard I tried. Fortunately, I had my phone charging in one of the bathroom sockets, so I called down to the reception, and the clerk promised to send up someone from engineering. I waited about 10-15 minutes, and then called down again. The front desk person was apologetic, and again promised to send someone up, who this time, entered after knocking (as I couldn't exactly get to the door) and quite quickly was able to force the lock and get me out. Even more fortunately, my son managed to sleep through all this!
Meanwhile, my husband had his own adventure, after being given some wrong directions for the car rental place, so when he finally returned, he was only too glad to take advantage of the complimentary wine in the lobby, which is available 4-6pm daily. I tried a bit of the California Zinfandel on our way to dinner, and it was quite decent–somewhere between the wine I had in Virgin First Class and what we normally drink at home.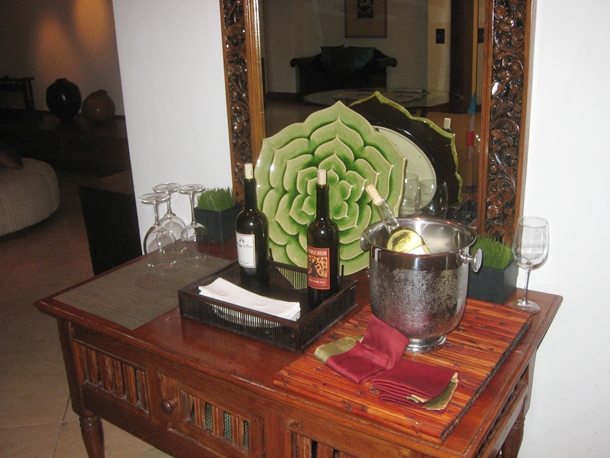 The Aqua Lotus isn't a full service hotel–there's no restaurant, no room service, and no pool or spa, but the beach is just a short walk away and the hotel will lend you beach chairs and beach towels. They also have some basic bikes with helmets that you can borrow, which I took advantage of to get to a store to buy some macadamia nut gifts for friends.
The verdict: The
Aqua Lotus
is perfect if you're looking for a quieter, boutique experience at the Diamond Head end of Waikiki near Kapiolani Park, the Waikiki Zoo and the Waikiki Aquarium and want to spend less than $200/night. There's plenty of space, which makes it a good choice for families, as long as they don't mind not having a pool or on-site restaurant.