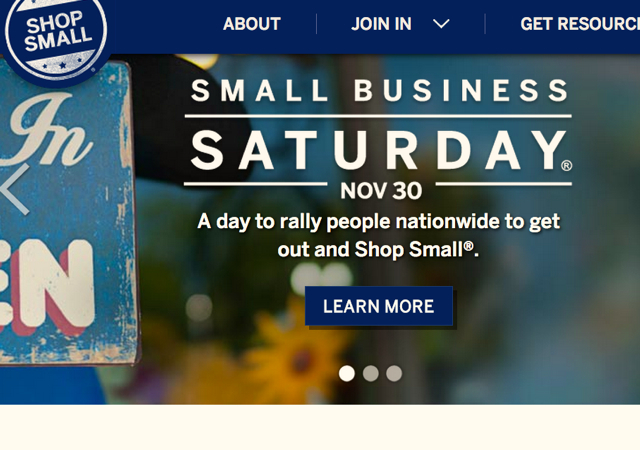 Update: Unfortunately this year the statement credit is only $10 per card, which I have updated below. Take this into account when deciding whether it's still worth your time, the number of authorized users to add and whether to keep any AMEX cards that you may be about to pay the annual fee on, although fortunately AMEX does typically prorate the annual fee from when you cancel the card.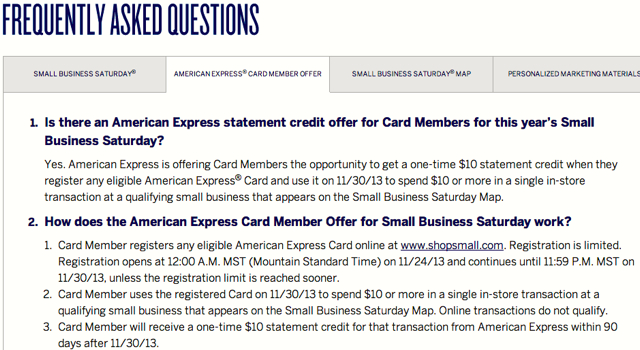 —–Original Post——
AMEX Small Business Saturday will be on November 30, 2013, the Saturday after Thanksgiving. You can get a $10 statement credit per AMEX card for spend over $10 at small businesses that day. Here are the details:
1. Take stock of all your AMEX cards, and consider adding your spouse, partner or family members as authorized users or adding yourself to a spouse, partner or family member's AMEX cards. Don't go overboard, as adding an excessive number of authorized users sometimes triggers an AMEX financial review.
2. Register your AMEX cards for AMEX Small Business Saturday after registration opens. I'm guessing this will be November 24 or so, since in 2012 registration opened 6 days prior, but no official date announced yet. You cannot register your card until registration opens. Note that enrollment is limited, so I highly recommend you register all your AMEX cards as early as possible after registration opens.
3. Use your registered AMEX card to purchase $10 or more in a single transaction at any small business that accepts AMEX on Saturday, November 24. The AMEX terms say that qualifying small business locations are those identified on the ShopSmall.com map or that accept American Express through Square. Online transactions do not qualify this year.
4. Receive a $10 statement credit for each qualifying card purchase within 90 days.
AMEX Small Business Saturday Strategy and FAQ
Note that this FAQ is based on what AMEX currently has on its Web site and how Small Business Saturday worked last year; if AMEX announces any changes, I'll be sure to update this.
Which AMEX Credit Cards are Eligible?
All American Express cards EXCEPT AMEX Corporate, Prepaid and Gift cards are eligible. For example:
Starwood Preferred Guest (personal and business cards)
Platinum Card
Mercedes-Benz Platinum Card
Business Platinum Card from American Express OPEN
AMEX Premier Rewards Gold
AMEX Business Gold Rewards
AMEX Gold Card
Gold Delta SkyMiles Card
Gold Delta SkyMiles Business Card
Blue Cash Cards
SimplyCash Business Card
Blue Sky from American Express
AMEX Hilton HHonors Surpass
Other 3rd party AMEX cards, such as Citi AAdvantage AMEX, Fidelity AMEX, etc. but see below.
Should I Sign Up Additional Authorized Users to Maximize My $10 Credits?
Only if the authorized user is responsible, and don't go overboard–I'm conservative and would add no more than one authorized user per existing card, preferably a spouse, partner or other person in your household whom you trust.
While some folks do add a lot of authorized users to max out Small Business Saturday, there is the risk of triggering AMEX scrutiny, from a financial review to actually closing down your account. Another thing to be aware of is that the primary cardholder's account will appear on the authorized user's credit report. This is beneficial to the authorized user if the primary cardholder has had the card a long time (increases the average age of accounts), account always paid on time, and low utilization. Conversely, it's not so great for the authorized user if the primary cardholder has only had the account a short time, is frequently delinquent, etc. Note that adding someone as an authorized user does NOT prevent them from signing up for the same card as a primary cardholder and getting a signup bonus.
Also note, as described below, that it *won't* help to add an authorized user for AMEX cards that aren't issued by AMEX but by another financial institution that is licensing AMEX, such as the Citi AAdvantage AMEX–only the primary cardholder will receive the $10 credit, authorized users don't receive any Small Business Saturday credit for those types of cards.
Are All AMEX Authorized User Cards Eligible to Receive a $10 Statement Credit?
No. Only authorized users of AMEX cards issued by AMEX are eligible to register and receive the $10 statement credit. AMEX licenses its use to certain other financial institutions such as Citi, so for example if you have a Citi AAdvantage AMEX, only the primary cardholder will be able to register and receive the $10 statement credit.
Do I Have to Give the Social Security Numbers of Authorized Users?
If you're adding new authorized users online, AMEX requires you to provide the birth date and social security number of a new authorized user. By phone, some people have been successful at simply saying they don't have the social security number handy for the new authorized users they seek to add, and still getting them added. Obviously you should only add actual (not fake) authorized users–most likely spouse, partner, or family members–with their permission.
What Qualifies as a Small Business for AMEX Small Business Saturday?
Per the
AMEX Shop Small FAQ
, a small business must meet the following criteria to be included in the Shop Small Map, and presumably also qualify for eligibility in Small Business Saturday [bolding below is mine]:
"To qualify to access resources like the Shop Small Map or online directory and to apply for free online ads, a merchant must meet the following criteria:
Accept American Express Cards
Have a business location in the 50 United States, including the District of Columbia
Have 25 or fewer locations
Have $3MM or less in net American Express charge volume for calendar year 2012
The following types of merchants do not qualify: those operating under franchise brands, those that are part of co-ops, and merchants who accept American Express Cards solely through third party payments aggregators, including those that offer the ability to accept credit cards through a card reader attached to a mobile device, or as part of an affiliate program. Merchants in the following categories also do not qualify:
Government agencies
Public administration
Political organizations
Shopping property management firms"
In other words, if the small business is a franchise such as a Starbucks, only accepts AMEX via Square or other mobile device attached reader, is a political organization or one of the other excluded categories above, no $25 AMEX Small Business credit for you.
Can I Receive the $10 Credit for Online Purchases at Small Businesses?
No, per the updated FAQ: Online transactions do not qualify this year.
Can I Purchase Gift Certificates to Use Later?
Yes–it's a good opportunity to purchase gift certificates to your favorite local restaurants, cafes, independent grocery, spa, boutiques, etc. Last year I bought either products or gift certificates at some of my favorite NYC small businesses, including Black Hound Bakery (where I also received a couple of $25 credits in 2011, see $100 credit on Small Business Saturday), Wa Jeal, Maison Kayser NYC, etc. This year I doubt Maison Kayser will qualify since Eric Kayser's team has been busy opening up new bakeries all around Manhattan, so perhaps we'll get some credits at Grom Gelato or Kee's Chocolates instead (see Can't Miss Best Dark Chocolate Desserts in NYC).
When Will I Receive My $10 Statement Credit?
Allow up to 90 days. Last year I saw my statement credits appear within a week of Small Business Saturday.
Related Posts
$100 credit on Small Business Saturday
Top 10 Best Ways to Use AMEX Membership Rewards Points
How to Transfer Miles and Points Between Frequent Flyer Accounts
Need Award Booking Help? Our fee is as low as $75 per ticket if you book your hotel through us.
If you enjoyed this, join 90,000+ readers: please follow TravelSort on Twitter or like us on Facebook to be alerted to new posts.
Become a TravelSort Client and Book Your Hotel with Virtuoso or Four Seasons Preferred VIP Amenities!