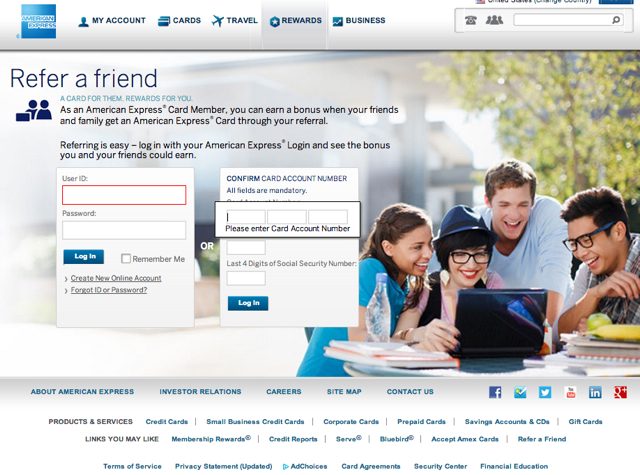 American Express' Refer a Friend has returned, offering up to 55,000 bonus points per year via 5000 points for each successful referral up to 11 referrals per calendar year, per a note from TravelSort reader Jonah. Note that, similar to Chase Refer a Friend, this is targeted. None of my AMEX cards are eligible, but my husband's cards are.
1. Go to AMEX Refer a Friend
Link: AMEX Refer a Friend
The cards that seem to be eligible for refer a friend are the AMEX Gold cards (AMEX Premier Rewards Gold and the AMEX Business Gold cards) and the SPG AMEX (personal and business versions) but please comment below if any of your other AMEX cards are eligible for Refer a Friend.
2. Enter Your User ID / Password or Your Card Details and Last 4 of Your SSN
I entered each of our card details to be sure. For my cards, which weren't eligible, the message was "Your card is not eligible to participate at this time. Thank you for your interest, and please check back with American Express for future promotions."
3. If Targeted, Select the Card You Want to Refer to Friends and Family
It may be that only one of your cards is eligible, but if multiple AMEX cards qualify, you'll be able to select the one you want to refer friends to.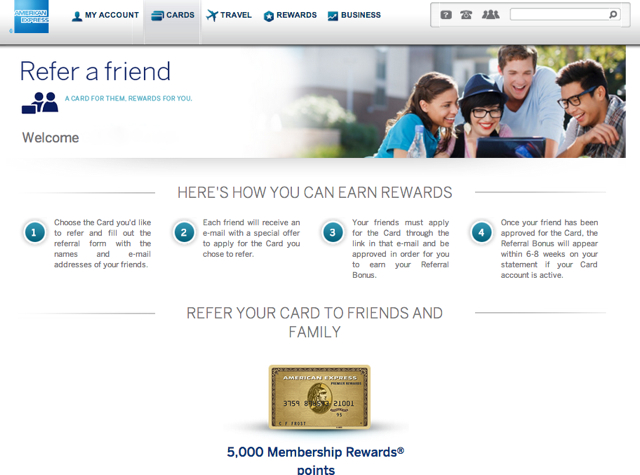 4. Fill in the Emails of the Friends and Family You Want to Refer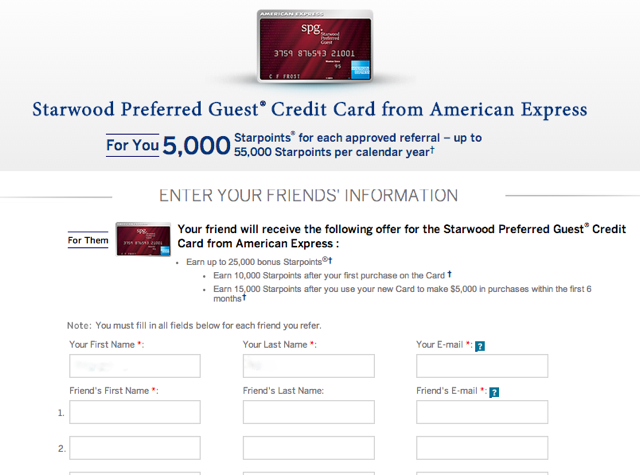 5. Referrals Must Apply Through Your Email Link and Be Approved to Earn the Bonus
Note a few things:
Friends and family who have opted out of AMEX marketing communications won't receive your referral email
You won't be notified whether or not someone who applies is approved due to confidentiality
If those you refer already have the card or have already been referred by someone else you won't receive a bonus
If your referral does successfully apply from your referral link, allow 6-8 weeks for the 5000 bonus points to appear on your statement, if your card is still active
AMEX Refer a Friend Terms
This offer is available online only to Basic Cardmembers. Please allow 6-8 weeks for the Referral Bonus to post to your account after each referred individual is approved for the Card. You cannot earn a Referral Bonus for those who currently have the Card you recommended or for individuals who have been referred by someone else. Due to the confidential nature of the credit approval process, you will not be notified of whether we approve or decline any application(s) from individual(s) you refer. Also, the individuals you refer may not receive the referral e-mail if they have previously "opted out" of receiving e-mail marketing communications from American Express. Any violation or abuse of this program may result in the forfeiture of the Referral Bonus. In order to receive the Referral Bonus, your account must be active and in good standing at the time of fulfillment. Terms & restrictions of the rewards program corresponding to your Card account apply.
NOTE: The value of the Referral Bonus may be taxable income to you; you are responsible for any federal or state taxes resulting from the Referral Bonus. Please consult your tax advisor if you have questions about the tax treatment of the Referral Bonus.
Bottom Line: While it's nice that AMEX Refer a Friend has returned, it's disappointing that both the Chase and AMEX Refer a Friend programs are targeted–they really should be open to all active cardmembers. It's also only fair to tell those you refer that in the case of the SPG AMEX they could potentially receive a higher signup bonus by waiting until August or September next year, since historically AMEX offers a 30,000 signup bonus then. They may also be able to receive a higher targeted bonus for the AMEX Premier Rewards Gold card, or wait for the periodically higher AMEX Business Gold card bonus, or even use Card Match to see a higher bonus. See AMEX Platinum 100K Signup Bonus (Targeted).
Were you targeted for AMEX Refer a Friend, and do you plan to refer family and friends for qualifying AMEX cards?
Related Posts
AMEX Platinum 100K Signup Bonus (Targeted)
Top 10 Best Ways to Use AMEX Membership Rewards Points
AMEX Stingier: Rules for Signup Bonuses and FAQ
Need Award Booking Help? Our fee is as low as $75 per ticket if you book your hotel through us.
If you enjoyed this, join 90,000+ readers: please follow TravelSort on Twitter or like us on Facebook to be alerted to new posts.
Become a TravelSort Client and Book Your Hotel with Virtuoso or Four Seasons Preferred VIP Amenities!