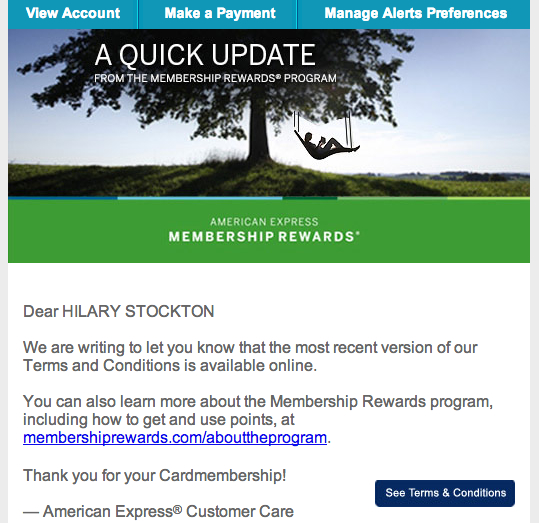 June 30, 2013 is the last day for an AMEX Membership Rewards Points Advance, according to the new Terms & Conditions that were sent to cardholders yesterday:

Don't you love when companies send you something titled "An Important Update About the Membership Rewards Program" and then merely write in the email:
"We are writing to let you know that the most recent version of our Terms and Conditions is available online.
You can also learn more about the Membership Rewards program, including how to get and use points, at membershiprewards.com/abouttheprogram.
Thank you for your Cardmembership!
— American Express® Customer Care"
Hmm, seems to me some real customer care would be to specify right in the email exactly what the important update to the terms is about, instead of forcing you to read through all the fine print to discern that a key feature of the program is going away in just over 3 months. But maybe that's just me.
Of course, I called AMEX Membership Rewards and was confidently told by the representative that Points Advance was continuing. Only after two more long holds and checking did the rep admit that he could now see the revised terms, but knew no more about them than I did.
I then sent a secure message and received this back:
"Dear Ms. Stockton,
I completely understand your concerns and am sorry for the inconvenience caused.
As of today's date (March 21, 2013), I see that the changes in point advance feature is only applicable to the OPEN cards from American Express.
We do not have any update for this feature for consumer cards.
However, if some changes apply to the consumer cards also, you will be notified in writing.
Till the time we really appreciate your understanding in this matter.
Sincerely,
[AMEX rep name]"
I called AMEX Membership Rewards again today, March 21, and the rep checked with a supervisor, who claimed Points Advance is not going away. But I'm not putting much stock in this, since overall it just seems as though AMEX hasn't informed their reps yet of the change.
While people who have a ton of Membership Rewards points may not be much affected by this change, I personally have viewed it as an important perk to be able to advance Membership Rewards points without buying them, and simply earning them back later in the year. In fact, I wish Chase Ultimate Rewards had this feature, although it's less crucial there since it's possible to front load a great deal of spend using the Ink Bold or Ink Plus.
The AMEX Platinum card allows a points advance of up to 60,000 Membership Rewards, while the AMEX Premier Rewards Gold card allows a points advance of up to 15,000 points. I've taken advantage of a points advance for a Singapore KrisFlyer redemption and also for a transfer to then British Airways miles, back when there was a 50% transfer bonus.
For some time points advances have only been able to be done by phone, and in conjunction with redeeming for an award (i.e. transferring points to a partner) but the two times I've done a points advance it's been quickly processed.
I have an inquiry into Membership Rewards to get more information about this change, but I'm sad to see it go.
RIP AMEX Membership Rewards Points Advance.
Related Posts
50,000 Points AMEX Premier Rewards Gold Card Signup Bonus Offer
Need Award Booking Help? Our fee is as low as $75 per ticket if you book your hotel through us.
If you enjoyed this, please follow TravelSort on Twitter or like us on Facebook to be alerted to new posts.
Become a Member to find your perfect luxury or boutique hotel at wholesale rates: TravelSort Hotels