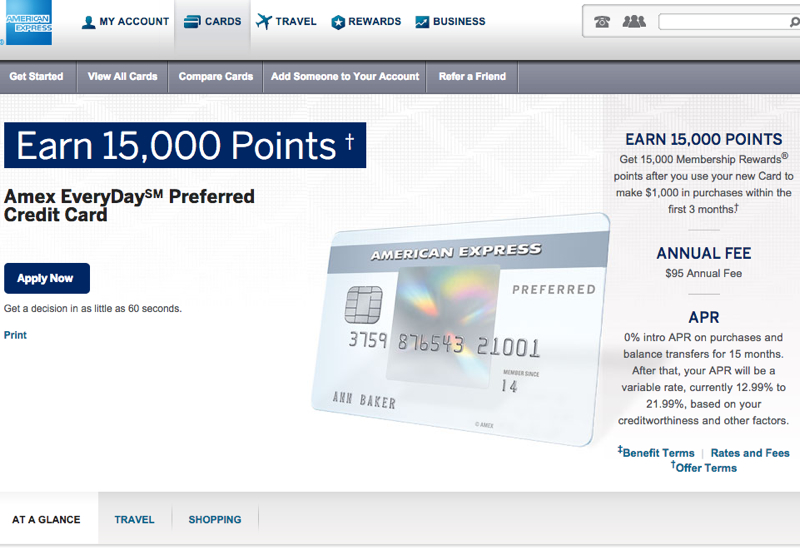 Is the AMEX EveryDay Preferred Credit Card Worth It, or are there better travel rewards credit cards for everyday spend?
TravelSort reader Matthew comments on the Best Travel Credit Cards page:
"Now that the Amex EveryDay Preferred has been available for 6 months or so, would it make your top 8 for everyday spend? For myself, 52% of my budgeted spending goes to grocery and gas. 19% to dining out, and 29% on non-bonus items such as utilities, donations, and other bills. Total monthly spend roughly $1550.
I live near an AA hub (Charlotte) so I like the idea of earning MR to transfer to Avios for shorter, domestic flights. From my perspective, the Amex Everyday Preferred seems like a no brainer because I can get more per spend on most of my budget than Barclays Arrival or Chase Sapphire Preferred.
I also want to take a trip to Spain in the coming years so trying to collect lots of AA miles. Currently have the Citi AA Platinum with 50,000 bonus earned and my wife is about to apply for the same. 1) Is the U.S. Air Dividend card with 40,000 bonus worth the $89 fee (converting to AA in 2015)? 2) if I cancelled my Citi AA today, about how soon could I get another with bonus? 3) for my spending, is the Amex Everyday Preferred a good move to get most bonus from everyday spend? 4) any other airlines miles programs/cards I should consider for Charlotte to Madrid besides AA? Thanks for your advice. Love your blog."
Great question. I haven't really mentioned the AMEX Everyday Preferred card since its introduction (see New AMEX Everyday and Everyday Preferred Credit Cards). Here's why I'm still not tempted to sign up for either card:
Low Signup Bonus: only 15,000 Membership Rewards points (although see the 30K AMEX EveryDay Preferred Targeted Offer)
Annual Fee Not Waived First Year: the $95 annual fee for the AMEX Everyday Preferred is NOT waived the first year. Yes, you could argue that it's still a good deal since you earn 15,000 Membership Rewards points after spending just $1000, and are essentially buying points at 0.6 cents per point, but I'm reluctant to sign up for cards that don't have at least a 40,000 miles or points signup bonus.
Not the Best Category Bonuses: I can easily earn 5X for all Whole Foods grocery spend, simply by buying Whole Foods gift cards at Staples with an Ink Bold or Ink Plus card, which is even better than the 3X I'd earn with the AMEX Everyday Preferred (4.5X with 50% bonus, if making at least 30 transactions per month).
Unbonused Spend Better Used for New Cards' Minimum Spend: In general, my husband and I aim to put unbonused spend on new credit cards that we're working on meeting minimum spend for.
But suppose let's do the math on the AMEX Everyday Preferred vs. other credit card options, given Matthew's spend, and assume that he's able to make 30 or more transactions per month, so as to earn the 50% points bonus. I've rounded the numbers a bit for simplicity's sake and am assuming the following monthly spend:
Groceries: $400
Gas: $375
Dining Out: $310
Other Non-Bonused Spend: $465
AMEX Everyday Preferred
Groceries: 1800 points (4.5 x $400)
Gas: 1125 points (3X x $375)
Dining Out: 310 points (no category bonus)
Other Spend: 465 points (no category bonus)
Total Monthly Points: 3700 AMEX Membership Rewards points
Other Credit Cards
Whole Foods Groceries: 2000 Ultimate Rewards points (Buy Whole Foods cards at office supply store using Ink Bold or Ink Plus with 5X category bonus)
Gas: 1875 Ultimate Rewards points (Use Chase Freedom 5x for gas, buying gas cards for the rest of the year during the 2 quarters when 5X on gas is offered)
Dining Out: ~1370 Ultimate Rewards points (Use 2 Chase Freedom cards to buy restaurant gift certificates when restaurants earn a 5X bonus. A maximum of $1500 per card per quarter will earn the 5X bonus, so two cards will earn 15,000 points, and the other 720 in spend can be put on the Chase Sapphire Preferred to earn 2X, for an average of 4.4X)
Other Spend: 465 points (no category bonus; I recommend using it towards minimum spend on new credit cards)
Total Monthly Points: 5710 Ultimate Rewards points
As you can see, using Chase credit cards strategically to take advantage of 5X category bonuses would earn over 2000 more points per month, points that can also transfer to British Airways, which Matthew mentions is a goal. Plus, the Chase Ink cards have no annual fee their first year and earn a larger signup bonus, while the Chase Freedom has no annual fee and can be kept forever.
Now for Matthew's other questions:
Is the US Airways® Premier World MasterCard® Worth the $89 Annual Fee for the 40,000 Bonus?
Absolutely: even if you only earn the bonus, you're buying 40,000 miles for just a fifth of a cent (0.2 cents) per mile, which is a bargain. Plus, you earn the bonus after initial spend and payment of the annual fee, so it's perfect to include when applying for other credit cards with higher minimum spends.
How Soon Can I Get a Citi AAdvantage Bonus Again?
It's not a question of how long after you cancel a given Citi AAdvantage card, but rather how long it's been since your most recent application. Most people have to wait ~18 months after their most recent successful Citi AAdvantage personal card application, although some are able to get another one after ~12 months and others have had to wait over 2 years. In general it's easier to earn the bonus again for CitiBusiness AAdvantage cards, every 100 days or so (although some have been unable to ever get the bonus again—as always, your mileage may vary).
Any Other Programs to Consider to Get from Charlotte to Madrid, Besides AAdvantage?
Matthew has already mentioned Avios, which could be used, but which I don't recommend for an international award, even on US Airways metal, because British Airways imposes fuel surcharges on these awards ever since US Airways started breaking out fuel surcharges as a separate line item earlier this year.
Instead, I would recommend using either US Airways Dividend miles or AAdvantage miles (in both cases, 100,000 miles roundtrip for business class, 60,000 roundtrip in economy) and flying US Airways nonstop (seasonal) or via Philadelphia or American via Miami or JFK to avoid fuel surcharges.
Bottom Line: Given Matthew's goal of getting to Madrid, AAdvantage miles and US Air Dividend miles will be more valuable for that award, so as to avoid fuel surcharges. That said, for his expense categories, I'd recommend leveraging the Ink Bold or Ink Plus for any Whole Foods grocery spend he has, and the Chase Freedom rotating 5X categories for 5X on gas and 5X on dining out, which he can cover for most of his annual spend if he and his wife each have the card (assuming 2015 also has these as bonus categories). Ultimate Rewards points of course cannot be transferred to AAdvantage miles or US Airways miles, but transfers to Avios can be useful for short domestic trips, or they can save up to transfer to KrisFlyer for a JFK-FRA award in Singapore Business Class or Singapore Suites, a future trip to Asia, or even for domestic awards on United.
What do you think–is the AMEX EveryDay Preferred Card worth it for your everyday spend?
Related Posts
30K AMEX EveryDay Preferred Targeted Offer
New AMEX Everyday and Everyday Preferred Credit Cards
AMEX Stingier: Rules for Signup Bonuses and FAQ
Need Award Booking Help? Our fee is as low as $75 per ticket if you book your hotel or cruisethrough us.
If you enjoyed this, join 200,000+ readers: please follow TravelSort on Twitter or like us on Facebook to be alerted to new posts.
Become a TravelSort Client and Book 5-Star Hotels with Virtuoso or Four Seasons Preferred Partner Amenities!