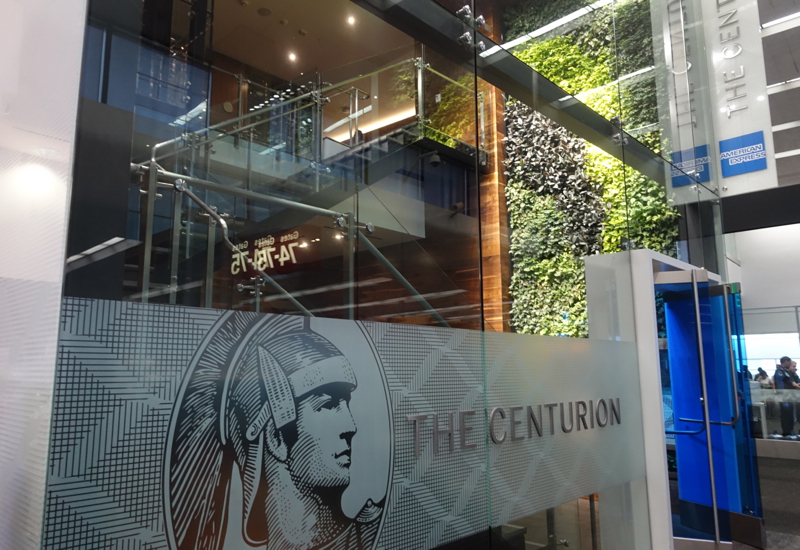 The AMEX Centurion Lounge will have a new guest policy for AMEX Platinum members: only 2 family members or guests may enter for free, and a one day pass must be purchased for the 3rd guest, 4th guest etc. at $50 each, subject to space availability. This new policy goes into effect March 30, 2017, per The Centurion Lounge site.
Given how crowded many AMEX Centurion Lounges are, especially in the afternoon and early evening, it's not surprising to see a change in the Centurion Lounge guest access policy. It will primarily affect families bigger than ours, who have more than 1 child and only one parent is an AMEX Platinum cardholder, since the current policy already limits non-family guests per Platinum card to two.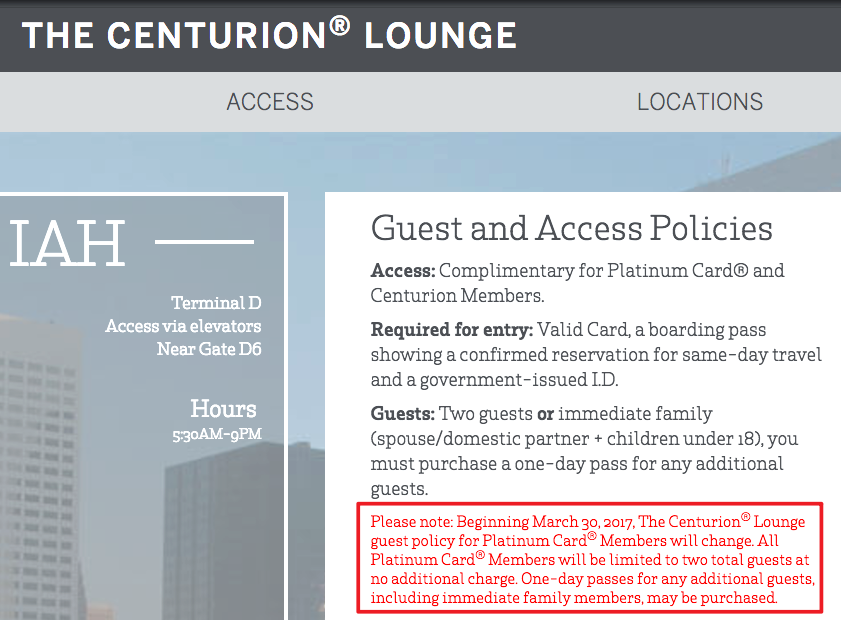 FAQ
Why Is AMEX Making This Change to The Centurion Lounge Guest Access Policy for AMEX Platinum Card Holders?
While AMEX hasn't announced a rationale, the assumed reason are complaints from Centurion Lounge guests about how crowded the lounges are, with a lack of places to sit during peak periods.
What Do Families of Four or More Do?
If you have 4 or more family members, only the AMEX Platinum card holder and 2 family members enjoy complimentary access. You will have to purchase a guest pass for each additional guest, if lounge space permits. AMEX's current policy is to permit a parent that purchases a guest pass to bring in his/her dependent children under the age of 18, at no additional cost. AMEX has told me that policy will remain as of March 30, 2017.
Alternatively, an AMEX Platinum member can pay $175 per year for 3 additional users, who would each get their own Centurion Lounge access (and also their own $100 Global Entry credit). This makes sense if you expect to pay for 4 or more guest passes over the course of a year, as that would be $200, or if you want to guard against the risk of some family members being denied a guest pass for entry, since guest passes are only sold based on space availability.
Where Are Your Reviews of AMEX Centurion Lounges?
Please see:
Will the AMEX Platinum change to the Centurion Lounge access policy affect your decision to keep your AMEX Platinum or prompt to add an additional user?
Recommended Posts
AMEX Business Platinum New Benefits: 5X on Flights and Prepaid Hotels with AMEX Travel
AMEX Platinum Raises Fee to $550, Adds Uber Credit
$200 AMEX Platinum Airline Fee Credits Posted for 2017
35K SPG AMEX and 35K SPG Business AMEX Bonus Offers
Need Award Booking Help? Our fee is as low as $75 per ticket if you book your hotel or cruise with TravelSort.
If you enjoyed this, join 200,000+ readers: please follow TravelSort on Twitter or  like us on Facebook to be alerted to new posts. 
Become a TravelSort Client and Book 5-Star Hotels with Virtuoso or Preferred Partner Benefits