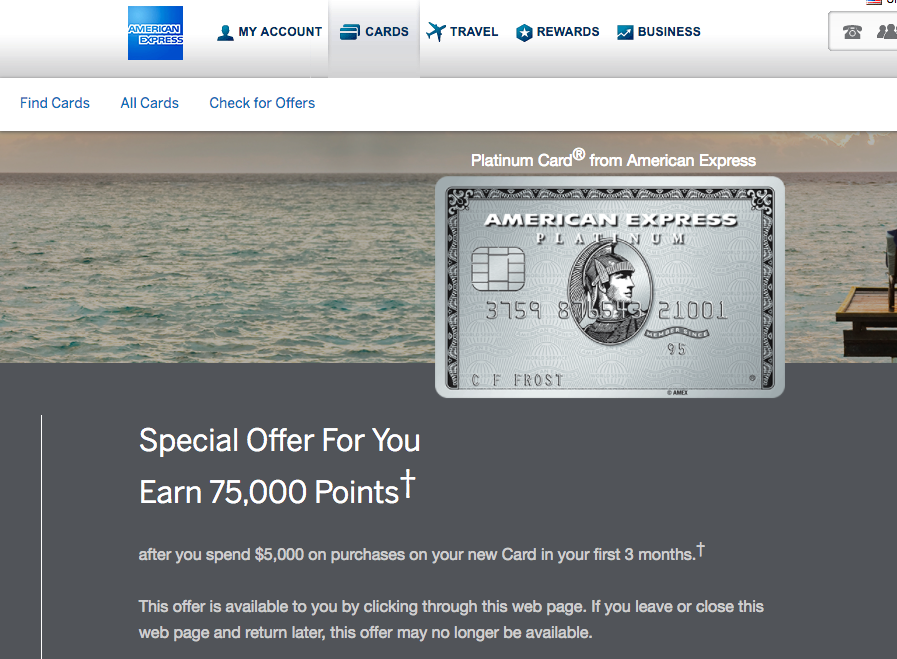 The AMEX Business Platinum will add new benefits, 5X points on flights and prepaid hotels booked with AMEX Travel, effective March 30, 2017, per Flyertalk. This is better news than for the personal AMEX Platinum, which will raise its annual fee to $550 and add monthly Uber credits as a "benefit," also effective March 30, 2017.
5X on Flights and Prepaid Hotels Booked with AMEX Travel
I was thrilled to see 5X on flights until seeing talk that the 5X may only be on flights booked through AMEX Travel, although the terms do not clearly exclude flights booked directly with airlines, the way they do hotel bookings, which are stated must be changed or cancelled with AMEX Travel. Here are the terms, bolding mine:
"You will get one point for each dollar charged for an eligible purchase on your Business Platinum Card® from American Express. You will get 4 additional points (for a total of 5 points) for each dollar spent on eligible travel purchases. Eligible travel purchases include scheduled flights, prepaid hotel purchases (including The Hotel Collection), travel packages (flight + hotel packages), minus returns and other credits. Eligible hotel reservations must be made on or after 3/30/2017 for additional points. Eligible travel purchases do NOT include FINE HOTELS & RESORTS bookings, car or cruise purchases, hotel group reservations or events, ticketing service, cancellation or other fees, interest charges, purchases of travelers checks, purchases or reloading of prepaid cards, or purchases of other cash equivalents.
To be eligible for the 5x Membership Rewards points, you must both reserve and charge the travel purchase with the same eligible Business Platinum Card®. To modify a reservation you must cancel and rebook your reservation. You can cancel and rebook your reservation on amextravel.com or by calling a representative of amextravel.com at 1-800-297-2977. Cancellations are subject to hotel cancellation penalty policies. If hotel reservations are made or modified directly with the hotel provider, the reservation will not be eligible for this 5X Membership Rewards point benefit.
Extra points for air, prepaid hotel, and travel packages will be credited to the Membership Rewards account 10-12 weeks after final payment is made. Bonuses you may receive with your Card on other purchase categories or in connection with promotions or offers from American Express may not be combined with this benefit. Merchants are assigned codes based on what they primarily sell. A purchase will not qualify for additional points if the merchant's code is not eligible. The benefits associated with the Additional Card(s) you choose may be different than the benefits associated with your basic Card."
Since most flights pay no commission, and since the AMEX Platinum personal card benefit is 5X for flights booked directly with airlines, it doesn't make sense to me that the AMEX Business benefit would require booking flights with AMEX Travel, so I'm hoping that this is clarified or changed to be 5X on all scheduled commercial flights when booked directly with the airlines or AMEX Travel. There's still time until March 30, 2017, so I encourage other AMEX Business Platinum card holders to give AMEX their feedback urging AMEX to make the 5X on airfare benefit apply to airfare booked directly with airlines. I know I will, and it will be a key factor in which I keep the card for another year or not when the annual fee comes due.
No Increase in Annual Fee / No Uber Credit "Benefit"
Fortunately, there's no increase in the already hefty $450 annual fee, and no Uber credits announced for the AMEX Business Platinum. That's good news, at least for me, since I don't use Uber and would definitely cancel the card if the annual fee went up, even with the 5X on airfare and prepaid hotels booked with AMEX, as we don't book much paid airfare and we virtually never book prepaid hotel stays, certainly not with AMEX.
If you have the AMEX Business Platinum, what do you think of these new benefits?
Recommended Posts
AMEX Platinum Raises Fee to $550, Adds Uber Credit
75K AMEX Platinum and 75K AMEX Business Gold Rewards Bonus Offers
AMEX Offers: $60 Off Bellagio Las Vegas, $100 Off The Breakers Palm Beach
$200 AMEX Platinum Airline Fee Credits Posted for 2017
35K SPG AMEX and 35K SPG Business AMEX Bonus Offers
Need Award Booking Help? Our fee is as low as $75 per ticket if you book your hotel through us.
If you enjoyed this, join 200,000+ readers: please follow TravelSort on Twitter or like us on Facebook to be alerted to new posts.
Become a TravelSort Client and Book Luxury Hotels with Virtuoso or Four Seasons Preferred Partner Benefits!