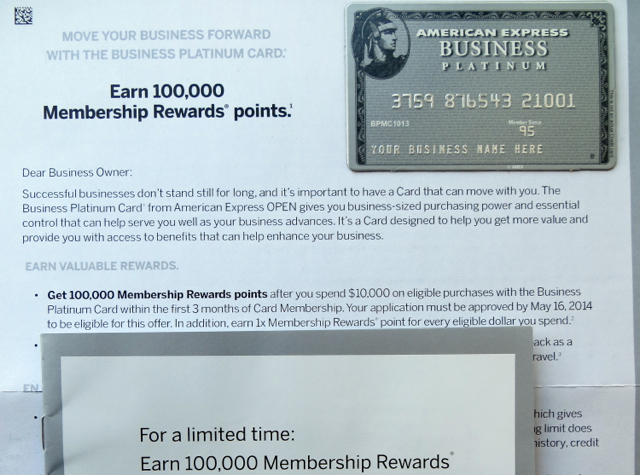 Finally. An AMEX Business Platinum 100K bonus offer arrived via snail mail today, although unfortunately I'm not eligible, due to having had an AMEX Business Gold card within the past year. Still, for those interested, here are the details of the offer, and also note that some lucky folks have received AMEX Business Platinum 150K bonus offers, albeit with $20K spend within the first 3 months–best if you have a legitimate business, now that it's no longer possible to buy Vanilla Reloads with a credit card at CVS.
AMEX Business Platinum 100K Bonus Offer Details
Earn 100,000 Membership Rewards points after you spend $10,000 on eligible purchases with the card within the first 3 months of card membership
Your application must be approved by May 16, 2014 to be eligible
$200 airline fee credit: Enroll and select a qualifying airline. Then, receive up to $200 a year in statement credits for incidental fees
Who's Eligible?
"Welcome bonus offer not available to applicants who have had this product or any other Business Gold or Green Card account within the last 12 months"
Note that if you have or have had an AMEX *consumer* Platinum, Gold or Green card, you're still eligible–consumer cards and business cards are treated as separate products.
How to Get an AMEX Platinum 100K Bonus Targeted Offer?
As I suggested in How to Get Targeted for 100K Credit Card Bonus Offers, you want to be an attractive customer to AMEX, but NOT already be an AMEX customer. Most of those who get high targeted bonus offers from American Express are not big AMEX customers. They might be an authorized user on a spouse's account, or have a corporate AMEX card, or even a no annual fee AMEX card, but they often don't have one of AMEX's premium Gold or Platinum charge cards.
And in fact, this is now true for me–I *used* to have an AMEX Platinum, AMEX Premier Rewards Gold and AMEX Business Gold card, but no longer do. I have one AMEX no annual fee card, and that's it. And I have never had the AMEX Business Platinum.
What to Use Membership Rewards Points For?
My absolute favorite redemption is transferring Membership Rewards points to Singapore KrisFlyer to redeem for Singapore Suites on the A380. But also see Top 10 Best Ways to Use AMEX Membership Rewards Points. Whatever you do, don't use Pay with Points–horrible value.
AMEX Platinum Card Strategy
To me, the AMEX Platinum is all about a high targeted bonus, and not the much touted benefits. Sure, AMEX has a few very nice Centurion lounges in Las Vegas and Dallas, although at most I'm in Vegas once a year for Virtuoso Week, and I've never been to Dallas in my life, nor do I see that changing. A future location will be a La Guardia, although frankly most of my flying is out of JFK. Another Centurion Lounge will be at San Francisco.
But that really doesn't make up for losing access to all American Admirals Club and US Airways airport lounges. And the Fine Hotels and Resorts program isn't needed if you book with a Virtuoso travel advisor, as my TravelSort Clients do, plus several Virtuoso hotels offer upgrades at time of booking, which is never the case with AMEX FHR. And by booking with Virtuoso or Four Seasons Preferred Partner benefits, you can use a card such as the Sapphire Preferred for 2.14X points, or the Barclays Arrival Card for 2.2% cash back when redeemed for travel, instead of getting a paltry 1 Membership Rewards point per dollar for your hotel spend.
Have you received an AMEX Business Platinum 100K or 150K bonus offer in the mail?
Related Posts