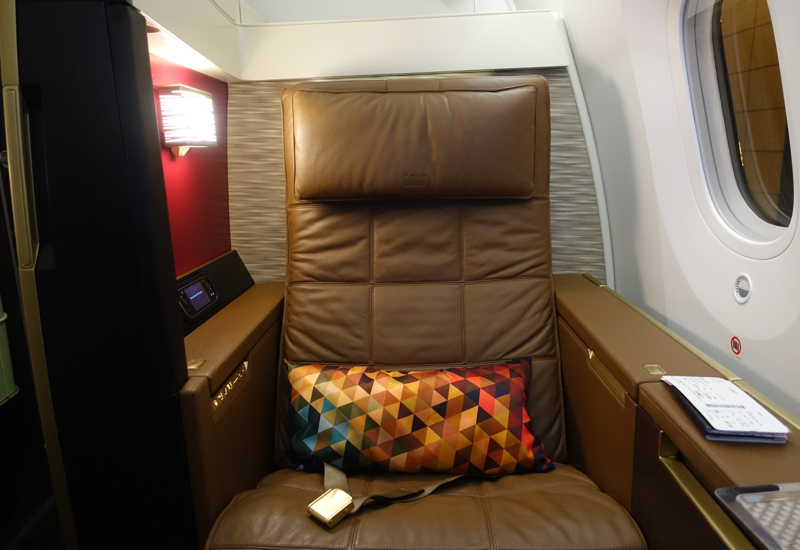 Update: Please note the oneworld change: no separate tickets protection, no through checked baggage on separate tickets.
—–Original Post—–
Will American Airlines and oneworld partners protect you if flying on separate tickets, such that your first flight is delayed or cancelled and you miss the second flight on the separate ticket?
TravelSort reader Michael writes:
"If you book your long haul with a partner first using AAdvantage miles and then try to get the domestic connecting flight to the gateway city, before the long haul – often I find it difficult to include the positioning flight as part of the award.
For example, I booked Etihad First Class from Washington DC IAD to Delhi, but cannot add connecting AA flights from Birmingham to DC in order to connect…. so I am buying these connecting tickets…but I am not protected in case of a misconnect either going or coming.
Is there any way that American could link these records so that if there is a misconnect I would be booked on the next available flight? Phone agents have not exactly been clear on why I cannot do this… they say separate records cannot be linked. I asked them to just add the connecting flights on the same award because the award is for us to India in first class and response is NO can do."
The Risk of Separate Tickets
Michael ideally would have liked his AAdvantage award to include his ticket from Birmingham BHM to Washington Dulles IAD, but unfortunately it seems there's no saver award space, so it can't be included, and he's bought a ticket. This is among the common reasons for having separate tickets:
The international award doesn't include the positioning flight or there's no saver award space on the positioning flight
Two awards are being used, from separate alliances
The origin or destination city is only served by small airline, necessitating a separate paid ticket
Whatever the reason, separate tickets are a risk, particularly when the airlines in question aren't part of a single alliance. If you don't show up for the second (or third, etc.) flight that is booked as a separate ticket, you have no protection and will generally be treated as a no-show–it doesn't matter what the reason is that you missed the flight, unless you have an expensive refundable ticket, you're out of pocket unless you have the appropriate travel insurance coverage.
American Airlines Policy: Protection When on Separate Tickets IF on AA or Oneworld Airline
Fortunately for travelers holding separate tickets on American Airlines or on oneworld carriers, there is a more generous policy: you are protected, even on separate tickets, per American's oneworld separate tickets reaccommodation rules:
"If a customer is holding separate tickets on AA or another oneworld carrier, customers holding separate tickets where travel is on oneworld airlines should be treated as through ticketed passengers. In the event of a disruption on the originating ticket, the carrier responsible for the disruption will be required to reroute the customer to their final destination."
What should you do to ensure your separate tickets are protected?
Ensure that all your flights are on American and oneworld carriers, in order for this policy to apply
Make sure to have printed copies of all flights and record locators in your itinerary
It also doesn't hurt to bring a print out of American's oneworld separate tickets reaccommodation policy, linked above
Ask the check-in agent to through check all your bags to their final destination
Even if you have no bags to check, ask if you can be given boarding passes to your subsequent AA or oneworld flights
In the event of any flight delay or disruption, the carrier responsible for the disruption is the one you'll need to get reaccommodation assistance from
Policy Does NOT Apply to Etihad and American's Non-Oneworld Alliance Partners
Let's go back to Michael's question–why isn't he able to be protected on his purchase American flight and separate Etihad award ticket, given that his award ticket is made with AAdvantage miles? Unfortunately, the answer is that he is not afforded protection because Etihad is *non-alliance* AAdvanage partner, and the above protection policy only applies to oneworld airlines. Etihad is not part of oneworld. If Michael's long haul ticket was on Qatar, he would be protected because Qatar is part of oneworld.
In this circumstance, I would honestly leave plenty of time between the arrival time of the separate ticket and the Etihad flight's departure time. Some very cautious folks even opt to leave the better part of the day or overnight in the gateway city, to be more sure of making their international long haul flight.
I've had recent personal experience with this, on our outbound trip to the Maldives, when due to JFK Runway Reconstruction our JetBlue flight to Dulles IAD was cancelled, and the munchkin and I scrambled to get to Dulles via the taxi, Acela train, DC metro and bus–you name the transportation, and we took it! I was glad I'd left quite a few hours at Dulles, as we needed most of that time to get there after the JetBlue flight cancellation. I'll probably leave even more time the next time I book separate tickets, to make the whole experience less stressful.
What's been your experience when traveling on separate tickets on American and/or oneworld airlines?
Related Posts
Interlining Baggage on Separate Tickets: United, AA, Delta, Alaska Policies
Etihad First Class 787-9 Review
Airline Hubs by Airline and Alliance
Best Frequent Flyer Programs of 2015
Need Award Booking Help? Our fee is as low as $75 per ticket if you book your hotel through us.
If you enjoyed this, join 200,000+ readers: please follow TravelSort on Twitter or like us on Facebook to be alerted to new posts.
Become a TravelSort Client and Book 5-Star Hotels with Virtuoso or Four Seasons Preferred Partner Amenities!