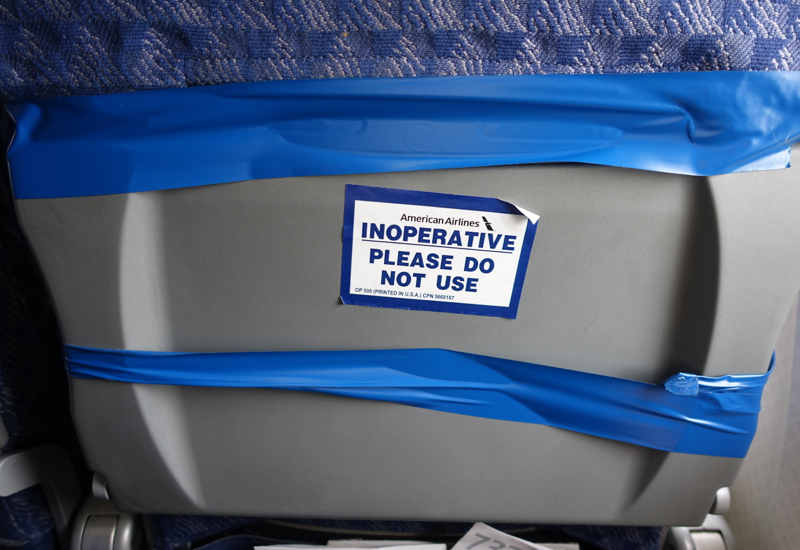 American Airlines will NOT refund your seat selection fee, even if your seat doesn't work. At least not in my case. I recently paid $22 to select what AA calls a "Preferred Seat" on a Chicago ORD to New York LGA flight so that I could have one closer to the front of the aircraft, in order to disembark sooner.
When I boarded the flight, which was completely full, I found that the tray table was entirely unusable and taped shut, as seen in the above photo.
Since I'd been planning to work the entire flight on my laptop, I wasn't happy about this, but I also knew that with a completely full flight, it wasn't as if I'd easily be able to switch with anyone, especially as I didn't want a cramped middle seat. The flight attendant's only less than helpful suggestion was to take a later flight.
My tweet to AA received this in response–no mention of getting the Preferred Seat fee back:
And a customer service email was completely formulaic, and denied both the refund of the preferred seat fee as well as any kind of goodwill gesture in terms of miles (bolding mine):
"We appreciate the opportunity to respond to your recent concern. We want our customers to have positive experiences when traveling with us, and we are very sorry that this was not your experience.
In evaluating your request, we carefully reviewed our policies and procedures as they relate to this matter. While I am sorry for the situation you encountered, we must respectfully decline your request for compensation or a refund of the fee. I am sorry.
While we aren't prepared to comply with your request on this occasion, I hope you will give us another chance to serve you better. It would be a privilege to welcome you aboard very soon."
Am I a bit taken aback that American Airlines is too cheap to refund a $22 seat selection fee for a non-working seat? Yes, but I suppose that just goes to show how far AA has already been Parkerized. "Policies and procedures" apparently dictate that non-working seats, at least for regular AAdvantage members, are par for the course and aren't due any seat selection fee refund, let alone any goodwill gesture.
I didn't even bother to write in about my non-working IFE on the New York to Chicago flight (nor was I the only one–there were many with similarly non-functioning IFE systems), where the flight attendant response was "Well, that's technology for you!"
Sure, a non-working seat and non-working IFE are small in the overall scheme of things, but words are cheap and actions (or lack thereof) do speak louder than words. Overall, a customer service #Fail
Have you encountered a non-working American Airlines seat and found AA unwilling to refund your seat selection fee?
Related Posts
AMEX Platinum Airline Credit: $200-$400 Off an American Airlines Ticket
Get American Airlines to Pay EU Compensation for a Flight Delay
What to Do if American Loses Your AAdvantage Award
American Airlines Compensation for Cancelled Flight or Delayed Flight?
Need Award Booking Help? Our fee is as low as $75 per ticket if you book your hotel through us.
If you enjoyed this, join 200,000+ readers: please follow TravelSort on Twitter or like us on Facebook to be alerted to new posts.
Become a TravelSort Client and Book 5-Star Hotels with Virtuoso or Four Seasons Preferred VIP Amenities!