4/8/14 Update: AA has eliminated the Oneworld Explorer Award with no notice. See No More AA Explorer Awards
TravelSort Reader Pila writes "The American distance based [oneworld explorer] award is a better deal [than the American all partner award chart for getting to Europe in first class]. For 180,000 miles, that puts you in the under 20,000 mile distance Zone 7 wich means you can fly to AUH [with Etihad] and still connect to other places in Europe and get back home all for 180k. Is that correct?"
Unfortunately, as I replied to Pila in the comments to our post The Top 5 Ways to Get to Europe in First Class, this doesn't work for flying Etihad first class, since although it's an American partner, it's not a oneworld partner. Even though we've mentioned American's distance-based oneworld award chart before in Maximizing Awards Using American AAdvantage Miles, it's worth going into more detail about how these awards work, along with a few examples.
Why Use an American Oneworld Explorer Award?
The regular American All Partners Award has some key limitations:
No international stopovers (only at U.S. gateway cities)
Restrictions on transiting certain regions. The only regions you can transit en route to a third region are North America via Europe to India, North America via Europe to Africa, and North America via Asia Region 1 to Asia Region 2. If you try to transit a different region, your award will be broken into 2 awards–this is why you can't, for example, book a single award from North America to Europe via the Middle East on Etihad–that would be 2 awards.
Key Rules for the American Oneworld Explorer Award
The American Oneworld Explorer Award Chart helps with both the above restrictions since you are allowed up to 16 segments and can stopover once in each city. You also no longer have to deal with the routing restrictions. That said, there are other key rules to follow:
1. Fly At Least 2 Oneworld Airlines (Not Counting American Airlines)
Oneworld partner airlines are British Airways, Cathay Pacific, FinnAir, Iberia, LAN, Qantas, JAL, Malev, Royal Jordanian, S7. Note that Qatar and Malaysia Airlines will be joining oneworld, which will provide additional routing options.
2. Maximum of 16 Segments, or 15 Segments Plus 1 Open Jaw
Note that transferring between co-terminals, or different airports in the same city, such as arriving in BER and departing in TXL, counts as a segment.
3. You May Stopover at Each City Once, and Connect Through a City Twice
You may stopover once at each airport in your itinerary if you wish. A stopover is over 4 hours when traveling in the U.S., or over 6 hours at international destinations. Note that once you return to the airport you started your award at, that concludes the award. You can get around this by starting somewhere other than where you live.
4. After Ticketing, Only Date Changes Are Allowed
You are not permitted to make changes to the airlines or routing; to do this you'd have to start over and rebook. If your original flight is cancelled or the carrier reduces the frequency of the route you *may* be able to get American to rebook you on a different carrier, but in general they are very strict and only permit date changes.
5. Valid for 1 Year from Date of Issue
6. You Must Call to Book a Oneworld Explorer Award
Note that many American agents are *not* experienced with booking these. Be sure to check availability first, for example by using Qantas.com to find award availability, before you call. Let the agent know that you are booking with the distance-based oneworld explorer award chart, then provide the relevant segments to the agent.
The American Oneworld Explorer Award Chart
As you can see from the oneworld explorer award chart, many of the best deals are for business class, given the significant premium for first class, especially as you get up to distance zones 7, 8 and 9.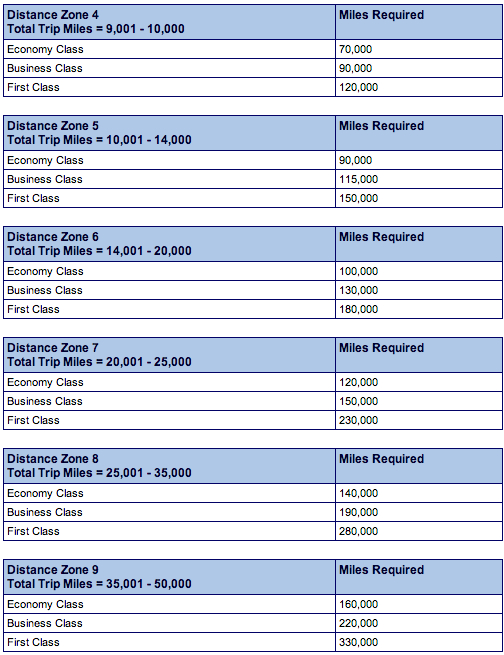 Example 1: Distance Zone 5 Award Around Europe
While I realize you may not live on the East Coast, it can be a better value to buy a cheap revenue ticket to NYC or ORD and depart from there, rather than using up miles by flying from the West Coast, especially if you're flying a business class explorer award ticket. Here's a Distance Zone 5 routing around Europe. I'd aim to fly Iberia and Air Berlin as much as possible, but LHR-DME would be on British Airways, with fuel surcharges–in my view, it's a better business class product than, say Air Berlin.
Business Class: 115K AAdvantage Miles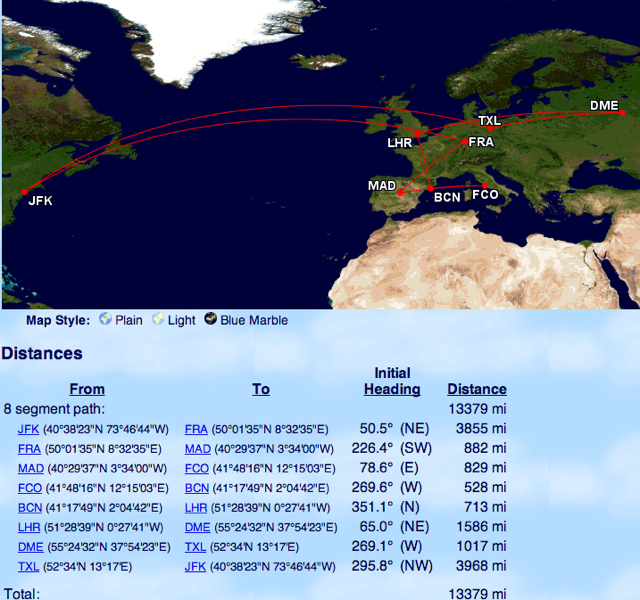 Example 2: Distance Zone 6 Award to Asia and Australia
In this example, we use an open jaw between Bali and Australia to save us some miles and enable us to fly Cathay and Qantas on the other flights, though you'd then need to buy a revenue ticket for this segment.
Business Class: 130K AAdvantage Miles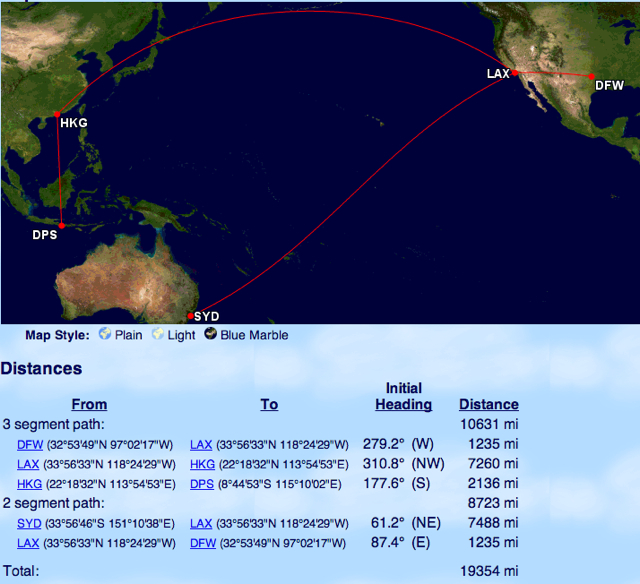 Example 3: Distance Zone 7 Award to Asia, Australia and New Zealand
In this example we squeeze in more stops in Asia such as Bangkok and Tokyo, as well as a trip to New Zealand, for just 20K more AAdvantage miles than a Zone 6 Business Class award. We have to backtrack to Sydney for the flight back to LA on Qantas, but can only stopover in Sydney once, as per the award rules.
Business Class: 150K AAdvantage Miles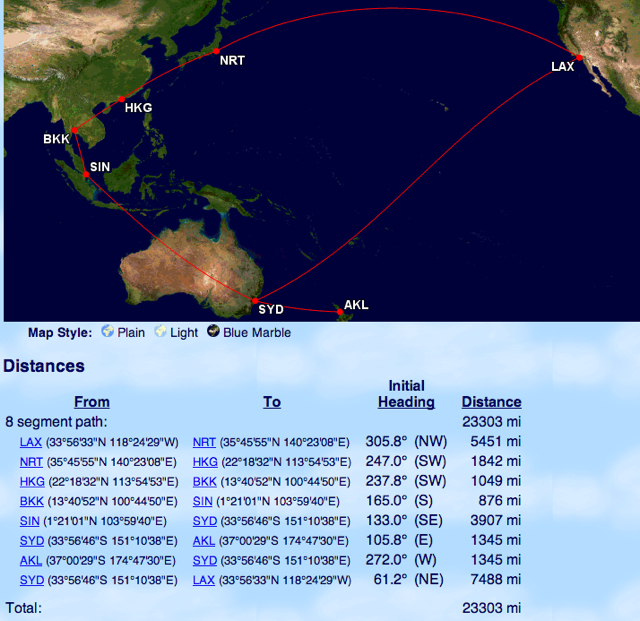 Have you used an American Oneworld Explorer Award to maximize your AAdvantage miles?
Related Posts
Citi AAdvantage Credit Cards: New Rules to Earn 130K AA Miles
Use American AAdvantage Miles for Etihad First Class
Maximizing Awards Using American AAdvantage Miles
How to Fly Hawaiian from NYC to Hawaii with AAdvantage Miles
Best American AAdvantage Miles Bonus Offers Available Now
Need Award Booking Help? Our fee is as low as $75 per ticket if you book your hotel through us.
If you enjoyed this, join 100,000+ readers: please follow TravelSort on Twitter or like us on Facebook to be alerted to new posts.
Become a TravelSort Client and Book Your Hotel with Virtuoso or Four Seasons Preferred VIP Amenities!