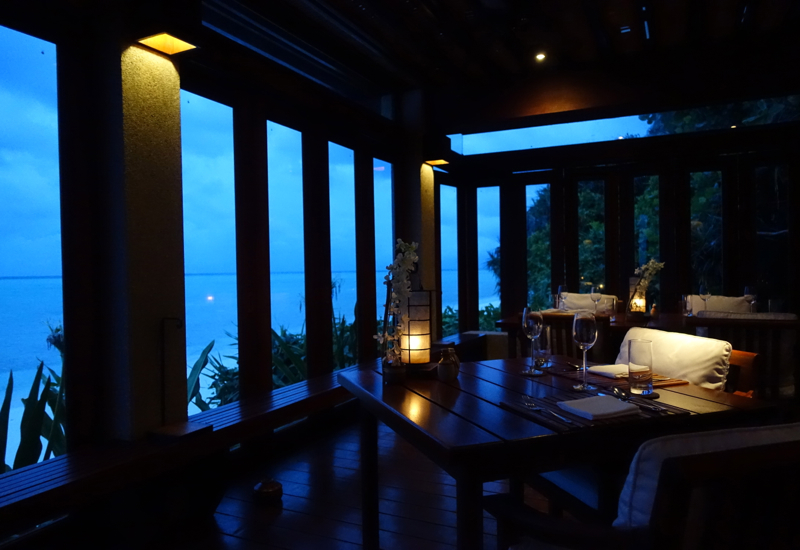 This Amanpulo Restaurant Review and Menus post covers our food and dining experiences at Amanpulo on Pamalican Island, a private island in the Philippines. A future post will cover Amanpulo activities and experiences.
The posts are part of a trip report including Qantas First Class, British Airways Business Class, Japan Airlines Business Class, and luxury hotels and dining in London, Dubai, and Hong Kong. For the previous posts, please see:
Review: British Airways Concorde Room Lounge NYC JFK Terminal 7
Review: British Airways Business Class on the 747-400 JFK-LHR
Best Seats in British Airways New First Class 747-400
Review: British Airways Arrivals Lounge in LHR and Heathrow Express to London
Launceston Place London Restaurant Review
London Tips: British Museum with Kids
Review: Rivea at Bulgari London Hotel
Review: British Airways First Class Lounge London Heathrow Terminal 3
Qantas First Class A380 Review London to Dubai
Review: Atmosphere Lounge at the Burj Khalifa Dubai
Armani Hotel Dubai Photos and Virtuoso Client Review
Dubai Fountain by Burj Khalifa Photos and Video
Review: British Airways Galleries Lounge in Dubai (DXB)
Cathay Pacific Business Class Review A330-300
Review: Lung King Heen at Four Seasons Hong Kong
Review: The Upper House Hong Kong
Review: Cafe Gray Deluxe at The Upper House
Amanpulo Restaurant
Amanpulo's main restaurant is at The Clubhouse, where breakfast is served daily, either inside or outside, with a nice view of the pool. The restaurant is also open for dinner, although we didn't have occasion to dine there as we wanted to try out the other two restaurants, The Lagoon Club, which serves Thai food, and The Beach Club, which serves Spanish-style tapas and small plates.
Amanpulo Breakfast
If you book as a TravelSort Client, complimentary breakfast is included as a Virtuoso benefit, and includes an extensive variety of fresh fruit juices, smoothies, and both traditional Western breakfast items as well as Filipino favorites.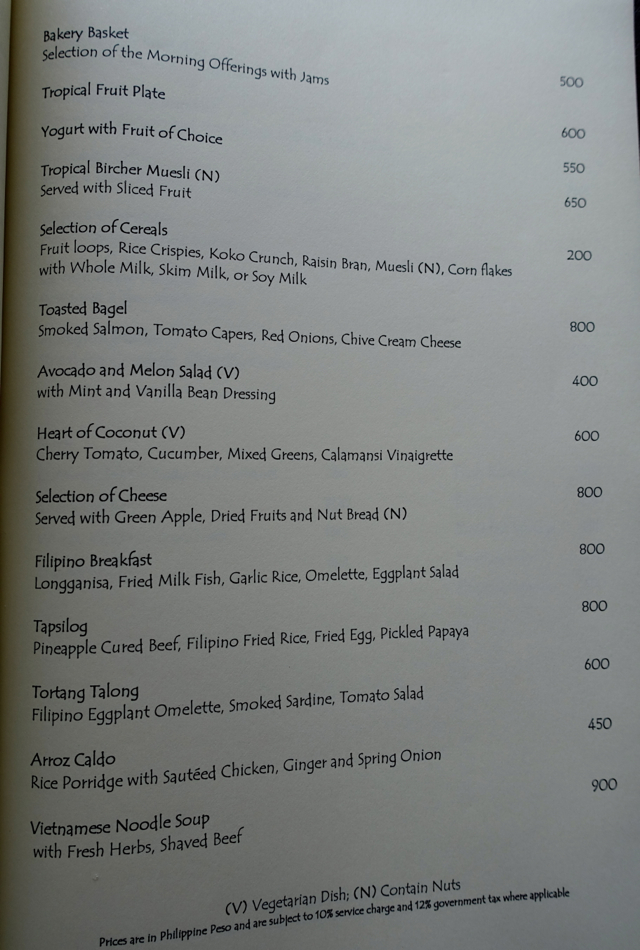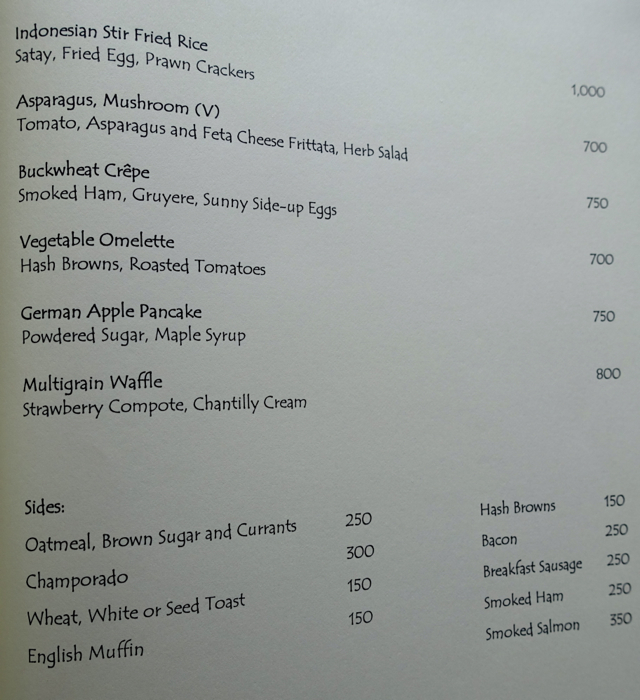 Here are our favorite Amanpulo breakfast selections:
1. Tapsilog
This traditional hearty Filipino breakfast of pineapple cured beef, Filipino fried rice, fried egg, pickled papaya and sweet bread roll is done exceptionally well, and perfect for anyone wanting a savory breakfast, especially if you opt for a later breakfast/brunch.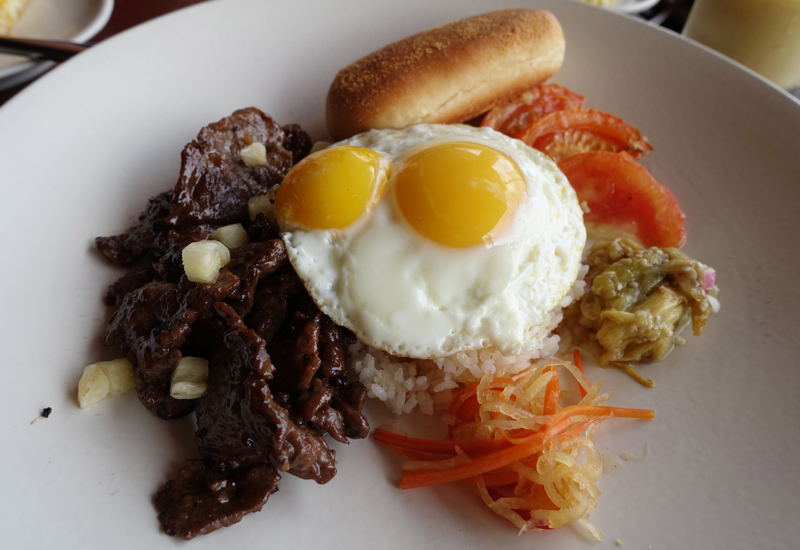 2. Waffle with Strawberries and Cream
While we make some pretty good waffles at home, we enjoyed the decadence of piling Amanpulo's waffle with the accompanying strawberry compote, dollops of cream, and finally maple syrup. The only problem? Just one waffle is made at a time, so if you're hungry, be sure to order a couple of these, or order another dish in addition to it.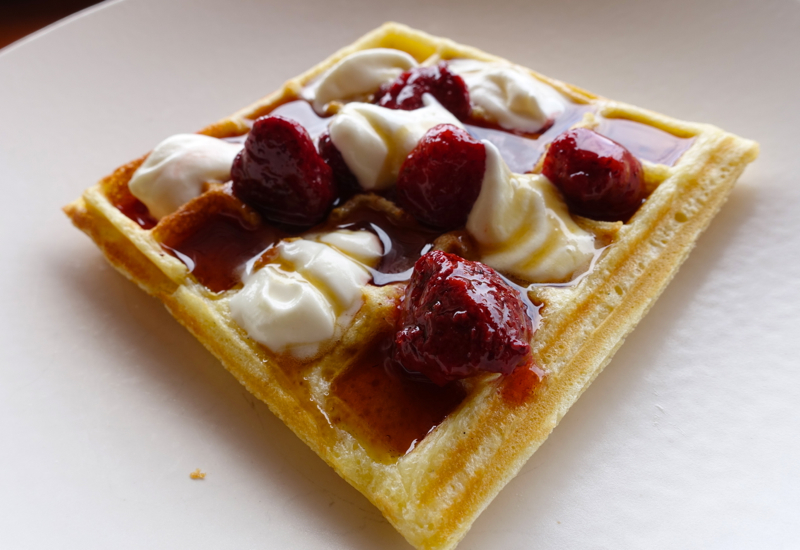 3. Eclair
This was probably the munchkin's favorite, so even though I personally have had much better eclairs (Tartine Bakery in San Francisco comes to mind) the novelty of having an eclair as a breakfast pastry option delighted my son.
4. Mango Lassi
The first day I tried the apricot mango smoothie, but didn't care for the dried apricot taste. The mango lassi was a much better bet, and I enjoyed the cardamom flavor, with a touch of pistachio, although perhaps mango lassi purists won't care for these updates.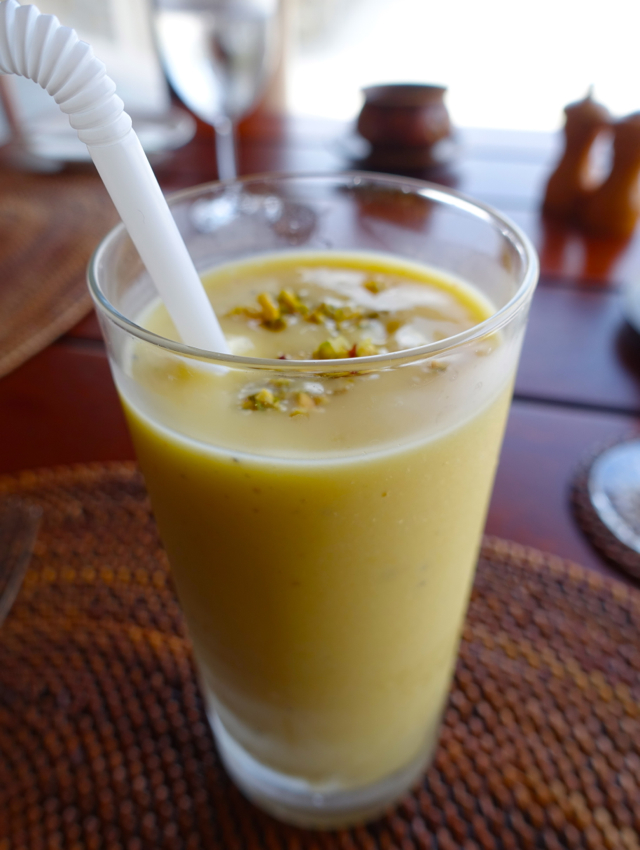 5. German Apple Pancake
As with the waffle, the German apple panacake was very good, with nicely caramelized apples and maple syrup, although small. If you're hungry, order a couple, or order this plus another breakfast item.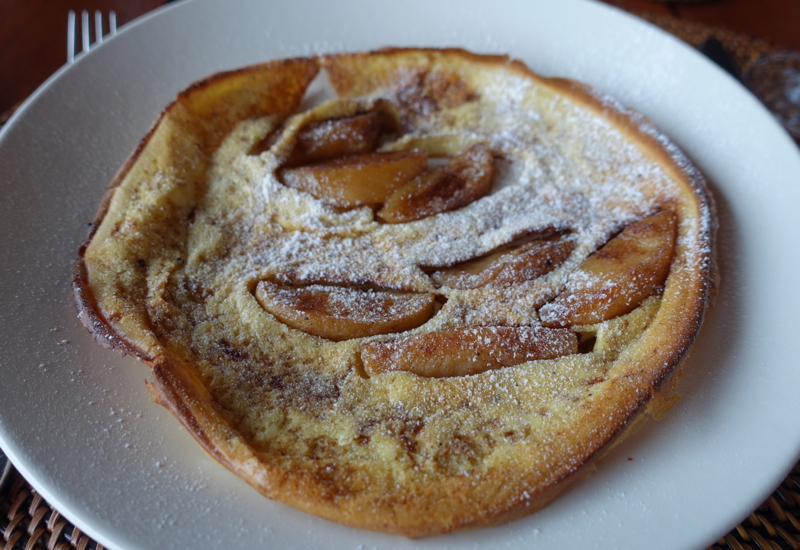 6. Toasted Bagel with Smoked Salmon
This was what my son ordered for our first breakfast, and while it might seem like coals to Newcastle, given that we live in NYC and bagels with lox are a breakfast standard, this was a beautifully plated and very good version. A few more pieces of salmon would have been nice, so ask for additional smoked salmon.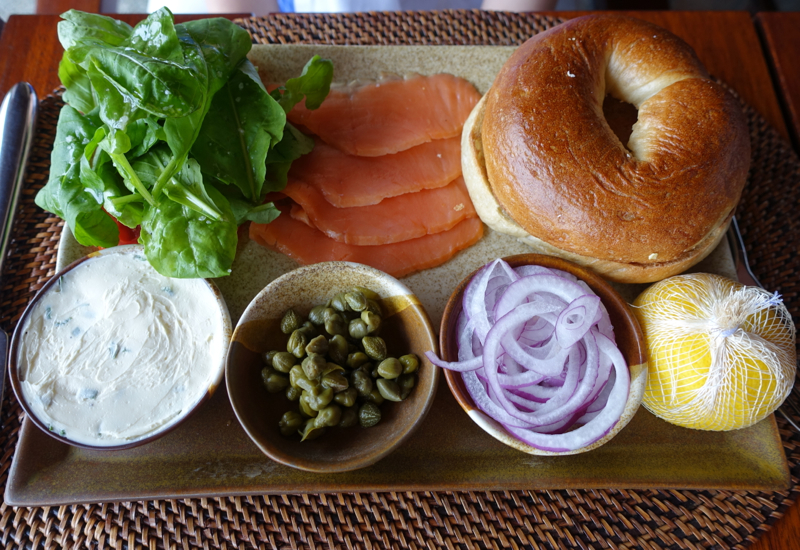 7. Vietnamese Noodle Soup
On the one hand, I've had much better Vietnamese pho, but on the other hand, how often do you find Vietnamese pho on a hotel or resort breakfast menu, outside of Vietnam? Almost never. So kudos to Amanpulo for offering it, even if the broth could use a bit more charred onion, ginger and star anise, and hoisin should be offered as a condiment, in addition to the sriracha.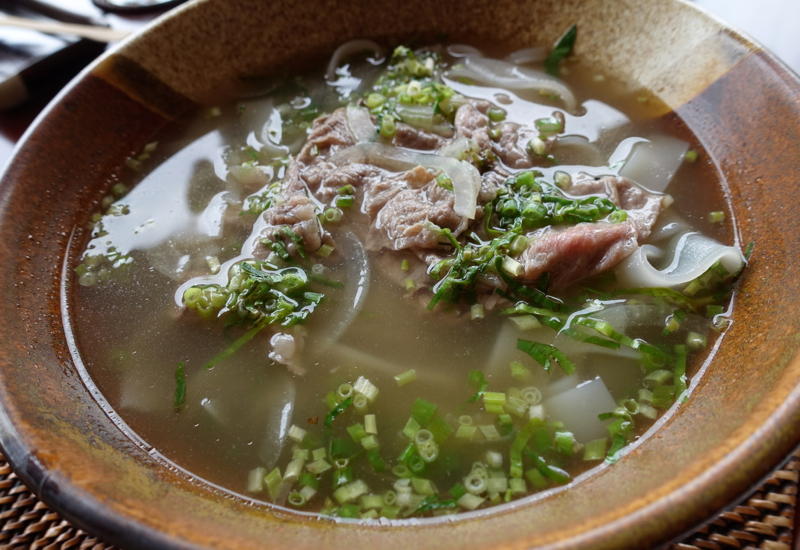 Amanpulo Thai Food at The Lagoon Club
TravelSort Clients enjoy a complimentary lunch or dinner for two once during their stay, as a Virtuoso benefit. I recommend a Thai dinner at the Lagoon Club, at a romantic table for two with an ocean view.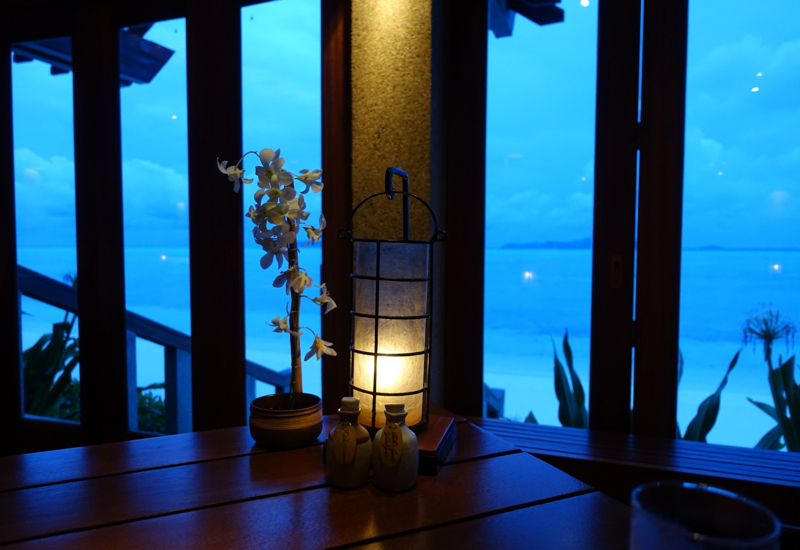 While we had a fairly light dinner, some of the dishes that sounded delectable that we weren't hungry enough to order included Yaam Goong Lai-Sue, Som-o Lae Pree Gluay (Traditional Roasted Tiger Prawn with Pomelo and Banana Blossom); Deep Fried Tiger Prawn with Kaffier Lime Leaf and Red Curry Sauce; and Green Curry with Tender Roasted Pork Belly.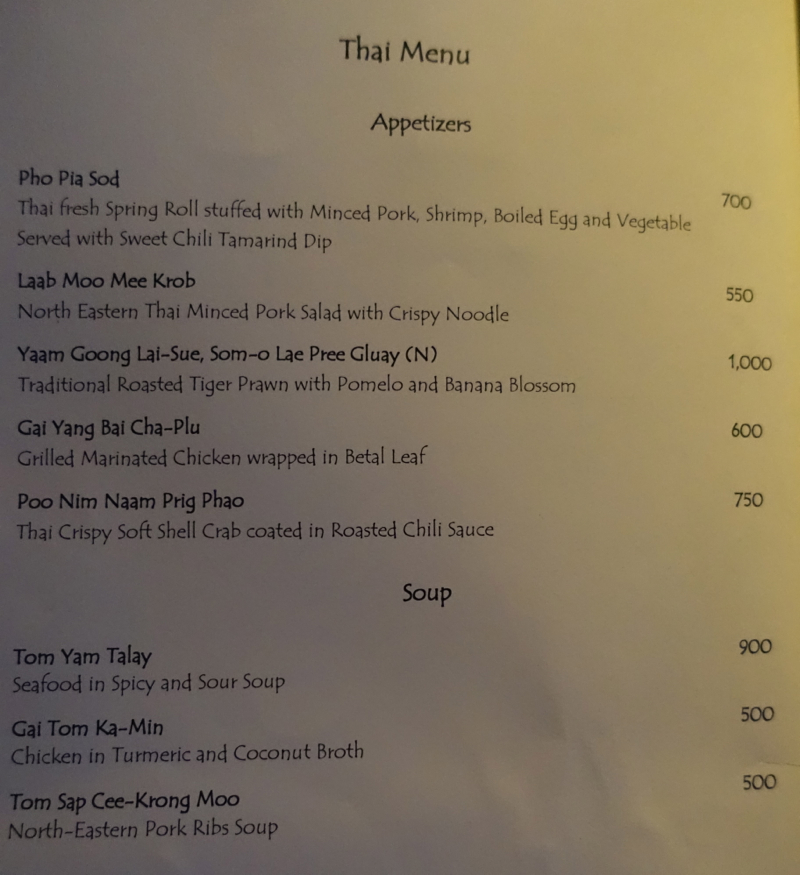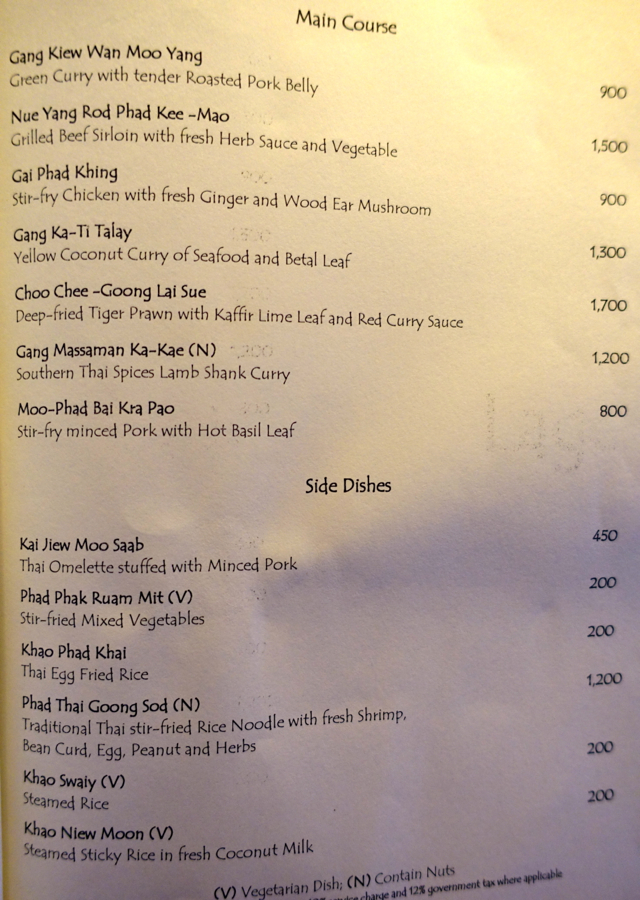 The appeitzer of Thai Crispy Soft Shell Crab in Roasted Chili Sauce that I ordered was a winner and highly recommended if you enjoy soft shell crab.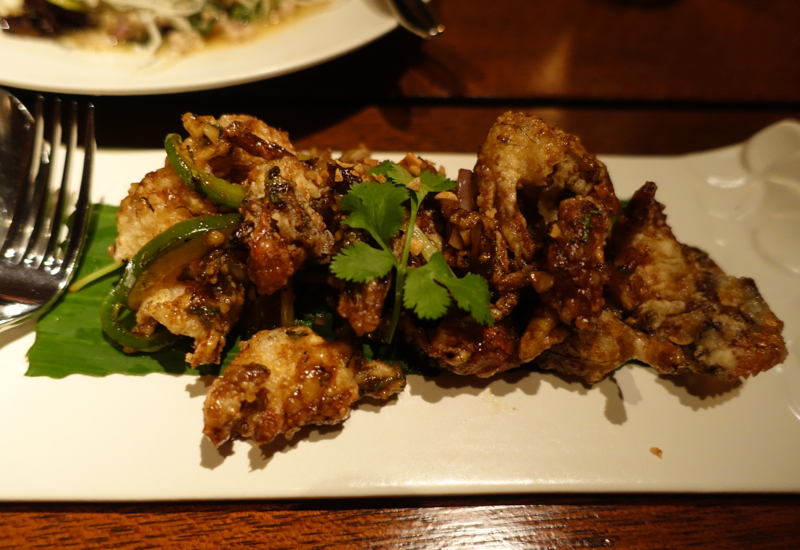 And the munchkin's Khao Niew Moo Yaang (Steamed Sticky Rice with Barbecued Pork, served with tamarind sauce, was also delicious, and a generous portion.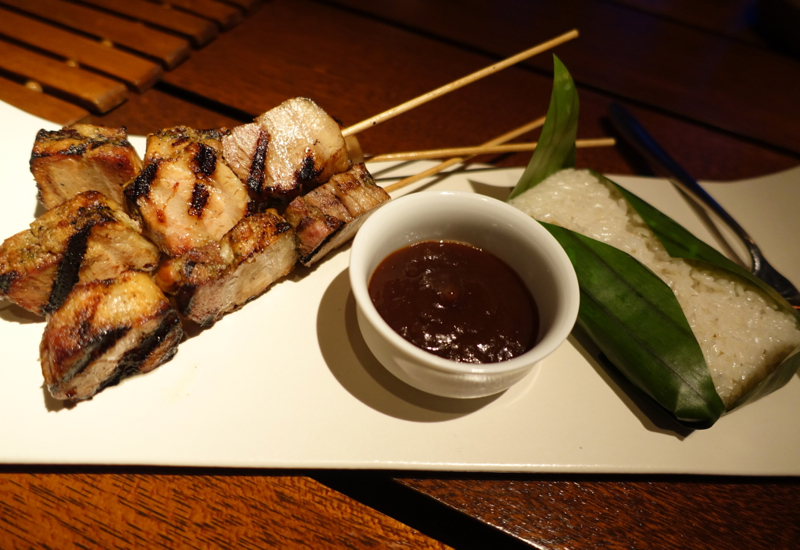 I also enjoyed the Laab Moo Mee Krob (pork larb) with sticky rice, which was authentic and made with fresh herbs from Amanpulo's own herb garden, except not as spicy as what we get at our favorite Northern Thai restaurant in NYC, Somtum Der.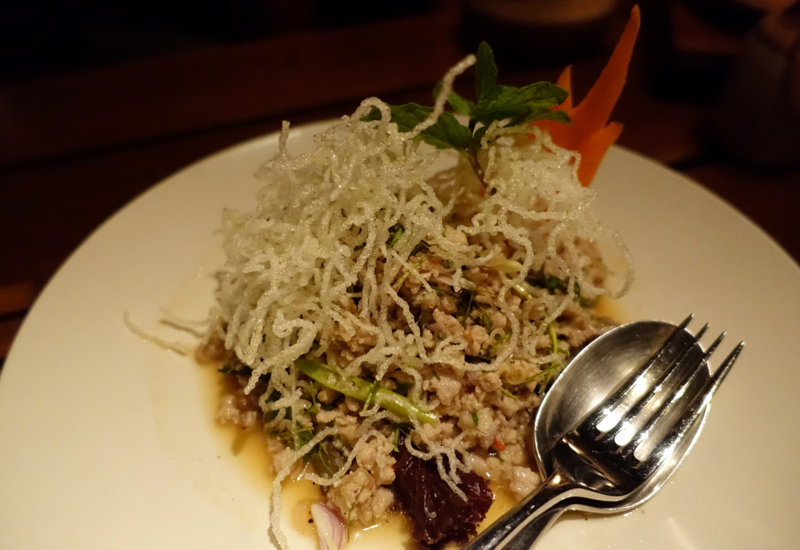 Amanpulo Complimentary Afternoon Tea
As at many other Aman Resorts, Amanpulo offers complimentary afternoon tea with locally inspired afternoon tea cakes from 4-5pm daily, served at The Clubhouse. I only happened to be there once, since I was working our first evening and did a drift dive another day, but enjoyed the cakes I sampled, even though I just had tastes so as not to spoil my appetite for our delicious dinners.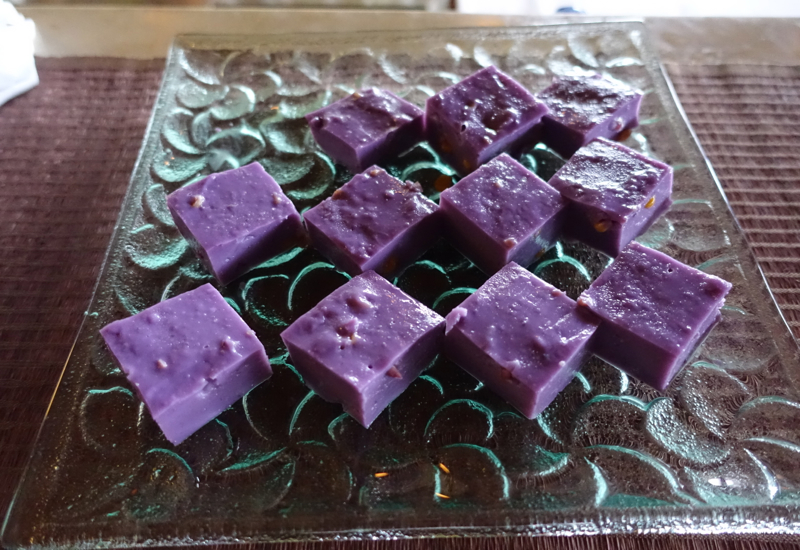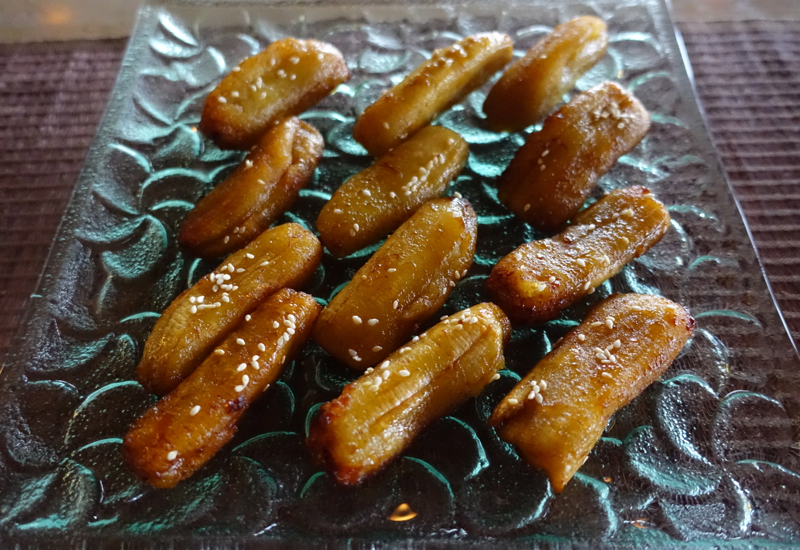 If you've dined at Amanpulo, what were your favorite dishes?
Related Posts
Amanjiwo Review, Borobudur, Java
Top 10 Aman Resorts in the World
Virtuoso Hotels: Bookings with Upgrades, Complimentary Breakfast and VIP Perks
Disclosure: My family and I were guests and enjoyed complimentary breakfast at Amanpulo but paid for our own dinners; however the views expressed in this post are my own.
Need Award Booking Help? Our fee is as low as $75 per ticket if you book your hotel through us.
If you enjoyed this, join 150,000+ readers: please follow TravelSort on Twitter or like us on Facebook to be alerted to new posts.
Become a TravelSort Client and Book Amanjiwo with Virtuoso Amenities!