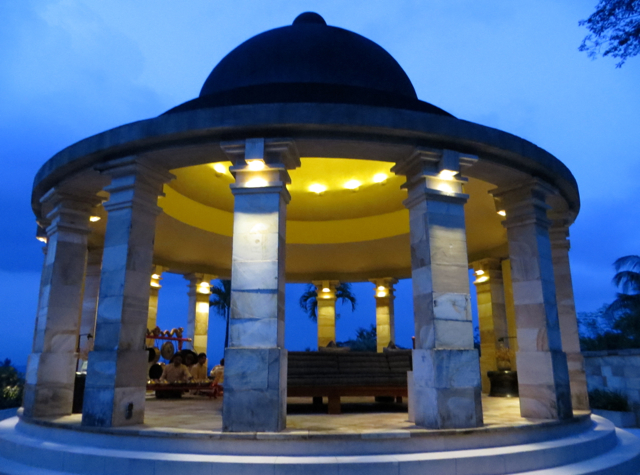 Amanjiwo's finest suite is the Dalem Jiwo Suite, which offers two bedrooms, an expansive terrace with private pool, and its own rotunda. Even if your budget doesn't extend to staying in the suite, there's another way to enjoy it for a few hours, assuming no one else is staying there: a Selamatan Dinner with traditional Javanese food, gamelan music, and dancing. We were celebrating a birthday, so it was the perfect excuse to arrange a Selamatan Dinner in the Dalem Jiwo Suite.
For other posts on Amanjiwo, please see:
Amanjiwo Review, Borobudur, Java
Amanjiwo Restaurant Review and Menu
Since the Selamatan Dinner was a surprise for my husband, he assumed we were going to have dinner at the main restaurant, after I visited the Dalem Jiwo Suite to take a few photos for TravelSort Clients that might want to stay there for a honeymoon or as the perfect place to accommodate a larger family.
I'd arranged the Selamatan Dinner on the early side, so that the munchkin could join us for most of it, but it does get dark early so the pathway to the Dalem Jiwo Suite was romantically lit by candlelight: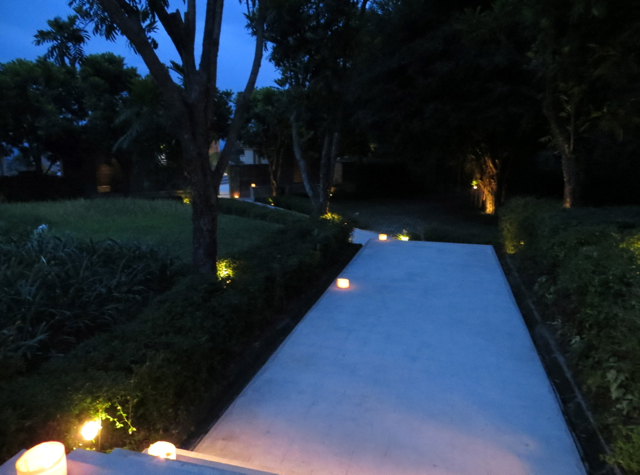 Once inside, we marvelled at the beautiful open air rotunda, already set up with a traditional gamelan orchestra. My husband whispered to me that they must be getting ready for a special event, and wondered if we should even be taking photos of someone else's event…little did he know 😉
There was a delicious aroma from the outdoor barbecue, and our friendly host was happy to let us walk around to take a few photos of the suite bedroom (the interior of which is actually identical to the other suites), the spacious outdoor terrace and day bed, and the private pool: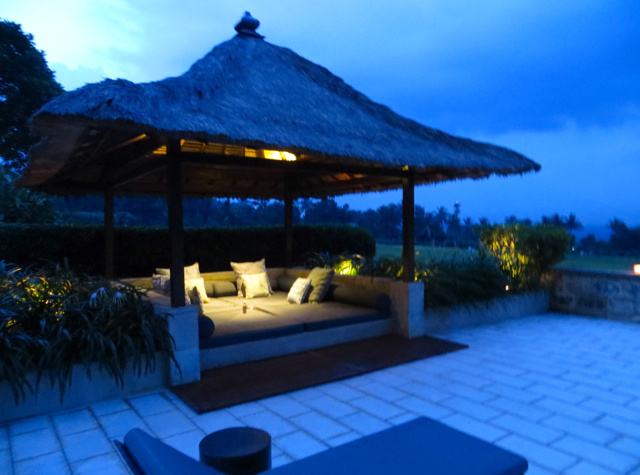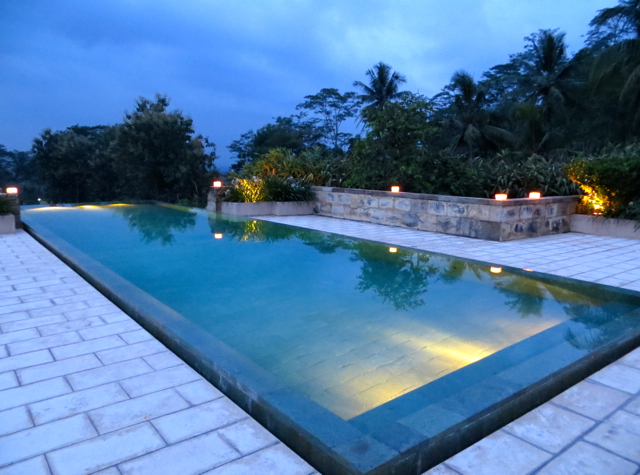 Finally he led us up into the rotunda, and that's when my husband finally realized all of this was for us. He couldn't believe it, but happily, we made ourselves comfortable on the pillows provided and our host was kind enough to take a family photo: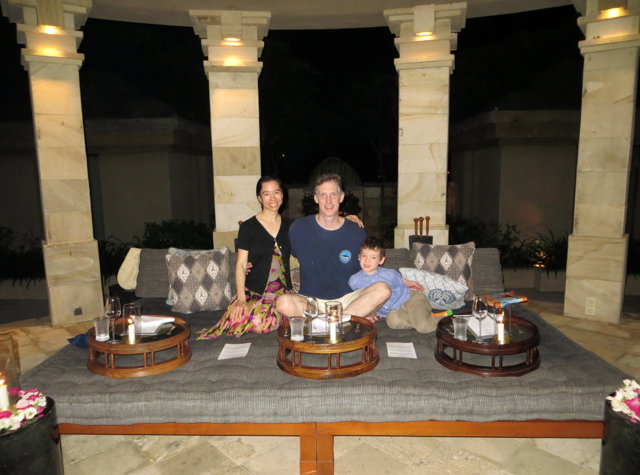 There was champagne (with some juice for the munchkin) for a toast, and we took in the beautiful traditional gamelan instruments on the left, with additional musicians and singer on our right: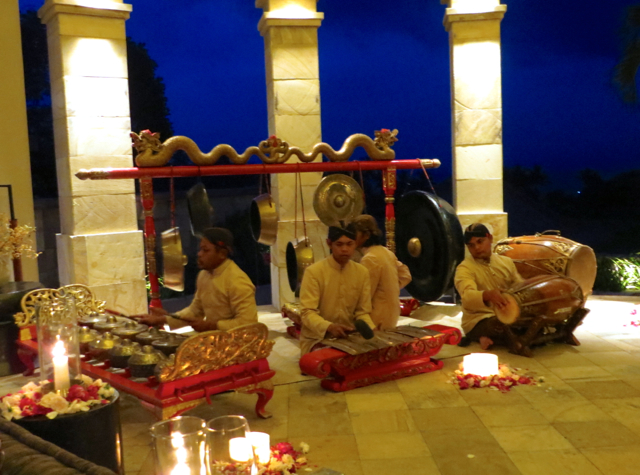 As a starter, we enjoyed Pastel Ikan (savory pastries filled with spicy mackeral) and Wonton Goreng (crispy prawn wontons):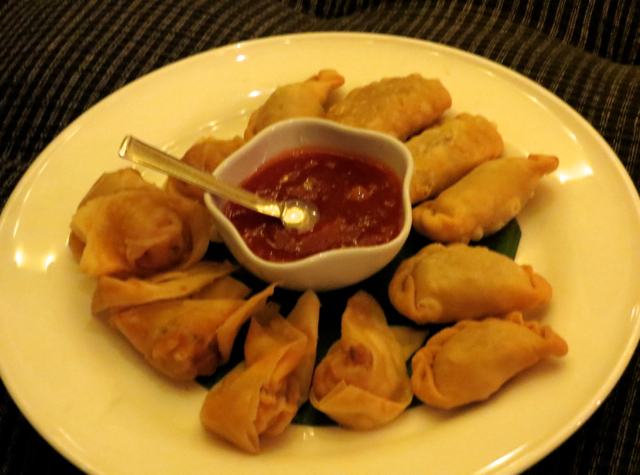 Next was a very traditional Sop Buntut (clear oxtail soup). Perhaps not for everyone, but I liked that Amanjiwo serves very traditional Javanese cuisine, not Westernized versions.
The first of three dances was Gambyong, and this is how it was described: "This is a very popular classical dance that was originally created and performed in the villages of Central Java and later adopted by the nobility as well. It is traditionally performed as an opening ceremony for special occasions such as weddings and other ceremonial events. The style of the dancing is elegant, soft and controlled, epitomizing the Javanese ideals of feminine beauty."
This dance and its dancers were closest in aspect to the Balinese dances I've seen, and with beautiful ornamental dress as well.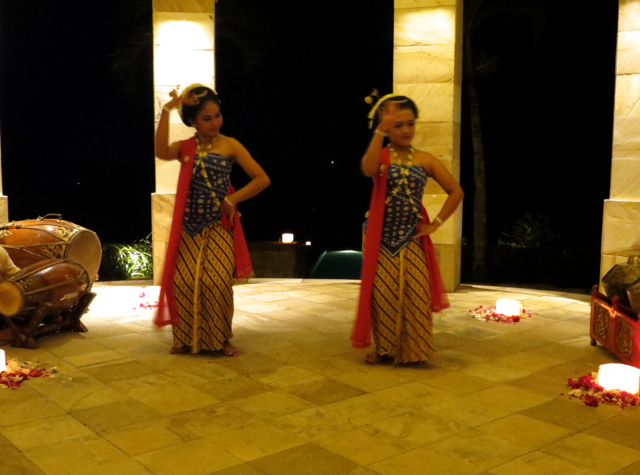 The main part of our dinner was somewhat similar to Indonesian Rijstaffel, with a copious amount of Nasi Kuning (rice cooked in coconut milk and tumeric) surrounded by delicious and varied accompaniments:
Perkedel Daging Dan Kentang (Fried minced beef and potato cake)
Gadon Sambal Nanas (Steamed prawn and glass noodle wrapped in banana leaves)
Serombotan (Steamed mixed vegetables with spicy roasted coconut and soya bean)
Telur Balado (Boiled then fried egg with spicy sauce)
Ayam Opor Panggang (Grilled chicken marinated with white curry sauce)
Pepes Ikan (Grilled marinated snapper wrapped in banana leaves)
While the presentation might not have won any plating awards, the dishes were delicious, especially the Telur Balado with its great spicy sauce and the barbequed items, the Ayam Opor Panggang and the Pepes Ikan. Plus, there was additional sambal ulek on the side to amp up the spice even more, so both my husband and I were very happy.
The munchkin too found plenty to eat–he enjoyed the mild flavored beef and potato cake and the steamed prawn and glass noodle wrapped in banana leaves, neither of which were spicy on their own.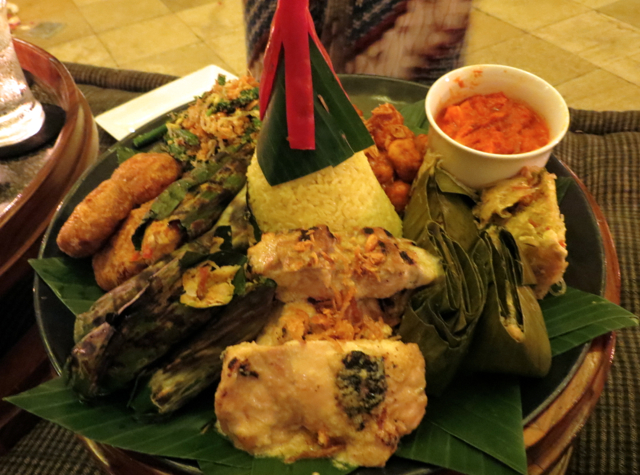 If the Gambyong dance was beautiful, the Kelono Topeng and Bambangan Cakil dances that followed our main dinner were riveting–none of us had seen live dance performances quite like these. Kelono Topeng is visually arresting, both since the dancer is masked and the movements are so athletic: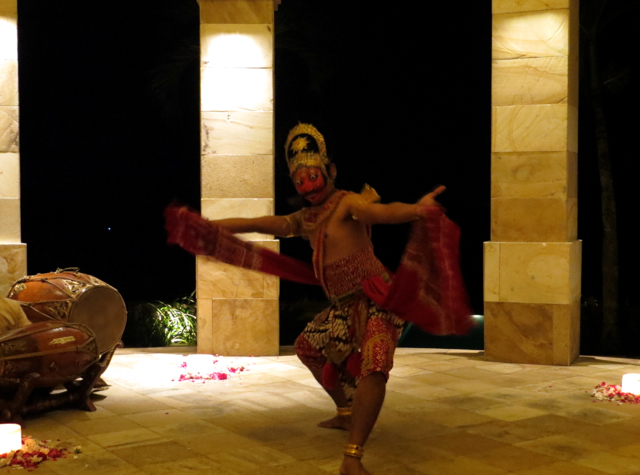 Below is a brief video clip from Bambangan Cakil, and here is the description:
"This tale is about the journey of a warrior, Raden Arjuna. On one of his journeys, Raden Arjuna passes through a dense forest inhabited by a ruel giant named Cakil. Since it the shortest path available, Raden Arjuna is determined to pass through the forest and risk his chance of encountering the giant. Soon after he enters the forest, Cakil confronts Arjuna and commands him to return from whence he came. However, Arjuna refuses to turn back and insists on passing through the forest. A fight then ensues. After a long and fierce struggle, Raden Aruna wins the battle, and the hero triumphantly continues his journey."
We were offered the chance to take a photo with all the dancers, but we opted to simply take a photo of all of them–we just weren't dressed in anything remotely close to the finery of the dancers.
A magical moment was lighting a large paper lantern, and letting it float into the night sky like a star. Incredibly, it continued to burn much longer than either of us thought it would, and the darkness of the night sky enabled us to see it at a great distance.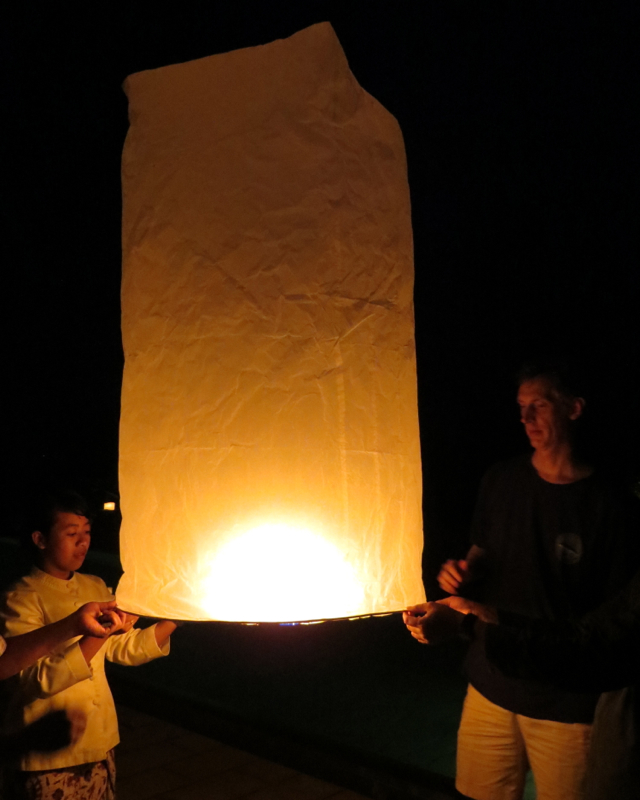 Dessert was Tape Ketan Dan Es Crim Kelapa (green sticky rice with coconut ice cream) although there was also a lovely little birthday cake for my husband.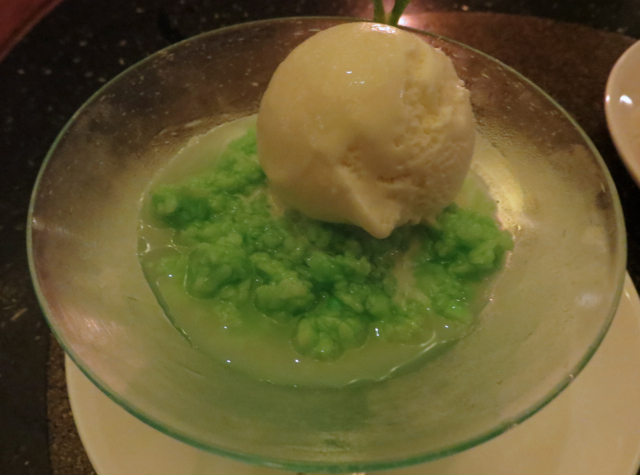 Nor did the magic stop at the conclusion of our dinner. We found candles surrounded with rose petals lighting the way to our own suite, and even our outdoor bath was filled with flowers, ready to be topped up with warm water for a soak prior to bedtime.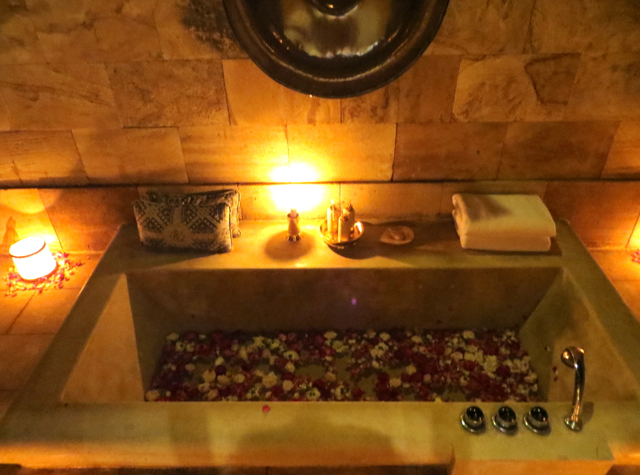 Simply magical. And a must for any romantic who visits Amanjiwo.
Related Posts
Amanjiwo Review, Borobudur, Java
Top 10 Aman Resorts in the World
Amanjiwo Restaurant Review and Menu
Virtuoso Hotels: Bookings with Upgrades, Complimentary Breakfast and VIP Perks
Need Award Booking Help? Our fee is as low as $75 per ticket if you book your hotel through us.
If you enjoyed this, join 100,000+ readers: please follow TravelSort on Twitter or  like us on Facebook to be alerted to new posts. 
Become a TravelSort Client and Book Amanjiwo with Virtuoso Amenities!