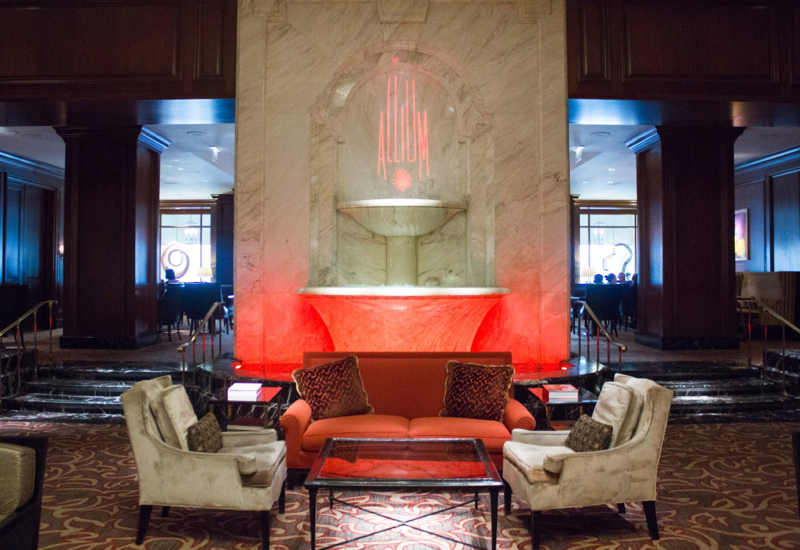 This Allium, Four Seasons Chicago review is one of our many restaurant reviews. Going to Chicago? Stay tuned for my review of the Four Seasons Chicago and things to do.
Location
Allium is located on the lobby level of Four Seasons Chicago, which is the 7th floor of the hotel, located at 120 East Delaware Place in Chicago's Gold Coast, by the Magnificent Mile. If you're not staying at the hotel but are in the Loop area, it's an easy 20-30 minute walk or a few minutes by car.
The Scene
During my visits on the weekend, there was a good mix of both younger and older couples for dinner as well as breakfast, and several families with young kids at breakfast.
Menus and Food
Allium describes itself as serving modern American cuisine, and its menu emphasizes locally sourced produce, but also utilizes sustainably raised proteins from further afield, such as Alaskan Halibut. Here's the dinner menu: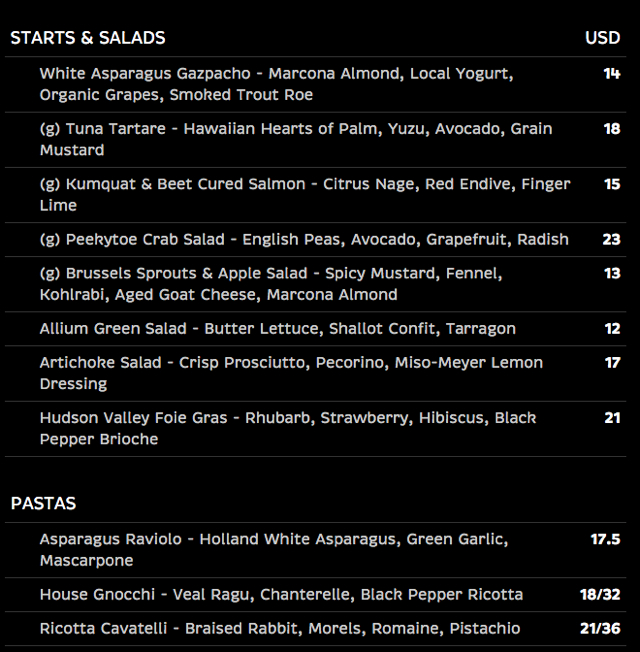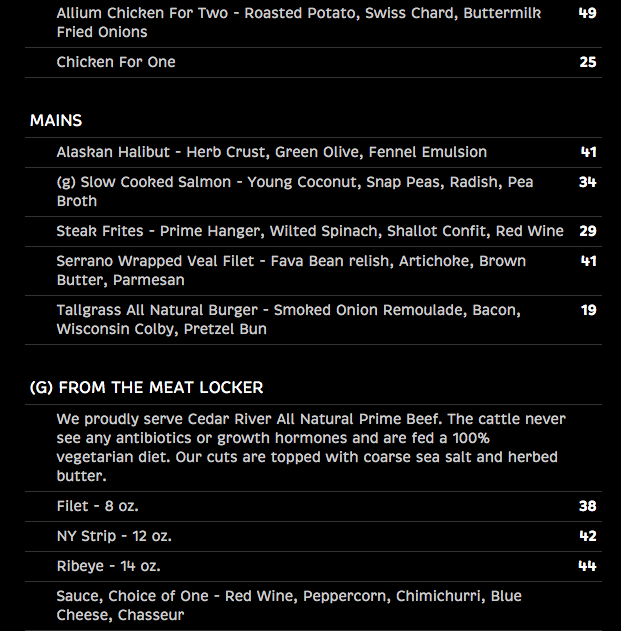 And here's the breakfast menu: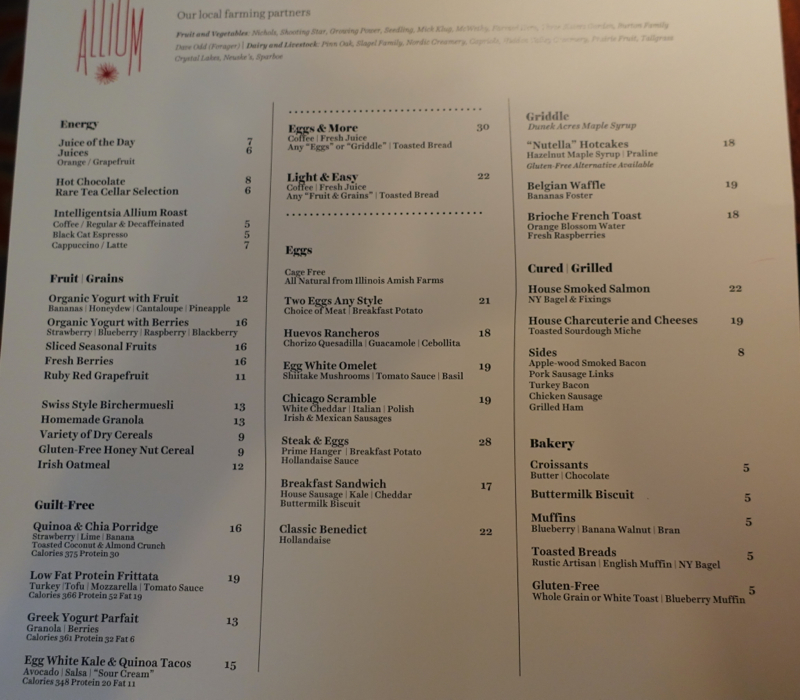 Here are my favorite foods of those I tried over three days:
1. Crepe Souffle "C.T." with Passion Fruit Caramel Sauce
I enjoy crepes and soufflés, but rarely make them at home, and soufflés are a surprising rarity on most NYC dessert menus. I also love passion fruit and caramel. Enter one of my favorite new desserts: Allium's Crepe Souffle "C.T." with Passion Fruit Caramel Sauce, with a light as air soufflé in the form of a folded crepe, accompanied by a delicious sweet tart passion fruit infused caramel sauce. You can bet that I savored every last bite.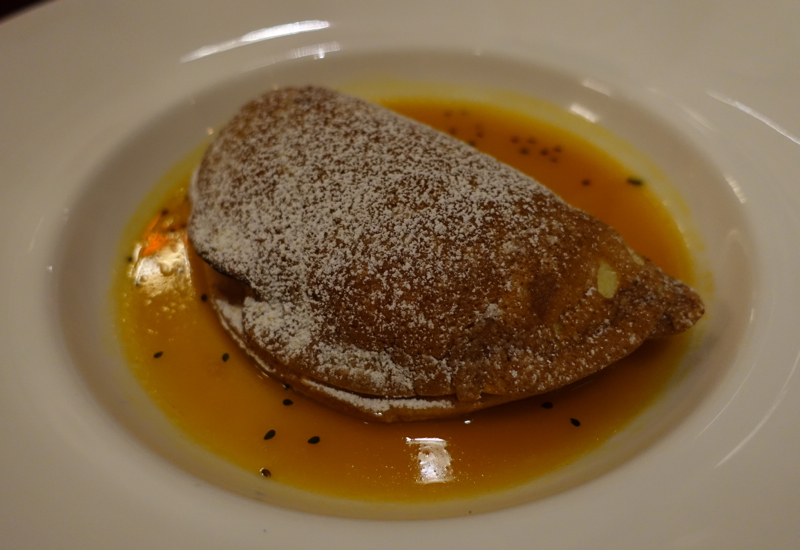 2. Serrano Wrapped Veal Fillet with Fava Bean Relish and Artichoke Brown Butter
While I don't normally eat all that much red meat, my doctor recently noted I was low in iron, making it the perfect excuse to select veal instead of fish. This Serrano Wrapped Veal Fillet entrée was incredibly flavorful, with perfectly cooked, tender veal wrapped in hearty Serrano Ham and beautifully plated with a tangy fava bean relish—the kind of sauce that you mop up every last drop with the meat and vegetables or some crusty bread. The umami of the artichoke brown butter lent a further dimension to this incredibly satisfying entrée.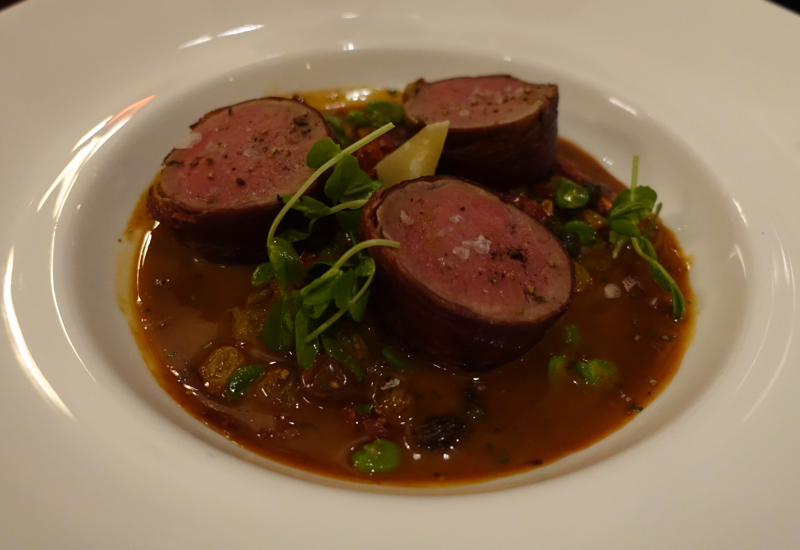 3. Brussels Sprouts & Apple Salad with Spicy Mustard, Kohlrabi, Kale and Aged Goat Cheese
The best restaurants challenge your perceptions of dishes and even ingredients, by creating dishes that you've never tasted or even imagined tasting. Allium's Brussels Sprouts & Apple Salad with Spicy Mustard dressing, Kohlrabi, Kale and Aged Goat Cheese did that for me—I'd never tried a cold salad that included Brussels sprouts, nor had all of these ingredients in a dish before, let alone one that was so fresh tasting and addictive. I've never had a salad (or a Brussels Sprouts dish, for that matter) that I felt compelled to write and ask for the recipe, but I will for this one.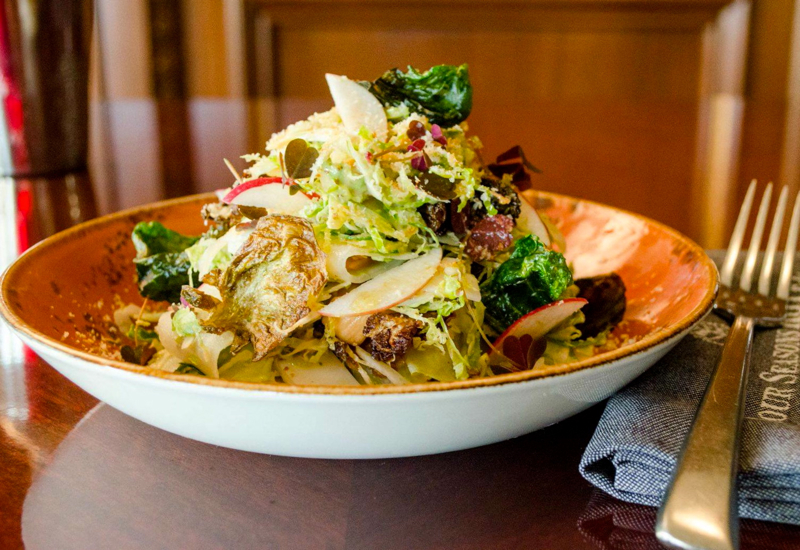 4. Caramel Pretzel
Almost every modern restaurant that wants to stay relevant changes its menu, but there are classics that restaurant regulars insist stay on the menu or at least be regularly available off the menu. One of these, for Allium, is its caramel pretzel candy, and having tried it, I can see why. Creamy and crunchy, sweet and salty, you'll need to have some self-restraint to eat just one of these.
5. Quinoa & Chia Porridge with Strawberry, Banana, Toasted Coconut & Almond Crunch
Veering back to healthier dishes, a great way to start your day as part of the Four Seasons Preferred Partner benefit of complimentary breakfast you'll enjoy at Allium or in the comfort of your room or suite, is this Quinoa & Chia Porridge. Quinoa is an ancient and exceptionally nutritious grain, with a nuttiness that is complemented well by the strawberry, banana, toasted coconut and almond crunch. It's also perfect for those that need a gluten-free breakfast.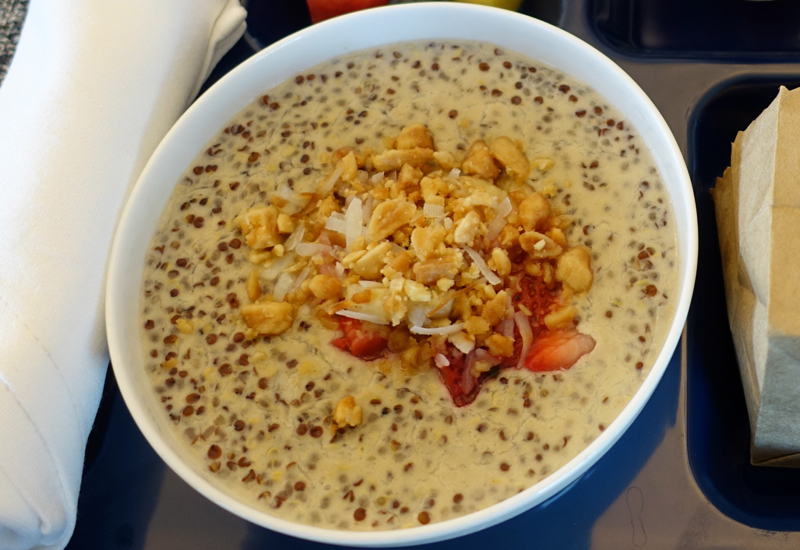 6. Nutella Hotcakes with Hazelnut Maple Syrup and Praline
Chocolate and hazelnuts are a fantastic combination, so when I saw Nutella Hotcakes on Allium's breakfast menu, I had to order it. This generous serving of 3-4 hotcakes could easily feed two hungry kids or two moderately hungry adults, and I couldn't even finish mine, as hungry as I was for breakfast.
The stack of hotcakes is crowned with house-made chocolate hazelnut spread, adorned with praline pieces, and comes with hazelnut maple syrup. Yum!
Finally, I have to give honorable mentions to a dish I didn't personally try but which my colleagues raved about: Alaskan Halibut with an Herb Crust and Green Olive Fennel Emulsion; as well as to the intriguing Miso Butterscotch Shake that I heard raves about.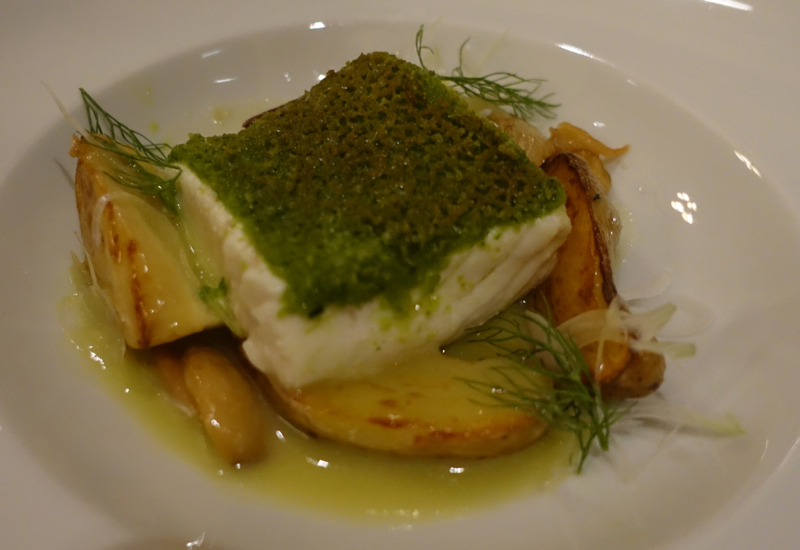 The Verdict
Dinner at Allium was fantastic–not just great food, but innovative preparations and attentive service, and in a dining room that wasn't too loud. I also enjoyed breakfast, especially the Quinoa & Chia Porridge and Nutella Hotcakes, although given what a beautiful day it was outside I would have loved an option for more natural light. But that's easy to solve by ordering via room service and enjoying it in the comfort of your room and suite, hopefully with a beautiful lake view.
If you've dined at Allium, what were your favorite dishes?
Related Posts
Four Seasons Preferred Partner Benefits
2015: Top 7 Four Seasons Preferred Partner Guaranteed Upgrades
Live music, eclectic dining and romantic views in Chicago
Disclosure: I was a guest of Four Seasons Chicago and enjoyed a complimentary stay and meals at Allium. The views expressed in this post are my own.
Need Award Booking Help? Our fee is as low as $75 per ticket if you book your hotel through us.
If you enjoyed this, join 200,000+ readers: please follow TravelSort on Twitter or like us on Facebook to be alerted to new posts.
Become a TravelSort Client and Book 5-Star Hotels with Virtuoso or Four Seasons Preferred VIP Amenities!