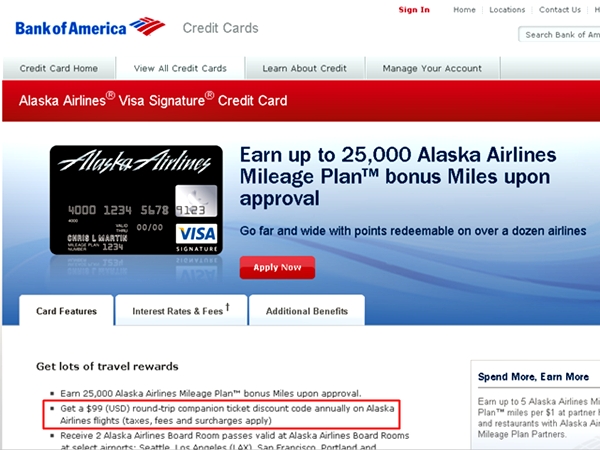 7/19 Update: Companion Fare Certificate visible in my Alaska Mileage Plan Account!
As expected, it notes that certificates issued after July 31, 2012 are valid for coach class only: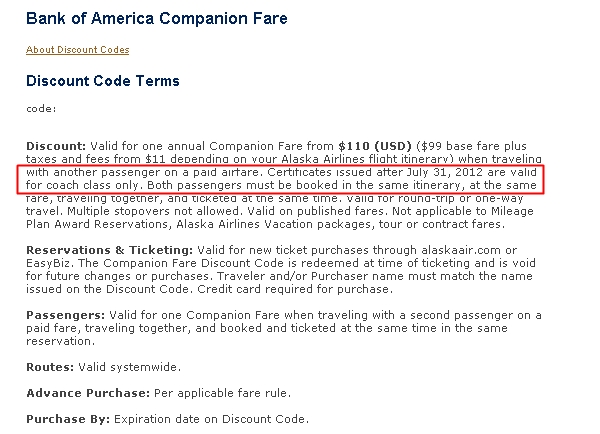 7/10 Update: Approved! Based on others' reports, I think I can expect the Companion Certificate to be issued within about 10 days, well before August 1st. And so far, the Alaska Visa application page has not added the restriction on no first class, so if you apply now, get it approved over the next day or so, you should also be able to get a Companion Certificate good for first class before the 8/1/12 deadline. Note that the Companion Ticket can only be used on Alaska Airlines flights, not partners.
Alaska Airlines has confirmed on their Facebook page that starting August 1, Companion Vouchers issued to Alaska Visa Signature cardholders will only be valid for coach travel. They attributed the change to "ongoing cost pressures and growing demand for limited space in First Class (particularly on flights to Hawaii and the East Coast)":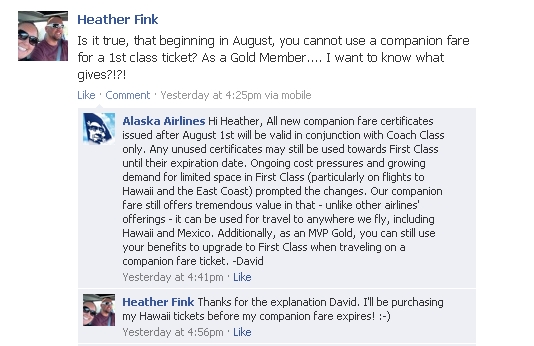 This comes less than 4 months after there was a furor over limiting the companion ticket to coach travel on the visa application page. See Alaska Airlines Visa Companion Ticket – No More First Class? Well, even though at the time they attributed the change because "people were getting confused about the 25,000 mile signup bonus being usable for a first class flight," it looks like that wording was a harbinger of real changes to come, and come fast–not much notice at all, in my opinion, since August 1 is just 3 weeks away.
Clearly, this coupled with the fact that Alaska also has eliminated the 1000 mile online booking bonus when using the Alaska Visa is not going to win Alaska friends among its existing Alaska Visa customers. It's perhaps not that surprising a move, though, given how many folks have gotten the Visa precisely in order to use the Companion Ticket for First Class, particularly for Hawaii, as we wrote in Tips for Booking Award Flights to Hawaii. Others point to the fact that these changes reflect a more accounting-driven organization, with more regard for the immediate bottom line and quarterly results than long term customer satisfaction.
But anyway, getting back to the Alaska Visa, here's the thing: I've checked the Alaska Visa landing page and terms, and so far, it doesn't mention restricting the Companion Voucher to Coach or that you can't use it in First Class: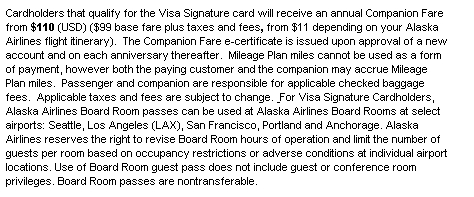 So what would happen if you applied now, got approved, and were able to get the Companion Voucher issued before August 1? After all, if your Companion Voucher is issued before August 1, it will be valid to book a First Class companion ticket. If it's issued after August 1, then it will only be valid for Coach.
I don't have a dog in this fight, as I don't earn a referral for this card, but I'll be doing my own experiment to see if I can get approved and get a voucher issued before August 1. It will be close, but I plan to call Reconsideration and see if I can expedite the process. If I don't get approved in time or am given a voucher that isn't valid for First Class, it should be possible to cancel without incurring the annual fee, since the current terms do not exclude First Class, so one can make a good argument that the product is not what was promised.
If you already have an Alaska Visa, before you cancel the card due to the devaluation, you might ask customer service if they can accelerate your voucher, especially if you would normally get it in August or September. They'll probably refuse, but could be worth a try, so that you could have one last voucher to use for First Class to Hawaii.
Of course, some folks will still find it worthwhile to keep the card even for coach travel, especially out of high cost airports such as Portland (PDX). If Alaska's airfares on a given route are in line with the competition, you just need the coach fare to be higher than $75 annual fee + $110 or so that you pay for the companion ticket to save.
As for Hawaii, while other airlines' credit cards may not have such good companion ticket offers, you could book a more comfortable experience on United's direct EWR-HNL route (not flat seats, but more comfortable than Alaska's) and Hawaiian Air's first product also tends to get higher marks than Alaska's. If you can fly out of Dallas, American Airlines has a slanted flat bed seat on its 767. And if you're on the West Coast and opt for Economy, LAX-HNL is just 12,500 Avios + $10.90 one way, 25K Avios roundtrip on American Airlines. So if you signed up for the British Airways Visa, that's 2 economy roundtrip tickets on AA after first use of the card. It's not Alaska Airlines first class, but it's a lot cheaper.
Related Posts
Alaska Airlines Visa Companion Ticket – No More First Class?
Maximizing Alaska Airlines Mileage Plan Awards
Tips for Booking Award Flights to Hawaii
How to Book a Business Class Award Ticket to Hawaii
Check out and apply for the Best Travel Credit Cards.
If you enjoyed this, please follow TravelSort on Twitter or like us on Facebook to be alerted to new posts.
Become a Member to find your perfect luxury or boutique hotel at up to 50% off: TravelSort Hotels