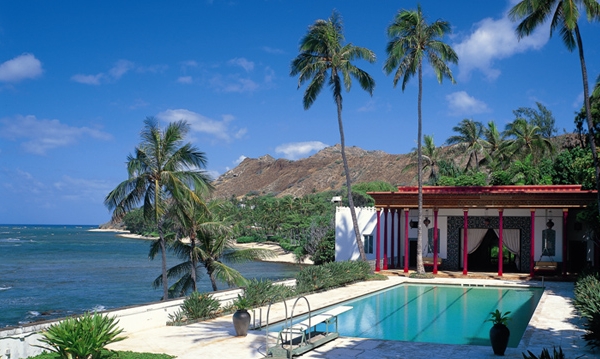 September 2012 Update: I was wondering when Alaska Airlines would get around to notifying recent Alaska Visa cardholders that the companion ticket first class benefit has gone away. Well, today I got a letter that reads in part [bolding is mine]:
"….Each year on your account anniversary, you receive a Companion Fare from $110 ($99 base fare, plus taxes and fees from $11 depending on your Alaska Airlines flight itinerary) good for airfare anywhere Alaska Airlines flies, including Hawaii and Mexico. Companion Fares issued beginning August 1, 2012 may be used for purchasing coach class tickets only. This change was necessitated by ongoing cost pressures and growing demand for limited space in first class, which made the costs of continuing to offer the Companion Fare for first class bookings unsupportable. Your Companion fare still remains unrestricted by blackout dates, minimum fare requirements or other limitations, and continues to offer what we believe is a top value in the industry. If you currently have a Companion Fare code in your Alaska Airlines 'My Account', you can apply it to a first class booking until its expiration date…"
Confirms what we suspected in terms of Alaska cutting the first class benefit due to it being too expensive, and most importantly for those that do have a voucher issued prior to August 1, confirms that these will be honored until expiration. So if you have a voucher issued July 1, 2012, you could wait until June 2013 and book companion first class fares through the first half of 2014.
Original Post
As I wrote a few days ago in Alaska Visa Companion Ticket: No First Class from August 1, Alaska Airlines confirmed to existing Alaska Visa cardholders that starting August 1 2012, Alaska would start issuing companion vouchers that are only valid for roundtrip coach travel. Hence, I proposed trying to get in one more application before companion vouchers valid for first class travel go away. I applied for the Alaska Visa, which is issued by Bank of America, and although I wasn't instantly approved, I called in and was approved.
As an aside, Bank of America seems to be stricter than other banks in terms of enforcing the new rules that they inquire about individual income, not just household income. While it wasn't an issue for me, I could see it being an issue for anyone who's a stay-at-home spouse or partner.
In any case, I asked the helpful agent if the card could be expedited to me, and he was happy to oblige. He did note that as the approved card does go through Alaska Airlines to fully set up, it could take about 12 days, but to my pleasant surprise, I received the card today.
And apparently, they haven't gotten around to changing the language on the welcome materials yet: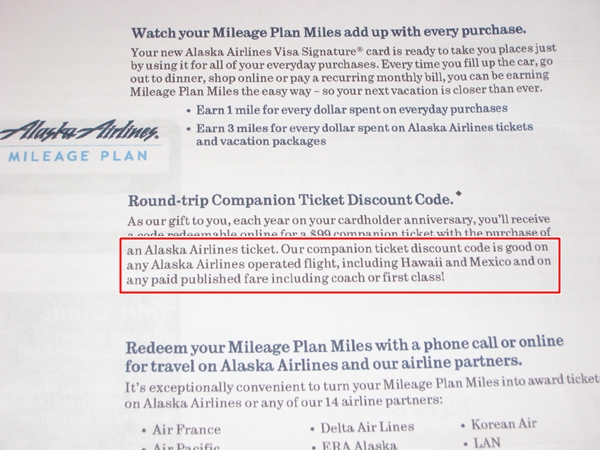 I feel badly for anyone who just applied for the card without hearing about the controversy surrounding the elimination of the first class benefit for companion tickets–they would rightly assume from the materials that if they keep the card they'll get a second companion voucher good for first class, in about a year's time. Boy, are they wrong!
So, now we have 2 first class tickets to Hawaii for my husband or I plus the the munchkin accounted for (rules require we buy the first ticket, then pay ~$111 for the companion ticket), possibly with a stopover on the West Coast. Alaska companion tickets are only valid for roundtrip tickets, not multi-city itineraries, but there seem to be fairly recent reports of people doing a stopover or open jaw, or even both, though I wouldn't count on it. As we did our last time, we'll likely split up on the trip over and back, such that either my husband or I will get a third award ticket, perhaps one way in business using 40,000 United miles from the over 100,000 United miles I've earned from the Ink Bold (see How to Book a Business Class Award to Hawaii) and the other a combination of AA in coach from Hawaii to the West Coast for 12,500 Avios from the British Airways Visa – 100,000 points offer plus United Business First lie flat 757-200, which I recently reviewed for EWR-LAX.
Related Posts
Alaska Airlines Visa Companion Ticket – No More First Class?
Maximizing Alaska Airlines Mileage Plan Awards
Tips for Booking Award Flights to Hawaii
How to Book a Business Class Award Ticket to Hawaii
Check out and apply for the Best Travel Credit Cards.
If you enjoyed this, please follow TravelSort on Twitter or like us on Facebook to be alerted to new posts.
Become a Member to find your perfect luxury or boutique hotel at up to 50% off: TravelSort Hotels