Which airlines offer the best first class food? While of course the seat, bed (see Best First Class Airline Beds), service and amenities such as first class lounges and complimentary chauffeur airport transfers tend to be more important factors for most first class passengers, quite a bit of airline marketing seems to focus on the food. Based on the airlines I've flown, here's my take on the airlines with the best first class food.
1. Qantas First Class
My recent Qantas First Class flight left me very impressed with the culinary offerings. Since it was a night flight and I wanted to be able to get some sleep, I opted for appetizers and dessert.
The Venison Carpaccio Salad was the best savory item I've eaten so far on a plane, included an abundance of thin venison slices and meaty wild mushrooms, all expertly dressed over salad.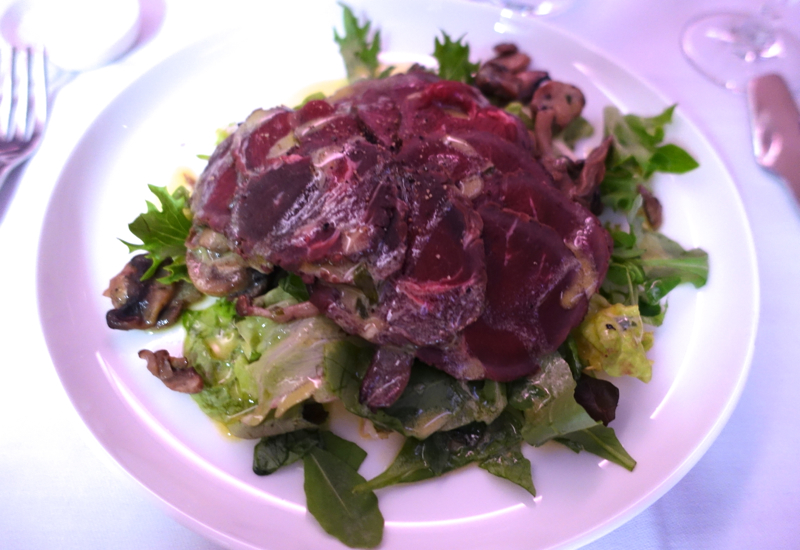 The chestnut soup was simpler, but also delicious: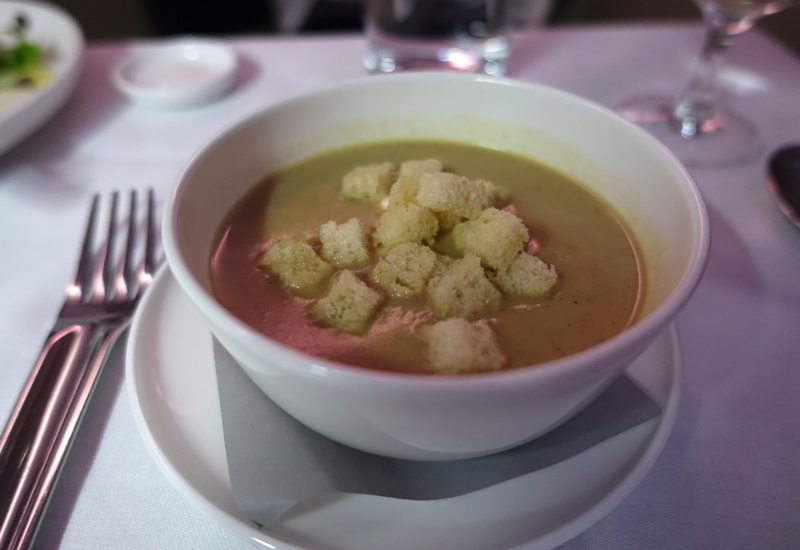 I tried both desserts, the baked lemon pudding with plums, which was homey and satisfying: And the real standout, a chocolate macaron with fresh raspberries that could have come from Pierre Herme, given how beautifully presented and mouthwatering it was.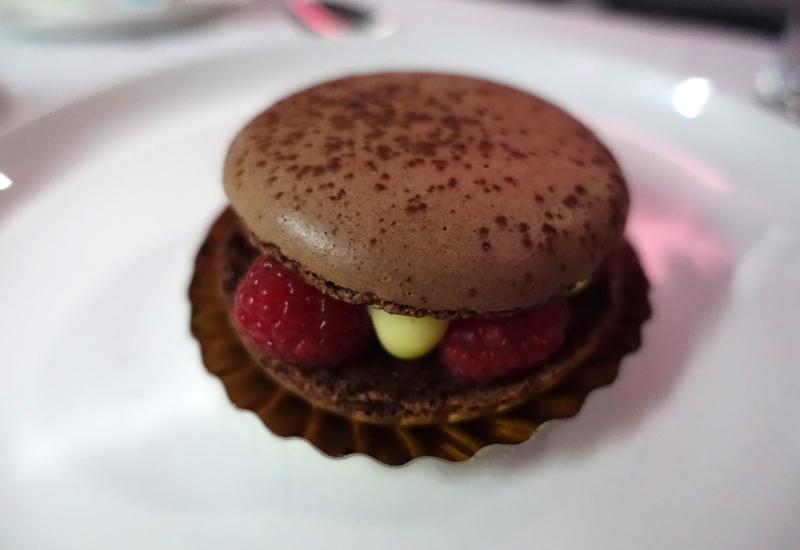 The icing on the cake? Amedei chocolates—easily the best quality chocolates I've ever been served on a flight. Whoever is catering Qantas flights has impeccable taste.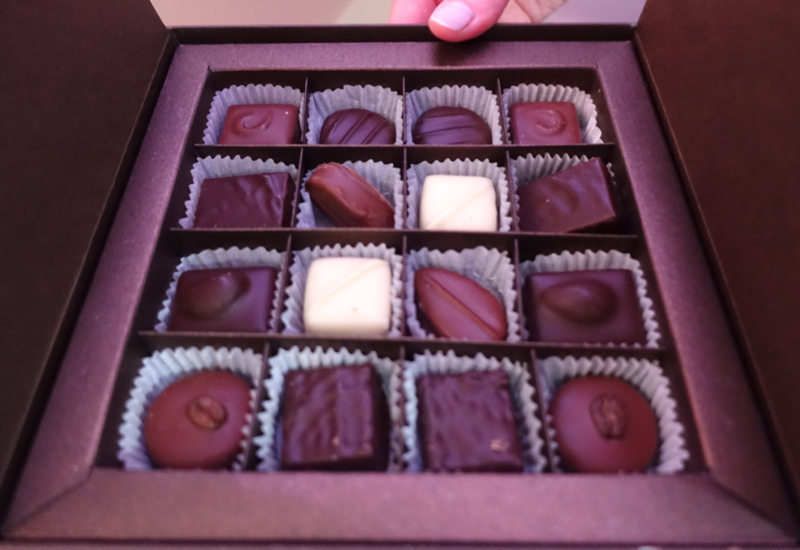 Earning Miles for a Qantas First Class Award
Qantas is part of oneworld, so you'll want to use AAdvantage or US Airways Dividend miles:
2. Singapore Suites / Singapore First Class
If Qantas First Class wins the best quality award, Singapore First Class should win the best variety award, thanks to its Book the Cook service, which enables Singapore Suites, Singapore First Class and Singapore Business Class passengers to select their meal in advance. You can see some of my favorite choices in this post: Singapore Airlines Book the Cook Review.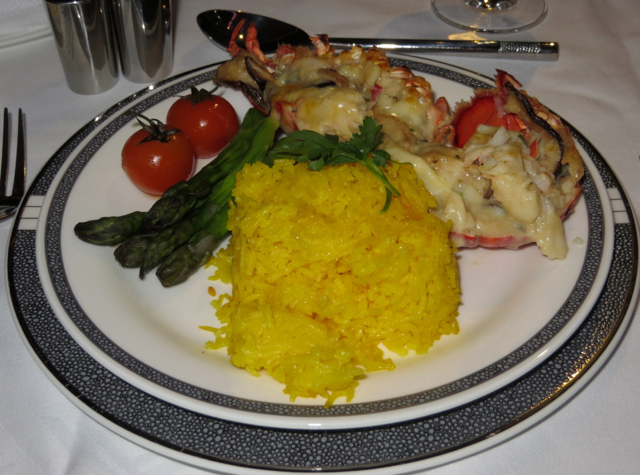 Earning Miles for a Singapore Suites or Singapore First Class Award
You'll need Singapore KrisFlyer miles to book Singapore Suites or Singapore First Class. Fortunately, American Express Membership Rewards points, Chase Ultimate Rewards points, Citi Thankyou points and SPG points all transfer to Singapore KrisFlyer.
Asiana may not have the very best Asian or the very best Western food of all airlines' first class, but I wouldn't be surprised if it's best among airlines offering both Asian and Western options. If you enjoy Korean food, you're in for a treat, with the Bi Bim Bap and the assorted ban chan that come with it.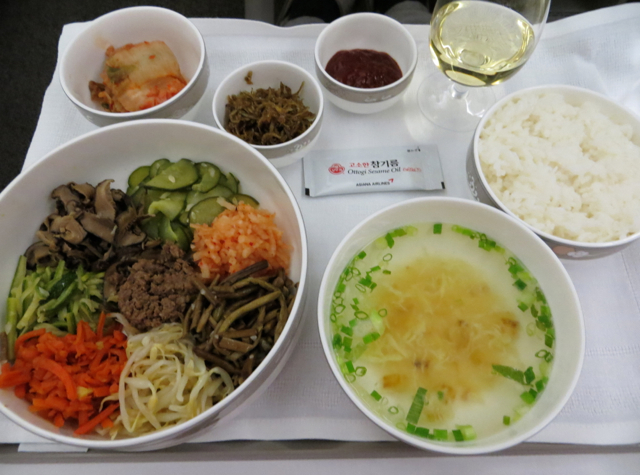 Western options such as seafood and steaks are also prepared extremely well, and will be satisfying to those who don't want too much culinary adventure, a la Lufthansa. Plus, Asiana is one of only a few airlines that do a refreshing sorbet palate cleanser, always a nice touch.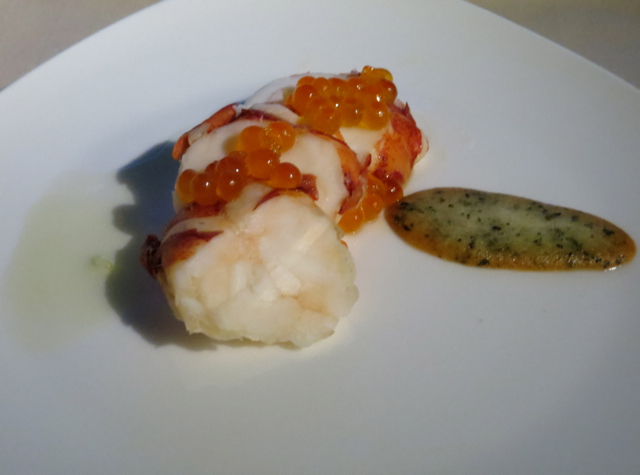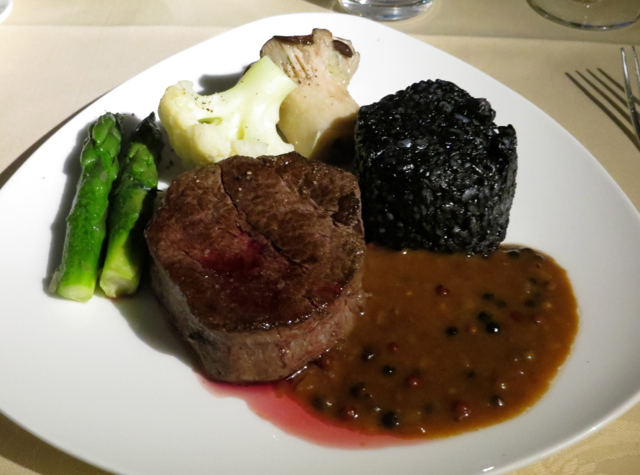 Earning Miles for an Asiana First Class Award
Prior to the United Award Chart Devaluation, the best frequent flyer miles to redeem for Asiana First Class were United miles, with no fuel surcharges. With the increase in miles required, you'll use fewer miles redeeming with LifeMiles (beware of no mixed class awards and horrible call center, however) or for a potentially less frustrating experience but more miles (yet still fewer than with United miles), try KrisFlyer. There are frequent buy Lifemiles promotions if you have a pre-existing account, although purchase rates have increased. As noted above, most transferable points can transfer to KrisFlyer.
Cathay Pacific First Class food is a bit hit and miss. One of my favorite appetizers, until they changed the offering, was their Caviar served with Balik Salmon—particularly the Balik Salmon, since I liked it even more than the caviar. The current offering is a full jar of caviar and accompaniments, but no Balik Salmon.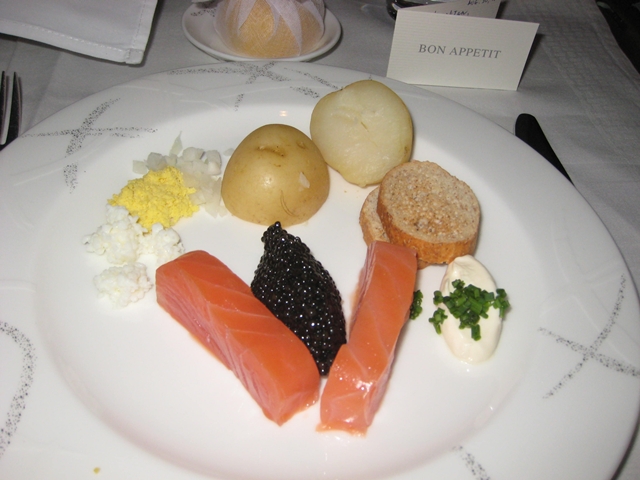 I've never cared for most of the Chinese food offerings, having grown up with great Chinese food in Hawaii, but sometimes there's been a weirdly delicious surprise, such as the mock duck dish I tried on a Cathay Pacific NYC to Vancouver flight.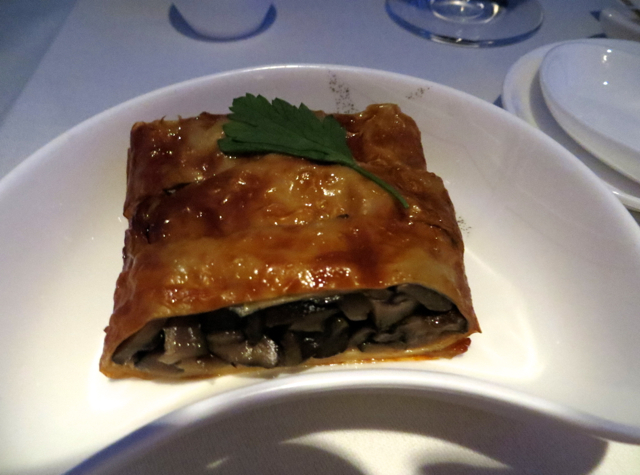 I also enjoy their Hong Kong style egg tarts as a snack: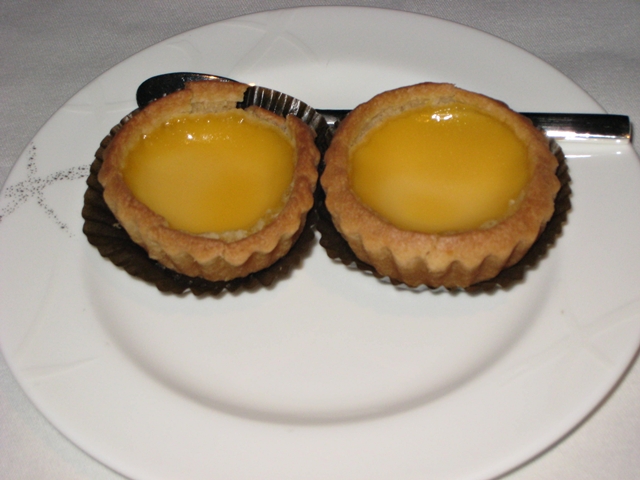 And I do have to give props for offering my favorite type of French yogurt, La Ferme du Manege, as part of the breakfast.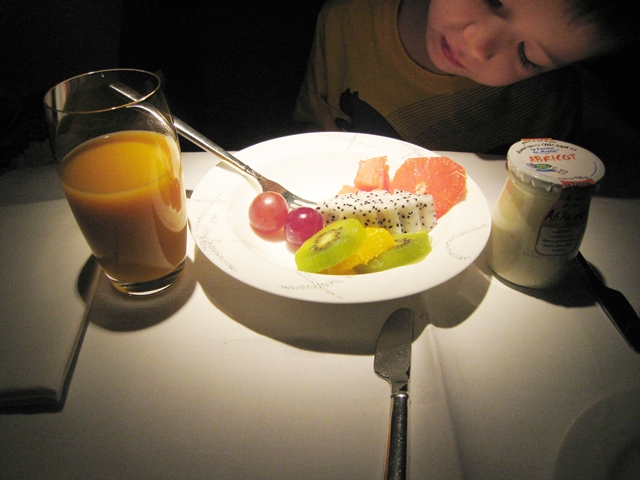 Earning Miles for a Cathay Pacific First Class Award
Cathay Pacific is part of oneworld, so you'll want to use AAdvantage or US Airways Dividend miles:
5. British Airways First Class
Whatever you do, don't order the burger in the British Airways Concorde Room or First Class Lounge—it would be hard to get a worse burger. But in the air, the catering is quite good, for example the Salmon Trio including Balik style salmon, and the Grilled Prawn Salad with Blood Orange Dressing: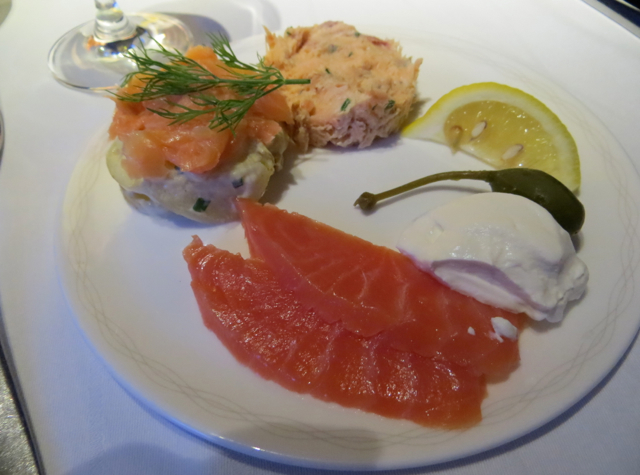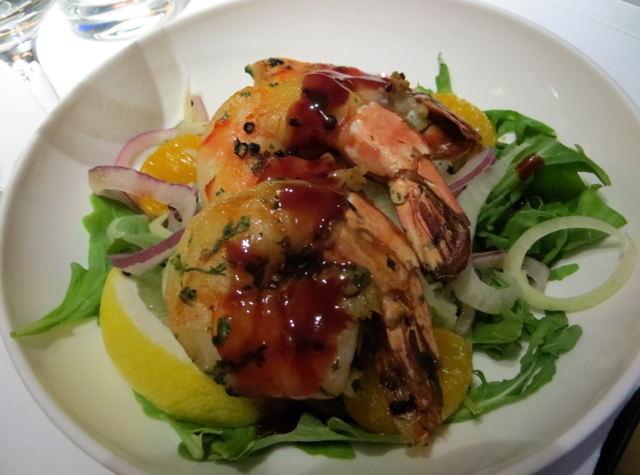 Where British Airways usually shines is in cheese and desserts. Kudos to them for going beyond the usual Brie or Camembert, Gorgonzola and Swiss to offer some unpasteurized milk varieties with more character.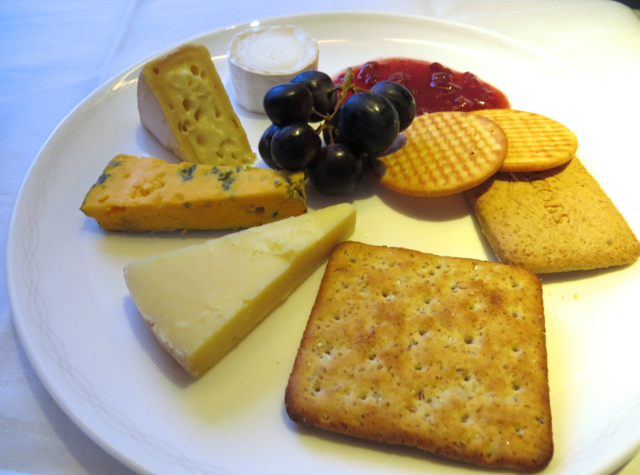 Similarly, I was happy to see and taste this Bramley apple and blackberry dessert. Bramley is my favorite cooking apple of all time, but is nearly impossible to find outside the UK. This is my favorite fruit dessert I've had on a flight so far.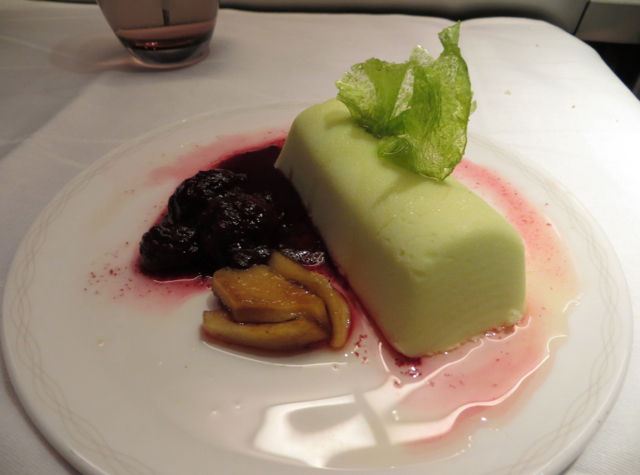 Earning Miles for a British Airways First Class Award
The British Airways Visa is a popular choice for those with high spend who are able to earn the companion voucher. See Best Travel Credit Cards for current link, and also How to Maximize the British Airways Companion Ticket on Award Travel.
Etihad makes much of having a chef on board, and while the reality may not live up to the hype, I will say the chocolate dessert he created on our Etihad flight was so good I ordered it again later in the flight. It may not look like much, but it was decadent dark chocolate and delicious.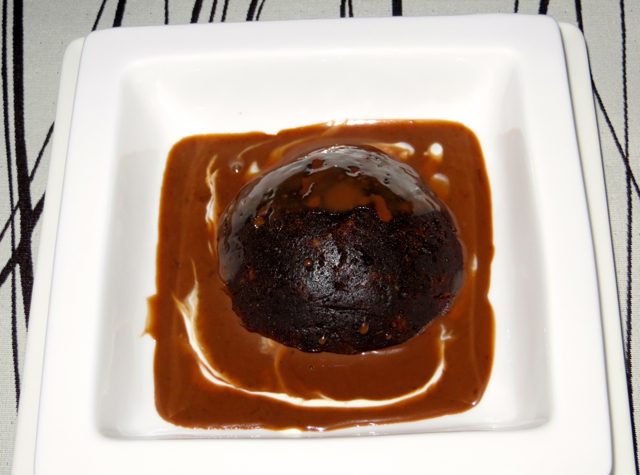 I also enjoyed the Arabian mezze starter: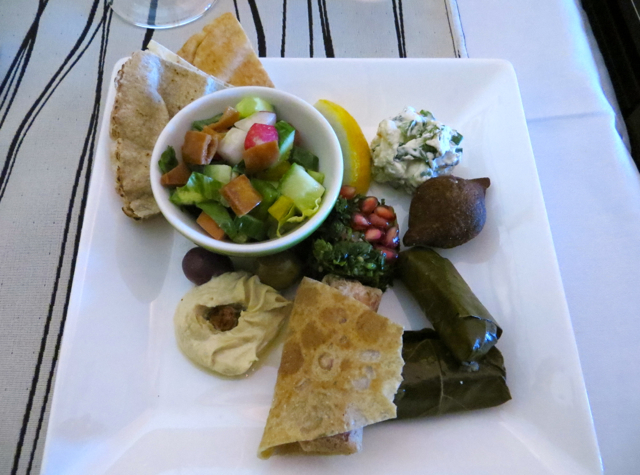 And my husband's Lamb Biryani was fantastic: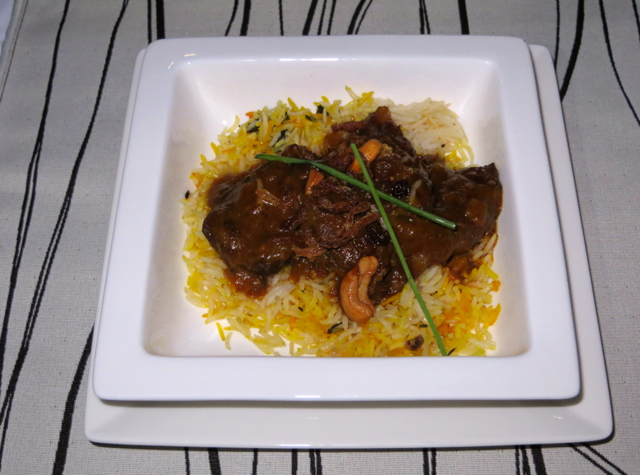 It's also the only flight so far where the munchkin has been able to order pizza and really enjoyed it.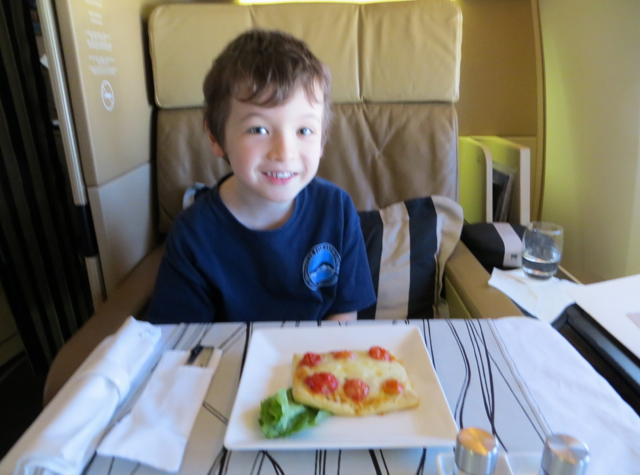 Given that I wasn't too impressed with most aspects of Emirates First Class, except for the onboard shower, I'd say that the food is one of the highlights. Both the starter and the lamb main dish were excellent: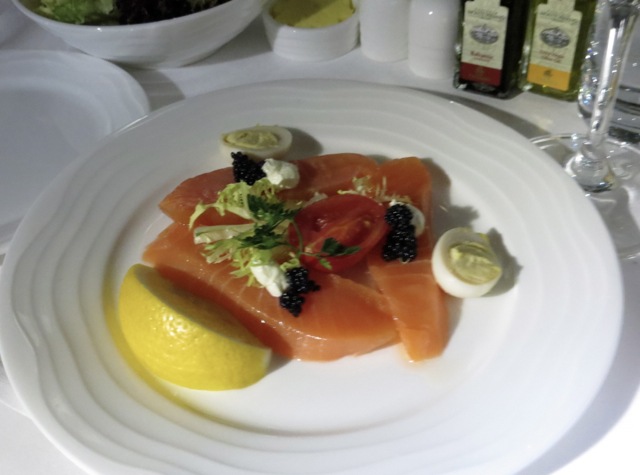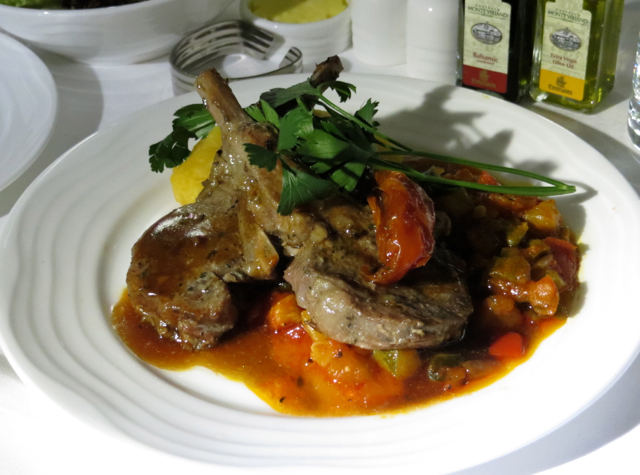 The dessert, however, was entirely forgettable, and I took only a couple bites before deciding not to waste calories on it.
And what's with that basket of cheap junk food, including Pringles potato chips, Mars bar, etc.?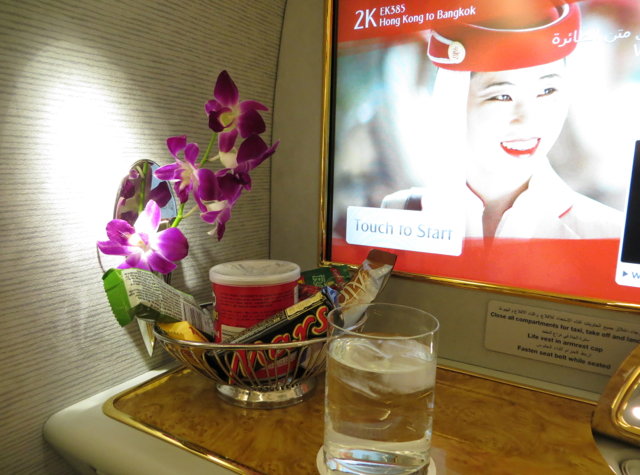 If you're thinking Lufthansa serves traditional, hearty German cuisine, you couldn't be more wrong. Lufthansa tends to offer modern cuisine, and sometimes it works, sometimes it doesn't. One that worked well, both presentation-wise and in taste, were these beet goat cheese "ravioli":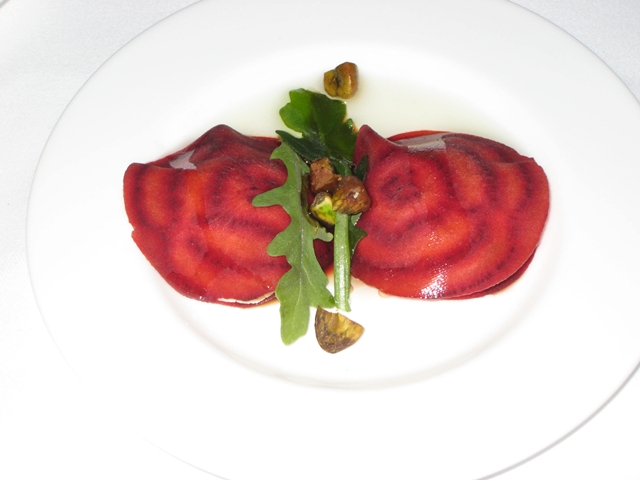 On the other hand, the Poached Lobster in Saffron Reduction was a definite miss, with tasteless, rubbery lobster: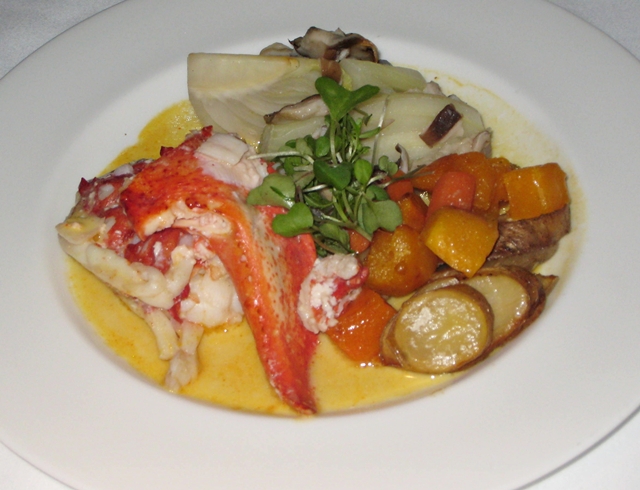 Which airlines do you think offer the best first class food?
Related Posts
Best First Class Airline Seats for Couples
Singapore Airlines Book the Cook Review
Asiana First Class Suite Review
British Airways New First Class 777 Review
Need Award Booking Help? Our fee is as low as $75 per ticket if you book your hotel through us.
If you enjoyed this, join 200,000+ readers: please follow TravelSort on Twitter or like us on Facebook to be alerted to new posts.
Become a TravelSort Client and Book 5-Star Hotels with Virtuoso or Four Seasons Preferred Partner Amenities!