Airline Award Charts are a key part of miles and points redemption strategy, so I wanted to provide a list of some of the top frequent flyer programs' award charts. The differences among airline award charts are another reason why it's important to Diversify Your Miles and Points portfolio, as I advise my Award Booking Service clients. If you have a few hundred thousand miles in each of the most valuable programs, you can often save some miles either thanks to a points transfer bonus or by using an award chart that charges fewer miles.
A few pointers for those new to miles and points:
Check the airline award chart for the miles you have. So if you're planning to fly Singapore with United miles, you'd look at the United Airlines Award Chart.
Note that there are limited award seats: an airline won't make all seats available for award redemption, so it pays to plan your trip early (ideally a year or many months in advance) and be flexible with travel dates
Not all Airline Award Charts allow one way awards: for example, Delta and US Airways only allow roundtrip awards (a huge disadvantage, in my view).
Keep in mind that miles aren't the whole story: you will pay taxes on tickets, and sometimes fuel surcharges and the airport departure taxes as well. In general, United and American are best for avoiding high fees. British Airways charges high fuel surcharges, although it can still be worth it to some as award availability for business class tends to be better than some other options to Europe, and business class is always flat bed.
While most airlines belong to one of the 3 major alliances (Star Alliance, Oneworld or Skyteam) they sometimes also have additional airline partners that can be useful.
Star Alliance Airlines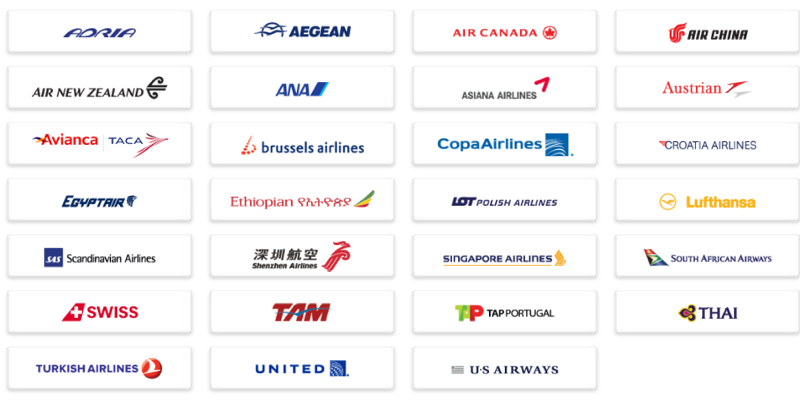 Oneworld Alliance Airlines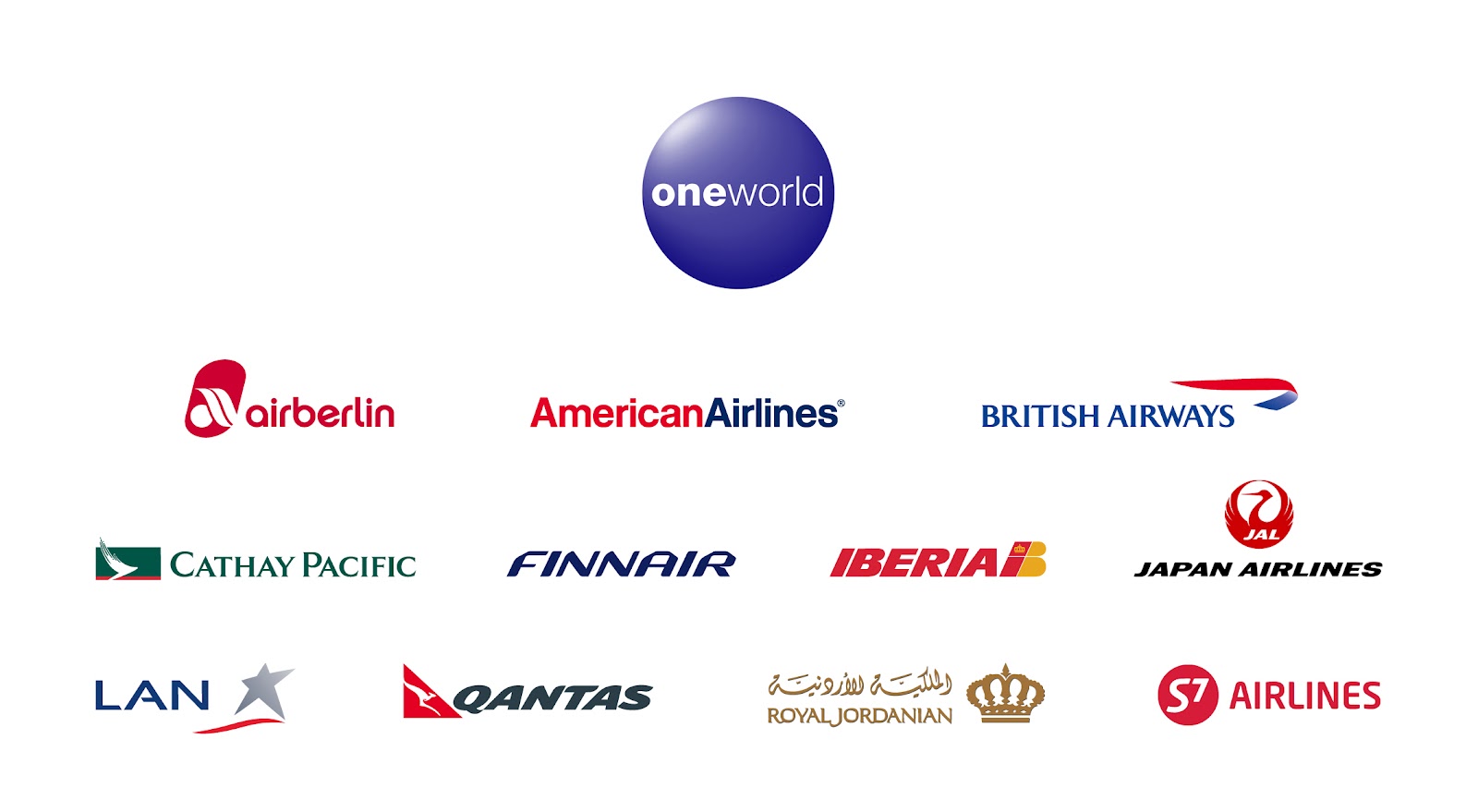 Skyteam Alliance Airlines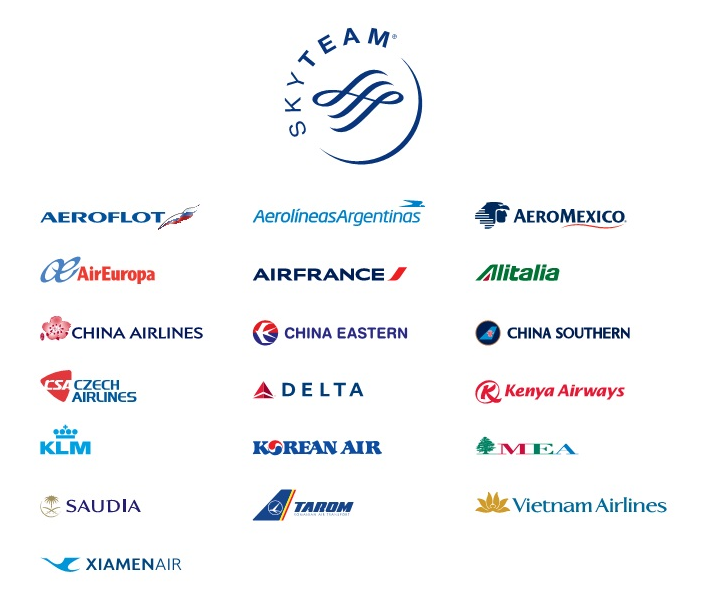 Air Canada Aeroplan (Star Alliance)
Aeroplan used to have a great award chart, and I did a mini round the world trip with Aeroplan miles that included ANA Business Class, Singapore Business Class, Thai Business Class and Swiss Business Class. Unfortunately, Aeroplan devalued its award chart and now Aeroplan imposes fuel surcharges on many Star Alliance Partner Airlines, such that I haven't personally used Aeroplan for my own awards for over a year now.
Air Canada and Star Alliance Award Chart (Roundtrip)
Alaska Airlines Mileage Plan
Alaska doesn't itself belong to any of the three major alliances, but you can credit American or Delta miles to Alaska and it has some great partners, such as Cathay Pacific and Emirates. See Maximizing Alaska Airlines Mileage Plan Awards.
The problem is that until recently, you couldn't book any one way awards, and you can't mix partners on an award ticket (except for using Alaska Airlines to the international gateway city). Now, as we reported in Alaska Airlines: Some One Way and Mixed Partner Awards Now Available, that's starting to change. You can now book one way awards on British Airways and American, and if a one way segment on Delta is included as part of a mixed partner roundtrip award, half the number of Delta miles is charged (although you cannot book a straight one way on Delta alone).
Continental U.S. and Canada Awards
Africa, Middle East and India Awards
Australia, New Zealand, South Pacific
List of Alaska Airlines Partners
American Airlines (Oneworld Alliance)

Update: See American AAdvantage 2016 Award Chart Devaluation
Note that amounts are for one-way; double them for roundtrip travel. Many partner awards cannot be booked online, you'll need to call to book. Be sure to check out our posts Maximizing Awards Using American AAdvantage Miles for award tips.
American Award Chart (Flying on AA only)
Oneworld and Partner Award Charts (prior to March 22, 2016)
Oneworld and Partner Award Charts AFTER 3/22/16 Devaluation (effective March 22, 2016)
List of American Airlines Partners
British Airways Executive Club (Oneworld Alliance)
After the major 2011 devaluation, British Airways did not release a new award chart; it only released an Avios Calculator. British Airways Avios are no longer the best bet for long haul flights on partners, such as the fantastic Cathay Pacific First Class flights we took to and from Hong Kong using pre-devaluation British Airways miles. Avios are good to have, however, for short haul nonstop flights within a given region, such as intra-Europe, intra-Asia, intra-Australia and within North America or from California to Hawaii on American. My favorite North American flight using Avios? Cathay Pacific First Class between NYC and Vancouver.
British Airways awards are distance based and there has since been a New British Airways Devaluation, so consult that post for the latest award chart.
Delta (Skyteam Alliance)
As I mentioned above, Delta does not have one-way awards; if you fly one-way, it will be the same number of miles as a roundtrip award. It is very challenging to find low level award availability on Delta, which is why they've been nicknamed "Skypesos" and are not worth as much to most travelers as United or American miles.
Since the most recent Delta award chart devaluation all the award charts have been removed, so please see my Delta's Missing Award Charts post.
Singapore (Star Alliance)
Singapore Saver, Standard and Full Award Charts (one way)
Star Alliance Partner Award Chart (roundtrip)
List of Singapore Airlines Partners
United MileagePlus (Star Alliance)

United Award Charts (pdf)
Related Posts