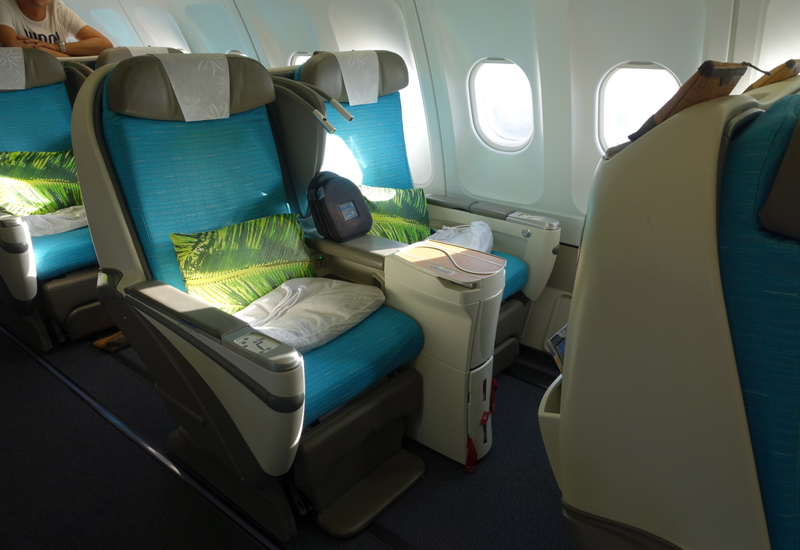 This Air Tahiti Nui Business Class Review on the A340-300 is from our recent trip to Bora Bora and New Zealand. It's always good to get another perspective on an airline and product by flying a product again, and we had the opportunity to do just that on our second Air Tahiti Nui Business Class flight from Papeete to Auckland, New Zealand, after a memorable stay in Bora Bora.
Papeete is a small airport, so flights board from the tarmac: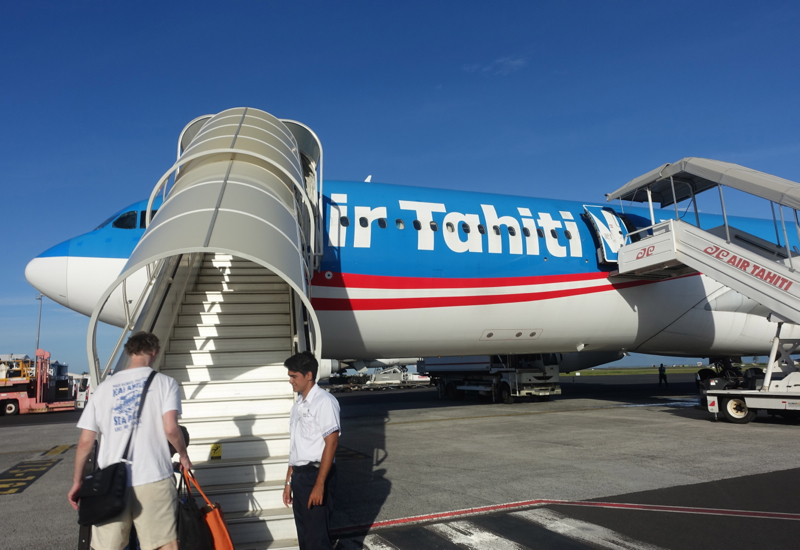 We left close to our scheduled departure time, and soon had our last aerial view of Tahiti: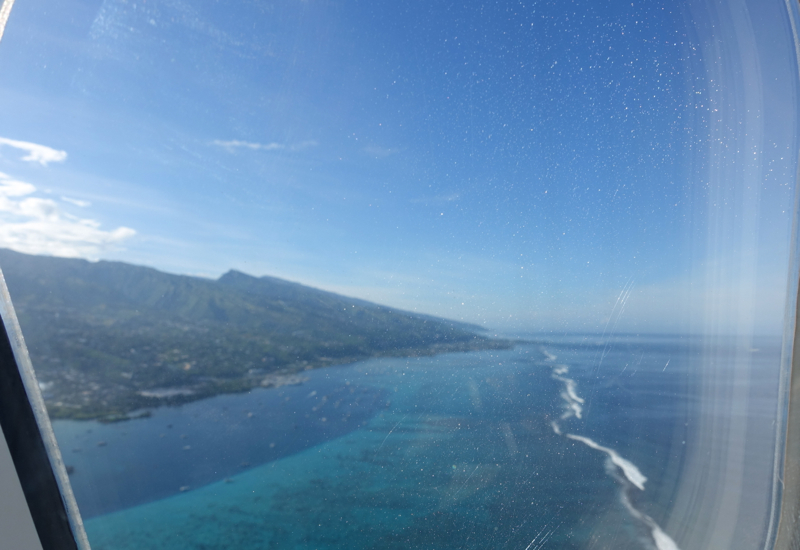 Air Tahiti Nui Business Class Cabin 
On board, I was able to take better photos of the Business Class cabin, with better natural light, than I was on our prior overnight flight from Los Angeles LAX to Papeete PPT. That flight had been completely full, whereas this flight was about half full in Business Class, which has 30 seats in a 2-2-2 configuration.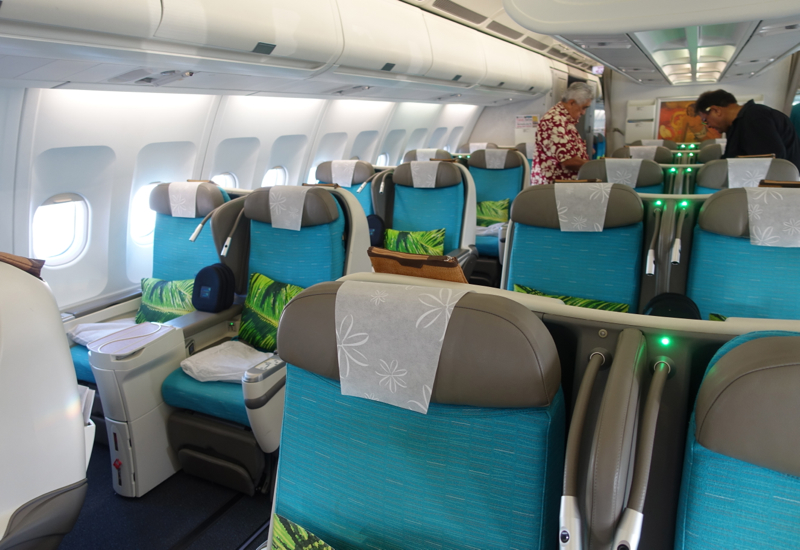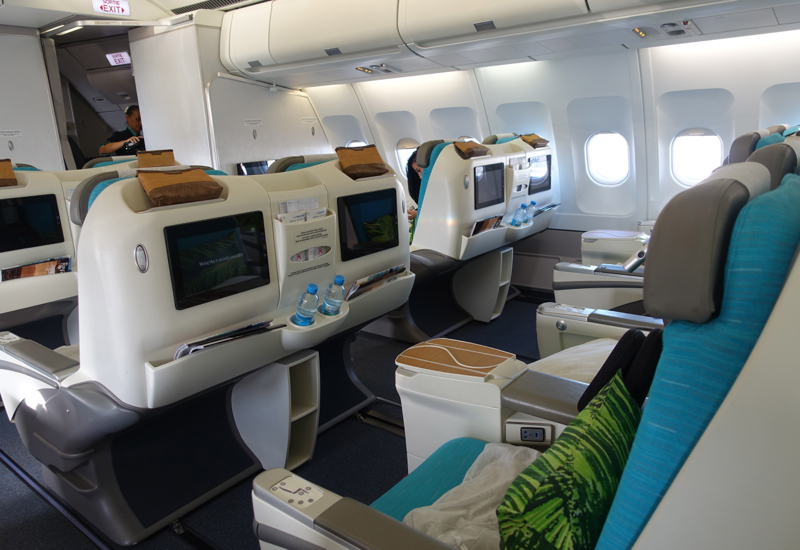 Air Tahiti Nui Business Class Seat 
Air Tahiti Nui's Business Class seats are in cheerful tropical colors—not many seats are in bright turquoise. The fabric covered seat is reasonably well padded and comfortable in the sitting position, although fairly narrow, at just 20.5 inches across.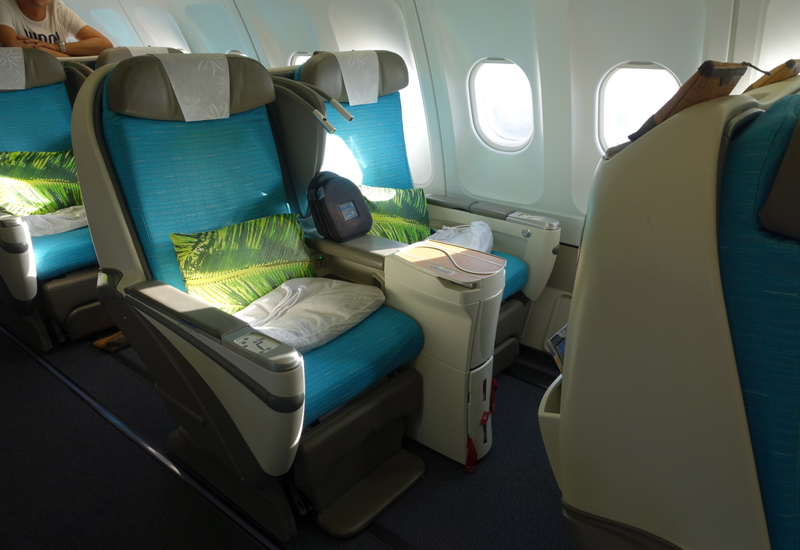 Armrest space is shared with your neighbor, and there's just barely enough space for each of you to have a pre-flight drink on the armrest. After trying the sparkling wine (pretty terrible) I quickly switched to orange juice.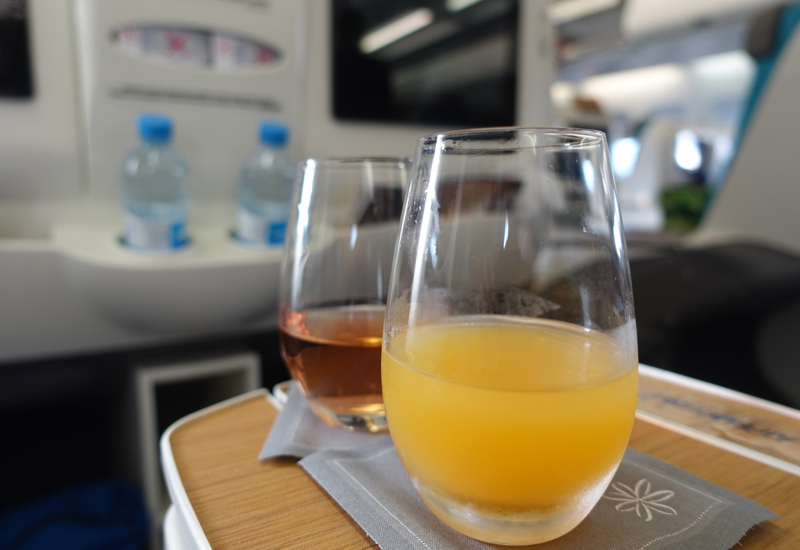 Note that there's no "half tray table" position, there's only a full tray table that pulls up vertically out of the armrest and goes across your seat.
As I mentioned in my prior post, I didn't find the angled flat bed comfortable at all for sleeping, but fortunately this was a morning flight, so I just lounged and rested in the seat with no expectation of sleeping, which was fine.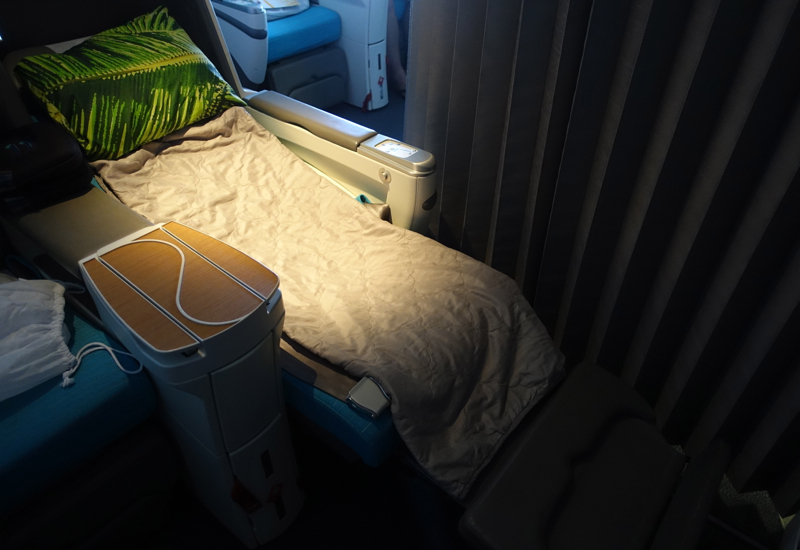 Air Tahiti Nui Business Class Menu and Food, Papeete to Auckland
We were given the following breakfast menu for our Papeete to Auckland flight: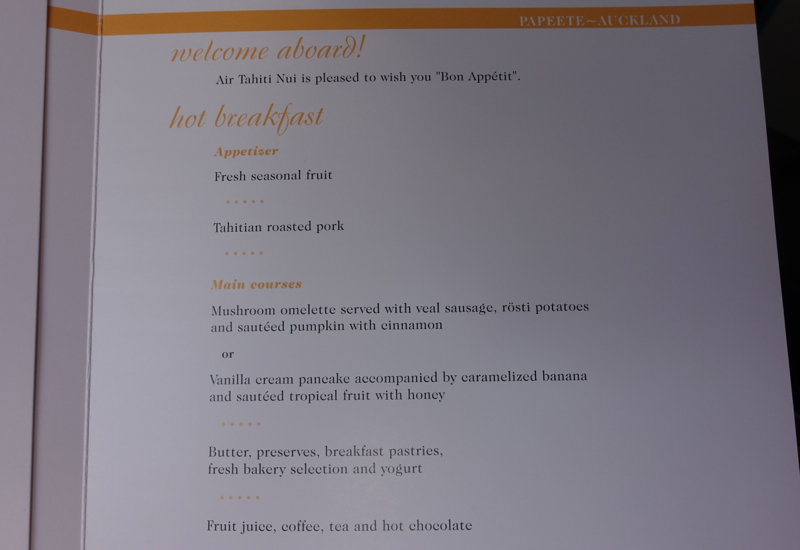 When served, the foil cover was still over the food, whereas typically flight attendants remove this before serving, in business class.
The omelet didn't look very appealing and I was hoping for more of the pumpkin side, but I finished everything since I was ravenous. For travelers used to flying business class internationally, however, this was a fairly underwhelming breakfast entrée.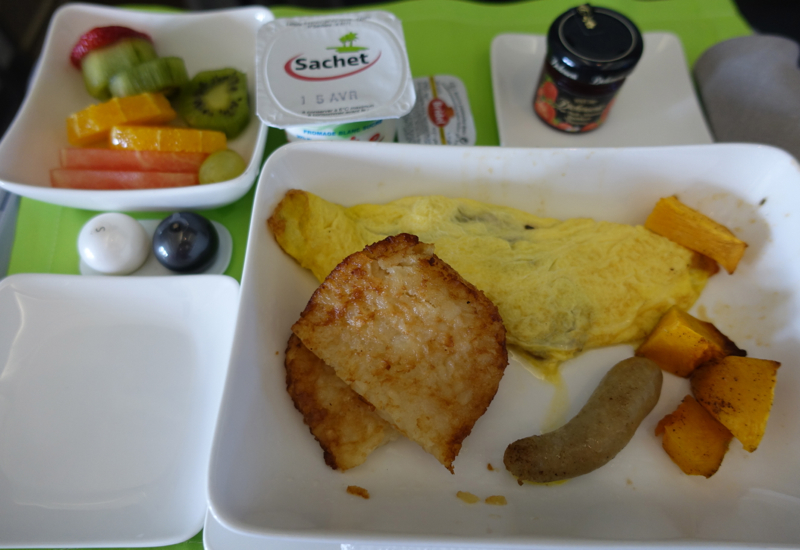 The fresh fruit consisted of kiwi, orange and watermelon with a single grape and tiny sliver of strawberry.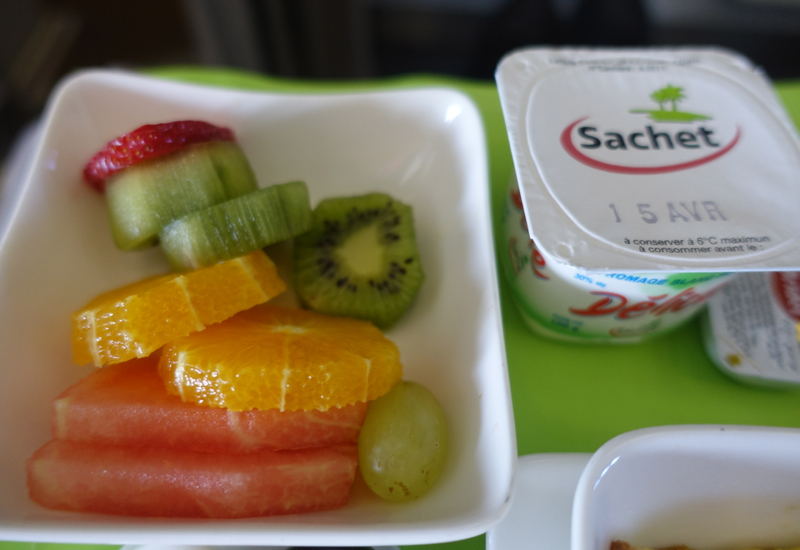 I did like the cup of fromage blanc and the mini pain au chocolat pastry.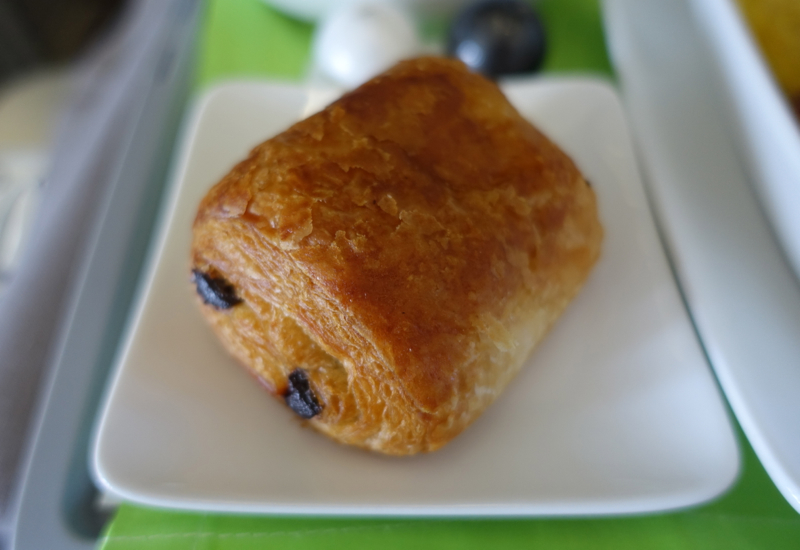 The Tahitian Roasted Pork, which had been listed on the menu as a breakfast appetizer, was served after the meal. It was the tastiest part, and was like char siu pork.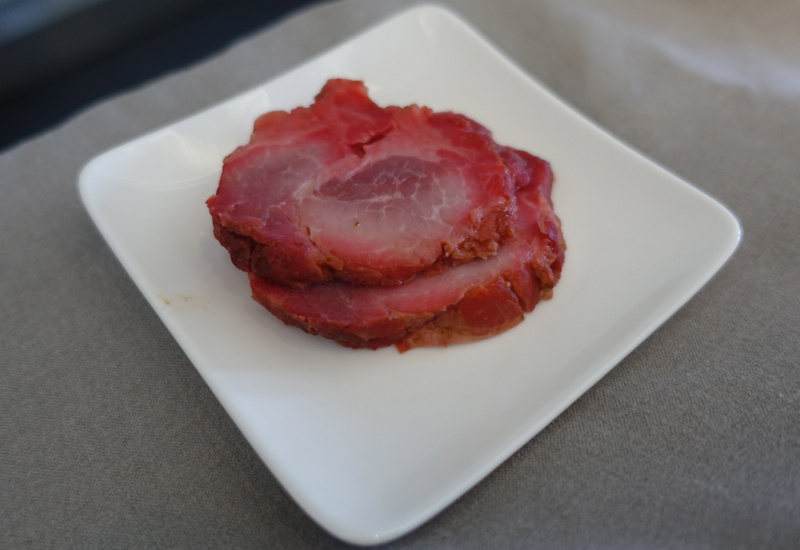 The Verdict 
It's important to manage expectations where Air Tahiti Nui Business Class is concerned. I would avoid any overnight flight, at least until/unless Air Tahiti Nui offers a true flat bed seat, since the angled flat seats aren't comfortable for sleeping, at least for me. But the seats were comfortable enough for lounging on this daytime flight of just over 5 hours from Papeete to Auckland, New Zealand.
In terms of food, for other readers old enough to remember when airlines served economy meals in real dishes, with stainless steel utensils, that was the food quality level—fine but nothing special and fairly subpar for present day international business class. It also may not be enough for hungrier appetites—the food was about the right amount for me, but my husband was still hungry at the end of the flight.
Service was friendly on our Papeete to Auckland flight, so that part was pleasant.
Related Posts
Papeete Airport Business Class Lounge Review
Air Tahiti Nui Business Class Review
Flat Bed Business Class to Tahiti and Bora Bora?
InterContinental Tahiti Review
Need Award Booking Help? Our fee is as low as $75 per ticket if you book your hotel through us.
If you enjoyed this, join 200,000+ readers: please follow TravelSort on Twitter or  like us on Facebook to be alerted to new posts. 
Become a TravelSort Client and Book Your Hotel with Virtuoso or Four Seasons Preferred Partner Amenities!