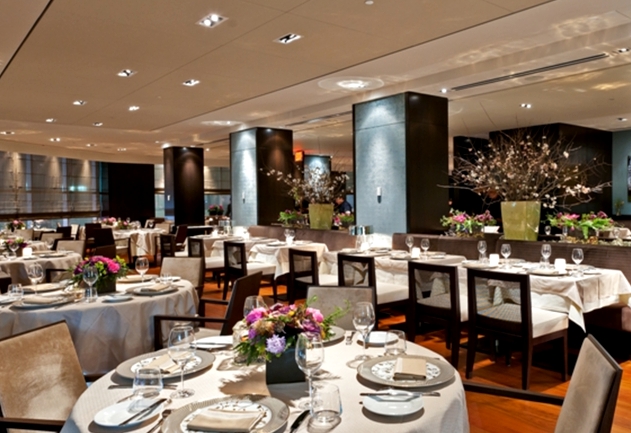 Ai Fiori has one of the most exclusive locations as far as hotel restaurants in New York City go—it's the flagship restaurant of The Setai Fifth Avenue, which we rank among the top 5 hotels in NYC. That made it a must-try during NYC Restaurant Week, even though once I saw the menu I regretted not trying it during the last NYC Restaurant Week. That's because Executive Chef Michael White is known for exquisite Italian cuisine, particularly handmade pastas. And while the current NYC Summer Restaurant Week menu does feature a simple pesto pasta as a main course option, last time I remember that one of White's signature pastas, the squid ink seafood pasta, was one of the appetizer choices. Ah well—my husband and I decided to try Ai Fiori for lunch anyway, even with the rather unexciting Restaurant Week menu.
Not having been to Ai Fiori before, I initially arrived at the Bar on Fifth, only to learn that Ai Fiori is upstairs. The staircase, teardrop sculpture, and restaurant and bar design is all quite sleek and stunning: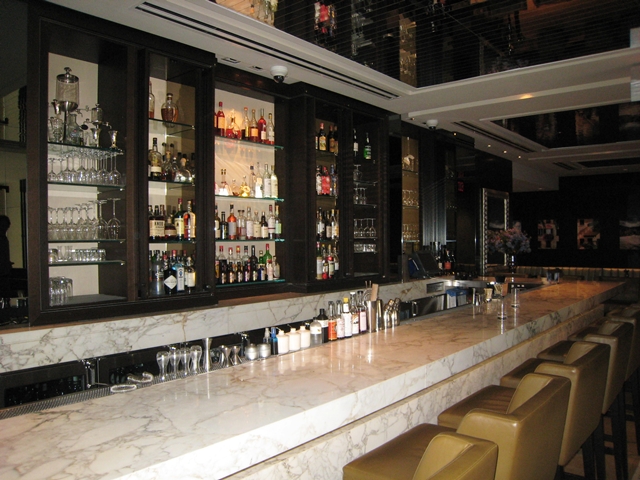 I was greeted by the hostess, who led me to the table where my husband was already seated at. I double checked the menu, which was the same as on the Ai Fiori site (at least they hadn't changed anything, as at Bann Korean):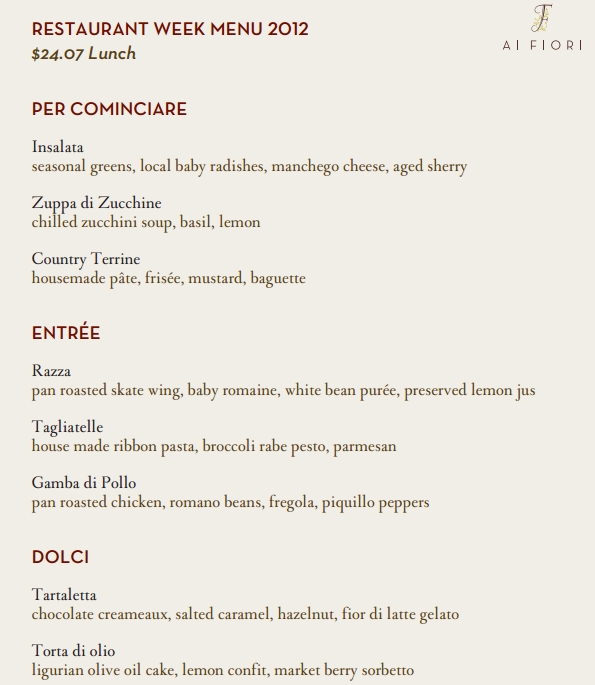 Our server asked my drink choice, and soon after took our orders: country terrine, pan roasted chicken and chocolate cremeaux for my husband, and zucchini soup, pan roasted skate wing, and chocolate cremeaux for me. Appetizers were quite quick to come out, presumably because they were both cold. Although I'd ordered the chilled zucchini soup for the sake of variety, I immediately regretted my choice when I saw the miniscule portion that had been poured around the dainty zucchini slices in the bowl: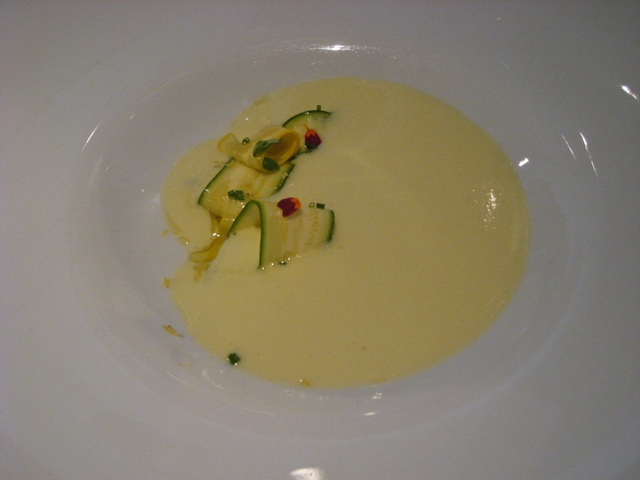 My husband was nice enough to share his country terrine, which was delicious, and came with grainy mustard, frisee salad, cornichons, and some toasted baguette. Definitely the better choice.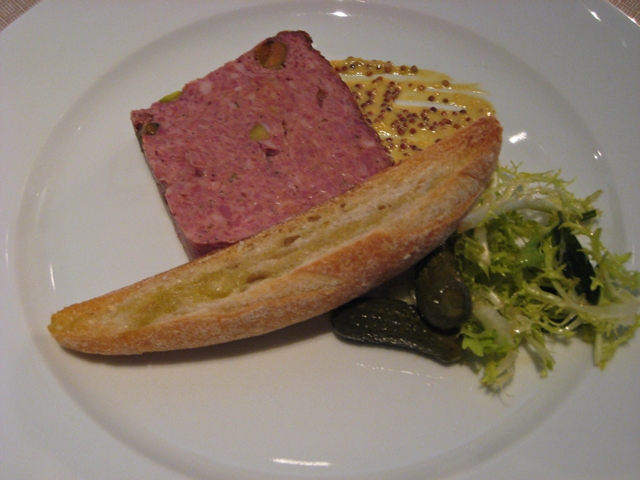 It was quite awhile until our entrees arrived, so I had time to look about the dining room. Perhaps because we were dining late, after 2pm, there seemed to be few business people, and mostly guests who were there for Restaurant Week. Even though the dining room wasn't full, the servers seemed pretty disorganized, which surprised me. My water glass was empty a couple of times, although it did get refilled faster than at Park Avenue Summer. I noticed that some other tables had bread, even though we had never been offered any, so I asked for some it was brought. They didn't bring us any butter, however, even though I did see some at a neighboring table. DIY kind of service?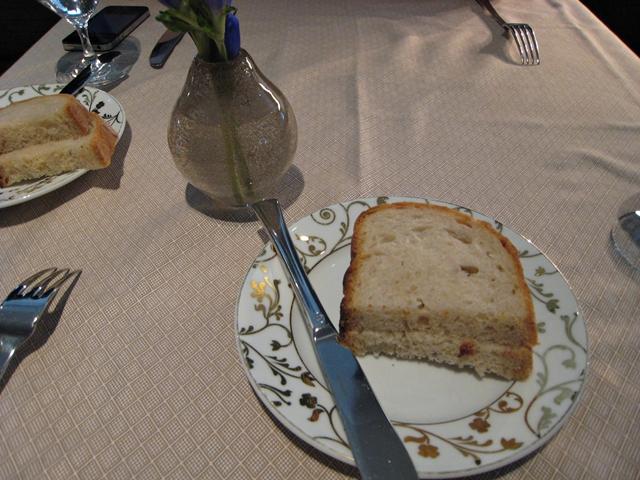 Finally our entrees arrived, and they were perfectly portioned…for a 2 year old, or perhaps an anorexic model. Quite seriously, my 4 year old would have been hungry if I'd served him just one of these entrees, the chicken in particular. I had a tiny taste of the pan roasted chicken, which was delicious with the artistic dabs of piquillo pepper sauce, but felt so sorry that my 6'5 husband had received such a tiny portion that I gave him some of my skate: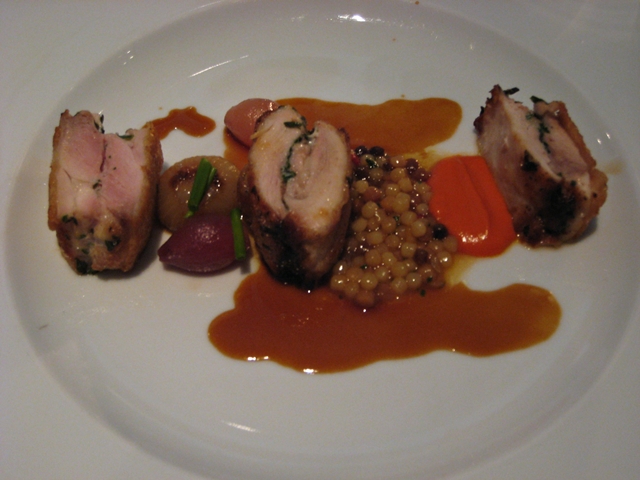 Although the chicken was tasty, portion size notwithstanding, we both agreed that my pan roasted skate the better dish–perfectly cooked, not too salty (I'd specifically asked that it not be too salty, based on some prior reviews) and nicely paired with the white bean puree and preserved lemon jus, although there was far too little of it on the plate. I mean, I know it's Restaurant Week, but it's not going to kill the budget to put some more of the bean puree and preserved lemon jus on the plate to complement the fish.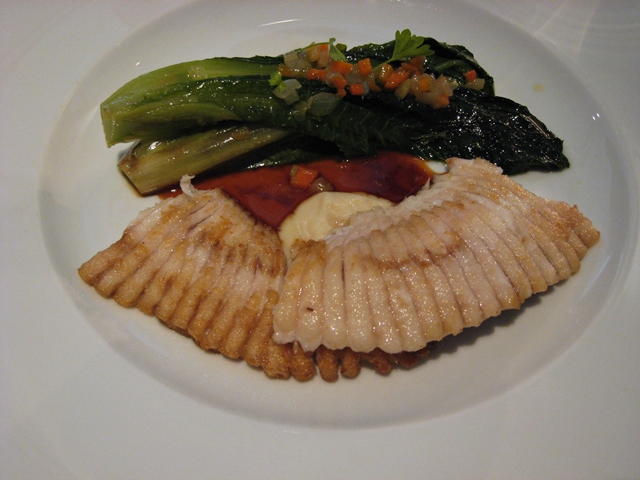 After we'd finished came the longest wait of all for the dessert. It must have been 20-25 minutes after our plates had been cleared, and after 2 requests to two different servers. Surely the pastry chef wasn't preparing our desserts to order, so the wait was both inexplicable and seemed to reflect incompetent service. It finally did arrive, and was the best part of the whole meal. Presentation was lovely, with gold leaf on the chocolate creameaux tart, and the fior di latte gelato placed on a bed of chocolate crumbs. The tart was also extremely rich, which partially compensated for the miniscule portion sizes of the zucchini soup and the chicken.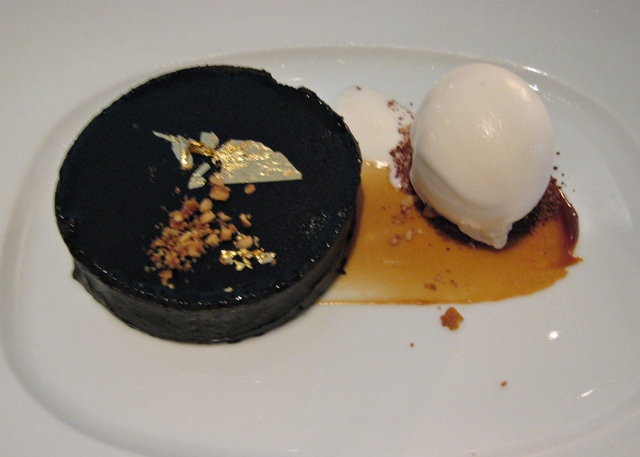 The Verdict: Obviously Ai Fiori is a separate entity housed in but not run by The Setai, but its service deficiencies are all the more glaring given its location. The Setai is a hotel, after all, that prides itself on personalized service and offers a personal assistant to every guest for the duration of his or her stay. I also realize that Michael White is not manning the stoves himself; the Chef de Cuisine here is PJ Calapa, who has worked at Bouley, Eleven Madison Park (although under Kerry Heffernan, not under Daniel Humm) and Nobu 57. Still, I must say I expected better, especially service-wise but also in terms of the food. Of our lunch, the only thing that I'd go out of my way for is the dessert, courtesy of Pastry Chef Alina Martell and Executive Pastry Chef Robert Truitt, even though the skate and chicken were well executed. I've heard that the white label burger (on the regular $38 two-course lunch menu) is amazing, but I doubt I'd pay $38 to find out. To me, restaurants that can't deliver at least a solid, if not superb Restaurant Week shouldn't participate at all. I hope Ai Fiori can get its service act together soon under a better front of house manager, or that the experience I had was an aberration.
Related Posts
NYC Restaurant Week Winter 2014: Where to Go
Nougatine at Jean-Georges NYC Restaurant Week Review
Tom Colicchio's Riverpark, NYC Restaurant Review
Where to Eat in NYC: The Best New York Restaurants Right Now
Need Award Booking Help? Our fee is as low as $75 per ticket if you book your hotel through us.
If you enjoyed this, join 90,000+ readers: please follow TravelSort on Twitter or like us on Facebook to be alerted to new posts.
Become a TravelSort Client and Book Your Hotel with Virtuoso or Four Seasons Preferred VIP Amenities!