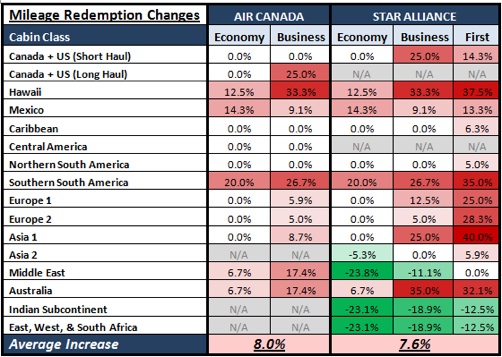 10/13 Update: Good news! Per Seth, the new United will follow Continental in publishing domestic first class awards into the "I" bucket, which is Star Alliance coding for business class. Previously, United coded domestic first as "O" which meant Aeroplan would not include it as part of an international business class award.
Unfortunately, there's more bad news on the devaluation front. We've been a bit negative on Membership Rewards Changes, mostly due to Continental withdrawing as a transfer partner, the changes coming to the British Airways Executive Club, and the devaluation of the Aeroplan partner award chart this summer, which we mentioned in the 10 Best Value Premium Cabin Award Tickets.
Well, according to Matthew Aeroplan has quietly made another change that will devalue award tickets for some: if you're booking a business class award from the U.S. and include a domestic leg, that domestic segment can't be in domestic "first class." I put "first class" in parentheses, because anyone who's flown United or US Airways domestic first class and international first class knows that these products shouldn't share the same nomenclature. Even business class is quite a stretch, but at least if United and US Airways called and coded it business class, there wouldn't be room for Aeroplan to refuse to book these seats as part of your international award flight.
Here's what Matthew found out, when he called to make an award booking, was charged extra miles for the domestic first segment, was told that the policy on booking two cabin "first class" as business class had changed, and asked to speak to a supervisor:
"Due to 'revenue inequality' the supervisor said, Air Canada had been 'forced' to charge first class rates on domestic U.S. flights because the costs became 'too much too bear' for the Aeroplan program. I asked where this policy was published and the agent sheepishly stated that I would not find this info anywhere on the Aeroplan or Air Canada website."
Now, this is disturbing, both for the complete lack of notice to Aeroplan members with which the change was made and the immediate impact on all Aeroplan business class awards that include a domestic segment (especially if, say, you're in a smaller city and have a long connecting flight to a gateway for your international flight).
The other aspect alluded to in the supervisor's reply is that this and other Aeroplan benefits, such as being able to go 5% over the maximum permitted mileage in your award routing (see Maximizing the Value of Your Award Ticket with Stopovers and Open Jaws) or being able to put 2 stopovers or 1 stopover and 1 open jaw in your award ticket (see Using Your Miles for Round the World Trip Awards) are also not online, and can't be found anywhere on the Aeroplan or Air Canada Web site. So it makes it that much easier to simply not give any notice whatsoever in changes to these "informal" routing rules.
One can only hope that in the course of the United-Continental merger, United will follow Continental and start coding its domestic "first" as business class. In the meantime, if you have to book a business class Aeroplan award, try to either leave out of a gateway city to avoid a domestic segment, or fly Continental to get there.
Need Award Booking Help? Our fee is as low as $75 per ticket if you book your hotel through us.
If you enjoyed this, join 100,000+ readers: please follow TravelSort on Twitter or like us on Facebook to be alerted to new posts.
Become a TravelSort Client and Book Your Hotel with Virtuoso or Four Seasons Preferred VIP Amenities!
Aeroplan Award Chart Devaluation graphic: ACSuperEliteFlyer, FlyerTalk