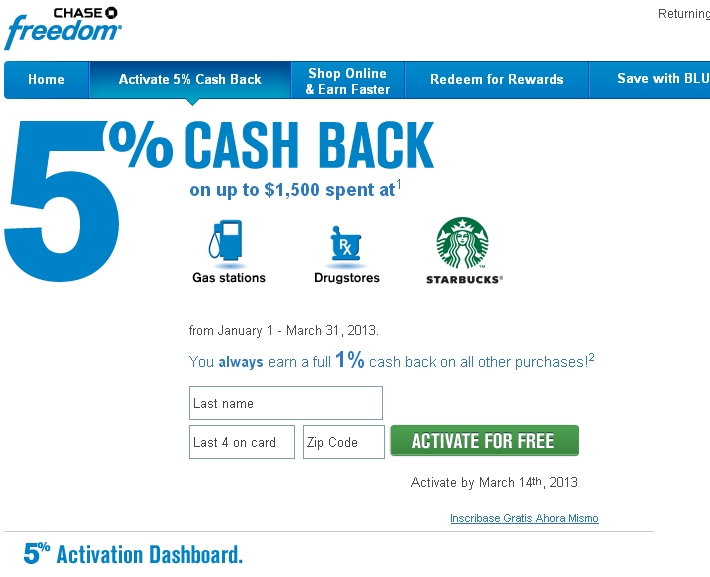 Apply: Chase Freedom Visa
Apply: Chase Freedom MasterCard
If you haven't already, don't forget to activate your Chase Freedom 5X Bonus Categories for Q1 2013 which are:
Drugstores
Gas Stations
Starbucks
My husband recently got this card, so that gives us up to $3000 in 5X spend for Q1, for a total of 15,000 Ultimate Rewards points if we max out the 5X bonus categories, which we definitely intend to do.
Where to max out the 5X for Q1 2013? Well, gas stations is out since we're in Manhattan and don't even have a car. Starbucks isn't my choice because I can get 5X for gift cards anytime using my Ink Bold or Ink Plus. Drugstores it is, and I plan to do my best to find either Vanilla Reload cards or other flexible gift cards that we can use on a variety of purchases. Somehow I have a feeling that a lot of the lucky folks who live right near a drugstore that still has gift card reloads that can be bought with a credit card will be walking in as soon as possible on January 1, 2013 to buy $1500 worth of gift cards 🙂
Here's a quick FAQ for anyone new to or considering the Freedom:
What Are the Key Benefits of the Chase Freedom?
The key benefits are the Chase Freedom's 5X categories, which change quarterly, and the fact that it's a no annual fee card, so it's a good card to keep to improve your average age of accounts and credit score. The current bonus of 10,000 points has been that way for some time and is nothing to write home about, so it's the 5X categories and no annual fee that are the true benefits.
Is There a Limit to the Purchases That Earn a 5X Bonus?
Yes: the limit is $1500 per quarter per card. So for Q1 2013, if you have one Freedom card, you can earn up to 7500 Freedom points on $1500 spend in one or more of the 5X bonus categories for January-March 2013.
What Are the Chase Freedom 5X Bonus Categories in 2013?
Is It Too Late to Get the 5X Bonuses for Q4 2012?
It's too late to activate the Freedom 5X bonuses for Q4 2012 if you haven't already, but you have until December 31, 2012 to complete spend to earn your 5X bonuses.
How Should I Maximize the 5X Bonuses?
While everyone will be a bit different in what they value as a 5X category, these are my tips:
Unless you have a need to spend the $1500 at one of the 5X categories during the quarter anyway, try to buy gift cards so that you can spread your spend throughout the year at an effective 5X points bonus. For example, buy Visa or other gift cards you know you'll use at drugstores or gas stations during Q1, and restaurant gift certificates in Q2 if you won't dine out enough to use the full 5X bonus during the quarter
Don't use the Chase Freedom abroad, since it does incur a foreign transaction fee
How Do I Transfer Points to Ultimate Rewards Airline and Hotel Partners?
To transfer the points you earn with your Chase Freedom to Ultimate Rewards airline and hotel partners, you must have a fee paying card: the Chase Sapphire Preferred and Ink Plus. You then can transfer your Freedom points to one of these Ultimate Rewards accounts by selecting the "Combine Points" option: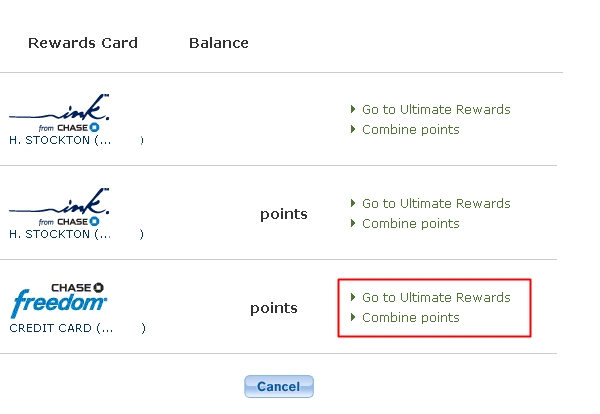 Then just select your Freedom account points and the Ultimate Rewards account you want to transfer your points to: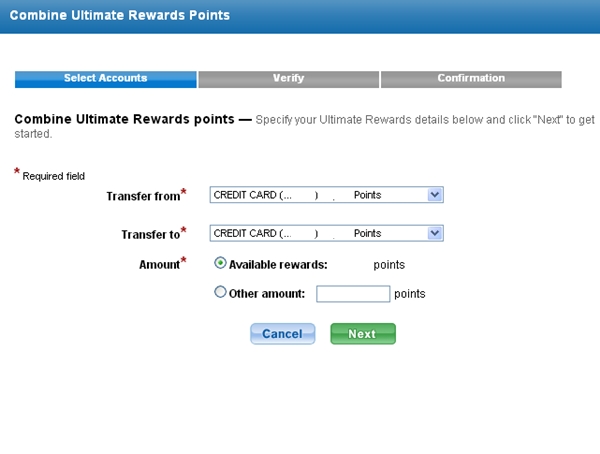 Once you have combined your points with your Sapphire Preferred, Ink Bold or Ink Plus Ultimate Rewards account, select "Transfer Points to Travel Partners" to complete your transfer.
Have any questions or thoughts about the Chase Freedom and maximizing the Q1 2013 category bonuses?
Related Posts