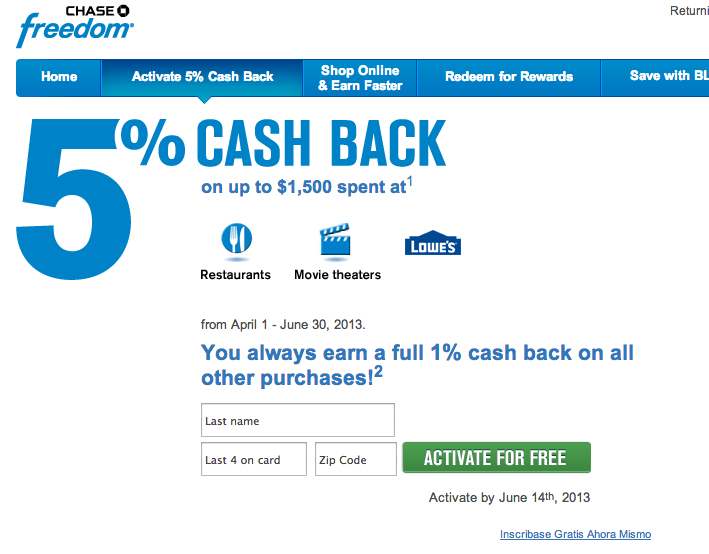 You can now activate your Chase Freedom 5X Bonus Categories for Q2 2013 which are:
Restaurants
Lowe's (new bonus category)
Movie Theaters
Both my husband and I have the Chase Freedom, so that gives us up to $3000 in 5X spend for Q2, for a total of 15,000 Ultimate Rewards points if we max out the 5X bonus categories, which we definitely intend to do. You'd be hard pressed to max out the bonus at movie theaters, even if you're a die-hard cinephile, so I'd recommend supplementing with some of the ideas below. Don't forget to activate by June 14, 2013.
Keep in mind that you do need to have another Chase card linked to Ultimate Rewards, such as the Sapphire Preferred, Ink Bold or Ink Plus in order to transfer points from the Freedom out to Ultimate Rewards partners such as United MileagePlus or Hyatt Gold Passport.
Where to max out the 5X for Q1 2013? Well, my recommendations are:
1. 5X for All Restaurant Spend: Stock Up on Gift Certificates
There's no need to dine out constantly during the the 2nd Quarter of April-June 2013: just stock up on gift certificates to your favorite restaurant. For example, if you know you'll be celebrating your anniversary, a birthday or other special occasion at a swanky place later this year, simply ask to purchase a gift certificate from the restaurant. Typically restaurant gift certificates are valid for one year, but double check with the restaurant when you purchase. This beats 2.14X using the Sapphire Preferred, so this will be some pretty tasty 15,000 Ultimate Rewards points for us.
2. 8X for Gap Spend via Gap Gift Cards at Lowe's and Ultimate Rewards Mall
As I mentioned last month in
Ultimate Rewards Mall February 2013 Deals
, you can often use gift cards in combination with Ultimate Rewards Mall bonuses. Gap is just 3X in the Ultimate Rewards Mall, but combined with a Gap gift card from Lowe's (or from Staples or Office Depot if using an Ink Bold or Ink Plus card) you can earn 8X bonus points.
3. 7X for Marriott Spend via Marriott Gift Cards at Lowe's and Ultimate Rewards Mall
Similar to Gap, while Marriott is still just 2X in the Ultimate Rewards Mall, when you combine that with a Marriott gift card from Lowe's, that's a nice 7X bonus points. Keep in mind that some Staples also carry Marriott gift cards, so you could potentially get the same deal with your Ink card.
4. 5X for All Amazon Spend via Amazon Gift Cards at Lowe's
While I won't be buying any of these because I already have the Ink Bold and Ink Plus and can purchase them at office supply stores, this is a good use if you don't dine out much and don't have/don't plan to get the Ink business cards.
5. 5X for Shell Gas via Shell Gift Cards at Lowe's
Again, I won't be doing this since I'm happily carless in NYC, but if you don't have the Ink small business cards to buy Shell gift cards at Staples or Office Depot and have high gas spend, this could be a good bet.
6. 5X for Spa Treatments via Spafinder Gift Cards at Lowe's
I'm not a big spa-goer, but if you or your partner is, this could be a good bet. Check whether spafinder.com includes your favorite spa before buying a Spafinder gift card.
Where do you plan to max out your Chase Freedom 5X category bonus–at restaurants, Lowe's or movie theaters?
Related Posts