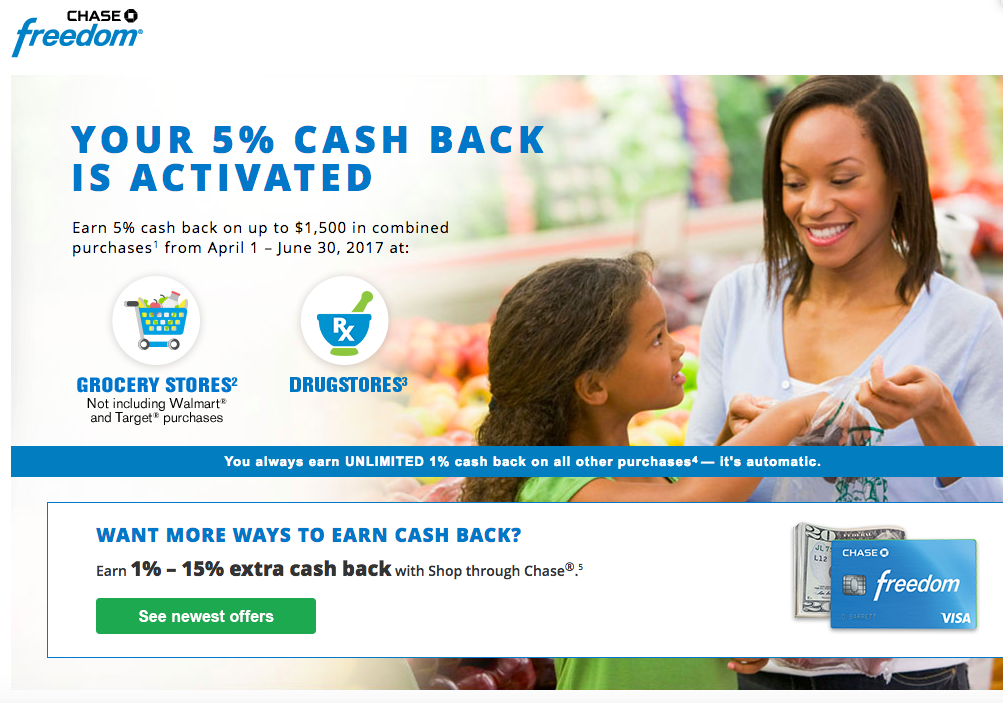 Activate Chase Freedom 5X for Grocery Stores and Drugstores, for April to June 2017 spend. Grocery stores are my favorite category, since even as a family of 3, we probably spend ~$150 per week on groceries, given that we eat most meals at home. Even taking into account some weeks away for travel, that's at least $7000 per year. I'm glad this year that we have 3 Chase Freedom 5X cards, so we'll be able to buy $4500 worth of groceries and grocery gift cards, for a total of 22,500 Ultimate Rewards points.
If you have the Chase Sapphire Reserve, Chase Sapphire Preferred, Ink Business Preferred or Ink Plus, you can transfer these points earned on your Chase Freedom out to Ultimate Rewards partners such as Singapore KrisFlyer, Korean Air Skypass, Air France Flying Blue, British Airways Avios, United MileagePlus and Hyatt Gold Passport, which are the most valuable Ultimate Rewards transfer partners.
FAQ
Are Walmart and Target included for the 5X Grocery Store Bonus?
No, Walmart and Target are NOT included. Neither are discount stores, wholesale club stores such as Costco, or other stores that sell food items but are not in the included list of grocery stores. Since drugstores are a 5X category, food and other purchases at drugstores do earn 5X.
Which Drugstores Are Eligible for the 5X Bonus?
Here are examples of wholesale club stores that qualify for the 5X bonus:
Bartell Drugs
CVS
Discount Drug Mart
Duane Reade
Longs Drugs
Rite Aid
Walgreens
Which Grocery Stores are Eligible for the 5X Bonus?
Most stand alone grocery stores are eligible for the 5X, for example:
A&P
Albertsons
Bi-Lo
D'Agostino
Dillons
Fairway Market
Food Lion
Foodland
Gristede's
Harris Teeter
Kroger
Mitsuwa Marketplace
Pathmark
Ralph's
Safeway
Trader Joe's
Vons
Wegmans
Winn Dixie
Whole Foods
Will Gift Card and Alcohol Purchases Count?
If your purchase is in an eligible grocery store, yes. Note, however, that if you shop at a liquor store it's unlikely to count. For example, to my knowledge, the Trader Joe's Wine Store in NYC does not count. But it's easy to buy Trader Joe's gift cards at the grocery store and use them at the wine store.
Which Credit Cards Can Transfer Freedom Points to Ultimate Rewards Travel Partners?
You need to have an Ultimate Rewards-linked card such as the Chase Sapphire Reserve, Chase Sapphire Preferred, Ink Business Preferred, Ink Plus or Ink Bold, or your spouse / domestic partner must have one so that your Freedom points can be transferred to your spouse's or domestic partner's frequent flyer accounts via Ultimate Rewards.
What's your strategy for maximizing the Chase Freedom 5X grocery store and drugstore bonus for Q2 2017?
Recommended Posts