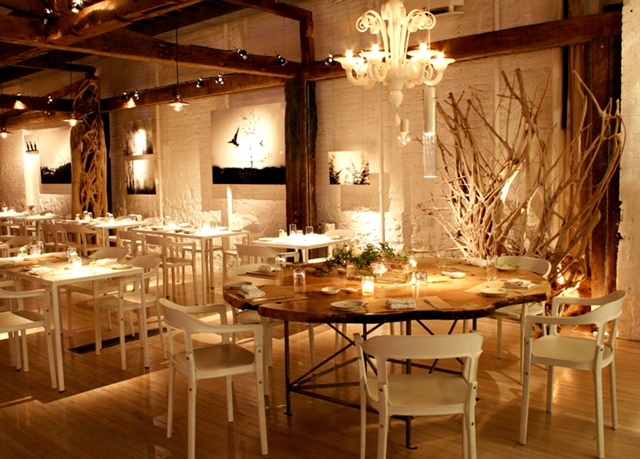 Updated: January 4, 2013
ABC Kitchen is one of our favorite family restaurants in NYC for food. That would surprise some, since it's full of younger couples and the bar area is consistently packed, but it (mostly) meets our needs: great food with primarily locally sourced ingredients, kid-friendly options on the menu, some kid noise not an issue since the restaurant is so noisy anyway, and close to public transport so easy for us to get to.
The main drawbacks are two-fold: 1) it's NOT a restaurant you can just walk into–it's popular enough that you need reservations, and no, you most likely won't be able to make them via OpenTable, since ABC Kitchen only uses OpenTable to fill otherwise slow times, such as 5:30pm reservations on weekdays. 2) Service is really not good. I suppose that's what you get when your servers are all hipsters, but while most are pleasant enough, they're just not efficient at all and barely professional. We waited interminably for orders to be taken, for the food, for the check, and then another eon for an error on the bill to be corrected. Our food was being taken away before we'd finished. This is one of the few places I can't bring myself to tip 20%, because service is just that bad, although somehow we keep going back for the food. I can't believe I haven't written about ABC Kitchen before, so here's my review, a composite from several dining experiences.
Getting There
Getting to ABC Kitchen is easy, since it's right near Union Square Park / 14th Street, which is reachable via the 4, 5, 6, L, N, Q, R and W trains. Or, just walk a few blocks over from the 14th Street stops for the 1, 2, 3, or F, P, V trains. You could even walk over from the 14th Street and 8th Avenue stop for the A, C and E trains–a little walking won't kill you, and it's good to come to ABC Kitchen with an appetite.
The Scene
You could easily miss the nondescript entrance at 35 East 18th Street, so look carefully. ABC Kitchen is in the ABC Furniture store, so the setting is chic rustic, with plenty of wood accents, cool lighting, and mismatched antique plates. The staff looks like they've been outfitted by a Midwestern Goodwill, but don't let that deter you–for the most part they're friendly (if not overly efficient) and the food is worth it. Diners are a mix of hipsters, young professionals and families. Given how the staff is attired, there's really no need to dress up, unlike at most of Jean-Georges Vongerichten's other NYC restaurants.
The Menu
ABC Kitchen is one of those places where you'll develop favorites that make it hard to try other things on the menu, even if you want to. You'll be offered some rustic bread, olive oil for dipping, and radishes as a complimentary starter: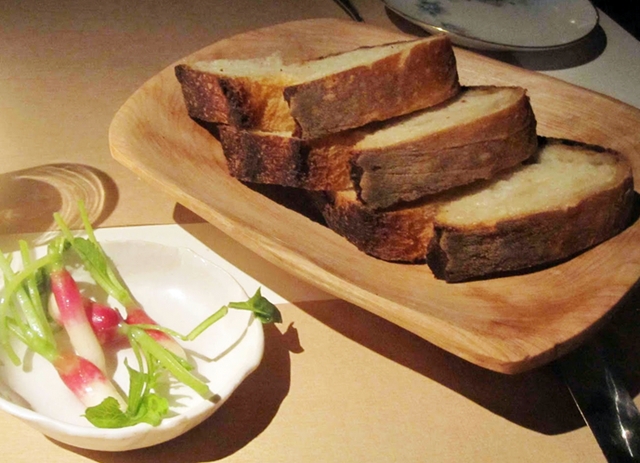 We've once gotten the crab toast with lemon aioli, which was delicious, but pricey, at $15.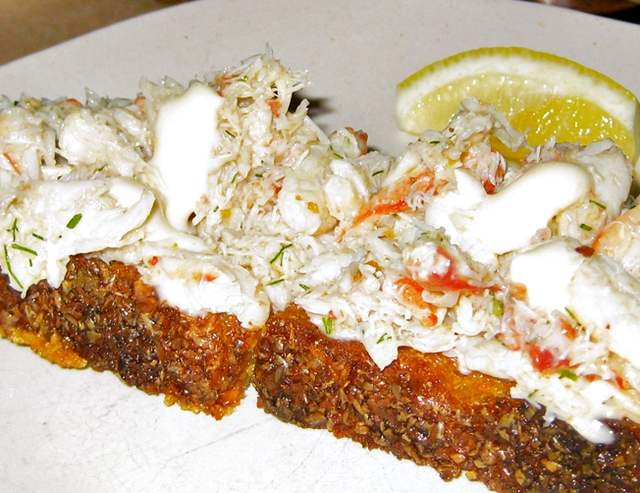 We recently tried the plate of cured meats and local cheeses. It was solid, if a bit pricey for what it was (rather small portions of cheeses) but was key to getting food in front of the munchkin fast.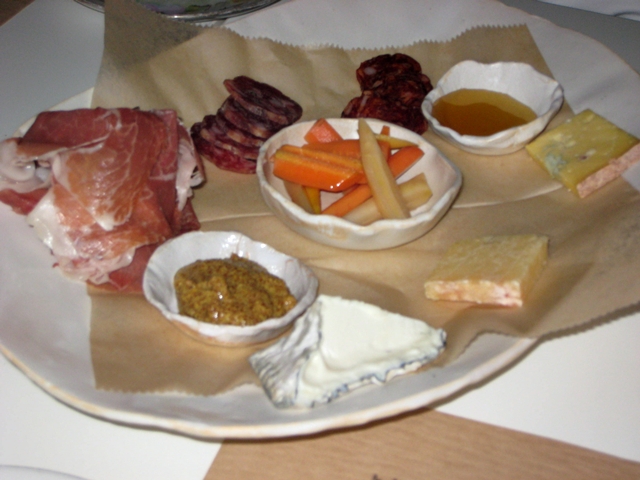 I always have to order the mushroom and farm egg pizza. Admittedly, if you don't like mushrooms, you won't want to order it, but there's something so addictive and satisfying about the tangle of roasted mushrooms, hint of oregano, and gooeyness of the farm egg in the center, all surrounded by the blistered crust.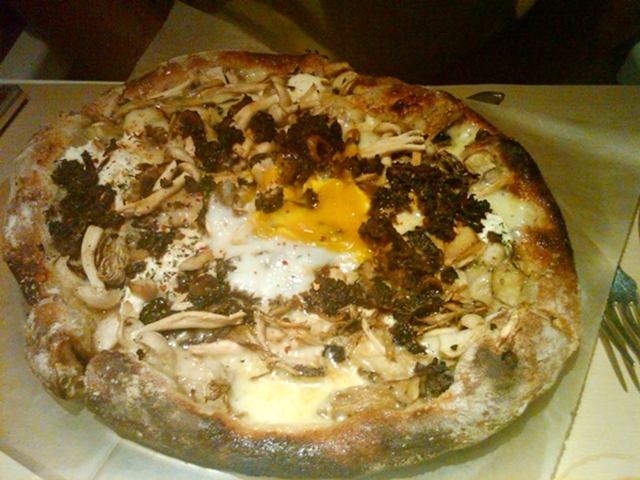 Another favorite of ours is the roasted suckling pig. It's not a huge portion, but is insanely delicious, with its crispy skin, meltingly tender meat and the smoked bacon marmalade served alongside. Not cheap at $34, but since Eleven Madison Park has eliminated its 4-course lunch menu and only offers the same $195 tasting menu per person at lunch as well as dinner, we'll be getting our suckling pig fix at ABC Kitchen now.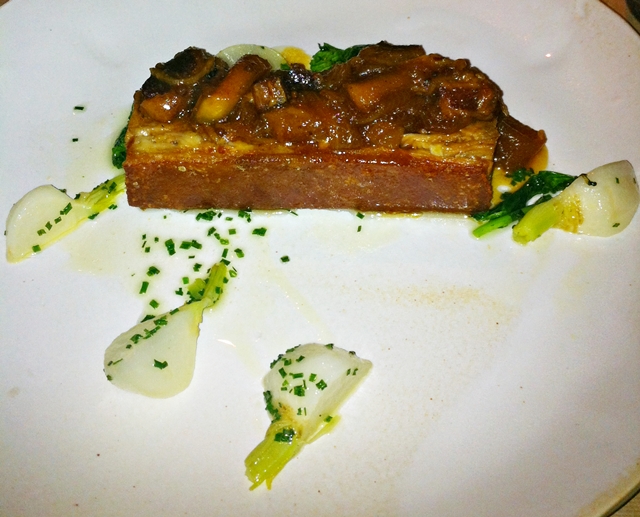 We recently ordered the organic chicken–the accompaniments tend to change, and this time it was with roasted caramelized sunchokes and a spicy sauce that gave it a nice kick. We loved it, but of course had to be careful when giving some to the munchkin, to ensure it didn't have any spicy sauce on it.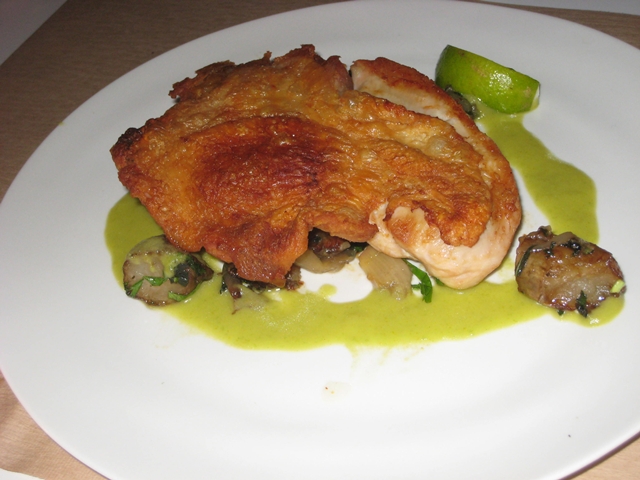 Of course, with so many locally sourced ingredients, some dishes change seasonally. One that we really enjoyed in the summer (but may not be on the menu when you visit, if it's not in season) is roasted sunchokes, with a nutty flavor: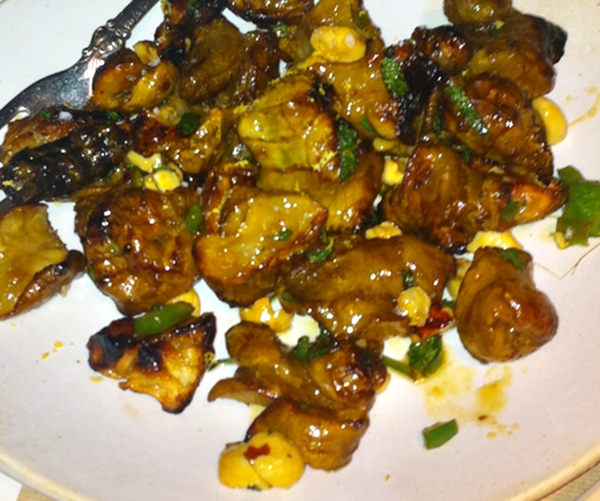 ABC Kitchen's dessert menu features homespun favorites your grandmother (if she was an avid baker) might have made: strawberry shortcake, doughnuts, cobbler. But hands down my favorite is the sundae with salted caramel ice cream, candied peanuts and popcorn (I don't even like popcorn in any other contexts) and dark chocolate sauce. This is a huge dessert, so don't order it for just yourself unless that's your dinner–it's enough for two or even three to share. That said, if you don't like sundaes, we've also had a pear cobbler that was excellent. The fruit changes seasonally, currently it's peach cobbler with blueberry creme fraiche ice cream.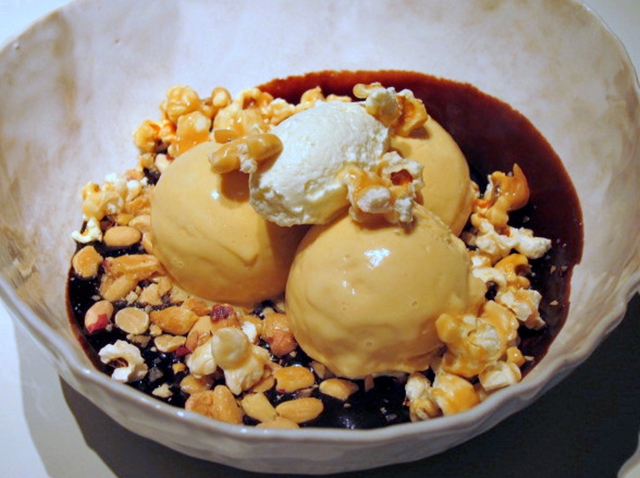 We've also had the cobbler, which is very good, and most recently, this mini apple pie. It was ok, but honestly nothing special–the best part was again the salted caramel ice cream (which we requested instead of cinnamon ice cream), so I'd keep to the sundae, or if you're too full for that, just a serving of the salted caramel ice cream.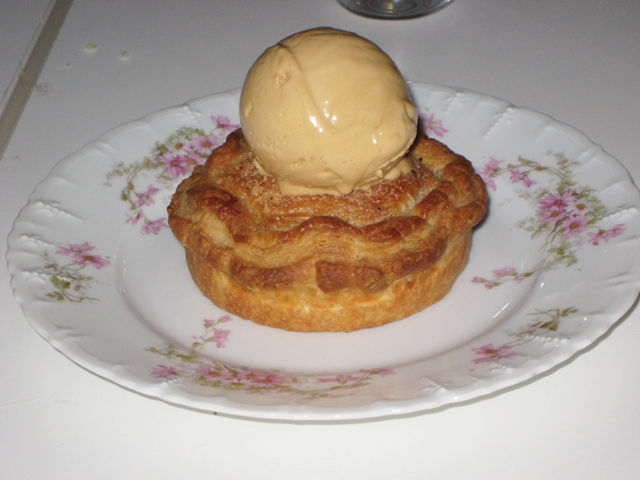 What I like least about ABC Kitchen is having to make reservations so far in advance, the aforementioned inept service and the noise level (even though it does mean I have no qualms whatsoever about bringing the munchkin–although he's always been pretty well behaved, a kid could practically have a meltdown there and no one would hear him).
But if you want great farmers market fresh food in an unpretentious setting, make a reservation at ABC Kitchen. Don't forget to use your Sapphire Preferred for 2X points, or an AMEX Prepaid or the new Bluebird Prepaid Card refilled using the Ink Bold or Ink Plus for 5X points. As for us? We bought a gift certificate with the Chase Freedom when it offered 5X on restaurants last quarter, so we'll be using that soon 🙂
If you've been to ABC Kitchen, what are your favorite dishes from the menu?
Related posts
Daniel Humm's The Nomad NYC Restaurant Review
Eleven Madison Park, NYC Restaurant Review
Mari Vanna NYC Restaurant Review
Hip Traif – NYC Restaurant Review
20 Best Cities in the World for Foodies
Need Award Booking Help? Our fee is as low as $75 per ticket if you book your hotel through us.
If you enjoyed this, join 200,000+ readers: please follow TravelSort on Twitter or like us on Facebook to be alerted to new posts.
Become a TravelSort Client and Book 5-Star Hotels with Virtuoso or Four Seasons Preferred Partner Amenities!