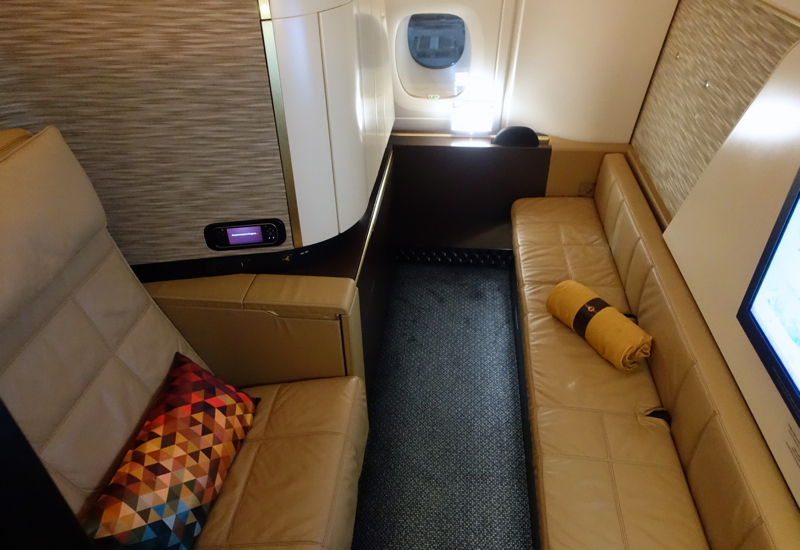 Given the 2016 AAdvantage Award Chart Devaluation, what's the strategy going forward? I've always recommended redeeming your frequent flyer miles and not saving them, given the significant award chart devaluations that occur. Frequent flyer mile balances are NOT retirement nest eggs, and decrease in value with each devaluation. With that in mind, here's what I recommend:
1. Large AAdvantage Miles Balance? Redeem for First Class and Business Class Partner Awards by March 21, 2016
If you have millions or even hundreds of thousands of AAdvantage miles, I highly recommend planning a trip for later in 2016 or very early 2017 where you can redeem AAdvantage miles for JAL First Class, JAL Sky Suite Business Class, Cathay Pacific First Class, Cathay Pacific Business Class, Qantas First Class, Etihad First Class, or other oneworld partner first class or business class.
2. Short-Term Miles Earning: Earn More AAdvantage Miles to Redeem for Pre-Devaluation Awards
If you're like us and "earn and burn" frequent flyer miles, you probably don't have a ton of AAdvantage miles lying around anyway. In that case, it can make sense to earn some more AAdvantage miles immediately, with the goal of redeeming them before the devaluation. I recommend checking to see if you're eligible for the 50K Citi AAdvantage Platinum Select and 50K Citi Business AAdvantage offers on the Best Travel Credit Cards page.
3. Use the Buy AAdvantage Miles Bonus to Top Up, if You Can't Earn Enough AAdvantage Miles
While the least expensive way of earning AAdvantage miles is with credit card bonuses, if you've earned all you can that way and need more miles, consider the current Buy AAdvantage miles offer, which is for up to 75,000 AAdvantage bonus miles, although you would need to buy the full 125,000 AAdvantage miles to be eligible for the 75,000 bonus miles, since the bonus amounts are tiered based on purchase amounts. Aim to pay less than 2 cents per AAdvantage mile, and always be sure to check the paid cost of the tickets you plan to redeem award miles for.
You can use a Citi AAdvantage card to earn double miles when buying AAdvantage miles (since American Airlines processes its own buy miles transactions), although if you don't need the extra AAdvantage miles you can earn 3X AMEX points per dollar using your Premier Rewards Gold or AMEX Business Gold card, if you've selected airlines as your 3X category.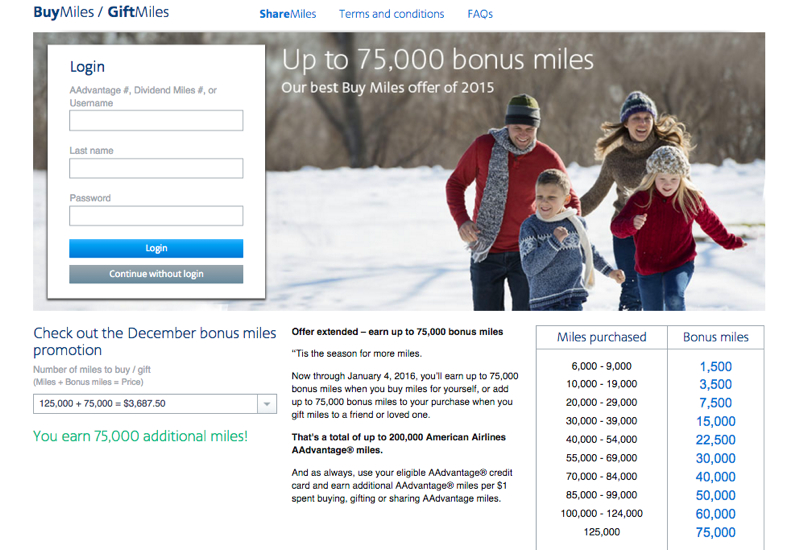 4. Flexibility and Being Able to Travel at Short Notice is Key to Snag the Best AAdvantage Awards
As I wrote in Etihad A380 First Class Apartment Award Availability, it's become very hard to book Etihad First Class Apartment space on the A380 for anything but the Abu Dhabi – London route, unless you book at the last minute. While by the time you read this the space will likely be gone, here are a couple examples of last minute Etihad First Apartment space on the NYC – Abu Dhabi route: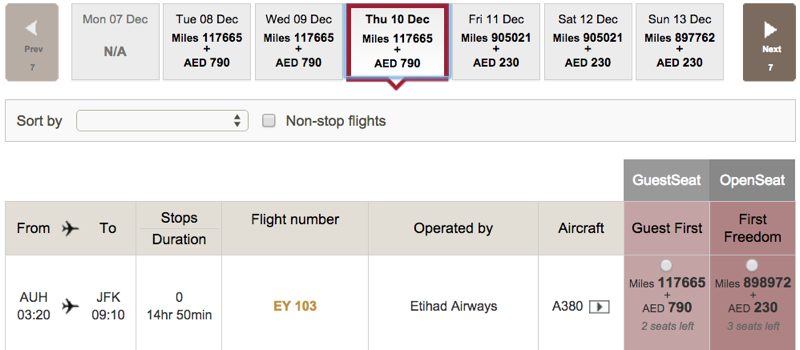 And on the Abu Dhabi – Sydney route: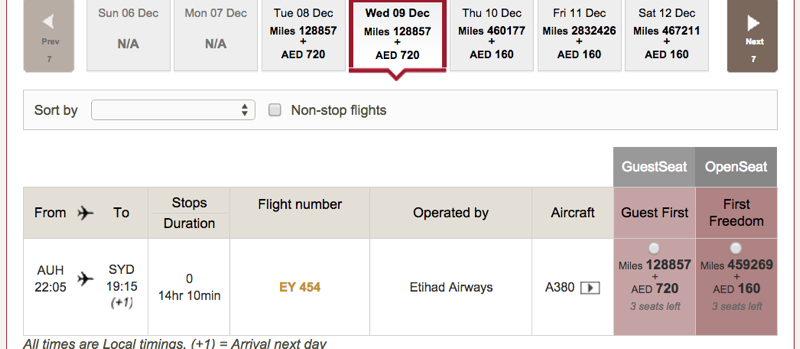 Similarly, it's next to impossible to find Cathay Pacific First Class award space in advance, particularly for two people, using AAdvantage miles, unless it's last minute space. For example, there are several Cathay First Class award seats Hong Kong to NYC JFK if you can fly tomorrow (or rather, today, Hong Kong time). It can be tough getting AAdvantage/Cathay to issue these in time for you to fly, however.

5. Book Business Class Awards as Back-Ups
Given the above point, that so many of the best first class award redemptions are not available at all in advance with AAdvantage miles, consider booking business class awards as back-ups (that you may well need to use if your dates aren't flexible). The nice thing about AAdvantage (so far) is that if you are keeping your origin and destination cities the same and upgrading to a higher class of service, you typically aren't charged a redeposit fee; just the close-in ticketing fee (if you're not a top-tier elite) and the difference in miles and taxes.
6. Long-Term: Earn More Transferable Points such as Chase Ultimate Rewards, AMEX Membership Rewards
Long-term, the many frequent flyer program devaluations make it all the more compelling to earn the bulk of your miles in the form of transferable points, such as Chase Ultimate Rewards points (from the Sapphire Preferred, Ink Plus, and the Chase Freedom if you also have a Sapphire Preferred or Ink Plus), AMEX Membership Rewards points, and to a lesser extent (due to the less lucrative transfer partners), Citi ThankYou points.
Until recently I would have also said SPG points, thanks to SPG Airline Partners: Transfer Starwood Points to Miles but the future of the SPG rewards program is in question–see Marriott Acquires Starwood: 4 Reasons to Be Pessimistic.
7. Cancel Citi AAdvantage Cards When They Come Up for Renewal and Focus on Other Travel Credit Cards
While it can still make sense right now to apply for the 50K Citi AAdvantage cards, if you can meet the minimum spend quickly and earn the bonus miles in time to redeem for AAdvantage awards prior to the March 22, 2016 devaluation, going forward the Citi AAdvantage cards are only likely to make sense if you actually fly American Airlines and value the priority boarding and free checked bag benefits. If you don't, then I'd focus on other travel credit cards–see the Best Travel Credit Cards page.
What's your strategy going forward, given the 2016 AAdvantage Award Chart Devaluation?
Related Posts
Cathay Pacific First Class Awards: Earn Asia Miles or AAdvantage Miles?
Kid's Review: Etihad First Class Apartment A380
60K Citi AAdvantage Platinum Select (Targeted)
50K CitiBusiness AAdvantage Platinum Select Offer Returns
Need Award Booking Help? Our fee is as low as $75 per ticket if you book your hotel or cruise through us.
If you enjoyed this, join 200,000+ readers: please follow TravelSort on Twitter or like us on Facebook to be alerted to new posts.
Become a TravelSort Client and Book Your Hotel with Virtuoso or Four Seasons Preferred VIP Amenities!