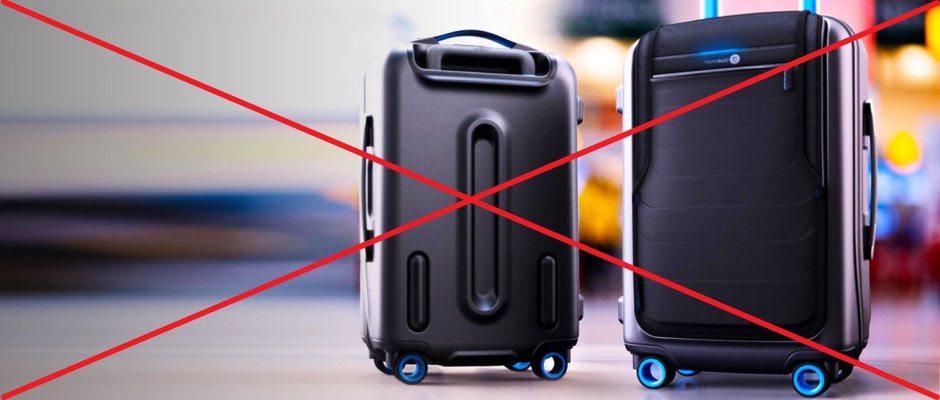 AA, Delta and Alaska have all banned smart bags / smart luggage without removable batteries as of January 15, 2018, due to the risk of a fire hazard posed by lithium ion batteries. United Airlines and Southwest are also said to be updating their luggage policies.
Here are the airlines' new policies, bolding mine:
American Airlines Smart Bag Policy, Effective 1/15/18
"Customers…with a smart bag must be able to remove the battery in case the bag has to be checked at any point in the customer's journey. If the battery cannot be removed, the bag will not be allowed.
If the customer is able to take the bag into the cabin with them, the customer will be able to leave the battery installed. No additional action will be required, as long as the customer powers off the smart bag in accordance with existing Federal Aviation Administration (FAA) regulations. However, if a customer is required to check their smart bag, the customer will need to remove the battery.
This policy will apply to all American and American Eagle flights."
Delta Airlines Smart Bag Policy, Effective 1/15/18
"Effective Jan. 15, 2018, Delta and Delta Connection will no longer accept as checked or carry-on luggage so-called "smart bags" or smart luggage with non-removable lithium-ion batteries, due to the potential for the powerful batteries to overheat and pose a fire hazard risk during flight…
Smart bags with removable batteries will still be allowed if the battery can be removed on site and taken on board the aircraft with the customer…"
Alaska Airlines Smart Bag Policy, Effective 1/15/18
"As of Jan. 15, any bag powered with a lithium battery or lithium battery power bank will need to follow these requirements:
Smart bags will be allowed as carry-on baggage, if they meet carry-on size limits (maximum dimensions of 24″ (length), 17″ (width) and 10″ (height)) and if it's possible to remove the battery from the bag if needed.
If the bag will fly as a checked bag, the battery must be removed and the battery must be carried in the cabin.
If it's not possible to remove the battery from the bag, the bag won't be allowed on the plane.
FAQ
What Counts As a Smart Bag?
Per IATA (the International Air Transport Association)
Lithium ion battery and motor allowing it to be used as a personal transportation device, either as a stand-up scooter or sit-on vehicle. These devices do not meet the criteria of a mobility device. Example: Modobag
Lithium ion battery power bank that allows charging of other electronic devices such as mobile phones, tablets and laptops
GPS tracking devices with or without GSM capability Example: Bluesmart
Bluetooth, RFID and Wi-Fi capability Example: G-RO
Lithium ion battery, motor and tracking device (GPS) allowing the bag to self-propel and "follow" the owner Example: Travelmate
Is Away Luggage Allowed?
Yes, Away suitcases are allowed because it's possible to remove the battery (using the provided screwdriver with older Away luggage, simply pops out with newer versions). If you have to check your Away luggage you'll have to first remove the battery.
Is Bluesmart Luggage Allowed?
No, Bluesmart batteries aren't able to be removed, so Bluesmart suitcases are affected by these policies and will not be permitted either as checked or carry-on luggage by American Airlines, Delta Airlines and Alaska Airlines as of 1/15/18.
Will these new smart bag restrictions affect your current luggage? What is your favorite luggage brand?
Recommended Posts