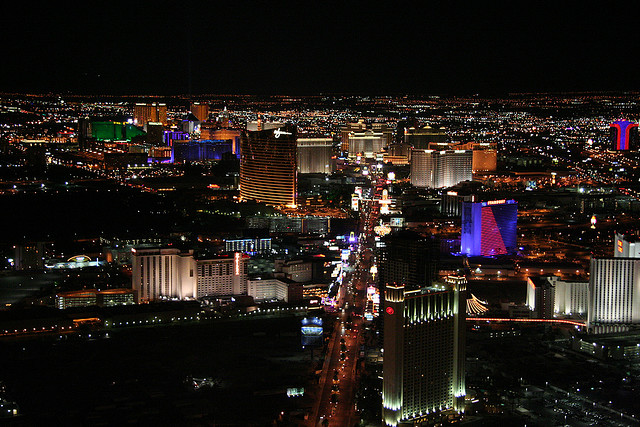 Why Go
While Las Vegas has a reputation for vice, excess, and bachelor/bachelorette parties, there's also a different side to the city. Travelers looking for a more romantic experience will find that it is only a moonlit gondola ride away, and with breathtaking views of the city from The Stratosphere Tower and plenty of hidden gems far from The Strip, there's plenty for travelers to take in that has nothing to do with vice. Architecturally speaking, the new Vegas looks a whole lot more New York, and as always, the city's numerous restaurants boast impressive international chefs, meaning any type of romantic dinner is possible. Whether it's a couple's massage or an invigorating hike through lovely natural scenery, lovestruck Vegas visitors will find that this city of lights is a whole lot more than the reputation that precedes it.
Insider Tips
The best time to visit Las Vegas depends on what kind of weather you like and whether you're going for a special occasion. As the city is in the desert, May through September daytime temperatures can reach the triple digits, and the evening temperatures can drop as much as 30 degrees, so those visiting during the warmer months might want to bright a light jacket for the evenings. During the winter, daytime temperatures generally hover in the 50s and drop down into the 30s.
No matter what time of year a visit is planned for, make sure to bring your camera, sunglasses, bathing suit, sunscreen, comfortable shoes and at least one dressy article for that special night out on the town. If visiting during the summer, be sure to carry water with you and stay hydrated! There's nothing romantic about ending up sunburned and sick.
Holiday periods and school breaks mean Vegas gets packed, as do the numerous conferences that the city sees. For those who are looking to avoid excessive crowds, this might mean doing a little bit of sleuthing to see if an ideal date coincides with something that would really bring the masses.
Most hotels offer shuttles from McCarran Airport, so getting to your hotel shouldn't be a problem. Most will also take you back when you're ready to leave. Taxis are available for about $10 to most hotels, as is public transportation that runs 24/7. Car rental is also available, and due to the accommodating parking options that the city offers, is not the nightmare that visitors might think it would be. Renting a car also means getting to explore the more out-of-the-way spots that are well worth a visit, so consider that if one's plans mean moving beyond The Strip. Renting a car runs about $25 per day.
There are a few unique forms of transportation that make exploring popular Vegas sights exciting. The trolley that travels The Strip has decent rates and day passes, while the city's monorail system travels The Strip and stops at many of the major hotels on an elevated route.
Most hotels offer free valet parking (although don't forget to tip a few dollars). But the sights on The Strip are best seen on foot, as traffic can get bumper to bumper. Many of the streetside shows are spectacular, such as the pirate battle at Treasure Island, and must be watched from the sidewalk.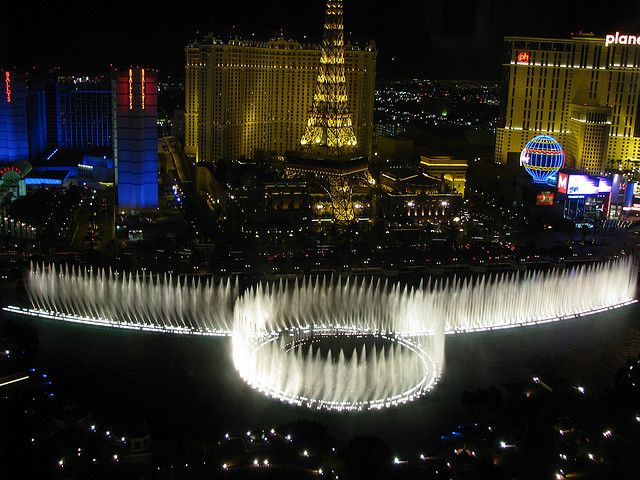 Where to Stay
With hundreds of hotels to choose from, it should be easy to find that ideal spot in Vegas. Just like anywhere else, hotel rates vary depending on the time of year and your choice of accommodations. Nearly all the major hotels offer specials for couples and plenty of internet-only specials can often be found, so those looking for a deal should certainly check the web before making arrangements.
Offering some of the most luxurious and romantic accommodations in the city of Las Vegas is the Bellagio. Located on The Strip, it is a AAA Five Star resort, with stunning spa service, a world-famous casino, and a remarkable collection of designer shops. Known for its opulence, the rooms are legitimately luxurious and travelers will find themselves feeling pampered and contented. The Bellagio is also the home of the amazing Bellagio Fountains. With its restaurants, spas, live entertainment, and beautiful rooms, it's the perfect spot for relaxing with that special someone.
The famous Four Seasons Las Vegas is another excellent pick for those who want that perfect upscale retreat. The hotel is actually inside the Mandalay Bay tower with an exclusive entrance. For those who aren't mesmerized by gambling and prefer not to walk through a casino to get to the hotel proper, this is the perfect spot, as there is no casino on the premises. The Four Seasons offers scenic views of both the mountains and The Strip. Accommodations are plush and the atmosphere is serene. With all the amenities of a five-star resort that the Four Seasons offers, guests also have access to the adjacent Mandalay Bay Beach, where you can enjoy the wave pool and dig your toes into real sand. Daily rates start at $199 and go all the way up to $3500 for a luxury suite with a 180° view of The Strip.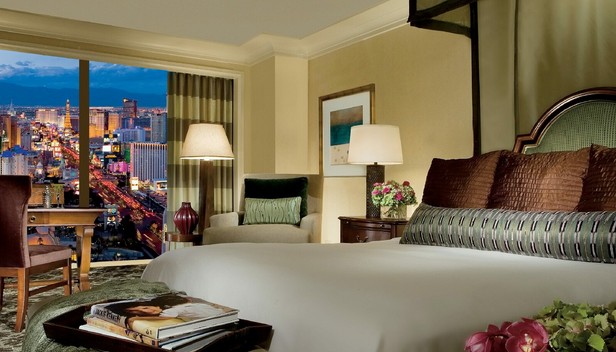 If you prefer something a bit more hip, Planet Hollywood offers a different atmosphere. With modern-style furnishings and movie memorabilia in every room, it's less demure but still very much designed to delight. Planet Hollywood is also a great pick for beating the heat, as guests can rent their own personal poolside cabana with wide-screen TV and mister.
For a rustic place to stay that is far from the bright lights but still in Las Vegas proper, make your reservations at the Mt. Charleston Lodge, located in The Spring Mountains National Recreation Area. A room here provides everything a romantic getaway requires: fireplace, jetted tub, fabulous views and no telephones.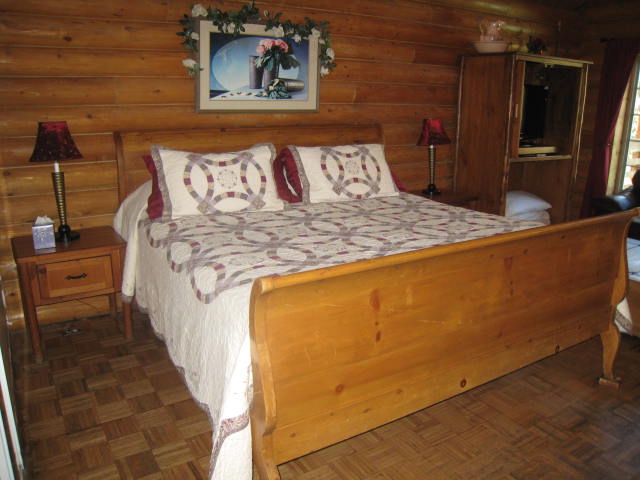 What to Eat
There's no shortage of fabulous romantic restaurants to choose from in Las Vegas. In fact, five-star dining is practically around every corner. In fact, no matter which resort you choose to stay in, chances are there will be a world-renowned restaurant just an elevator ride away. That said, sometimes options away from the main hotels are worth exploring, if only for the fact that there are plenty of culinary gems out there not attached to hotels.
Joël Robuchon Restaurant in the MGM Grand hotel tops the list of in-hotel dining. Joël Robuchon is a well-known French chef who has been anointed Chef of the Century by the French magazine Gault Millau. Robuchon is also a Forbes Five Star Award winner, AAA 5 Diamond Award winner and has received multiple other awards. Dinner is expensive, starting at $115, but for a once-in-a-lifetime dining experience, it's well worth it for foodies and romantics alike. While the entire menu is stunning, it might be worth it to go for one of the specialty dishes like Le Caviar, a dish with Oscetra caviar, cauliflower cream, and gelée of green asparagus. Reservations are highly recommended.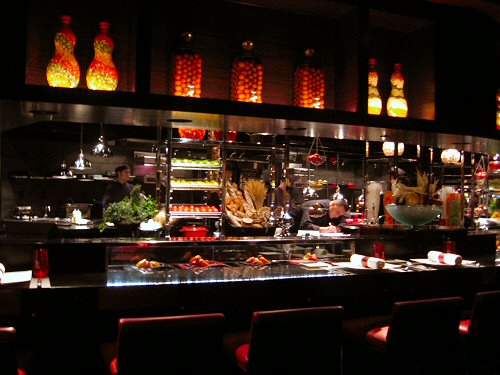 Located in Caesar's Palace, Restaurant Guy Savoy offers upscale French dining, a romantic fireplace and the opportunity for quiet conversation. Guy Savoy has been awarded three Michelin stars and was voted France's Chef of the Year by his peers. For a gastronomical treat, go for the 10-course Menu Prestige that features some signature dishes such as the silky artichoke and black truffle soup, colors of caviar and the delicate spiced crispy sea bass. Reservations are recommended, and expect to spend a considerable amount on dinner. You can also visit the more casual Bubble Bar and sample some of Guy Savoy's signature dishes along with a variety of champagnes with no reservations required.
Located in the Bellagio Hotel, Yellowtail Japanese Restaurant & Lounge features a Japanese-inspired menu and innovative dishes. It provides panoramic views of the hotel's fountains and show. Dishes include fresh toro sashimi, Jidori chicken, and Hawaiian butterfish with shiitake mushrooms. Yellowtail delivers the sleek look of wood and stone and an outdoor patio. They also have a hand-selected sake collection from across Japan. The dress is business casual and reservations are recommended.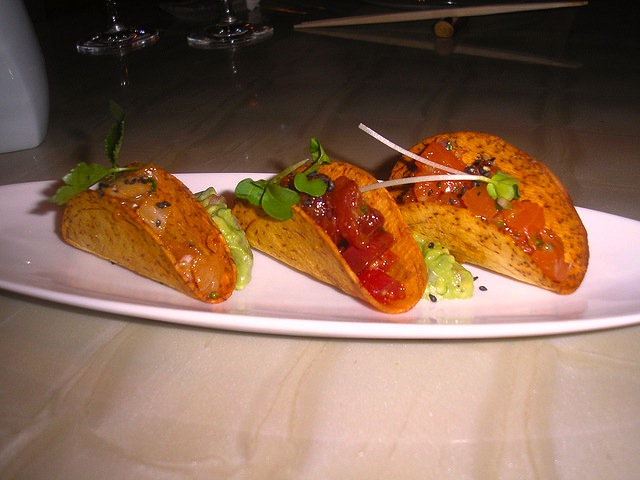 After all of that splurging, travelers might want to find a more affordable daytime or evening option. And in grand Vegas tradition, you can't miss having a go on at least one hotel buffet. All are generally reasonably priced, and you certainly won't go away hungry.
For romantic treats after the main course, Vegas has plenty of options, too. Nothing melts a lover's heart quite like chocolate, and Jean Phillipe Patisserie features a gorgeous flowing fountain of chocolate and boasts plenty of pastries and other delectable treats. They have several locations; one is in the Bellagio Hotel and another at the Aria. If chocolate is not on the menu, then perhaps some pastries and cakes will do the trick. In the Street of Dreams at the Monte Carlo, you will find the Cupcakery, where you can enjoy a wide variety of mouth-watering sweet concoctions. Try the Lemonberry, a wonderful combination of jazzy lemon cake topped with a self-indulgent blueberry frosting.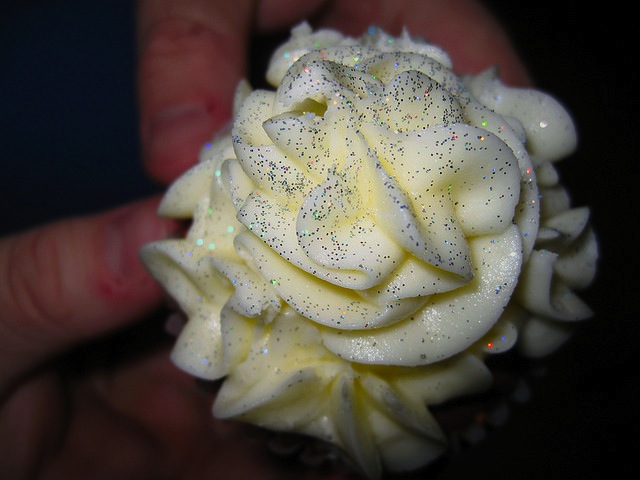 What to See and Do
If you and your sweetie are into fine art and museums, be sure to stroll through the awe-inspiring exhibits at the CityCenter Fine Arts Collection, where you will see works by acclaimed artists. Works from renowned artists such as Maya Lin, Nancy Rubins, and Coosje van Bruggen are on display. The Bellagio also features a very impressive fine art collection from around the world.
For a laid-back and romantic respite from the fast pace of exploring, you can drift across Lake Las Vegas in a gondola while sipping champagne and enjoying fine chocolate. Unwinding is also easy in facilities designed to do just that and nothing more. The major hotels all offer first class spas, most of which feature couple's packages, where you can relax and enjoy a couple's massage and more. The Spa & Salon at Encore Las Vegas is especially nice–enjoy two swimming pools, jacuzzis, sauna, steam room, waterfall showers and heated stone chairs before or after your treatment. Or for even more of a splurge, try the Spa at the Mandarin Oriental, where in addition to the requisite sauna, jacuzzi and experience showers, there are relaxation rooms with heated stone lounge chairs and prime views overlooking the strip. Best of all they don't overbook it, making for a truly relaxing VIP experience.
For those who want entertainment, there's always a show on in Vegas. You can see Broadway's The Lion King at Mandalay Bay, where you can also take in Shark Reef and even go diving with the sharks. Enjoy the magic and mystery of the Cirque du Soleil Mystère at Treasure Island. All of the big production shows are popular and seats should be reserved well in advance. Check out Vegas.com to see what's showing when you plan to be there.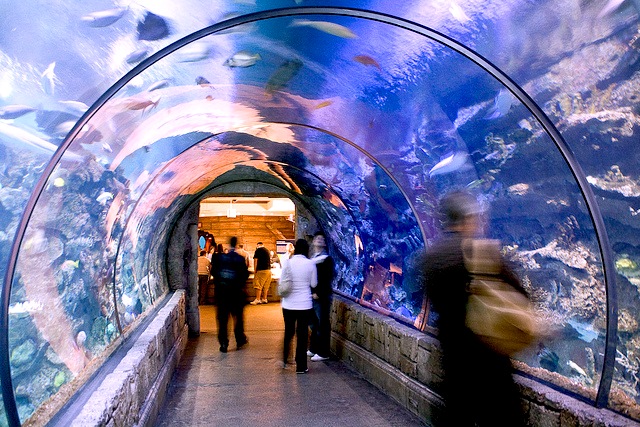 Be sure not to miss out on the beauty and color of the desert at the Springs Preserve Botanical Gardens, while you are in the Las Vegas area. Featuring an 8-acre garden, complete with walking trails, and an indoor flood exhibit, this is a must-see attraction. Prices range from $18.95 to $10.95, and free for kids under five. More gripping outdoor activities are possible, too. If a hot air balloon ride sounds romantic, try Adventure Balloons. The best time of year for this treat is October through April.
Wedding Bells
If all goes well with you and your sweetheart on your romantic getaway, you just may find your thoughts turning to forever. If that is the case, then you have nothing to worry about as far as quick wedding plans are concerned. Vegas is known for its wide variety of wedding offerings. The Las Vegas Hilton and Caesar's Palace provide wedding packages, while Treasure Island and Planet Hollywood also offer ways to combine a stay with matrimony. For fans of Elvis, you can even be married by the King himself at the Viva Las Vegas Wedding Chapel. Here, there's even a live webcam service so those who can't be in Vegas can still see the wedding.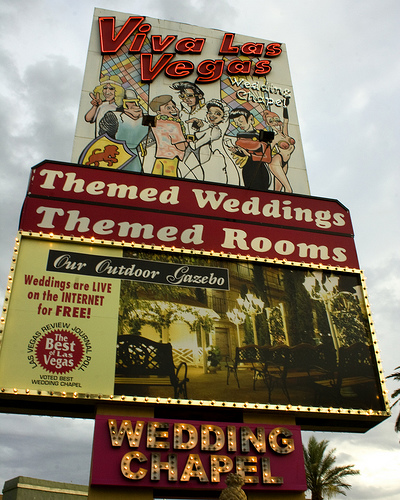 When it comes to marrying in Vegas, the truth is, the sky's the limit. Literally, If you are brave enough, you can say your vows from the sky in a wedding aboard a helicopter. Maverick Tours features an in-flight wedding package, complete with champagne for the happy couple. If you desire, you can have music, photography, flowers, and more included with your helicopter-wedding package. What could be more romantic than saying "I do" in a truly unique locale?
Photo Credit: irene, NikChik, scaredy_kat, Shireen Garcia, joanna8555, jward199
If you enjoyed this, please follow TravelSort on Twitter, like us on Facebook or become a Member to be alerted to new posts.