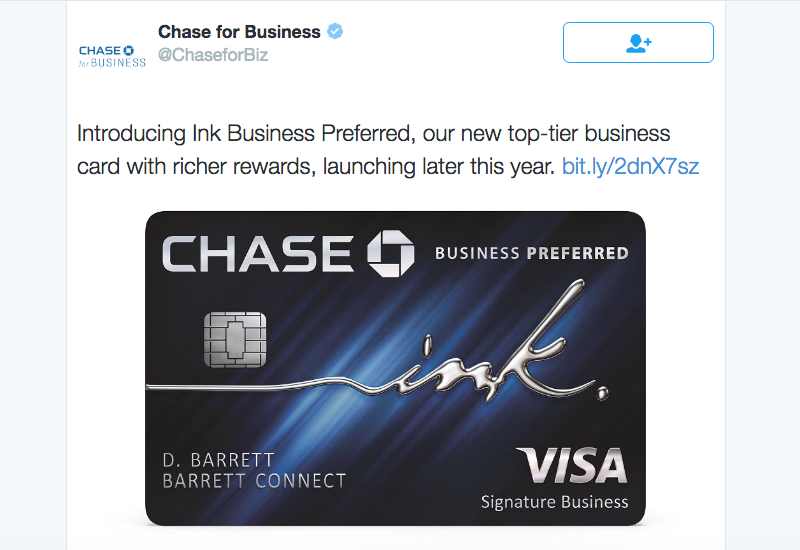 An 80K Chase Ink Business Preferred Card will launch later this year, and since it's already late October, that means relatively soon. This is on the heels of rumors that the Ink Plus would soon be getting rid of its 5X category (see Get the Ink Plus Now for 5X to be Grandfathered?)
Chase itself confirmed the new 80K Ink Business Preferred product in the tweet shown above.
And a Bloomberg article has these details:
Earn 80,000 Ultimate Rewards points after spending $5000 on the card within the first 3 months of card membership
3X per dollar on travel, telecommunications, shipping, advertising on social media and search engines, up to the first $150,000 spent in aggregate across those categories; after that earn 1 point per dollar.
$95 annual fee waived the first year if the card is opened at a Chase branch
Ultimate Rewards points can be pooled with Ultimate Rewards points earned from the Chase Sapphire Reserve, Chase Sapphire Preferred, Chase Freedom and Ink Plus
Analysis
The good news is that it turns out the 3X category is for an entirely new product, the Ink Business Preferred card, so if you're under 5/24 (you've opened 4 or fewer new credit card accounts in the last 24 months) you'd be eligible to earn the 80,000 points signup bonus, even if you received a bonus for the Ink Plus within the past 24 months.
And if your business does spend significantly on shipping or social media and/or search engine advertising, the new Ink Business Preferred card could be great news for you, since unlike the AMEX Gold Rewards card, the new Ink Business Preferred card will offer 3X for all of these categories as well as travel and telecom. The AMEX Business Gold Rewards card forces you to choose one category for your 3X, so if you opt for 3X in advertising, you only earn 2X in the other categories–airfare and gas stations (which are more narrow than travel), shipping, and technology (hardward, software, cloud computing).
The question on my and others' minds is: assuming current Ink Plus card holders are grandfathered for the time being and can still earn 5X at office supply stores as well as on Internet, phone and cable services, how long will this last? I'm hoping both cards will coexist for awhile, as I would hate to have my current Ink Plus convert to the Ink Business Preferred, but we'll have to see.
Do you plan to apply for the 80K Ink Business Preferred when it's launched later this year?
Related Posts