These tips on what and where to eat in Moscow are part of a trip report including First Class and Business Class to Moscow on Lufthansa, with reviews of luxury hotels and dining in Moscow and St. Petersburg, Russia.
For the prior posts, see:
Lufthansa First Class Award Booked 15 days in Advance
Lufthansa New First Class Review
Review: Lufthansa First Class Lounge in Munich
3-Year Russian Visa Application Requirements and Tips
Radisson Royal Moscow Hotel Review
Moscow has some of the best food anywhere if you know where to look, but people are often puzzled when I tell them how much I miss food I used to eat there, during the two years I worked in Moscow. This is not to say that all of it was Russian food–that's like saying you miss NYC for its bagels and NYC style pizza. Certainly there are traditional Russian comfort foods I miss, but Moscow, similar to NYC, offers an array of international restaurants featuring everything from sushi (which many Muscovites have adored for years) to fine French cuisine to traditional dishes from Georgia, Uzbekistan, and the other former Soviet republics. I even miss things I used to be able to get in my local (albeit high end) grocery store, which Whole Foods and other stores in NYC don't carry.
So forget long bread lines and any misconceptions you may have about Russian food or Moscow–if you enjoy great food, there's plenty to keep you happy in Moscow.
1. Dinner at Les Menus par Pierre Gagnaire, Lotte Hotel Moscow
French cuisine is probably not the first thing that comes to mind when you think of what to eat in Moscow, but trust me, a splurge dinner at Les Menus par Pierre Gagnaire at the Lotte Hotel Moscow is worth it. I was lucky enough to dine while Pierre Gagnaire was visiting, so there was a special prix fixe menu honoring his visit. One of my favorite courses was this wild mushroom and escargot tart, accompanied by apple puree and sorbet splashed with calvados. There was live piano music as well, so it's a perfect romantic night out. The bill will be sizable, but getting 2.14X points with the Sapphire Preferred helps.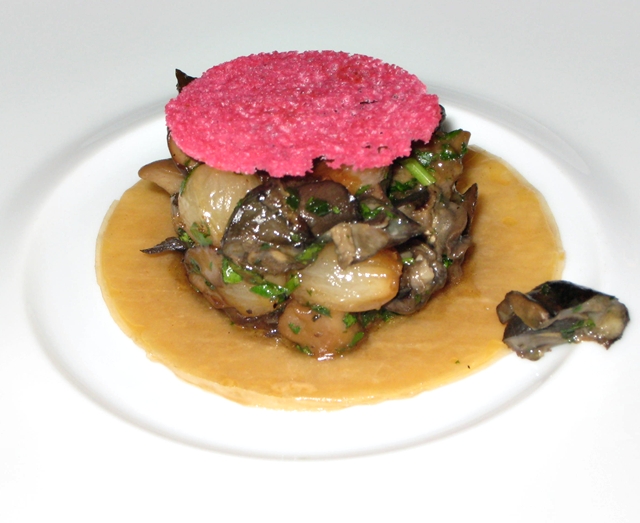 2. Pelmeni at Cafe Pushkin
Cafe Pushkin is well known and somewhat touristy and overpriced, but I still find its pelmeni, particularly the wild mushroom pelmeni, to be among the best in town. Try it for a more relaxed lunch if you're not up to a very expensive formal dinner.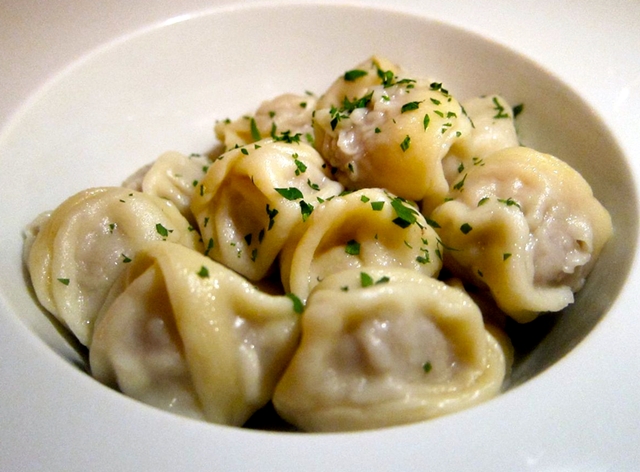 3. Khachapuri at Cafe Khachapuri
Georgian food was always beloved in the former Soviet Union, given all the fresh fruits and vegetables grown there, Georgian wine, and especially these piping hot breads stuffed with Georgian Sulguni cheese. Cafe Khachapuri is a great place to try them and has several Moscow locations, with English menus if you don't read Russian.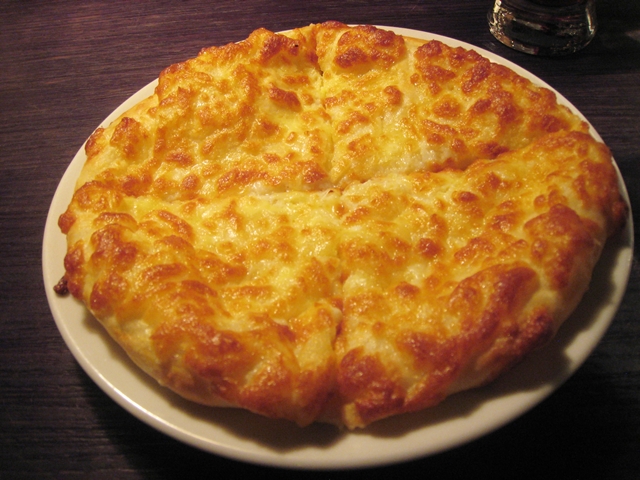 4. Black Currant Pastry at Volkonsky/Wolkinsky (Maison Kayser)
Although finally NYC has gotten its own Maison Kayser, one of the things I missed most when I moved back to the U.S. from Moscow was Volkonsky Bakery, which is how Eric Kayser's bakeries are branded as in Russia and Ukraine. And even though there's now a Maison Kayser in NYC, I still miss these black currant pastries, that as far as I know are only made at Volkonsky bakeries in Russia and possibly Kiev, though I haven't been to that one. The tartness of the plump and juicy black currants contrast perfectly with the sweet and buttery croissant pastry.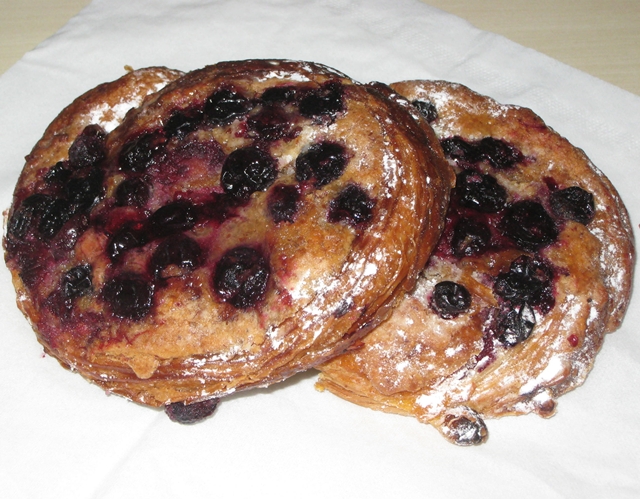 5. Syrniki with Homemade Jam
Syrniki are Russian farmers cheese pancakes–something like a denser version of ricotta pancakes–and they are heavenly when spread with some homemade jam, as with these versions from the copious breakfast buffet at Les Menus at the Lotte Hotel Moscow.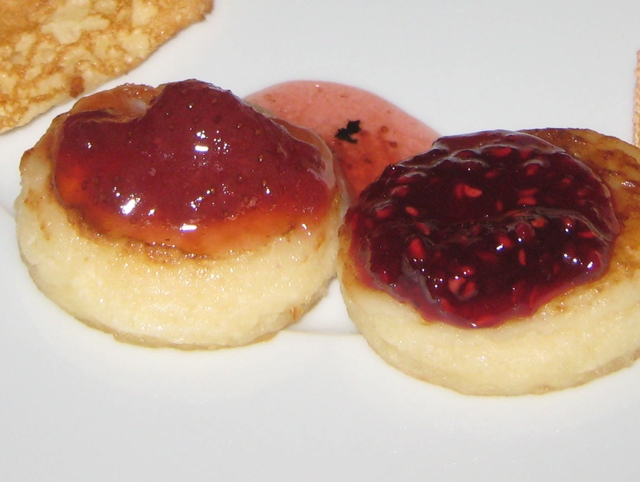 6. Borscht
Borscht is one of the dishes Russia is most known for, and when done well, it really is the perfect hearty winter soup, filled with nourishing julienned beets and carrots, chunks of potato and beef, all in a gorgeously magenta hued broth and finished with a sprinkling of cilantro and a generous dollop of smetana, Russian sour cream. I'm partial to the version at Mari Vanna, a high end chain with restaurants in Moscow, St. Petersburg, London–there's even a Mari Vanna in New York. But even many of the versions served as part of the "business lunch" specials around town are quite good.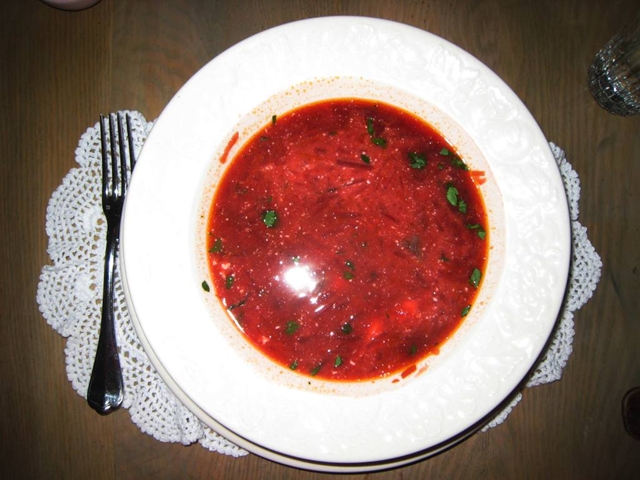 7. Blini
Blini are very similar to French crepes, and there are both buckwheat versions that are a lovely nutty complement to smoked salmon, caviar, wild mushrooms or other savory fillings, and white flour blini for sweet fillings (although often used for savory fillings as well). I've enjoyed a great high end version some years back at the Ritz-Carlton Moscow's Club Lounge, Mari Vanna serves nice ones, and for a cheap and filling Russian fast food version, just hit up any of the Teremok stands around town.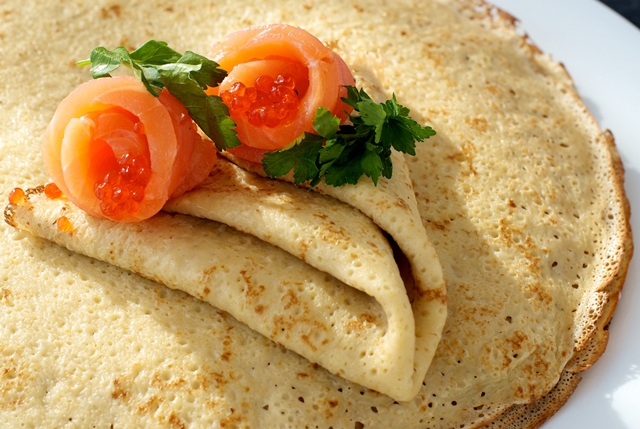 8. Lepyoshka at Bagrationovskaya Market
I first had lepyoshka, also known as Bukharian naan bread, when I spent a summer working in Kyrgyzstan, one of the Central Asian former Soviet republics. So I was thrilled to find it again at the large outdoor market at Bagrationovskaya (Metro: Багратио́новская). The bread, similar to Indian naan bread, is baked in a clay tandoor style oven, but instead of just being flat, the edges are puffy and you can even get versions filled with ground meat, cheese, or potato–I usually got the cheese version.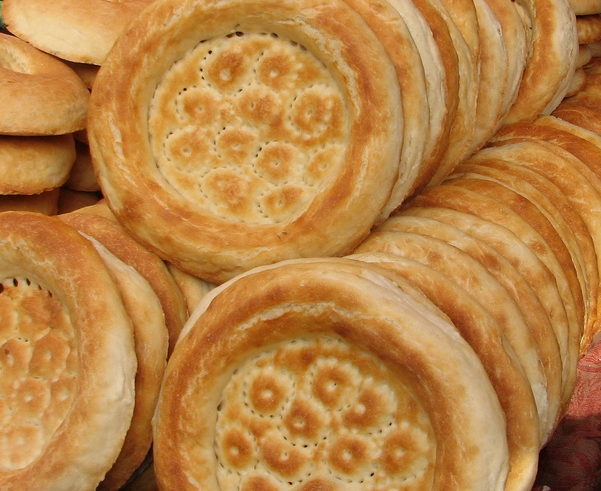 Do you have any favorite Moscow food or restaurants to add?
Disclosure: I was a guest of the Lotte Hotel Moscow and Les Menus par Pierre Gagnaire, however the views expressed in this post are my own.
Related Posts
Review: Cafe Khachapuri, Moscow
Four Seasons Moscow Hotel Review
Top Luxury Hotels in Moscow, Russia
The Most Beautiful Subway Stations in the World
Need Award Booking Help? Our fee is as low as $75 per ticket if you book your hotel through us.
If you enjoyed this, join 200,000+ readers: please follow TravelSort on Twitter or like us on Facebook to be alerted to new posts.
Become a TravelSort Client and Book 5-Star Hotels with Virtuoso or Four Seasons Preferred Partner Amenities!
Photo credit: Hilary Stockton, Kelvin Beecroft