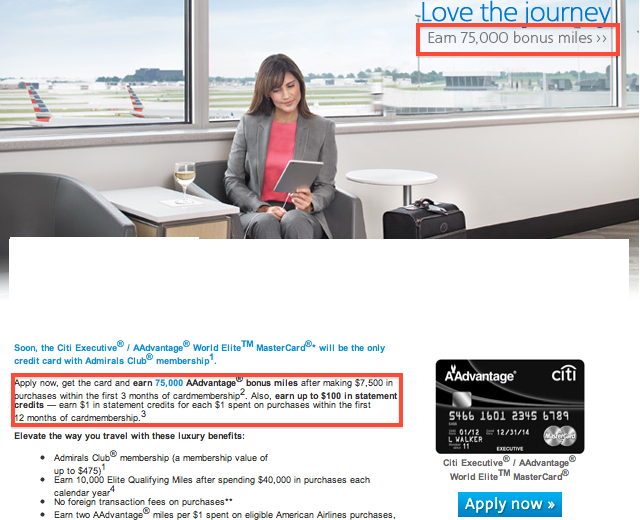 8/3/14 Update: Dead; best current offer appears to be the 60K Citi Exective AAdvantage with $100 statement credit
2/4/14 Update: Citi matched me to the 100K Citi Executive AAdvantage offer with $200 statement credit: if you applied for the 75K offer, it's worth a call to see if you can be matched to the 100K offer.
There's a 75,000 Citi Executive AAdvantage bonus offer, per Brian, which given the $450 annual fee (not waived) enables you to buy AAdvantage miles at 0.6 cents each–nearly half a cent per miles, which is a very good deal these days. I've added it to the Best Travel Credit Cards page. Here are the details:
Earn 75,000 AAdvantage miles after spending $7500 within the first 3 months of card membership
Earn up to $100 in statement credit for spend within the first 12 months
Enjoy Admirals Club membership (value of $475)
Earn 10,000 Elite Qualifying Miles (EQM) after spending $40,000 each calendar year
No foreign transaction fees
Earn two AAdvantage miles per $1 spent on eligible American Airlines purchases
$450 annual fee (not waived)
Note that the above link goes straight to the application page, and no landing page is available, so it's possible that this offer is targeted. I've applied and received instant approval, so I'll let readers know if I indeed receive the 75,000 bonus, once I receive the card and call to confirm the bonus.

Meeting Minimum Spend
Best AAdvantage Miles Awards
Other Cards to Apply For at the Same Time
It's often better to apply for several cards the same day, then wait a number of months before applying for more cards. That's because most bank issuers don't like to see too many recent credit inquiries. By applying all on the same day, they won't see that you're applying for multiple cards, and you'll have had several months prior with no credit inquiries.
This is especially important with picky issuers such as Barclay's Bank, which will often deny applications if you've applied for too many cards in the past year. If you apply for the Citi Executive AAdvantage, I would consider these cards as well:
US Airways MasterCard 40,000 Miles: 40,000 bonus miles after first spend, but $89 annual fee is NOT waived. See link on the Best Travel Credit Cards page. Note that if you already have this card, you are likely to be denied, but it can be worth a try.
Barclays Arrival Card – 40,000 Bonus Miles = $440 Rebate on Travel: The best use of the Barclays Arrival card is to redeem the signup bonus, plus any other miles you earn from card spend (2x miles for ALL spend) for a rebate of your travel expenses. For example, you can get the airline fees and fuel surcharges rebated when you pay using the card. It's especially handy if you have foreign carrier fees, for example on a one way flight departing from an international destination, where the fees are in the local currency, since there are no foreign exchange fees on the card.
Do you plan to apply for the Citi Executive AAdvantage card with the 75,000 bonus AAdvantage miles?
Related Posts