Update: This targeted offer is likely gone. Instead, consider applying for the Mercedes-Benz AMEX Platinum card for 50,000 points on our Best Travel Credit Cards page, or waiting for the periodic offers of 75,000 points for the AMEX Business Gold Rewards card. The most recent 75,000 bonus offer for the AMEX Business Gold Rewards was January 21-28 2013.
If you missed earlier 75,000 bonus points offers for the AMEX Premier Rewards Gold Card and are not currently an AMEX cardholder, check your AMEX special offers to see if you've been targeted and are pre-approved. While I was disappointed that there were no special offers for me as an existing AMEX cardholder, when I checked for my husband, I was thrilled to see that he was pre-approved for three card offers, including the AMEX Premier Rewards Gold Card with 75,000 Membership Rewards points after spending $1000. My husband does not yet have an AMEX card, only the Fidelity AMEX with 2% cash back (in other words, not AMEX, since the card is issued by FIA Card Services, owned by Bank of America).
If you aren't an AMEX cardholder or a family member isn't, here's how to check your AMEX special offers to see if you or someone in your family has been targeted for a similar bonus offer:
1. Clear Your Cache and Cookies
I cleared my cache and cookies so that it wouldn't keep showing me the Web site for existing AMEX cardmembers.
2. Go to American Express and Select "Personal Cards" from the Footer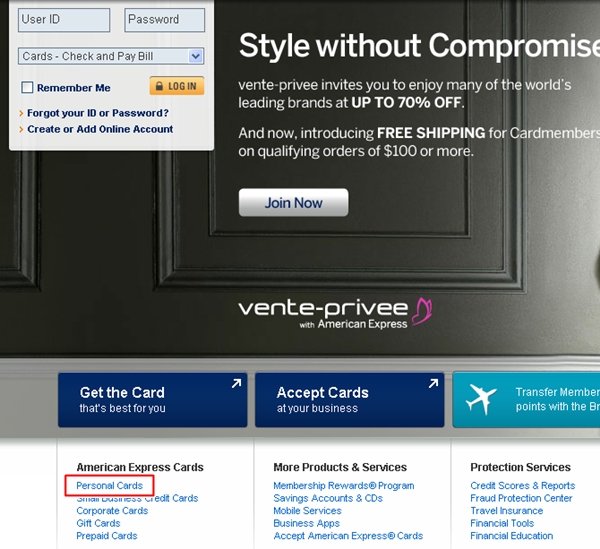 3. Select "View Your Special Offers"
You can select it either from the grey bar at the top, or on the side, as I've shown with the red highlights: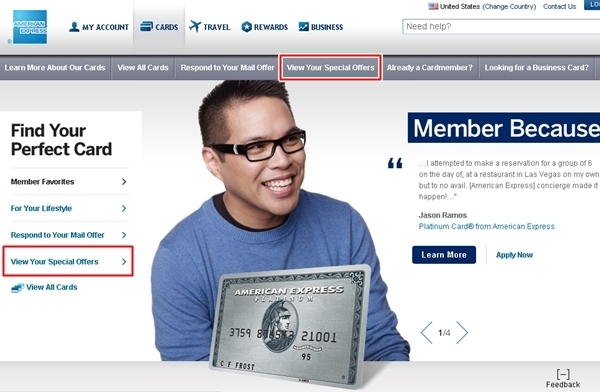 4. Fill In Your Details, Including Last 4 Digits of Your SSN
You'll need to fill in your name, address and the last four digits of your SSN to view your AMEX Special Offers: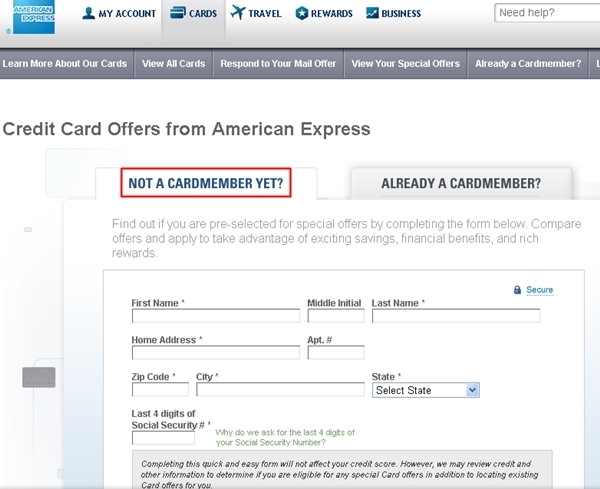 5. If You're Targeted, You'll See Special Offers
In my husband's case, he had offers for Blue Sky from American Express (although it noted this was a mail offer, not that either of us remember seeing it); the Gold Delta Skymiles Credit Card for 72,500 bonus miles, and the AMEX Premier Rewards Gold for 75,000 Membership Rewards points. We were most interested in the 75,000 bonus points offer for the Premier Rewards Gold Card, since we don't collect Delta miles at all (mainly because there's no option to fly first class with partners). Quick recap of this bonus offer and AMEX Premier Rewards Gold card benefits:
Earn 75,000 Membership Rewards bonus points after spending $1000 within the first 3 months
3x points on all airline spend
2x points on all grocery spend
2x points on all gas spend
$175 annual fee waived the first year
Until this quarter's April-June Chase Freedom 5x Grocery Bonus, I put all our grocery spend on the AMEX Premier Rewards Gold, for 2x points. The card also gets 3x on airfare spend, although since we tend to earn most of our miles and points through credit card bonuses and spend, we haven't been able to take advantage of that category bonus as much.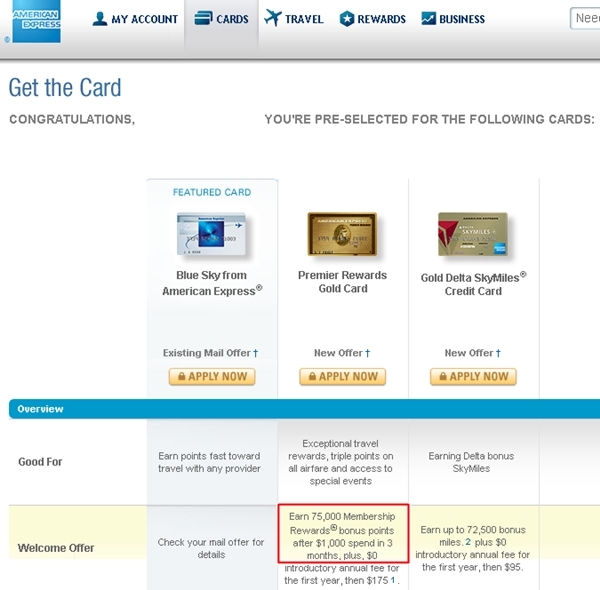 6. Apply Online (Calling Won't Work)
The first time I tried submitting the application, I got an error message that AMEX systems were down, along with a phone number to call. My husband called it, but was told that the offer can only be applied for online. No doubt this is to ensure that no one who is not actually targeted gets the offer. And in the application itself the name fields are not editable. So, even if someone you knew opened up the application, you wouldn't be able to apply instead of them since their name is hardcoded into the application.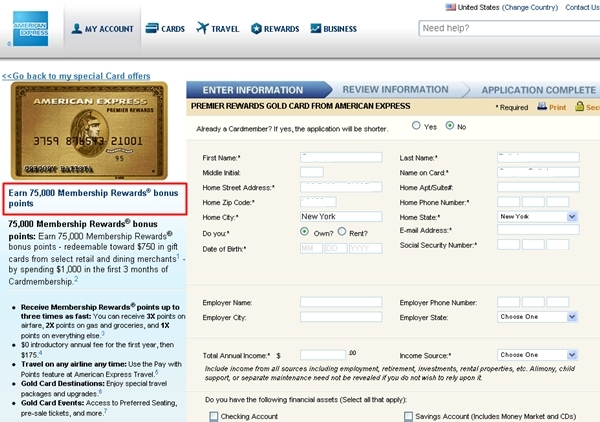 Now, I certainly wish we'd realized he was targeted earlier, so we could have taken advantage of the current 50 Percent AMEX Transfer Bonus to British Airways Avios, but regardless, am glad that my husband is getting this bonus. While I value Ultimate Rewards more highly, Membership Rewards are good to have on hand when British Airways or Delta run transfer bonuses. In the past I've transferred to Aeroplan, but since they devalued their award chart and started imposing surcharges on most partner flights, I probably won't be transferring to them again, especially when those flights can be booked more cheaply with United miles earned from Ultimate Rewards.
Related posts
AMEX Prepaid Card: 5X Points and Free $25 AMEX Gift Card
50 Percent AMEX Transfer Bonus to British Airways Avios-Best Deals
How to Get Targeted for 100,000 Credit Card Bonus Offers
American Express Membership Rewards Changes: Miles, Points and Spend Strategy
The Best Credit Cards for Sign-up Bonuses and Everyday Spend
Detailed Review of the American Express Platinum Credit Card
Credit Card Rewards are Getting Richer…But Are You Getting the Best Deal?
Check out and apply for the Best Travel Credit Cards.
If you enjoyed this, please follow TravelSort on Twitter or like us on Facebook to be alerted to new posts.
Become a Member to find your perfect luxury or boutique hotel at up to 50% off: TravelSort Hotels