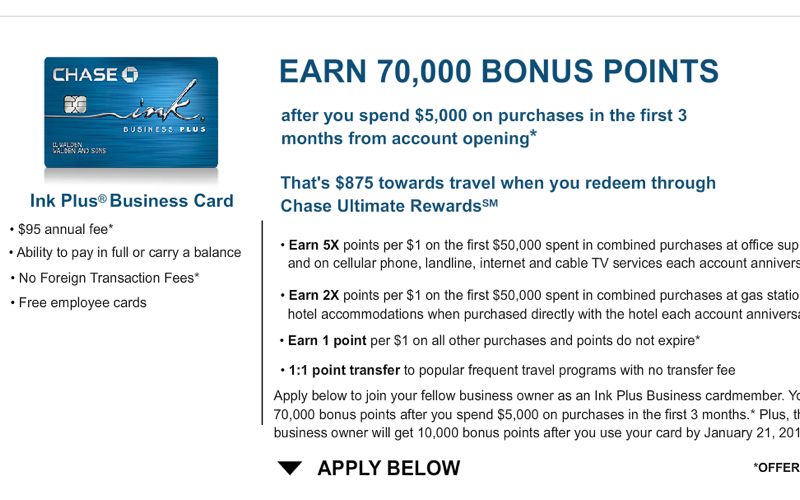 The 70K Ink Plus Bonus Offer is not new–as I posted over 2 months ago in July (70K Chase Ink Plus Signup Bonus Offer), it's been available at Chase bank branches for awhile. But now there's an Ink Plus Refer a Friend targeted offer for some Ink Plus cardholders, that may enable you to refer friends to the 70K Ink Plus offer and earn up to 50K Ultimate Rewards points for successfully referring 5 friends.
Here are the details:
1. Go to Chase Refer a Friend
Enter your last name, zip code and last 4 digits of your Ink Plus card number to see if you're eligible to refer friends.
2. Invite Friends Who Want the Ink Plus Business Credit Card
If you're eligible, you'll see a screen such as the one below, where you can enter the first name, last name and email address of your friends to send them an emailed invite.
I recommend instead that you click on the Twitter link to get your own personal referral link and send that to your friends, so that they don't have to wait and can apply right away.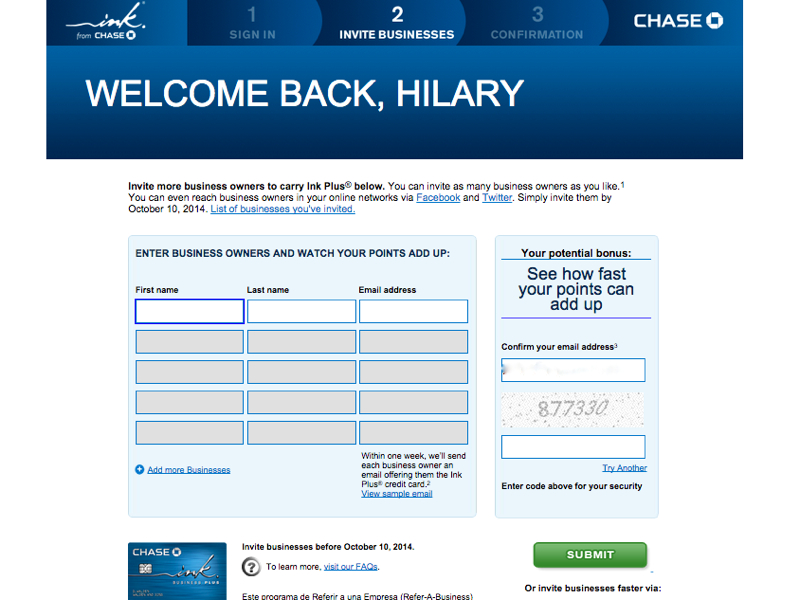 3. Feel Free to Use My or Others' Referral Links
If you don't already have a spouse, partner or friend with the Ink Plus and would like to help someone out with referral points, feel free to apply either via my 70K Ink Plus referral link (link removed, as offer has ended) or that of others commenting on this post, or those of posters in this Flyertalk thread (see the last few pages).
FAQ
When Must I Invite Friends Who Are Business Owners By?
The deadline to invite other business owners is by October 10, 2014
When Must My Invitees Apply By?
Those you invite have until October 20, 2014 to apply, and if they are approved, must use the card by January 21, 2015 in order for you to receive referral credit.
Are My Invitees Eligible for the 70K Ink Plus Bonus?
The terms of the offer state: "This new cardmember bonus offer is not available to either (i) current cardmembers of this business credit card, or (ii) previous cardmembers of this business credit card who received a new cardmember bonus for this business credit card within the last 24 months." Hence, I would recommend that you not encourage colleagues to apply if they already have the Ink Plus card, even if it's for another business.
Instead, you might want to encourage them to apply for the 50K Ink Bold Visa, especially if they have never had the Ink Bold or previously had the Ink Bold MasterCard, since Chase considers the Visa and MasterCard variants different products (Chase has since switched all its cards to Visa).
What's the Maximum Number of Ultimate Rewards Points I Can Receive By Referring Others?
You can receive 10,000 Ultimate Rewards points per approved applicant up to 50,000 Ultimate Rewards points per calendar year. Note that the 50,000 limit applies across all Chase refer a friend opportunities, not just the Ink Plus.
When Will the Bonus Ultimate Rewards Points Post to My Account?
Allow 6-8 weeks after the first purchase of a successful applicant that you referred.
Is There a 70K Ink Plus Offer with $95 Annual Fee Waived? I Want My Invitees to Get the Best Offer.
No, to my knowledge there are no 70K Ink Plus bonus offers with the $95 annual fee waived. Assuming your invitees know how to use Ultimate Rewards points well, the extra 20,000 points are well worth the annual fee.
What Are the Best Ways to Use Ultimate Rewards Points?
Ever since the United Award Chart Devaluation and with Singapore KrisFlyer Now a Chase Ultimate Rewards Transfer Partner my favorite use of Ultimate Rewards points has been transferring them to KrisFlyer, to be able to redeem for Singapore Suites on the A380 or Singapore New First Class. Another good use if flying to North Asia is to transfer to Korean Air Skypass. Also see Book Korean Air Skypass Awards Online.
Plan to get the 70K Ink Plus or to refer friends to it?
Related Posts
70K Chase Ink Plus Signup Bonus Offer
Chase Refer a Friend Bonus for Sapphire Preferred and Freedom Up to 50K Per Card
Harder to Get Approved for Chase Ink Bold and Ink Plus?
Best Ways to Use Chase Ultimate Rewards Points
Need Award Booking Help? Our fee is as low as $75 per ticket if you book your hotel or cruise through us.
If you enjoyed this, join 150,000+ readers: please follow TravelSort on Twitter or like us on Facebook to be alerted to new posts.
Become a TravelSort Client and Book Your Hotel with Virtuoso or Four Seasons Preferred VIP Amenities!
Disclaimer: Note that some cards in this post offer credit to me if you're approved using my links. The opinions, analyses, and evaluations are mine. This content is not provided or commissioned by Chase, Barclays, American Express, Citibank, US Bank, Bank of America, or any other company. They have not reviewed, approved or endorsed any of my articles.