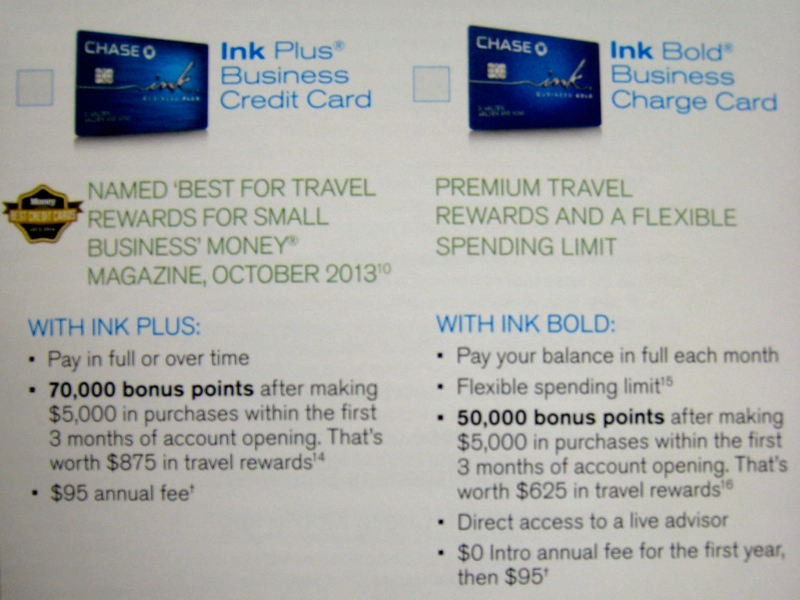 A 70,000 Ink Plus signup bonus offer is available in Chase branches (update: and now online), but the $95 annual fee is NOT waived.
I was in Chase just today and saw a 70,000 Ink Plus offer on a banker's desk. It's 20,000 points more than the usual 50,000 bonus, but the $95 annual fee is charged upfront, and not waived the first year. Interestingly, it was presented side by side with the regular 50,000 Ink Bold offer which does have the annual fee waived the first year.
Apart from the Ink Bold being a charge card and the Ink Plus a credit card, the cards are identical in their benefits, so it could be a good way for Chase to assess whether propsects would rather pay the annual fee but earn 20,000 more bonus points.
Here are the offer details:
70K Chase Ink Plus Signup Bonus Offer
70,000 Ultimate Rewards points after you spend $5000 in the first 3 months from account opening (20,000 more points than the usual 50,000 points signup bonus)
5X points per dollar on office supply store spend, telephone, cable and Internet services
2X points on hotel spend when directly with the hotel, gas stations
1:1 point transfer to United, Hyatt, British Airways, Korean Air, Southwest, Marriott, Ritz-Carlton, InterContinental, Priority Club, Amtrak, Virgin Atlantic and recent new transfer partner Singapore KrisFlyer
Annual fee of $95 is NOT waived the first year
No foreign transaction fees
FAQ
I Recently Got the 60K Ink Plus Bonus Offer. Can I Receive the 70,000 Offer Instead?
7/26/14 Update: Chase is no longer matching, citing the fact that the in-branch offers comes with a $95 annual fee.
Although there are no guarantees, there have been multiple reports in
this DDF thread
of people successfully having been matched to the higher offer by sending Chase a secure message, if they recently (within the past 60 days) applied for an Ink Bold or Ink Plus card. See
Send Chase a Secure Message
Should I Apply for the 50,000 Ink Plus and Hope to Get Matched to the 70,000 Bonus Offer?
You could, although you're taking the risk of whether Chase will still be matching new applicants via secure message by the time you get approved–I have to imagine Chase is getting inundated by many of the folks who got the recent Small Business Week 60K offer, so I have no idea whether the match will be continued, especially without also paying the $95 annual fee.
Do I Qualify for a Small Business Credit Card?
Many folks qualify for a small business card, even for very small businesses such as selling items
on Amazon, eBay, Etsy, Craigslist, etc. If you rent your apartment or other real estate using Craigslist, Airbnb, or do any type of consulting work, that's another business that you could use for purposes of applying for a small business card.
Also s
ee
Ink Business Card Sign Up Tips
What Are the Best Uses of Ultimate Rewards Points After the United Award Chart Devaluation?
The
United Award Chart Devaluation
had the effect of devaluing Chase Ultimate Rewards points as well. Previously United was the top Ultimate Rewards transfer partner, with the goal of redeeming for international premium class awards such as Asiana First Class, last-minute Lufthansa First Class, SWISS Business Class and the occasional Singapore Business Class award.
What Other Credit Cards Should I Consider Applying for at the Same Time?
It's often worth applying for several credit cards at the same time so that all your credit inquiries occur on the same day, as close in time as possible, then go several months without any new credit applications. The other cards I would recommend right now are:
Do you plan to apply for the
70K Ink Plus
bonus offer, or secure message to see if you can be matched to it?
Related Posts
Need Award Booking Help? Our fee is as low as $75 per ticket if you book your hotel or cruise through us.
If you enjoyed this, join 150,000+ readers: please follow TravelSort on Twitter or like us on Facebook to be alerted to new posts.
Become a TravelSort Client and Book Your Hotel with Virtuoso or Four Seasons Preferred VIP Amenities!
Disclaimer: Note that some cards in this post offer credit to me if you're approved using my links. The opinions, analyses, and evaluations are mine. This content is not provided or commissioned by Chase, Barclays, American Express, Citibank, US Bank, Bank of America, or any other company. They have not reviewed, approved or endorsed any of my articles.