Bangkok and Thailand in general is one of the best places on earth to enjoy incredible food, at not so incredible prices, especially if you're adventurous and enjoy spicy dishes. You're probably familiar with pad thai, and this remains a delicious street food classic when done right, but there's so much more. I was recently in Bangkok, so this post on Thai food is part of a Southeast Asia trip report. Here are the previous posts:
ANA All Nippon Airways Business Class Review, LA-Tokyo
Singapore Airlines Business Class Review, Tokyo to Singapore
St. Regis Singapore Hotel Review
Mandarin Oriental Singapore Hotel Review
Ritz-Carlton Millenia Singapore Hotel Review
Thai Airways Business Class Review
St. Regis Bangkok Hotel Review
Peninsula Bangkok Hotel Review
Here are 7 of my favorite Thai foods to eat in Bangkok, along with where I recently ate some of them:
1. Soft Shell Crab with Kaffir Lime and Chilli
While I normally don't like to eat dinner at the hotel, it was a rainy evening when I stayed at The Peninsula Bangkok so I decided to stay in and try the Thai restaurant, Thiptara. Pricey compared to what you can pay elsewhere in Bangkok for Thai food? Yes. But this dish, soft shell crab with crispy fried kaffir lime leaves and whole chillis, was absolutely worth it. It's the best soft shell crab dish I've ever eaten, with succulent pieces that were perfectly fried and fragrant from the chilli and kaffir lime leaves. A drizzle of the sweet chili sauce served on the side was the finishing touch.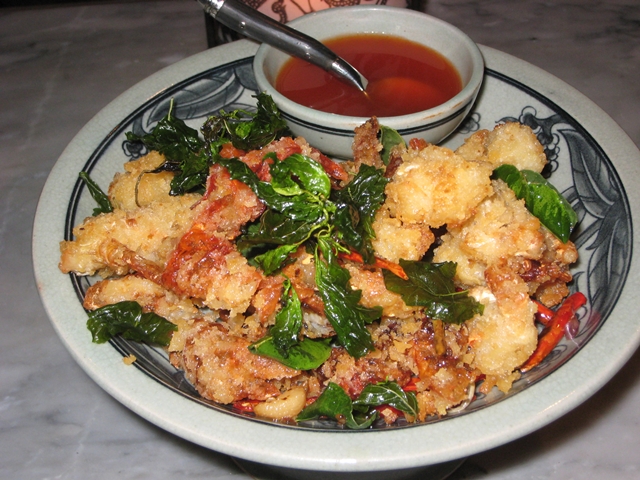 2. Chicken Coconut Galangal Soup (Tom Kha Gai)
My husband has to order this whenever we go to a Thai restaurant, and I'm very fond of it as well, with its blend of exotic, woodsy galangal (tom kha means boiled galangal in Thai), silky sweet coconut milk, hint of heat from chilis, and sour notes from fresh lime juice and kaffir lime leaves. With the chicken and straw mushrooms, it could be an entire light meal.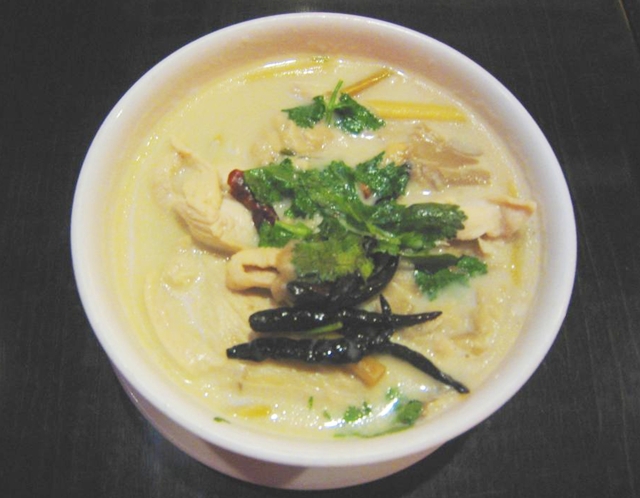 3. Crispy Fish with Green Mango Salad (Yam Pla Duk Fuu)
While I didn't have this dish in Bangkok this time, it's one of my all-time Thai favorites. If you're in the NYC area, I highly recommend a trip out to Queens, to Ayada Thai in Elmhurst, to get this dish. Traditionally made with catfish, Ayada makes it with snapper. The whole fish is filleted, the pieces are quickly deep fried, then served topped with tangy green mango salad. Spicy and delicious!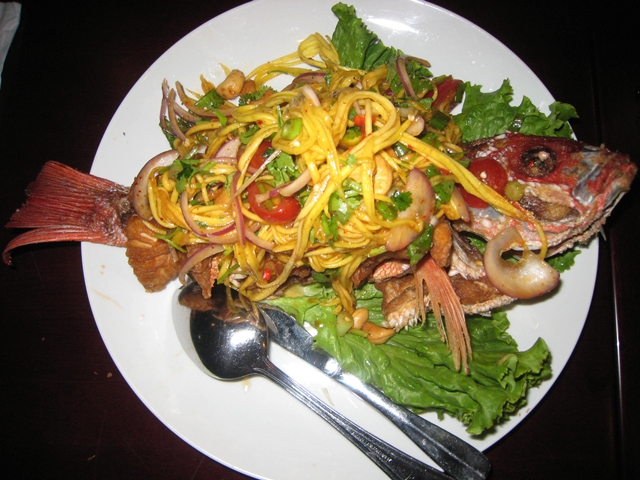 4. Duck Curry (Kaeng Ped Yang)
While there are many types of Thai curry–green curry, yellow curry, Penang curry, etc.–Kaeng Ped Yang is usually made with red curry. The photo below is of the version that I ordered at Chotechitr, a tiny restaurant on Soi Phraeng Phuton in a low key residential neighborhood filled with tiny storefronts and mom and pop restaurants. It was supposed to include potatoes, but I convinced the chef-owner to make it with pumpkin, since I prefer pairing pumpkin with duck, and she obliged. With the duck and coconut milk it's a rich but very satisfying dish.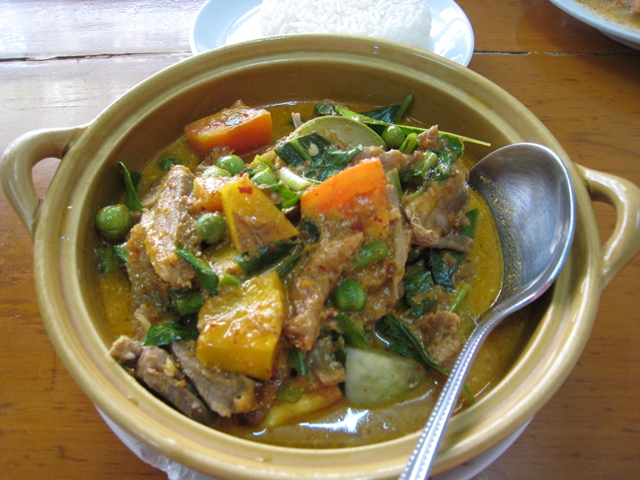 5. Banana Flower Salad (Yum Hua Plee)
Unlike the ubiquitous Som Tam below, Yum Hua Plee is actually not such a common salad in Bangkok. It's more common in the north of Thailand and in Vietnam and Laos. It's a refreshingly crunchy jumble of shredded banana flowers, dried shrimp, chicken, fresh lime juice, chilli and cilantro. This is one of the specialties of Chotechitr, and I highly recommend getting it if you make it there.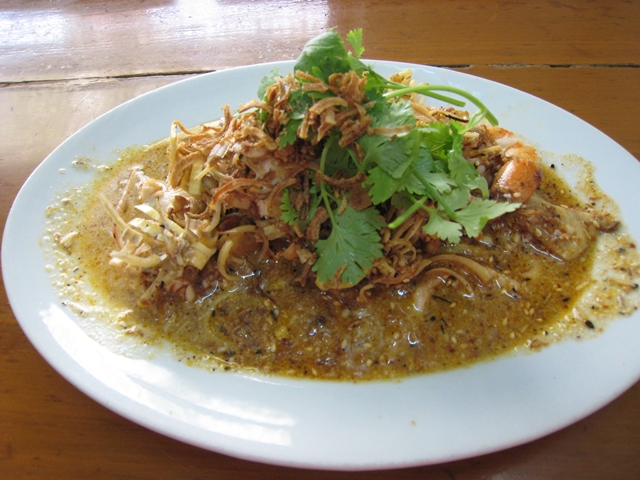 6. Green Papaya Salad (Som Tam)
This is probably the best known Thai salad, and is great paired with some satay and rice, although with my penchant for tart, spicy salads I also enjoy it just on its own. Shredded green papaya is dressed with a sweet-salty-tart-spicy mixture of fish sauce, dried shrimp, fresh lime juice, palm sugar and Thai chili, topped with cilantro and peanuts.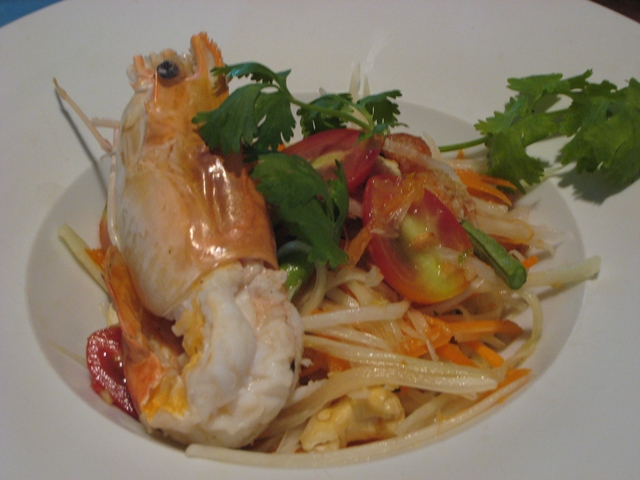 7. Mango Sticky Rice (Khao Neeo Mamuang)
As with most Asian countries, Thailand isn't known for its desserts, but this one is addictive, at least if you enjoy mango: sticky rice is prepared with coconut milk, then served alongside perfectly ripe mangos, sometimes with an additional sweet coconut sauce topping. Hungry yet?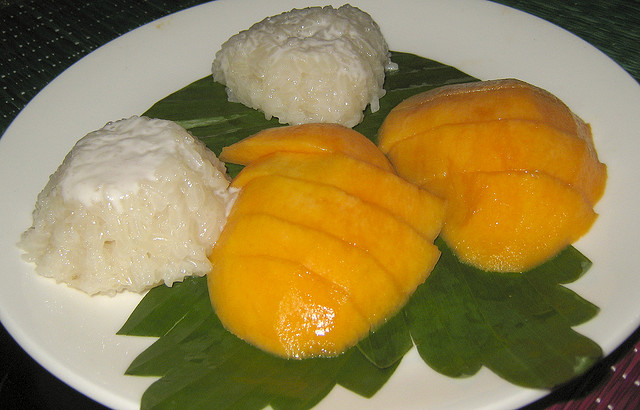 Related posts
What are Bangkok's Best Neighborhoods and Markets for Street Food?
Bangkok, Land of Gilded Temples
Wats, Elephant Riding and Culinary Adventures in Chiang Mai
Review: Four Seasons Koh Samui
Need Award Booking Help? Our fee is as low as $75 per ticket if you book your hotel through us.
If you enjoyed this, join 100,000+ readers: please follow TravelSort on Twitter or like us on Facebook to be alerted to new posts.
Become a TravelSort Client and Book 5-Star Hotels with Virtuoso or Four Seasons Preferred Partner Amenities!
Photo credit: Hilary Stockton, Charles Haynes