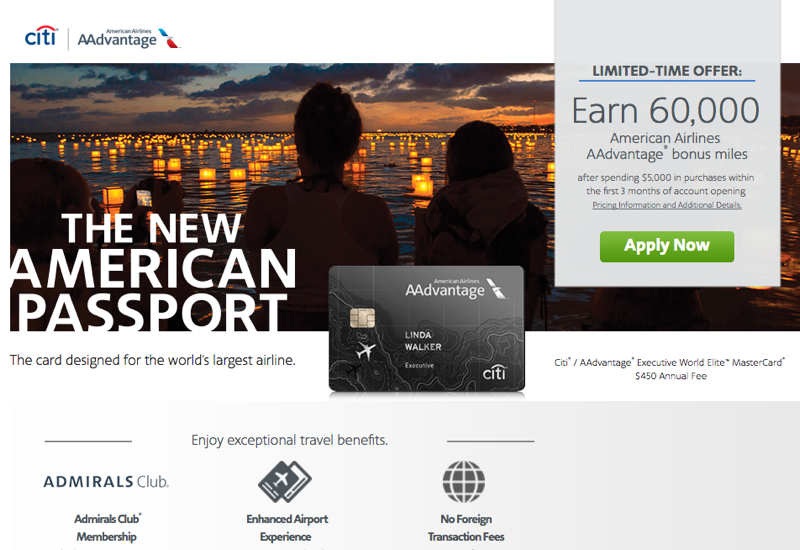 There's a 60K Citi AAdvantage Executive card, better than the usual 50K bonus offer. Is it worth getting, given the hefty $450 annual fee that is not waived? First, here are the card benefits and details:
Earn 60,000 AAdvantage miles after $5000 spend within the first 3 months of card membership
Enjoy full Admirals Club membership to over 50 Admirals Club lounges
Complimentary Admirals Club lounge access for authorized users, even when you're not with them
Priority check-in, airport screening and early boarding for American Airlines flights
Earn 10,000 AAdvantage Elite Qualifying Miles (EQM) each year, January – December billing statement
Earn 2X AAdvantage miles per $1 spent on eligible American Airlines purchases
$100 statement credit for Global Entry or TSA PreCheck
First checked bag on an AA domestic flight free for card member and up to eight travel companions
$450 annual fee is NOT waived
$450 for 60K AAdvantage Miles = Less Than 1 Cent per Mile
If you value AAdvantage miles for upcoming travel, $450 for 60,000 AAdvantage miles is a bargain, since it equates to buying AAdvantage miles at just $0.0075 per mile–less than 1 cent per mile. Even the best bonus offers for buying AAdvantage miles are close to 2 cents per mile.
FAQ
Am I Eligible for the Signup Bonus If I Previously Had the Citi AAdvantage Executive?
It depends when you had the card. You are not eligible for the bonus if you opened or closed a Citi AAdvantage Executive card within the past 24 months.
I Have an Existing Citi AAdvantage Executive Card–Should I Close It Before Applying?
No! See above–you want to keep it open, since closing it starts the 24 month clock. Make sure that your existing Citi AAdvantage Executive card was opened more than 24 months ago if you plan to apply for another one.
I've Just Applied for Another Citi Card–How Long Should I Wait Before Applying?
Note that you should not apply for more than 2 Citi credit cards within a 65 day period, otherwise your third (or more) application is likely to be rejected. You also should only apply for 1 Citi credit card within a 7-8 day period.
Doesn't the Citi Prestige Card Have the Same Admirals Club Lounge Benefit?
The Citi Prestige card gives you access to the Admirals Club lounge only if you're flying American Airlines that day; it's not a full Admirals Club membership. The Citi AAdvantage Executive card offers a full Admirals Club lounge membership, so you can use the Admirals Club even if you're not flying American Airlines.
If I Already Have Global Entry Can I Use the Global Entry Credit for My Spouse, Kid or Friend?
Sure–the card's Global Entry credit can be used for someone else, you just need to charge it to the card.