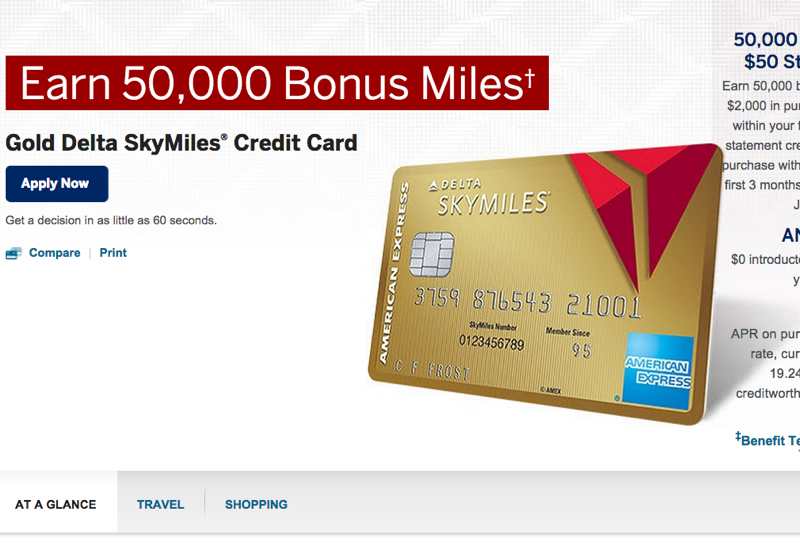 Delta SkyMiles AMEX cards  aren't worth applying for. They're right up there with Capital One cards as some of the worst travel credit cards (see Capital One Venture Card: 5 Reasons It Isn't Worth It). When there are so many better travel credit cards, why bother? Since AMEX and other travel sites are promoting these cards at the moment, I'll give a contrarian perspective on why I don't think these cards are worth it. To be fair, if you are based at a Delta hub and fly on a lot of Delta paid tickets, the calculus is different–you probably don't have much of a choice in the airline you fly, so if you have to fly Delta, you may as well earn more miles doing it.
I just smirk, however, when I see the Delta ads around NYC with their slogan "If you're not comfortable, you must be on a different airline." Hmm, yes, I will always be on a different airline (say Singapore Suites, Etihad First Class, Qantas First Class, JAL Business Class, JetBlue Mint and others), and far more comfortable than if I was on Delta 🙂
But back to the topic: Delta SkyMiles AMEX Cards, and why they're not worth it.
1. Opportunity Cost: Other Better Travel Credit Cards, Including AMEX Cards
There are a few Delta SkyMiles AMEX offers now: a 50K Gold Delta SkyMiles AMEX, a 50K Gold Delta SkyMiles Business AMEX, and a 60K Platinum Delta SkyMiles AMEX ($195 annual fee NOT waived). While perhaps one of these makes sense if you're captive to a Delta hub and/or fly Delta a lot for business, most other travelers can do better with other travel cards, including other AMEX travel credit cards.
In particular, I'd recommend trying to get targeted AMEX offers, which tend to be better than public offers. One of the best ways to do this is by going "cold turkey" and eliminating all AMEX cards, except perhaps your no fee AMEX cards. That was how we received our targeted 150K AMEX Business Platinum Card Bonus Offer and 100K AMEX Business Platinum Bonus Offer. Plus, there is a 75K AMEX Business Gold Rewards offer that many are able to get, although also targeted.
Any of the above bonus offers are higher than the Delta offers, and AMEX Membership Rewards points transfer 1:1 to Delta SkyMiles instantly, although I prefer to transfer them to Singapore KrisFlyer.
Other travel credit cards on the Best Travel Credit Cards page such as the 50K Citi AAdvantage Platinum Select, 50K Ink Plus, targeted 100K Citi Prestige, 45K Sapphire Preferred, and 50K British Airways Visa are all cards that I'd recommend getting (or signing up for again, if you are eligible for a second signup bonus) ahead of the Delta AMEX cards. Some of them have more going for them than the signup bonus, for example the 5X categories of the Ink Plus and the transferability of Ultimate Rewards points, AMEX Membership Rewards points and Citi ThankYou points to airline partners.
2. No First Class Awards
One of the worst things about Delta SkyMiles, for anyone who wants to get the most out of their frequent flyer miles, is that you can't redeem them for international first class awards–only international business class. This is because Delta Airlines itself doesn't offer international first class, only business class, so based on reciprocity, even those SkyTeam partners that do offer first class, such as Korean Air, don't offer it for SkyMiles award bookings.
You can of course redeem for Korean Air First Class using Korean SkyPass miles, by transferring Chase Ultimate Rewards points to SkyPass.
Don't think you'll be flying Air France La Premiere First Class with Delta SkyMiles either–award redemptions are only available to Air France/KLM Flying Blue elite members, and cost more miles than even most elites would want to redeem. Heck, you can't even book all of Air France's business class routes with SkyMiles (see below).
3. Sky High Award Pricing 
While it's harder to compare Delta's award pricing ever since Delta removed its Award Charts (which was no doubt part of the reason they were removed–to make it harder to see just what a bad deal you're getting with Delta SkyMiles), here are a few points of comparison:
Business Class, U.S. to Europe
Delta SkyMiles: 62,500 – 147,500 SkyMiles
AAdvantage: 50,000 – 135,000 AAdvantage miles
Business Class, U.S. to Japan or Korea
Delta SkyMiles: 70,000 – 162,500 SkyMiles
AAdvantage: 50,000 – 155,000 AAdvantage miles
Business Class, LAX to PPT
Delta SkyMiles: 80,000 SkyMiles
AAdvantage: 62,500 AAdvantage Miles
4. No Award Refunds Within 72 Hours of Departure
This has got to be one of the most frustrating aspects of SkyMiles for anyone whose travel plans change at the last minute: no award refunds are given for any changes or cancellations within 72 hours of departure. So if for any reason you can't take the flight and are within the 72 hours, you can kiss those miles goodbye.
5. Lack of Air France Tahiti Business Class Awards
Bora Bora is a popular client destination, especially the Four Seasons Bora Bora. The only two nonstop business class options to get there from the U.S., however, are Air France Business Class and Air Tahiti Nui Business Class from Los Angeles LAX (ok, so there's also a once a week flight on Hawaiian Airlines from Honolulu, but that appeals to very few mainlanders).
Ostensibly, Delta SkyMiles should be able to book Air France Business Class LAX to PPT, as well as Air Tahiti Nui. But have fun trying to book this–business class awards are not available online (Air France economy class awards are)–you'll get the error "No results found for your search…"
And when you call, you also won't find any availability for Air France Business Class, regardless of date–even if you're only searching for 1 award seat. That's because Air France does not offer any business class award seats to Delta for flights to and from Papeete, or Delta is not willing to compensate Air France what Air France is asking for those seats. Either way, it means you'd be better off earning AAdvantage miles so that you could redeem for Air Tahiti Nui at a cheaper rate than with Delta SkyMiles. So go ahead and forget the notion of flying Air France New Business Class LAX to PPT–even if this becomes an option by 2017, when Air France is supposed to complete its roll-out of new Business Class, you won't be flying on it using SkyMiles, only cold hard cash.
6. Random Seat Changes, For the Worse
On several occasions when I've reserved business class seats for clients on a Delta flight, I've checked back and found them reassigned to the worst seats in business class. Perhaps just a fluke, but it's gotten annoying to have to recheck this and change them back to the better seats I originally reserved.
What are your reasons for applying or not applying for Delta SkyMiles AMEX cards?
Related Posts
Delta Devaluation: SkyMiles Program Now Revenue Based
Delta: No More Medallion Upgrades to Westin Heavenly Bed on Transcons
Delta SkyMiles for Virgin Atlantic Upper Class: Top 10 Tips
Need Award Booking Help? Our fee is as low as $75 per ticket if you book your hotel through us.
If you enjoyed this, join 200,000+ readers: please follow TravelSort on Twitter or  like us on Facebook to be alerted to new posts. 
Become a TravelSort Client and Book Your Hotel with Virtuoso or Four Seasons Preferred VIP Amenities!