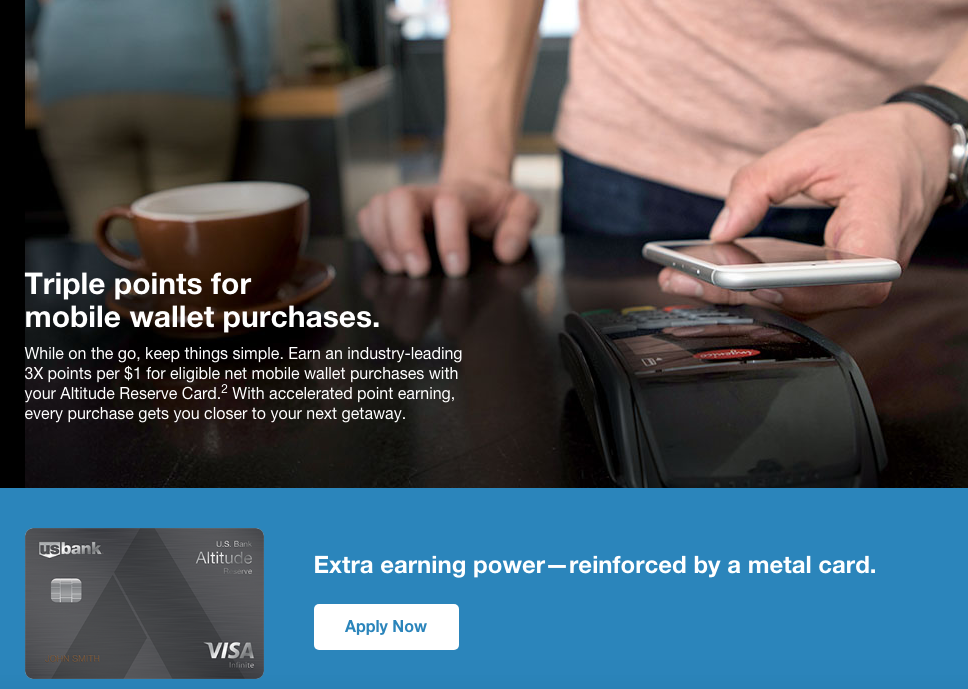 The 50K US Bank Altitude Reserve Card is now available, but is it worth it? Keep in mind that this card is only available to existing U.S. Bank customers, which we'll define below. Before we get into the pros and cons, here are the offer details:
Earn 50K bonus points after spending $4500 in the first 90 days
Earn 3X points per dollar spent on eligible travel purchases and mobile wallet transactions
Up to $325 credit for eligible travel purchases, per cardmember year
Up to $100 credit for TSA PreCheck or Global Entry application
12 complimentary Gogo inflight WiFi passes
No foreign transaction fees
$400 annual fee is NOT waived the first year
Must be an existing U.S. Bank customer for at least 35 days prior to applying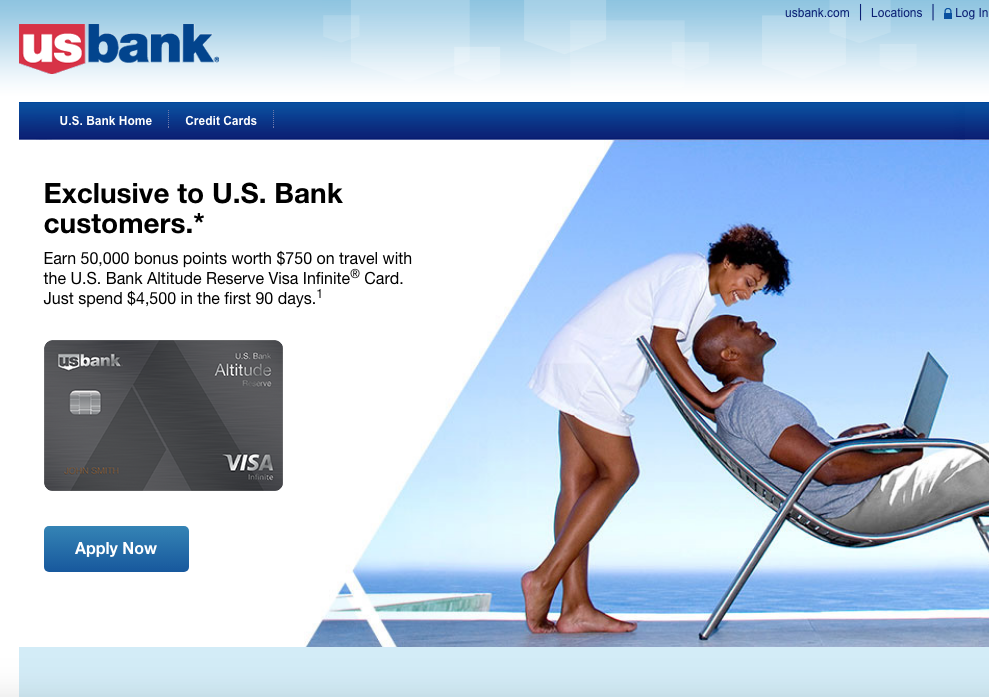 US Bank Altitude Reserve Card Pros
1. 3X on All Mobile Wallet Spend
While I personally don't use a mobile wallet, if you do, this is a great new bonus category. No other card offers a 3X bonus on all mobile wallet spend, so if you make a lot of Apple Pay, Android Pay, Samsung Pay or Microsoft Wallet transactions, this is a key benefit. Since each earned point is redeemable for 1.5cents in airl
2. $325 Travel Credit: Effective $75 Annual Fee
The U.S. Bank Altitude Reserve card gives you $325 in travel credit, and since the $400 annual fee is a bit lower than the $450 Chase Sapphire Reserve annual fee and the $450 AMEX Business Platinum annual fee, that gives you a net annual fee of $75, assuming you spend at least $325 on travel, which I'm sure everyone reading this site does. $75 is pretty reasonable if you value the card's other benefits, but note the con below–the $325 credit is per membership year, not calendar year.
3. New Card Product, from a Different Issuer
For those who have applied for pretty much every other travel rewards credit card, the 50K U.S. Bank Altitude is good as a new card product, from a different issuer. Chase 5/24 has sharply limited how many Chase cards most consumers can get, absent a pre-approval, and AMEX limits you to one bonus in a lifetime per card product. U.S. Bank until now hasn't competed in the premium travel rewards card space, so this is an interesting first foray for them, as well as new bonus opportunity for those who have exhausted most other options.
4. Benefits: Global Entry, Priority Pass, Gogo WiFi
These benefits aren't unique, so I mention them last. If you already have the Chase Sapphire Reserve or the personal or business AMEX Platinum or the Citi Prestige you already have Global Entry credits and Priority Pass access. And if you have the AMEX Business Platinum you also receive 10 Gogo WiFi passes per year.
Of course, there are also quite a few cons with this card:
US Bank Altitude Reserve Card Cons
1. You Must Be an Existing U.S. Bank Customer To Apply
I understand why U.S. Bank is limiting approval to pre-existing customers, since it wants to cross-sell products, and U.S. Bank is a small player compared to JPMorgan Chase and Citibank. But I've never had a use for any U.S. Bank credit card or other banking products, and don't want to hassle with opening another checking account just to apply. If U.S. Bank is aiming for high net worth clients for this card, I think this requirement is a deal killer for the target demographic, unless the person just happens to already be a U.S. Bank customer of some kind.
An eligible U.S. Bank relationship includes having a checking or savings account, CD, mortgage, home equity loan, home equity line of credit, auto/boat/RV loan, personal loan, private banking account or consumer credit card issued by U.S. Bank.
2. U.S. Bank Altitude Reserve Points Do NOT Transfer to Airline Frequent Flyer Programs
Frankly, I dislike miles and points that can't be redeemed at more than 2 cents per mile or point, so I really dislike points such as these U.S. Bank Altitude Reserve points that don't transfer to any airline frequent flyer programs, and can be redeemed only for 1.5 cents per point and only via a U.S. Bank travel portal. That means the 50,000 points bonus is only worth $750, which doesn't get me excited in the least.
Contrast that with the 50K bonus of the Chase Sapphire Reserve or the
Chase Sapphire Preferred
, which can be transferred 1:1 to Korean Air Skypass, Singapore KrisFlyer, United MileagePlus, Air France/KLM, British Airways or Virgin Atlantic Flying Club, and used towards a first class or business class award redemption. For example, let's say you use 50,000 Ultimate Rewards points transferred to Singapore KrisFlyer towards a 120,000 Singapore Suites award from NYC to Singapore, JFK-FRA-SIN. That's a ~$8500 ticket (half of a roundtrip fare), so a 120,000 mile redemption is a redemption rate, even after accounting for award taxes, of >6 cents per KrisFlyer mile redeemed. That gives you over $3000 of value for your 50,000 points, vs. the paltry $750 of the U.S. Bank Altitude Reserve card sign up.
3. You Have to Redeem Points via the U.S. Bank Travel Portal
I haven't seen the portal yet, but as a follow up to the above point, I dislike any card where you have to redeem the points through the bank's own travel portal or agency (that includes you too, AMEX, for the 5X on AMEX Travel booked airfare and prepaid hotel stays). Particularly if you're trying to redeem for a certain fare class, good luck–surely your time is worth more than the hassle this will be.
4. The $325 Travel Credit is per Membership Year, Not Calendar Year
Unlike the Chase Sapphire Reserve, where the $300 travel credit is per calendar year (so $600 travel credit in your first year of card membership, meaning you actually make $150 off the card in your first year) the U.S. Bank Altitude Reserve bonus is per membership year, so you're still paying $75 for the card even in your first year.
What do you make of the 50K U.S. Bank Altitude Reserve Card? Do you plan to apply?
Recommended Posts