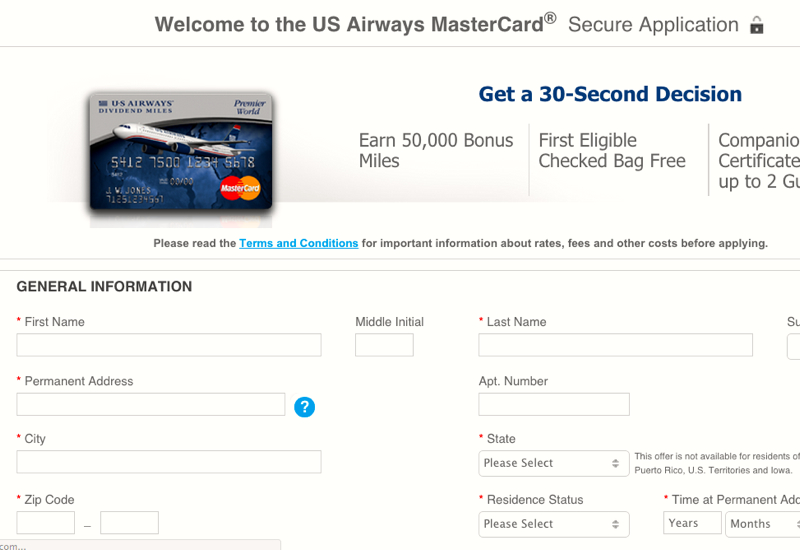 Update: This offer is no longer available. Don't forget to follow @TravelSort on Twitter and like TravelSort on Facebook to be alerted to future deals and other great luxury travel tips.
50K US Airways MasterCard Links are still alive, thanks to referral links (although the precededing link is not a referral) per this Flyertalk thread. This is great news for those who were planning to apply, only to find the US Airways MasterCard links gone from the US Airways site, due to the March 28 merger of the Dividend Miles and AAdvantage frequent flyer programs.
The $89 fee is not waived, but 50,000 AAdvantage miles for less than 0.2 cents per mile is still an incredible bargain. 50,000 AAdvantage miles could get you a one way JAL Business Class award to Japan, one way airberlin Business Class to Europe, or with a few more miles, one of these awards:
Cathay Business Class to Hong Kong or Asia 2 for 55K miles
Cathay First Class to Hong Kong or Asia 2 for 67,500 miles
JAL First Class to Japan for 62,500 miles
Etihad First Apartment from Abu Dhabi to Australia for 60,000 miles
FAQ
Do I Have to Close Existing US Air MasterCards to Be Approved?
No–per reports on Flyertalk, some successful applicants still have an existing card or two open and were approved for a 2nd or 3rd US Air MasterCard.
If I Applied Earlier This Year, Can I Get a 2nd US Air MasterCard?
Highly unlikely, as this would mean 2 cards within 3 months. Most who have successfull been approved got their most recent US Air MasterCard 6 or more months ago.
My Application Went to Pending; How Do I Check the Status, and Is It Worth Calling Reconsideration?
You can check the status of your application at Barclays Online Application Status Check; if it shows as denied, it's typically not worth calling reconsideration.
Best Other AAdvantage Offers?
If you can't get approved for another 50K US Air MasterCard, see Best Travel Credit Cards for links to Citi AAdvantage card offers. You can also earn AAdvantage miles via BankDirect, although it's not as lucrative as it used to be due to the 2013 devaluation, or with a Fidelity brokerage account AAdvantage bonus.
Have you recently been approved for a 50K US Air MasterCard?
Related Posts
AAdvantage and Dividend Miles Merging March 28 and FAQ
When Buying US Airways or AAdvantage Miles is Worth It
Best Miles for Europe in First Class and Business Class
US Airways Not Answering Your Phone Call? Call Abroad for Better Customer Service
Need Award Booking Help? Our fee is as low as $75 per ticket if you book your hotel through us.
If you enjoyed this, join 150,000+ readers: please follow TravelSort on Twitter or like us on Facebook to be alerted to new posts.
Become a TravelSort Client and Book 5-Star Hotels with Virtuoso or Four Seasons Preferred Partner Amenities!