There's a 50K United MileagePlus Explorer Business Credit Card offer targeted to most United MileagePlus members. While United MileagePlus miles aren't as valuable as they were over a year ago, before the United Award Chart Devaluation that increased awards such as Asiana First Class to South Asia by 86%, it can still be helpful to have some United miles, since awards don't carry fuel surcharges and there are times when a United partner offers the most convenient route (or better availability) for your award travel.
Update: In addition to the 55K United MileagePlus Explorer Signup Bonus Offer with $50 Statement Credit, this 50K United MileagePlus Explorer Business card offer could be a good bet.
Here are the offer details:
Earn 50K United MileagePlus bonus miles after spending $2000 on the card during the first 3 months after account opening
Earn 2X miles per dollar on United Airlines spend
Earn 1 mile per dollar for all other spend
Earn 10,000 bonus miles once per calendar year after spending $25,000 or more on the card during a calendar year
50K new cardmember bonus not available to current cardmembers or previous cardmembers who received a new cardmember bonus within the last 24 months
To see the offer, just log into your United MileagePlus account, then go to the "Products and Services" dropdown menu and select "Get Credit Card." You should see all 4 United credit cards, including the 50K offer for the United MileagePlus Explorer Business Card: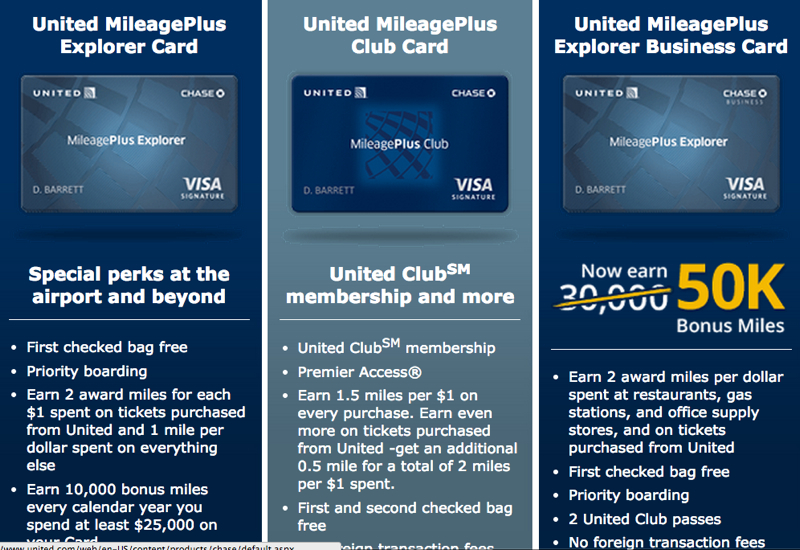 FAQ
Am I Eligible for the 50K Bonus if I Have the United MileagePlus Explorer (Personal) Credit Card?
Yes; personal credit cards and business credit cards are separate products, so having the personal version of this card doesn't prevent you from receiving the bonus if approved for the business version of the card.
I Applied for the United MileagePlus Explorer Business Card 2 Years Ago–Am I Eligible?
You may not receive the bonus, since note that the terms state that the bonus is not available to "..previous cardmembers who received a new cardmember bonus within the last 24 months." That means that if you applied for this same card 2 years ago and met minimum spend, you received your bonus within the last 24 months.
Do I Need a Business to Apply for a Business Credit Card?
You should have some kind of business, since you will most likely not be instantly approved and will be asked about your business–questions such as what it does, how long you've had it, your revenues, costs and profits of the past year and forecast for this year, etc. You do not, however, need to have an incorporated business or even an LLC; you can apply using your own name and your SSN.
What Are Good Uses of United Miles Now, After Last Year's Devaluation?
Although after the United award chart devaluation it's cheaper to book awards on United operated flights, these aren't very aspirational, so I only recommend them if United flies the most convenient international nonstop for your routing.
Currently there are some
Discounted United Partner Business Class Awards Bookable for All of 2015
which can save you several thousand miles over the usual partner business class award prices. In terms of awards that are bookable with United miles, I recommend Asiana Business Class to South Asia for 70,000 miles each way; Turkish Business Class to the Maldives for 70,000 miles each way; and SWISS business class to Europe for 57,500 miles each way. I also like ANA Business Class to Japan, even though it's not discounted, for 75,000 miles each way. Keep in mind that in every case AAdvantage offers a cheaper award, so if you have unlimited AAdvantage miles, you're still better off redeeming AAdvantage miles if there's award availability.
Why Can't I See Any Singapore Airlines Award Availability on United.com?
United.com no longer shows Singapore Airlines award availability (United probably got tired of paying Singapore for its awards and decided to remove it to reduce demand for these awards) but in any case, United and other Star Alliance partners primarily have access to Singapore economy awards, with some occasional business class award availability. But if you want to book Singapore Suites or Singapore First Class, you'll need KrisFlyer miles, which you can get by transferring SPG points, Chase Ultimate Rewards points, AMEX Membership Rewards points or Citi Thankyou points to Singapore KrisFlyer.
Do you plan to apply for the 50K United MileagePlus Explorer Business Card?
Related Posts