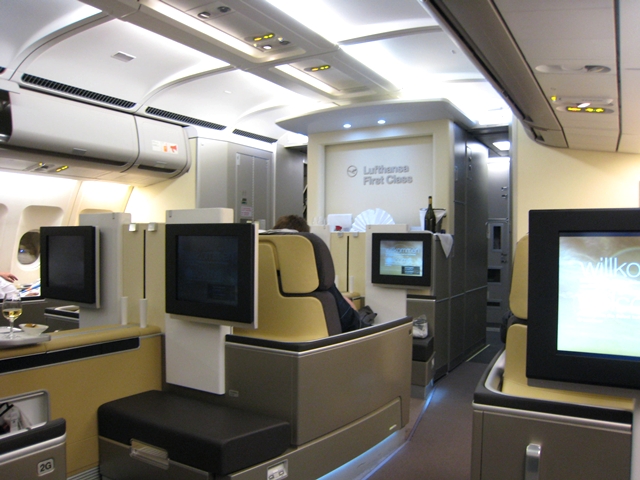 A 50,000 Lufthansa Miles & More Card bonus offer is available on our Best Travel Credit Cards page at #, better than the regular 35,000 offer, although greater minimum spend is required. Here are the offer details:
Earn 20,000 Miles & More miles after you make an initial purchase and pay the annual fee
Earn 30,000 additional miles after you spend at least $5000 on the card in the first 90 days
Earn 2X miles per dollar on Lufthansa and partner airlines: Adria Airways, AirDolomiti, Austrian Airlines, Brussels Airlines, Croatia Airlines, LOT Polish Airlines, Lufthansa (including regional and private jet services), Luxair and SWISS.
2 complimentary Lufthansa Business Lounge vouchers annually
$89 annual fee is NOT waived the first year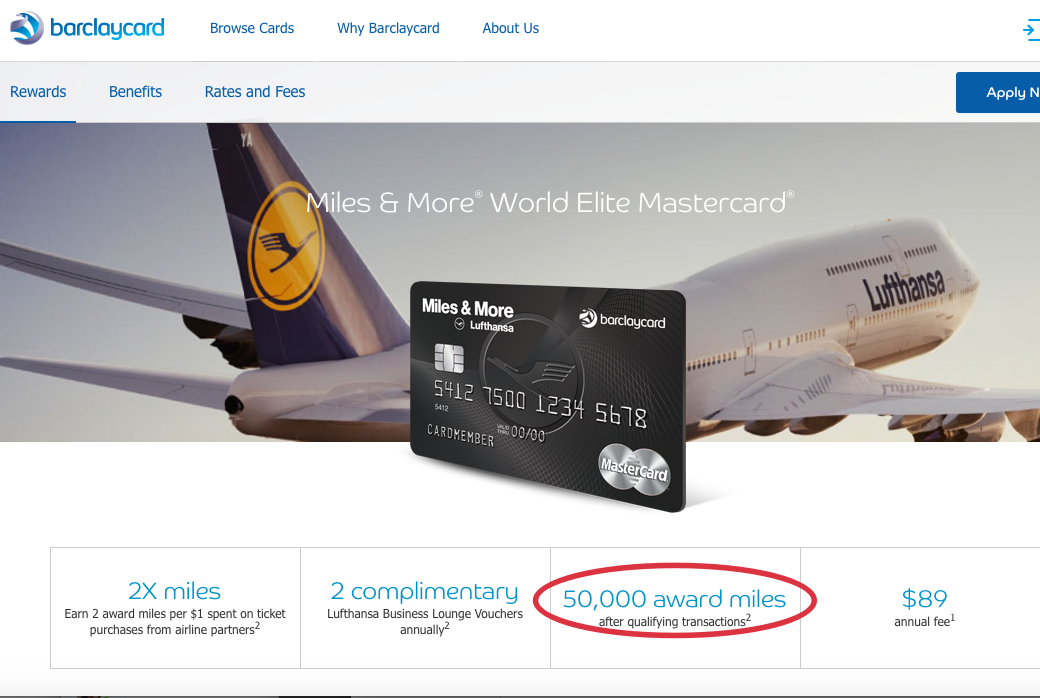 FAQ
What Other Ways Are There to Earn Miles & More Miles?
Other than the Lufthansa Miles & More credit card 50K bonus, the main ways to earn miles are by crediting Lufthansa or other Star Alliance flights to Miles & More, or by transferring SPG Starpoints to Miles & More, ideally in increments of 20,000 points, so as to earn 5000 bonus miles with each 20K transfer. Another good offer at the moment to top up your Miles & More account is with a subscription to The Economist; see
Earn 7600 Lufthansa Miles with The Economist
.
$5000 and an $89 Fee the First Year is Steep for 50K Points; Is the Card Worth It?
It depends on how much you value Lufthansa Miles & More miles. For clients that want to be able to book
Lufthansa First Class
in advance or want access to more
SWISS Business Class
availability and don't already have Miles and More miles and don't have a huge stash of SPG Starpoints, the 50K offer is worth it, since it's much harder to accrue Lufthansa Miles & More miles if you don't regularly fly paid flights that are credited to Miles & More.
SPG Starpoints that transfer 1:1 to Miles & More miles are also hard for many non-road warriors to earn, since the only category bonus for the SPG AMEX, understandably enough, is for Starwood hotels and Marriott hotels.
Can the $89 Annual Fee Be Waived?
The only cardholders who are exempt from the $89 annual fee are Miles and More frequent flyer elites: Senator and HON Circle members, as long as they maintain their Senator or HON Circle status.
Must You Be Flying Lufthansa to Use the Lufthansa Business Lounge Voucher?
Yes, you must provide a same day boarding pass for a departing Lufthansa Group flight (Lufthansa, Austrian Airlines, Brussels Airlines, SWISS, Germanwings, Eurowings). Since Business Class and First Class passengers already have access to the Lufthansa Business Class lounges, the vouchers only make sense to use if you happen to be flying economy.
There's an Annual Companion Ticket–Is It Worth Much?
No, it's not worth much since it's strictly for paid Economy Class tickets and you must pay taxes and fees on the companion ticket. If you still want to explore using it, call the Companion Ticket phone line at 866-461-5399. The offer can't be combined with any promotional offers, group fares, discounts or credit vouchers.
How About the Status Miles Conversion, How Does It Work?
You'd have to be very close to a key elite status threshold for this benefit to be meaningful. Keep in mind that Miles & More Senator status currently requires 100,000 status miles in a calendar year.
The Lufthansa Miles & More card allows the primary cardholder to convert 5000 to 25,000 miles into status miles at a 5:1 ratio, so at most you're adding 1000-5000 status miles per calendar year. Only miles earned from purchases are eligible for conversion to status miles; the 50K and any other bonus or promotional miles are excluded.
Do you plan to apply for the 50K Lufthansa Miles & More card?
Recommended Posts