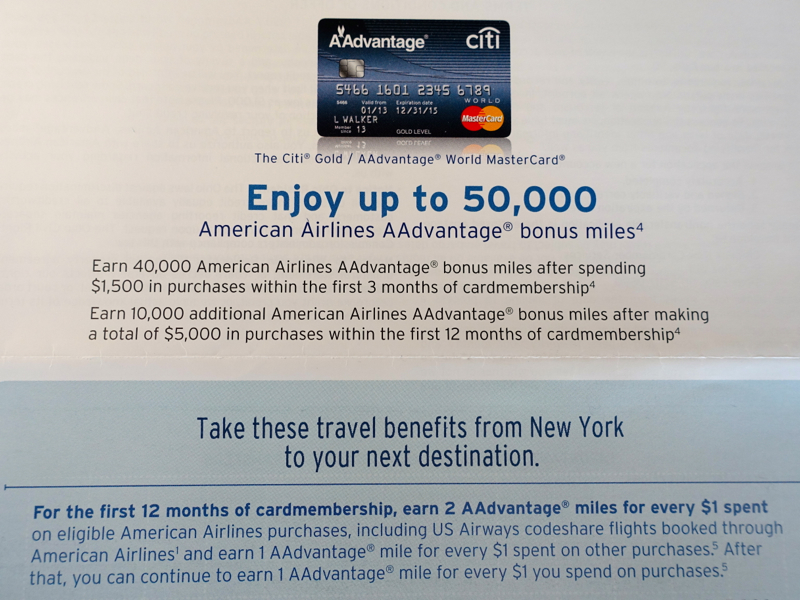 A 50K Citi Gold AAdvantage bonus offer is still being targeted to some AAdvantage members. This is better than the current public offer of 25,000 AA miles after $750 in purchases within 3 months, and you have more time to meet the minimum spend than the 50K Citi AAdvantage Platinum Select card which requires $3000 spend within the first 3 months.
Here are the details:
Earn 40,000 AAdvantage miles after spending $1500 in purchases within the first 3 months of cardmembership
Earn an additional 10,000 AAdvantage bonus miles after spending $5000 in purchases within 12 months of cardmembership
For the first 12 months of cardmembership, earn 2X AAdvantage miles for every $1 spent on eligible American Airlines purchases, including US Airways codeshare flights booked through American Airlines
After that, earn 1 AAdvantage mile for every $1 you spend on purchases
$50 annual fee is waived for the first 12 months
"If you are an existing Citi AAdvantage cardmember, you are not eligible for this offer on your existing account"
FAQ
Am I Eligible for This 50K Citi Gold AAdvantage Bonus Offer?
If you received a targeted 50K Citi Gold AAdvantage offer in your name, yes, you're eligible. Note that the invitation card includes a 9 digit invitation number and a deadline to apply by (in my son's case, the deadline is December 15, 2014).
If I Received This Targeted Offer But Already Have a Citi AAdvantage Credit Card Am I Eligible for the Bonus?
Per the terms and conditions, no (see above). For Citi AAdvantage personal credit cards, generally you need to wait somewhere between 12-26 months after your last successful Citi AAdvantage application to no longer be considered an existing cardmember. The exception has been the Citi Executive AAdvantage cards, which were able to be applied for multiple times although now aren't worth it for many, since the best offer is only 50K instead of 100K AA miles, still for the $450 annual fee.
That said, there's at least one example on
Flyertalk
of someone who got and closed a Citi Executive AAdvantage card in May-June 2014, then successfully applied for a Citi Executive Platinum in September 2014 (her first Citi AAdvantage Platinum) so while the Citi Executive Platinum generally starts the clock again, there may be exceptions for those who have never had any Citi AAdvantage cards.
Which Flights Can I Earn Double Miles for During the First 12 Months?
You can earn 2 AAdvantage miles per dollar for American Airlines flights or US Airways codeshare flights operated by American Airlines that are booked through aa.com and AA reservations. Note that AA codeshares that are operated by US Airways or oneworld partners are not eligible, nor are purchases of AAdvantage miles.
Do I Get 10% AAdvantage Miles Back When Redeeming for AAdvantage Awards with the Citi Gold AAdvantage Card?
No–you would need to have one of the Citi Platinum Select cards (Visa or MasterCard) or Citi Select AAdvantage AMEX. The 10% back on AAdvantage award redemptions does NOT apply to the Citi Gold AAdvantage, Citi Business AAdvantage or Citi Executive AAdvantage cards.
Best Ways to Use AAdvantage Miles?
If you read my post yesterday, you know that I'm now a big fan of
Qantas First Class
–that would be my top pick for using your AAdvantage miles if it works for your travel plans. Other great uses include
Cathay Pacific First Class
and
Etihad First Class
. And while I haven't tried it yet, JAL First Class often gets very good reviews as well.
I wasn't all that impressed with
Qatar Business Class
, but Qatar recently took delivery of its first A380, so if you need to fly between London and Doha or Paris and Doha, Qatar First Class on the A380 could be a good bet, if award space again becomes available.
Other Credit Cards to Apply for at the Same Time?
It's often advantageous to apply for a few credit cards at the same time, then none at all for the next several months, to improve your chances of being approved and avoid being declined for "too many recent credit applications." I'd recommend:
50K Ink Bold Visa: This small business card seems to be on its way out, so it may be one of the last few weeks you can apply for it. Even if you previously had an old MasterCard version, you should be eligible for the bonus, as long as you never had the Ink Bold Visa.
40K US Airways® Premier World MasterCard®: American and US Airways have announced that they will combine the AAdvantage and Dividend Miles frequent flyer programs Q2 2015 (no exact date yet) so these 40K Dividend Miles (which you earn after first purchase and payment of the $89 annual fee) will become AAdvantage miles during Q2 2015. And so far, there are NO changes to the AAdvantage award chart–a huge relief for many, and one that many of us were pessimistic about.
Have you received a targeted 50K Citi Gold AAdvantage signup bonus offer?
Related Posts
Need Award Booking Help? Our fee is as low as $75 per ticket if you book your hotel through us.
If you enjoyed this, join 150,000+ readers: please follow TravelSort on Twitter or like us on Facebook to be alerted to new posts.
Become a TravelSort Client and Book Your Hotel with Virtuoso or Four Seasons Preferred VIP Amenities!
Disclaimer: Note that some cards in this post offer credit to me if you're approved using my links. The opinions, analyses, and evaluations are mine. This content is not provided or commissioned by Chase, Barclays, American Express, Citibank, US Bank, Bank of America, or any other company. They have not reviewed, approved or endorsed any of my articles.