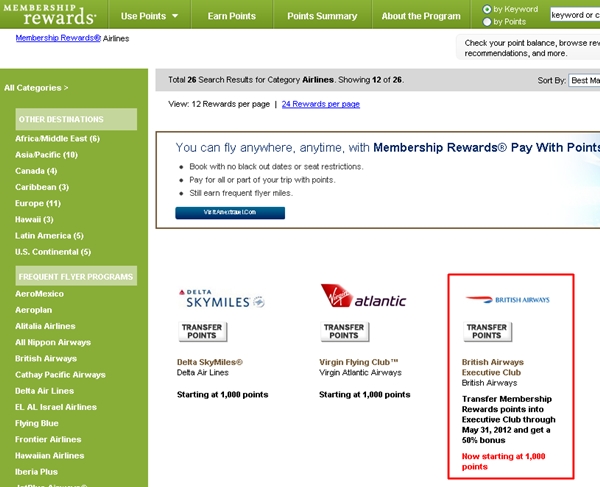 Update: The 50% transfer bonus is dead, but there is a 30% transfer bonus through January 14, 2013.
American Express is now offering a 50% transfer bonus on transfers of AMEX Membership Rewards points to British Airways Avios until May 31 2012. This is a better deal than the 30% AMEX transfer bonus to Avios earlier this year, which we weren't very enthusiastic about. There's only been a 50% AMEX Membership Rewards transfer bonus to British Airways once before, last year. it's still important to have a good intended use of Avios in mind before deciding to transfer; we don't recommend transferring points speculatively.
How it works
The 50% bonus is already coded into the AMEX Membership Rewards points transfer, and points transfer almost instantly.
You can transfer in increments of 1000 points; so 1000 AMEX MR points = 1500 British Airways Avios
Restrictions
Deadline to transfer: May 31, 2012
AMEX Membership Rewards points only. This promotion is NOT valid for AMEX Starwood Preferred Guest (SPG) points or anything other than Membership Rewards points
Membership Rewards points advances:

Your AMEX account must be at least 6 months old
AMEX Premier Rewards Gold, Gold and Green cards may request up to 15,000 MR points advance
AMEX Platinum cards may request up to 60,000 MR points advance
Points advance is free if you earn the advanced points back within 1 year
How to Calculate Avios Miles Needed for Your Award Flight
You'll need to calculate each segment individually. For example, if you're flying from NYC to Prague on British Airways, you would first calculate NYC to London, then London to Prague. You have a couple options:
Use the British Airways Avios calculator
Figure out the distance of each segment using this online travel calculator, then refer to the Avios Award Chart below. Note that all Avios points on the chart are for one-way travel. Simply double the amount for a round-trip.
British Airways will give you the option to use only Avios (plus taxes and fees) or a cash and points option, which can be very good value if you're using your Avios to get > 3 cents per point. That's because the cash option values Avios at about 2.6 cents per point.
How to Search for Availability
If you'll be using your Avios to fly American or American Eagle, search on American Airlines first for MilesAAver award space (not the more expensive AAnytime awards). Then log into British Airways Executive Club>>Spending Avios>>Book Flights with Avios and search there, segment by segment.
See our full guide at How to Find Oneworld Award Space
Best Deals
As we wrote in our post on the British Airways Executive Club devaluation, British Airways Avios: Goodbye First Class on Cathay, Hello Coach on American, the best uses of Avios are:
Travel on partners (American Airlines, LAN) that incur low taxes
Short, direct flights (chart is distance based, so avoid connections)
Last-minute travel, when alternative revenue flights would be expensive
Use in conjunction with the British Airways Visa companion ticket in business or first class (high fuel surcharges on both tickets, but the companion ticket makes it a decent value compared to alternative revenue fares)
Upgrade a British Airways Premium Economy (World Traveller Plus) to Business (Club World). You could upgrade a JFK-LHR flight from Premium Economy to Business for 10,000 Avios one way.
1. U.S. Domestic Awards on American Airlines, Including Hawaii
See our LAX-HNL example in our post 30% AMEX Transfer Bonus to British Airways Avios
2. U.S. to Canada Awards
See our LGA-YUL example in our post 30% AMEX Transfer Bonus to British Airways Avios
We also love that it's just 37,500 Avios each way for NYC to Vancouver in Cathay Pacific First Class
3. U.S. to Caribbean Awards
Be aware that the British Airways site doesn't always show AA Saver availability—I had a few frustrating cases where I found American Saver availability, but it didn't show up when searching British Airways. You can call and see if the BA agent can see the availability, although it will incur the telephone booking fee.
Miami to Barbados is a direct AA flight, and is cheaper using BA Avios than using AAdvantage miles:
20,000 Avios + $89.40 or other cash and point combinations up to 10,000 Avios + $219.40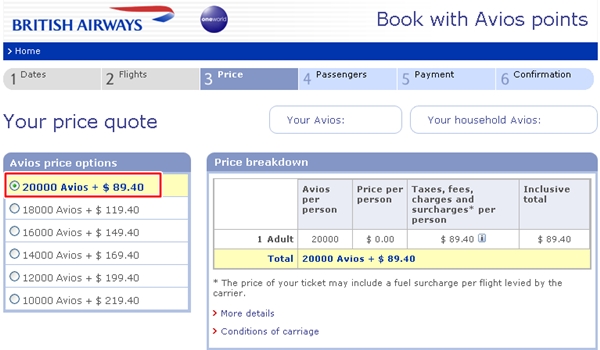 35,000 AAdvantage miles + $51.50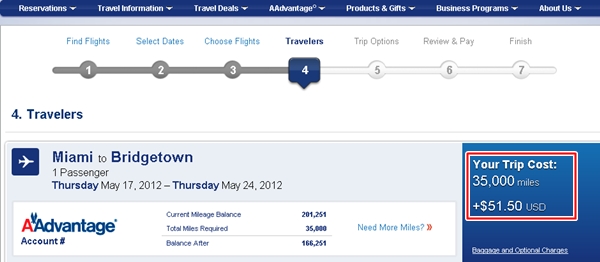 The roundtrip cost for the dates I searched was $554
If you subtract the taxes/fees from the cost in each case, that equates to only 1.4 cents per AAdvantage mile (very poor value), 2.3 cents per Avios (3.5 cents per MR point) when using 20K Avios points (13,333 MR points), and 3.3 cents per Avios (5 cents per MR point) when using 10K Avios points (6667 MR points). Not great but not horrible value, and all the better when you consider the higher cents value for Membership Rewards points, given the 50% bonus transfer.
4. LAN South America Awards
There are some good values on LAN flights within South America, and best of all they have very low taxes.
5. Intra-Asia Flights
While Avios are no longer a good value for getting to Asia in Cathay Pacific, they can be good value for short haul flights, such as Hong Kong to Beijing, Taipei, Bangkok, etc.
6. Easter Island (IPC) to Tahiti (PPT)
Tahiti is one of the hardest awards to get, using Delta Skymiles for awards on either Air France or Air Tahiti Nui. Another option (although probably appealing to only a small minority who want to get there from South America) is on LAN from IPC to PPT.
7. British Airways Companion Tickets
For my family, we do very little domestic travel and have no plans to go to South America, but we do have a British Airways companion ticket that will expire in 2013. So, we'll be taking advantage of the AMEX bonus transfer promotion to put together the Avios needed for the first award, in order to get the free companion ticket. Yes, fuel surcharges are high, but we like the British Airways business class product (my husband likes it about as much as the old Lufthansa first class, see Lufthansa First Class Review) we'll get the best value for our purposes here since we prefer international travel in business or first class. Note though that if you travel in business class, you won't be able pre-select seats unless you pay extra for it. See British Airways phone ticketing and assigned seating fees. For that reason and since taxes and fuel surcharges are usually the same for business class and first class, consider booking British Airways First. You can check your probability of getting New First with the British Airways New First Class Route Tracker
For more tips on the BA companion ticket, including minimizing the UK departure tax, see How to Maximize the British Airways Companion Certificate on Award Tickets.
Getting More Avios
The current 50% AMEX bonus transfer to Avios is good if you have a high value award in mind for your Avios, but what if you don't have many AMEX Membership Rewards points? Should you get an AMEX credit card? Honestly, I would advise against it in most cases. The bonuses now are not all that great; we haven't even listed the AMEX Platinum card on our Best Travel Credit Cards page because the bonus now is only 25K MR points, which in our view is too few given the hefty $450 annual fee. There is the Mercedes-Benz Platinum with 50K bonus points and an even higher $475 annual fee, and I can't get that excited about that either, given the fee, especially when cards such as the Chase Sapphire Preferred and the Chase Ink Bold with Ultimate Rewards have the annual fee waived their first year and also come with 50,000 Ultimate Rewards points (although I realize they don't help with this MR transfer bonus).
So I'd recommend:
If you've received a targeted offer for an AMEX card of 75,000 or more points with spend you can easily meet and still get the transfer bonus, apply!
If you do have an AMEX card linked to the Membership Rewards program and are just a bit short of the Avios you need, try to do a points advance. If you don't see a points advance link when logged in, call and request it (it can't be done by secure messaging)
If you do want to apply for an AMEX card and get some MR points to use for this bonus transfer, consider the AMEX Premier Rewards Gold Card

, especially if you'll be putting significant airfare spend on the card since it receives a 3x bonus. Groceries receive a 2x bonus, but unless you're feeding an army, that won't build up points that quickly. Make sure to apply soon so you can get your points in time for the transfer bonus: you'll need to put $2000 on the Premier Rewards Gold card to get the 25K MR bonus.
Related Posts
British Airways New First Class Route Tracker
How to Maximize the British Airways Companion Certificate on Award Tickets
British Airways Visa 100,000 Bonus Avios Points Back But Worth It?
British Airways Avios: Goodbye First Class on Cathay, Hello Coach on American
Need Award Booking Help? Our fee is as low as $75 per ticket if you book your hotel through us.
If you enjoyed this, join 100,000+ readers: please follow TravelSort on Twitter or like us on Facebook to be alerted to new posts.
Become a TravelSort Client and Book Your Hotel with Virtuoso or Four Seasons Preferred VIP Amenities!