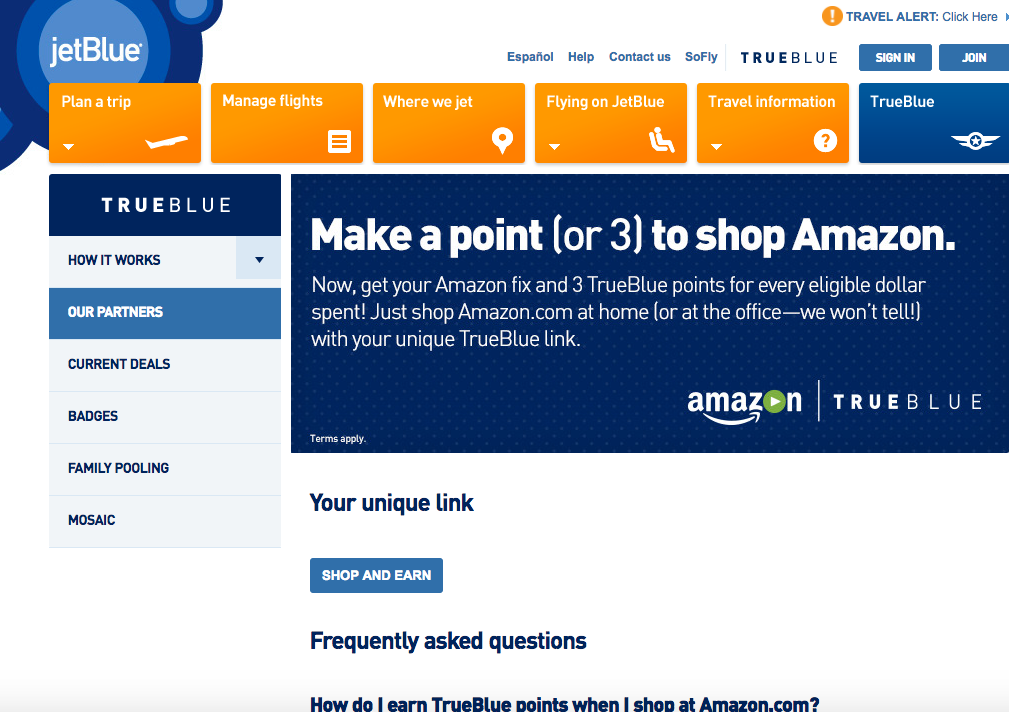 Earn 3X JetBlue TrueBlue Points at Amazon with your unique JetBlue link. While this offer has been around since last year, I missed posting about it, so better late than never.
The great thing is that you can stack this with earning 5X Ultimate Rewards points on all Amazon spend, assuming you still have an Ink Plus or Ink Bold card (neither is currently offered, so be sure not to cancel if you already have one). That's because the Ink Plus and Ink Bold earn 5X on office supply store spend, so you can earn 5X when buying Amazon gift cards at Staples. Simply load these gift cards into your Amazon account and it will automatically debit your account when you shop via your JetBlue link.
So for every $1000 in Amazon spend, you'd earn 5000 Ultimate Rewards points and 3000 JetBlue TrueBlue points.
FAQ
How Much Is a JetBlue TrueBlue Point Worth?
JetBlue TrueBlue is a revenue based frequent flyer program, so it's easier to objectively value the points–each TrueBlue point is worth about 1.3 cents (for calculation, see my post New JetBlue Credit Cards: Worth It?) So you're earning 3.9 cents per dollar spent at Amazon, in addition to the Ultimate Rewards or other miles or points you're earning via your chosen payment method at Amazon.
How Do I Get My Unique JetBlue Amazon Link?
Go to this page, log into your JetBlue TrueBlue account, and you should be redirected to Amazon. Note that you need to login each time before going to Amazon, in order to earn points. Don't make the mistake I made and try to bookmark the link, because the link is dynamic and is only valid for Amazon purchases made within the next 24 hours.
When Do JetBlue TrueBlue Points Get Credited to My Account?
JetBlue terms say to allow 60 days for TrueBlue points to post. Per this Reddit post it seems that points earned for spend through December 15 posted Feb. 4. I hope that in the future points will post at least monthly, but we'll see.
Are There Any Excluded Items?
Yes; all the following items won't earn TrueBlue points, even when purchased using the JetBlue Amazon link.
Any product or service sold on a site linked to from the Amazon Site (e.g., a product or service listed through our "Product Ads" program or sold on a site linked to from a banner ad, sponsored link, or other link displayed on the Amazon Site);
Any wireless service plan offered through the Amazon Site and not sold or fulfilled by Amazon;
Any product, including games and other applications, sold through the Amazon Appstore for Android;
Any product sold on fresh.amazon.com;
Restaurant takeout;
Any alcoholic beverage product;
Any digital Kindle product purchased as a subscription (e.g., Kindle newspaper subscriptions, magazine subscriptions, blog subscriptions, etc.);
Any free trial subscription
Are you earning 3X TrueBlue points for Amazon spend?
Recommended Posts
Review: JetBlue Mint Business Class A321
80K Ink Business Preferred Worth It?
How We Earned 1 Million Miles and Points in 2016 Without Flying
Need Award Booking Help? Our fee is as low as $75 per ticket if you book your hotel through us.
If you enjoyed this, join 200,000+ readers: please follow TravelSort on Twitter or like us on Facebook to be alerted to new posts.
Become a TravelSort Client and Book Your Hotel with Virtuoso or Four Seasons Preferred Partner Benefits!